They say good things come in small packages, and while we don't mind a pizza as big as our head, when it comes to dumplings we think they're right. There's simply nothing better than ordering every single kind of dumpling on the menu, filling your very own dipping saucer with all the soy, vinegar and chilli oil you can handle and eating dumplings until you cannot physically move anymore.
Lucky for you and me, dumplings have taken Perth by storm and there are plenty of good ones to be found. So here are Perth's best dumplings.
Bumplings
Fremantle
Whether you're a MasterChef tragic or just an avid dumpling fan, you'll be pleased to hear Bumplings by Brendan Pang is back up and running at The Sunshine Harvester Work in Fremantle. Inspired by his Chinese and Mauritian roots, Pang's delightful parcels are some of the best in Perth.
Authentic Bites Dumpling House
Northbridge
If you haven't been to Authentic Bites Dumpling House then you must not like dumplings. The xiao long bao here are ridiculous and they have got the whole of Perth acting like crazy people lining up outside, rain, hail or shine. The wontons in spicy sauce are up there as one of our favourite Perth dishes of all time.
Emily Taylor
FREMANTLE
Meet Emily Taylor, the 450-person bar and restaurant opened as part of the new Warders Hotel, neighbouring the Freo Markets. You might be thinking, a hotel restaurant, really? But honestly, it doesn't get much better than throwing back a cocktail or two as you tuck into a dumpling feast in Emily Taylor's huge leafy courtyard.
Juicy Bao Bao
Northbridge
More juicy goodness from our favourites at Authentic Bites, this Northbridge spot covers off all bases with soup, steamed and pan fried dumplings, as well as wontons. You won't be disappointed.
Miss Chow's
CLAREMONT, WHITFORDS AND SOUTH PERTH
We would happily eat every dumpling at Miss Chow's over and over again but make sure you try the pan fried vegetable dumplings and the pork and prawn dumplings. You should definitely grab a steamed pork bun while you're there too.
BamBamBoo
Perth
Nothing beats a midweek dim sum lunch and CBD workers can get their fix all too easily at BamBamBoo. Order as many dumplings as you think you can handle from the iPads as you walk in, take a seat and get your soy and chilli at the ready. These guys have a huge variety so why not try something different like squid ink dumplings.
Little China Girl
Northbridge
You'll find your late night and early morning dumpling fix at Northbridge's Little China Girl. Open until 2am on Friday and Saturday nights, the menu boasts all the pan-fried, deep-fried and steamed dumplings under the sun, as well as everything you could ever desire on a dim sum adventure. It's also got Perth's first dedicated baijui cocktail list if you want to get a lil boozed up while you feast.
Northbridge Chinese Restaurant
Northbridge
Northbridge Chinese Restaurant is always packed on the weekends so get there early or be prepared to line up. Once you're there and you've got a deep fried prawn dumpling on your plate you'll be glad you waited.
The Wang's Treasure House
Morley
Another dim sum joint with crazy lines, if you get to The Wang's Treasure House early or go in a small group you will be rewarded fairly quickly. The best thing about this joint might just be that their dim sum menu is available at night so you can have dumplings any time of day.
Shy John
Perth
Shy John's signature truffle dumplings will blow your mind. They use actual gold leaf to paint the dumplings and the effect is downright stunning.
Imperial Court
Como
If you're after damn good dim sum Imperial Court in Como is another goodie. It gets completely packed and lines out the door aren't uncommon, but if you get there early you'll be blessed with so many good dumplings you'll have to roll out the door.
Mom Dumpling House
EAST VICTORIA PARK AND WILLETTON
Whether you're a steamed or a pan-fried dumpling lover, Mom Dumpling House will sort you out, and all without breaking the bank. These are juicy parcels of goodness you'll be scrambling to eat before your friends get to them.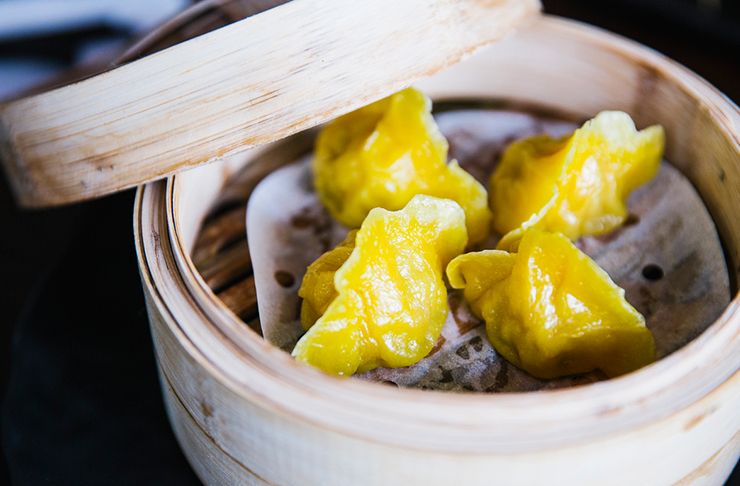 Canton Bay
Northbridge
Walk past Canton Bay on a Sunday and the crowds of people gathered outside will tell you all you need to know about how good the food is. The pan fried pork buns and the xiao long bao should be at the top of your list, but if you're up for more, the prawn and chives dumplings are pretty scrumptious too.
My House Dumpling Bar
Wembley
The Cambridge Forum International Food Court is one of Perth's best kept secrets, and My House Dumpling Bar is one of the reasons why. Here you'll find everything from hot and sour dumplings to boiled and pan fried dumplings. You're missing out if you don't get a pan fried pork bun too.
Small Talk
PERTH
Housed at Campus Perth (AKA the old Telstra building on Stirling Street), Small Talk is a Japanese izakaya-style eatery headed up by Chef Ricky Lim (formerly of Bib & Tucker). The share-style menu incorporates WA produce with traditional Japanese flavours, and yes, you'll find a winning dumpling dish served with the house chilli oil.
Want noodles instead? Check out Perth's Best Ramen Joints.
Image credit: Elle Borgward, Emma Bryant and Louise Coghill