There's something ever so wholesome about getting goods delivered straight to your front door. Maybe it's the thought of skipping Sydney's infamous traffic, or maybe it's just being able to chill in your house slacks all day. Whatever it is, we love home delivery.
And to add to the ever-growing list of epic things you can get delivered straight to your front door, we bring you all the desserts worth throwing your cash at only to have them miraculously turn up at your doorstep. Think tiramisu packs, soufflé pancakes, burnt basque cheesecake, Portuguese tarts, and more.
These are the best desserts to get delivered (or takeaway) in Sydney right now
Tiramisu Pancakes From Bask Blends Cafe
Kingsgrove
Look, nothing beats a hybrid dessert, which is why Bask Blends Cafe's tiramisu pancakes are right at the top of this list. This dessert is the definition of "thic" with coffee mascarpone sandwiched between two fluffy pancakes and topped with more mascarpone and grated chocolate. You'll also get caffeinated syrup to pour on top. Bask Blends Cafe is open for takeaway, or you can order up home-delivery if you live locally.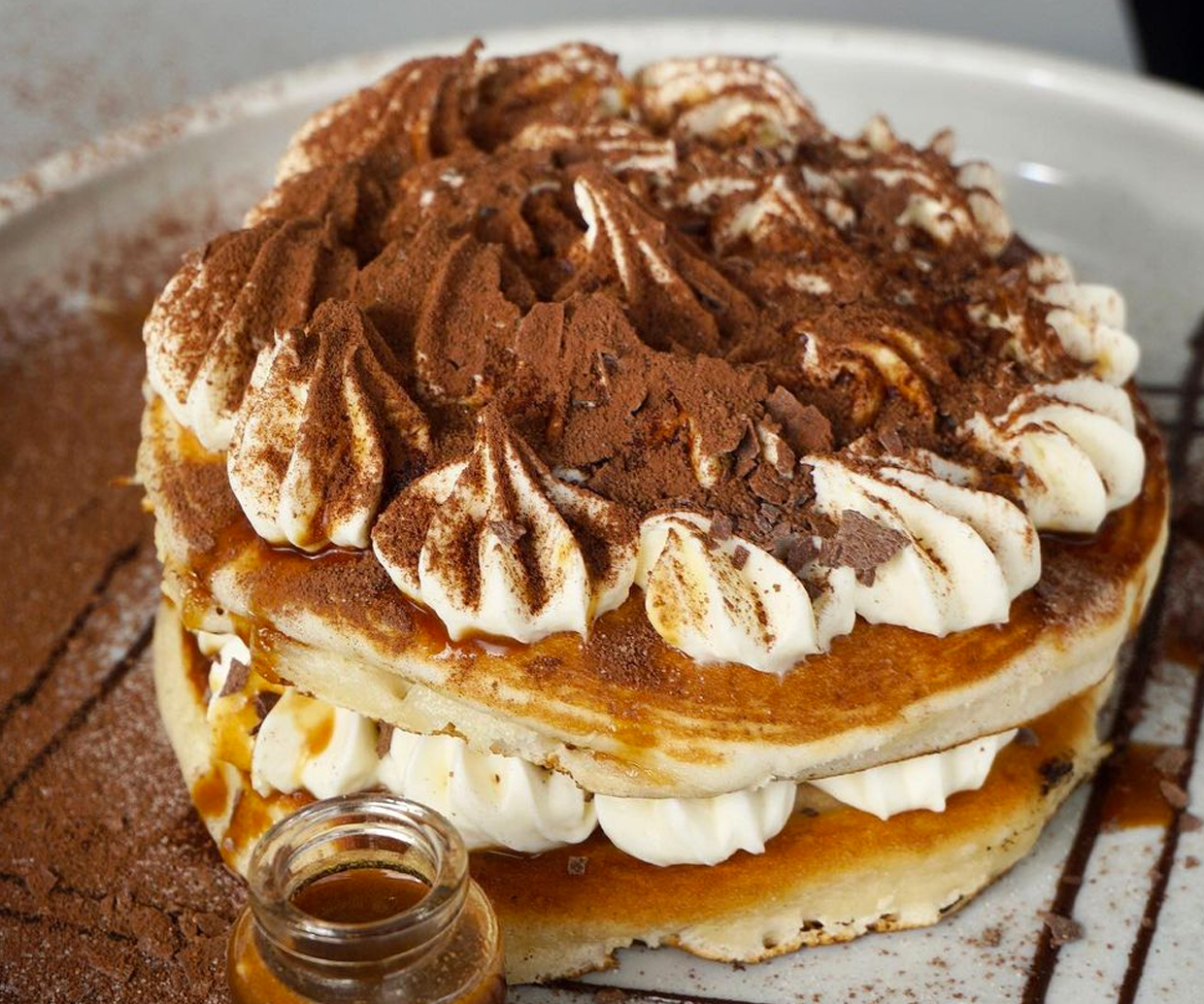 Banoffee Pies From Just Banoffy
Delivery Only
Much like the name suggests, at the crux of this tasty business model lies a whole lot of banoffee pie—and you'll want in on a few boxes of the good stuff. There are two available size options here, the first, an eight-inch pie that yields about eight to 10 serves for $50. The second, a 10-inch pie with 12 - 14 servings sitting at $80.
The halos of goodness here are made with dark chocolate, freshly whipped cream, sliced bananas, homemade toffee, and a crunchy biscuit base. If that should tell you anything, it's that these bad boys are moreish, to say the least. For anyone with a food intolerance, this guy contains dairy, gluten, soy, and traces of nuts. Just Banoffy is located in Guilford West—pick-up is available, as is contactless delivery, you can scope the available suburbs on the Just Banoffy Instagram account. Head here for more details.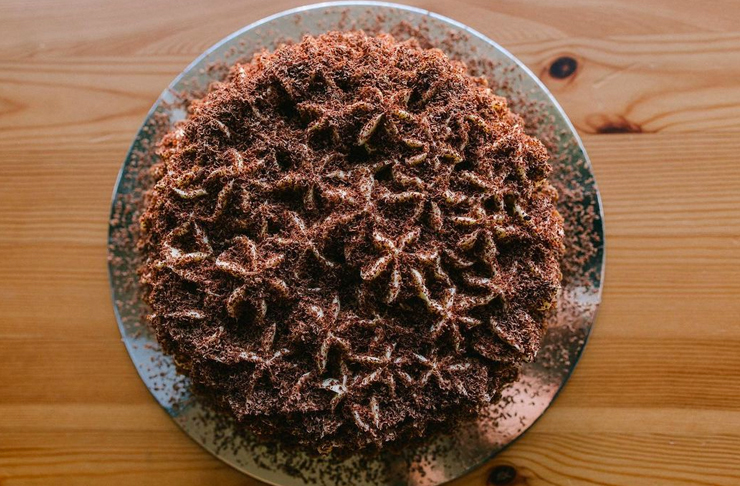 Lotus Biscoff Crumpets From By George
Croydon Park
By George is one of the newer cafes that has managed to tickle our taste buds during lockdown. Located in Croydon Park, this stunning little shop whips up a whole lot of goodness, from fudgy cookies to schnitzel bagels. However, when you've got a hankering for the sweet goods, you'll want to make sure you're all over By George's delicious sourdough crumpets or, "scrumpets", so to speak. Order up the Lotus Biscoff flavour, which comes slathered in Lotus Biscoff paste, Biscoff sauce, and crumbled Biscoff cookie.

Lotus Biscoff Burnt Basque Cheesecake From Burnt Sydney
Macquarie Park
Alright folks, a Lotus Biscoff Burnt Basque Cheesecake has arrived in Sydney and you need to sink your teeth into it, ASAP (because the epic Biscoff desserts never stop). Brought to you by Burnt Sydney, yet another winning home baker concept that has us drooling during lockdown, the menu here is lit, just like the cakes. You'll find three cakes available to order, the OG (cream cheese, cream, and eggs), cookies and cream, and of course, Lotus Biscoff. The LB sports caramelised Biscoff both inside and outside of the cake and is somehow crunchy, creamy, and buttery all at the same time. Orders must be done through DM on Instagram, you can pick-up from Macquarie Park or nab free delivery on orders over $50.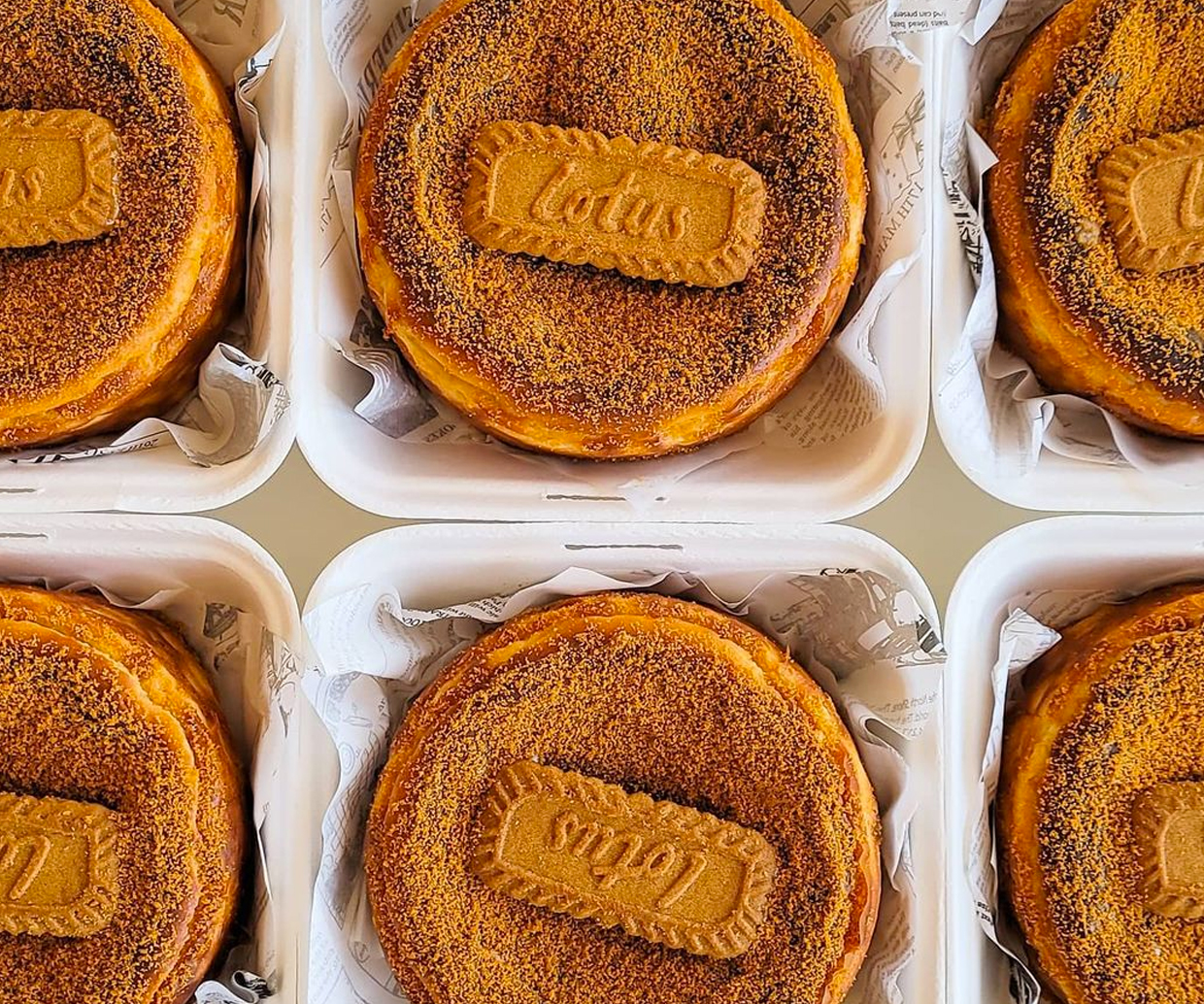 Sweet Snack Packs From Clifford Luu
Delivery Only
Busting out big flavours and textures, these Sweet Snack Packs are handmade-to-order and there are three types of tiramisu to tuck into. The lemon and coconut tiramisu is layered with sponge cake, thick lashings of mascarpone and lemon curd, shredded coconut, and all the coconut and lemon liqueur.
​​The on-trend Lotus Biscoff tiramisu pack is a cheeky creation of cookie butter Biscoff spread, coffee-soaked sponge, Biscoff ganache, creamy mascarpone, and almond liqueur.
To finish, you've also got a Vietnamese coffee tiramisu loaded with sweetened condensed milk (whipped into creamy mascarpone), a black coffee-soaked sponge, and of course, a bite of Hennessy Cognac.

Loaded Slab From Baked By Blonde Butler
Delivery Only
From boutique catering company The Blonde Butler comes an all-new universe of delicious dessert deliveries. From fairy bread doughnuts to vanilla slice, lamingtons, and jam and cream Long Johns, there's a whole lot of retro sweetness to pick and choose from at Baked by Blonde Butler. For the ultimate celebration, we recommend ordering one of the loaded slabs—a generous brownie slab topped with things like Iced Vovos, Wagon Wheels, Oreos, Mars Bar pods, and more. If you're sending a birthday treat, you can also create customise slabs with cute messages. Delivery is available for a 50km radius from the Sydney CBD.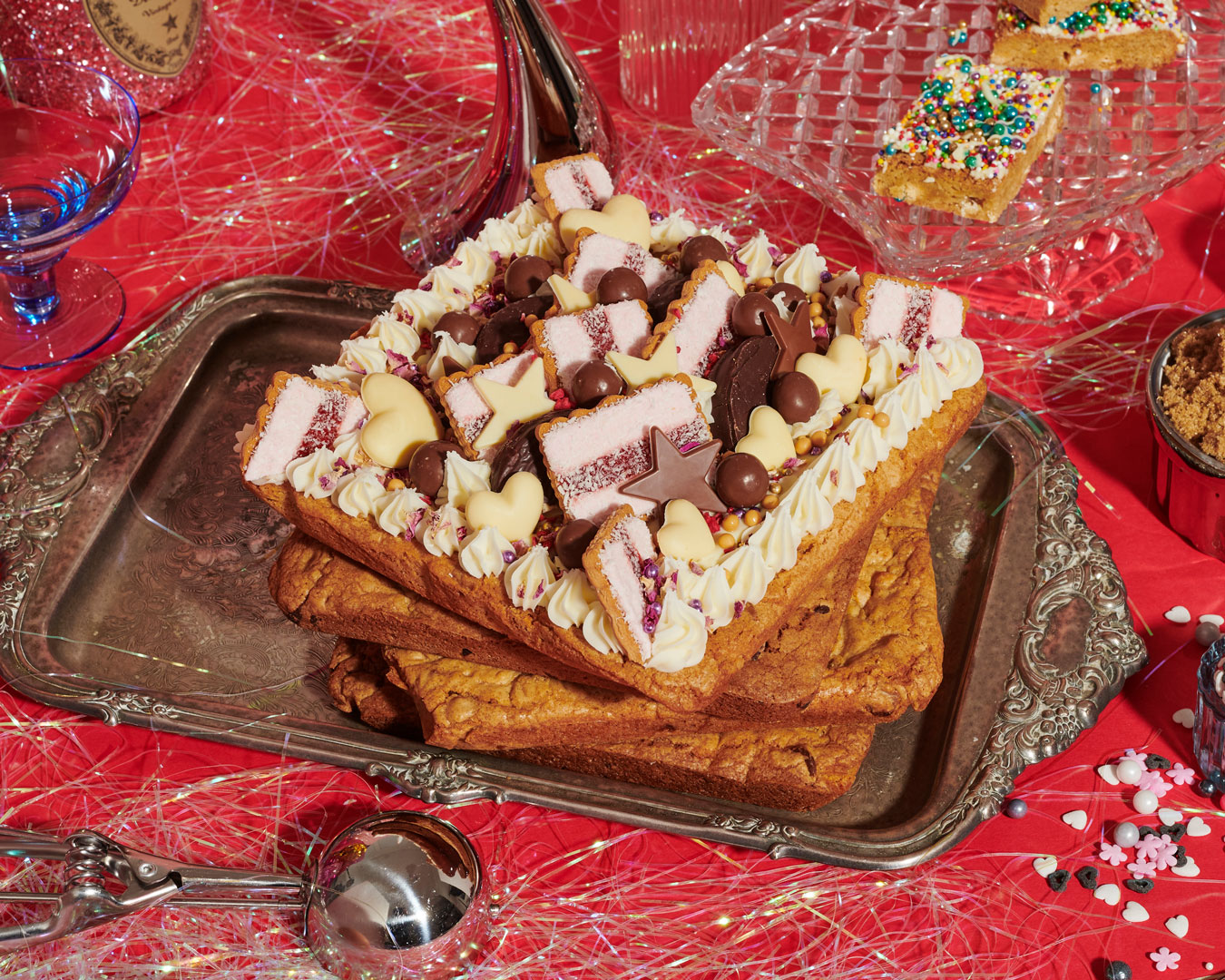 Cookies From La Maison Cookies
Delivery Only
​​Seeing as there is no better time for a virtual bakery to thrive—let us introduce you to La Maison Cookies. This homemade cookie delivery service has been a saviour through times of lockdowns past, curing our 3pm sugar cravings and delivering choc-chip cookie goodness to the people of Sydney. Baking up a storm with her decadent and gooey choc-chip cookies, all of which are handmade fresh to deliver over the weekends (just make sure you give 48-hours notice).
These babies are no usual cookie affair; they're big creations, chunky, packed with bits of melted choc goodness and go perfect with a big scoop of good old-fashioned vanilla ice cream and chocolate sauce if you want to go all the way. For now, deliveries can only be taken via email (lamaisoncookies@gmail.com) and only span Sydney's Eastern Suburbs.
For more options, check out the best cookies in Sydney.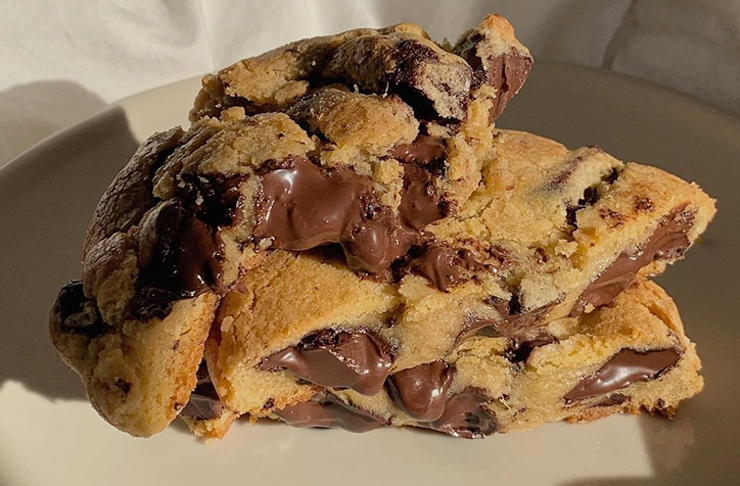 Pastel De Nata From Daughter Of A Baker
Delivery Only
No doubt, Sydney's Pastel de Nata game is strong—and Daughter of a Baker is a key player in the race. Led by the Ribeiro Sisters, Liz, Denise, and Rachel, Daughter of a Baker's tarts are created from their father's secret recipe and act as a homage to their Portuguese and Macanese roots. Flaky, creamy, and golden—these are the real deal.
Delivering to 650+ suburbs across Sydney (which covers off most, if not all, of Sydney Metro), you can order yourself a box of 12 original Portuguese tarts, or spice things up with Daughter of a Baker's chocolate spin on the OG. You can also order a box of snap-frozen tarts, which will last up to six months in the freezer and can be easily heated up to perfection in an oven or air fryer. Each box of 12 is $50.
Delivery is $15 and weekends-only, so get your order in by Friday 3pm for Saturday delivery, and 3pm Saturday for Sunday delivery.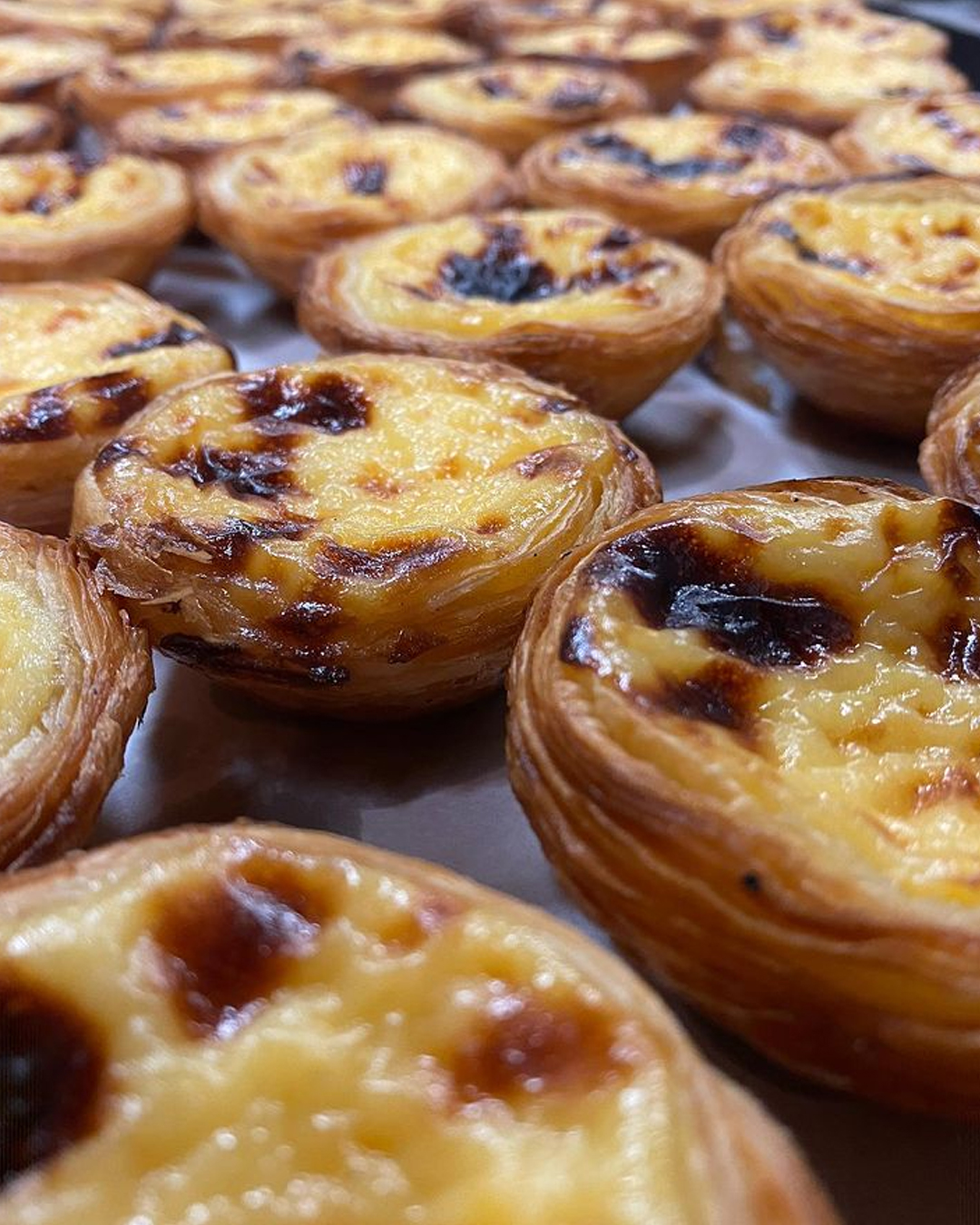 Retro Cakes With A Message From Javi Bakes
Delivery Only
At the forefront of home bakers absolutely slaying it in Sydney right now is Javi Bakes. If you've never spotted one of her buttercream cakes in your Insta feed, you're sorely missing out. The vintage-inspired cakes here are completely customisable and get wrapped in all sorts of colourful piping, delicate decorations, and funky messages. You can pretty much build your own cake here from scratch, choose round, heart or a square-shaped base then go to town on the flavours, additional fillings (like jam, Nutella and lemon curd) and toppings (Maraschino cherries, flowers, chocolate drip). DM Javi via Instagram for orders. Javi Bakes is currently only offering pick-up for cakes.
For more inspo, check out our hitlist of Sydney's best cakes.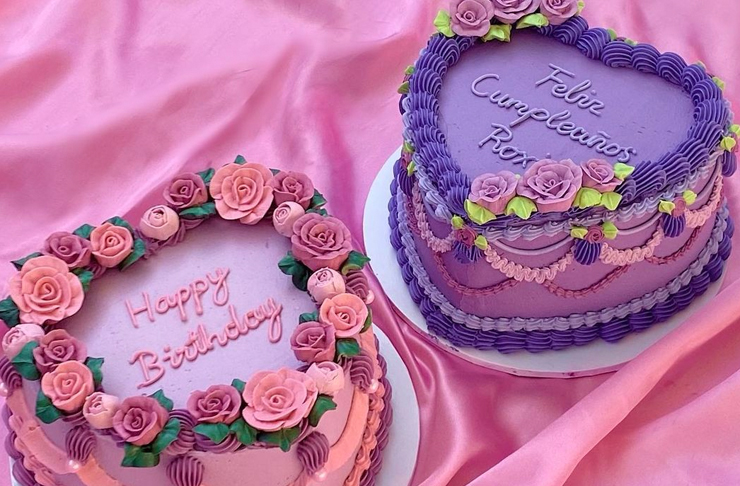 Cakes From Black Star Pastry
Delivery Only
Black Star Pastry is now doing next-day delivery (if you order before 3pm) on all of its core range cakes. Just let that sink in for a moment. Whether you're out to treat yourself or send out a sweet gift, there's a lot to get excited about here. While Black Star Pastry is most definitely best known for its Strawberry Watermelon cake, you'll also find a Japanese black forest cake, a pistachio lemon zen cake, a chocolate mirage (pretty much the most decadent choco cake ever), raspberry lychee, a dragon cake, an orange cake with Persian fig—and a whole lot more. If you can't make your mind up, Black Star Pastry is also delivering an "All Star" tasting box filled with the cake haven's most iconic cake creations.
Beignets From Babycheeks Beignets
Delivery Only
Started by cousins Bec Deasy and Joshua Dinata, Babycheeks Beignets is all about paying homage to the one place that really put these square goodies on the map—New Orleans' Cafe du Monde. While beignets have French origins, the deep-fried golden pastry really popped onto the rest of the world's sweet radar all thanks to this legendary 24-hour restaurant located in NOLA's French Quarter.
​​Unlike regular doughnuts, Babycheek Beignets' sweet creations are super light and fluffy, airy inside, and smothered in all the powdered sugar without fillings. Currently, every beignet is homemade, packed and delivered by the duo. Orders can be requested through Babycheek's Instagram account. Pending your order, you'll spend between $25 and $50 a box with the 50 piece beignet bringing more bang for your buck at $1 a pop. If you live within a 30km radius of Sydney's CBD, you'll just incur a $5 delivery fee and those that live outside of this radius can message Babycheek's Beignet directly for additional delivery enquiries.
Thicc Cookies
DELIVERY
​​Chris Sheldrick is a man of many talents. As well as being one of the co-founders of Sydney bakery Banksia Bakehouse, he's also the genius that has brought thick, New York-style cookies back on our radar. What started as a weekend market staple, has now turned into a delicious online bakehouse, and one that has already stirred up a cult following. It's known as Thicc Cookies and, as the name suggests, you'll find nothing less than perfectly chewy dough creations here, all of which can be ordered straight to your door Australia-wide. Flavours range from Biscoff Lotus and red velvet, all the way to Caramilk and a loaded peanut butter-style cookie.
In general, these bad boys can barely be held in one hand, but if size is no issue and you're keen to go hard on that sugar hit, there's a classic choc chip cookie that clocks in at a whopping 1kg. The beast gets delivered to your door in a foil tray and instructions on how you can reheat it in your oven.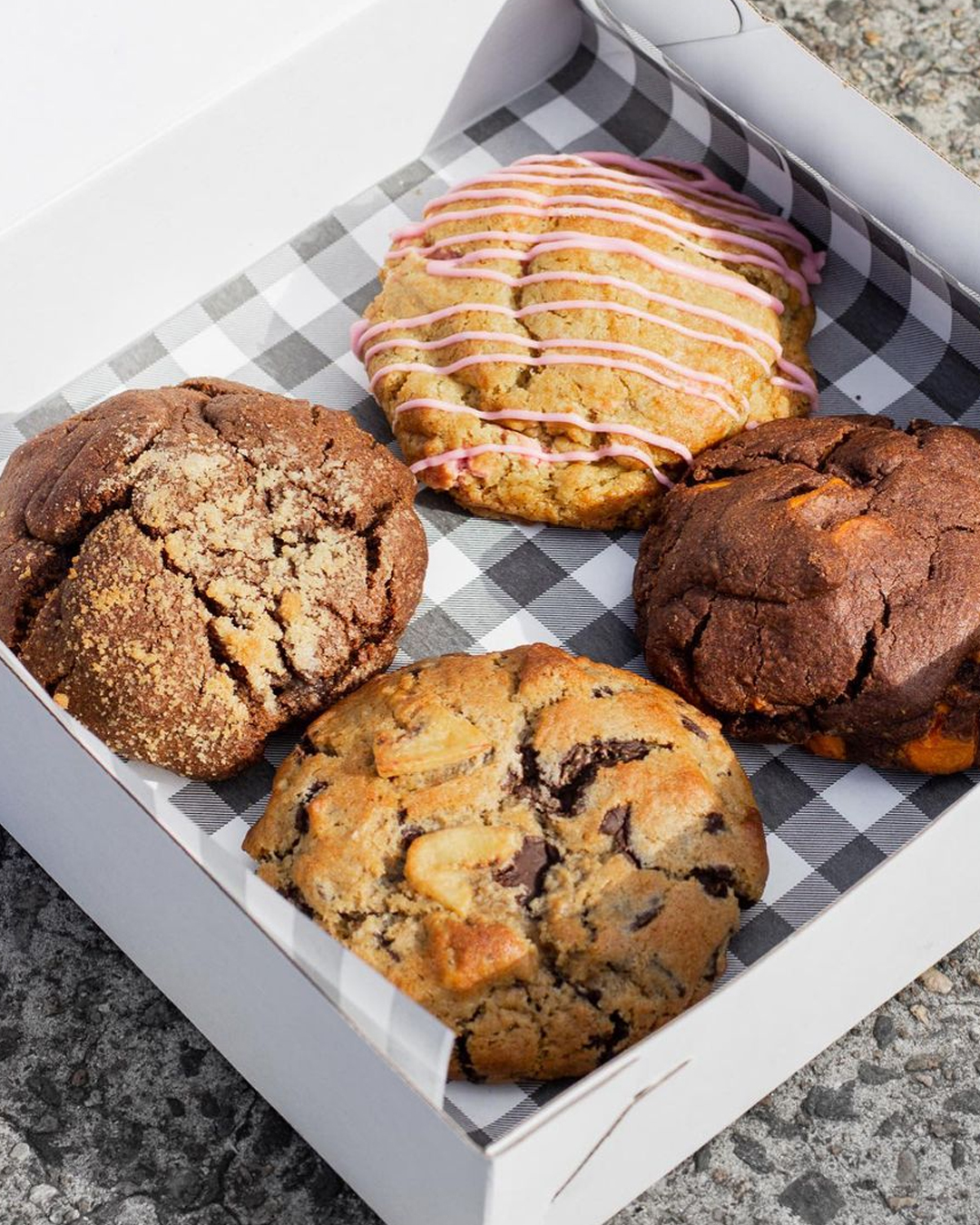 Cream Buns From Western Sydney Donuts
Willmot
If your cream bun addiction hits at all times of the day, you'll want to draw your attention over to
Western Sydney Donuts. The team here make extra-long jam and cream doughnuts, not to mention the flavour line-up spans everything from custard and apple to chocolate and caramel. When you're not looking for a super extra doughnut cake, you'll find mega cream buns made fresh every day. Fillings look like fresh cream or custard with Nutella, jam, caramel, lemon, apple, blueberry and strawberry twists. You can swing by Wednesday and Saturdays to pick-up, but we strongly suggest you pre-order to avoid missing out.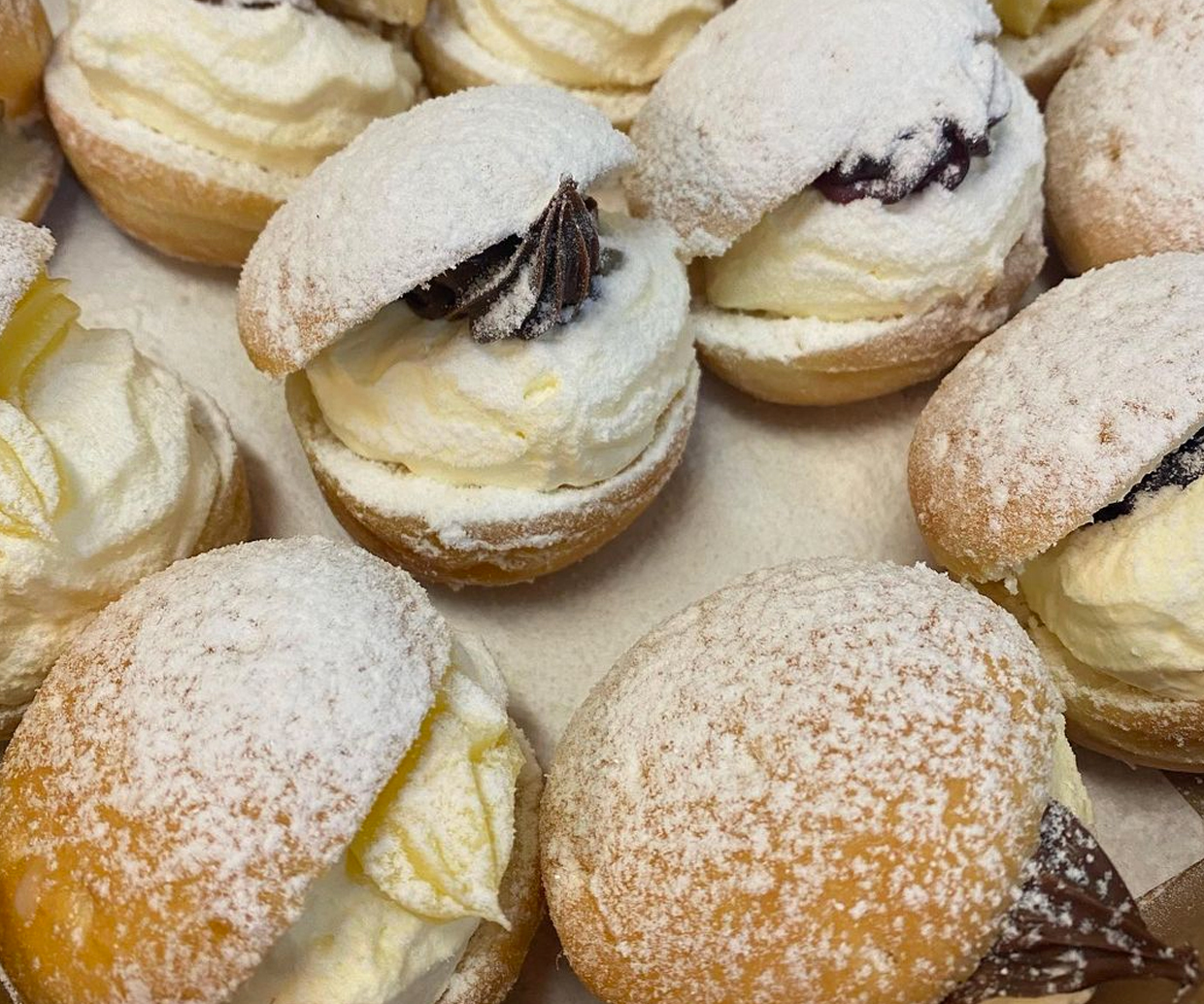 Vanilla Slice From Poles Patisserie
Penrith
Poles Patisserie, simply put, is a goldmine of baked goodness. This family-run business was founded on the very idea that handmade pastries and cakes are the glue to any local community and we mean, they're not wrong. For over 30 years the legends here have been keeping close ties to classic tea cakes and treats. Special mention goes to their bread and butter pudding, which is made with croissants and custard. On the vanilla slice front, there are two winning wedges you'll want to order up.
The first is the OG vanilla slice, otherwise known as Poles' biggest seller. Creamy custard is sandwiched between two handmade sheets of puff pastry, which are then topped with a dash of passionfruit icing sugar for a little more bite. Alongside this, you'll also find a classic French vanilla slice, which elevates the OG with an extra layer of fresh cream and a crescendo of chocolate sugar icing. Next-day delivery is available. Read on for the best vanilla slice in Sydney.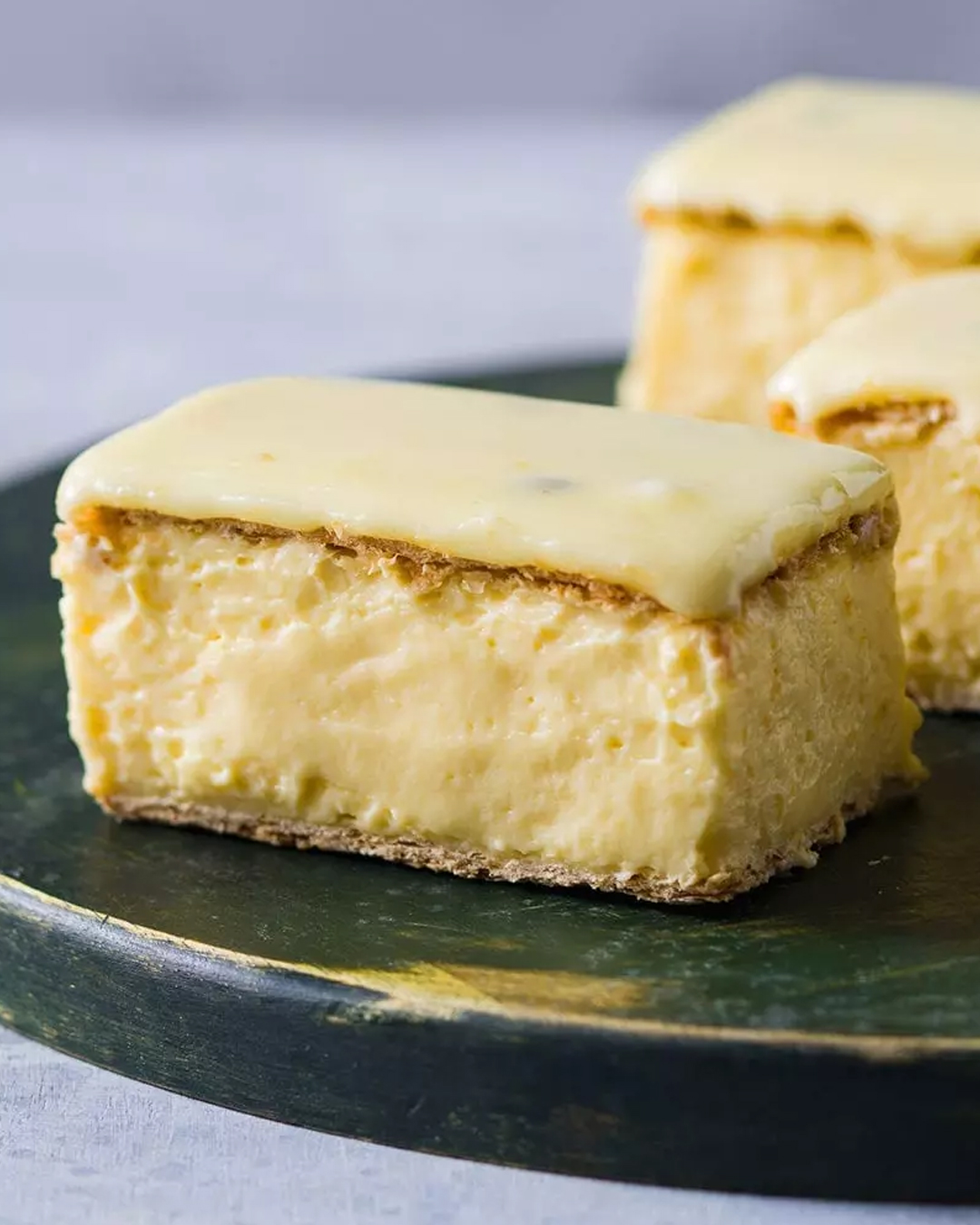 Scrolls From Midnight Donuts
Delivery Only
For creamy, spongy cinnamon scrolls delivered straight to your door, look no further than Midnight Donuts. The team here knows a thing or two about whipping nostalgic treats, most notably, their Golden Gaytime long Johns. Next to this, you can get all sorts of scrolls on demand (with next-day delivery if you order by 1pm the day before). Do yourself a favour and order up the six-pack, which will see half a dozen thick scrolls completely drenched in a rich, cinnamon glaze. Read on for the best scrolls in Sydney.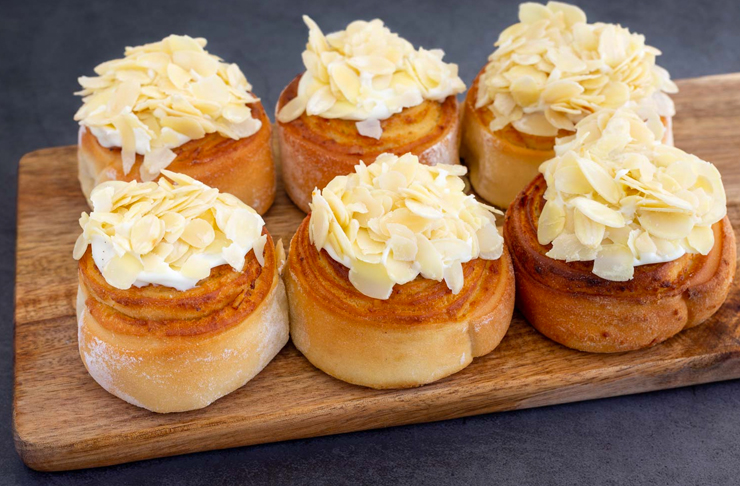 Knafeh Queen
Elizabeth Hills
If you have a sweet disposition towards all things knafeh, you need to get onto the goodies created by the Knafeh Queen herself. Making various boxes of the good stuff that can be delivered straight to your front door, these beauties are a serious pick-me-up for any occasion. The dedicated ISO boxes can come filled with original knafeh or a mixed selection with knafeh variations like crumbed, Kinder, Caramilk and Lotus Biscoff knafeh. You can also order up ISO pannacotta boxes and for the hungrier humans out there—medium trays of knafeh.
Nutella Sfogliatelle From Marta
Rushcutters Bay
When Marta owner Flavio Carnevale opened his Roman-inspired lockdown bakery last year, he identified a big opportunity in Sydney's hospo scene. What started as a temporary fix to keep business going against the tides of COVID restrictions, inevitably flourished into one of Sydney's biggest weekend must-visits. Now, Marta sports a permanent bakery every Saturday and Sunday where you can order takeaway or home-delivered. High on your feasting list needs to be the delicate and flaky sfogliatelle filled with Nutella. You won't regret it.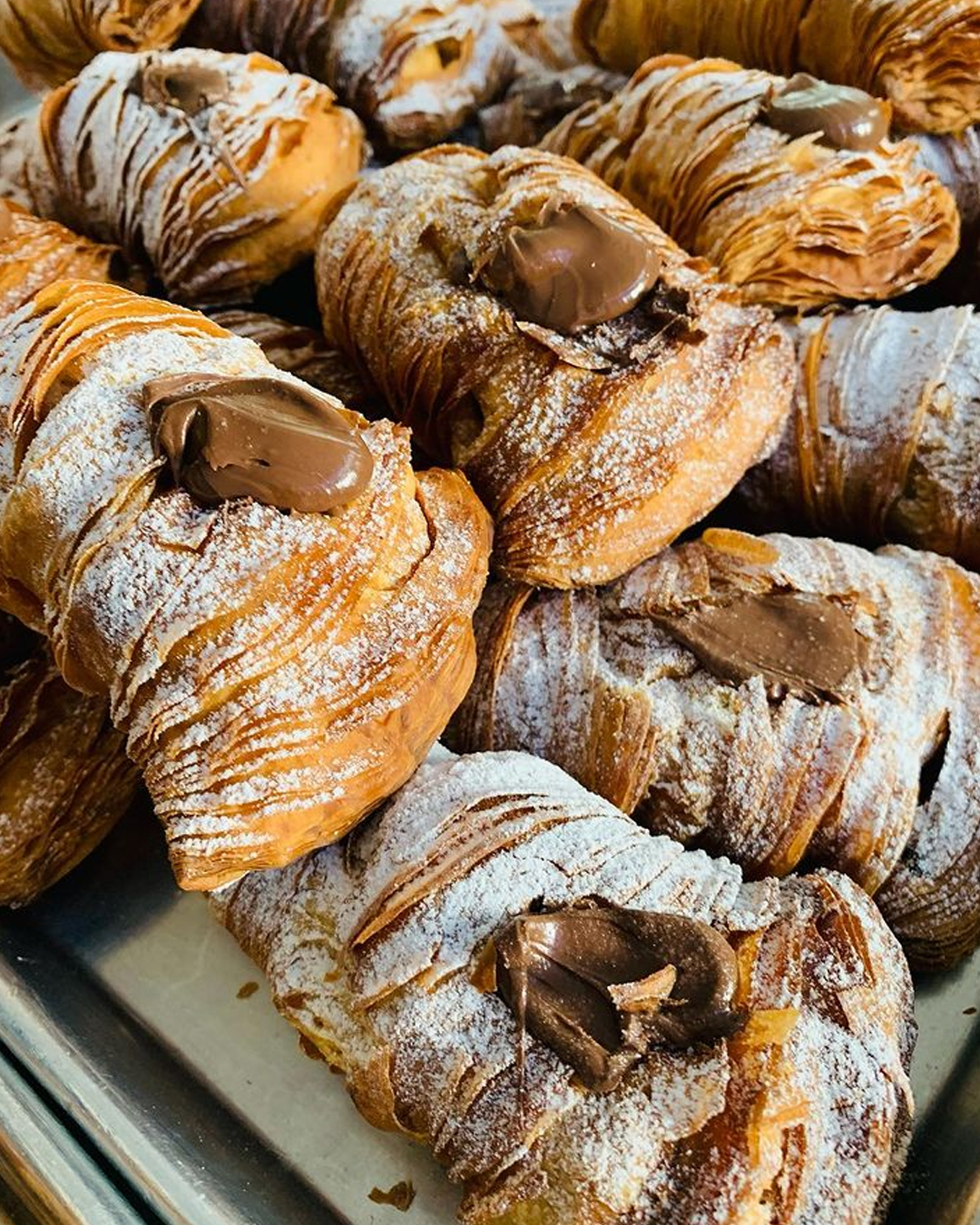 Burnt Basque Cheesecake From 15 Centimetres
Delivery Only
This Japanese artisan cheesecake heaven is basically a floating cheesecake factory with no hard HQ and to be honest—the more mysterious the better. While its exact location is hidden, 15 Centimetres is known for churning out Sydney's best Basque cheesecake with a myriad of great flavours and twists to get around.
As the name suggests, the cakes here go for a standard 15-centimetre cake tin size, or in other words, 15 centimetres of pure happiness. The original burnt Basque cheesecake here forged 15 Centimetres' pastry success, repping a rich Basque batter known for its gooey-ness and a toastie casing with that iconic caramel shell. Elsewhere on the menu, you'll find a tangy Tahitian lime take on the Basque, a bitter "Yame" matcha basque, as well as a wild berry and chocolate burnt Basque cheesecake loaded with Belgian dark chocolate, premium milk chocolate, and wild blueberries. The best part? These cakes can be delivered right to your door (or picked up from 15 Centimetres cafe partners—Qube on Bay Cafe in Ultimo and Savage Cafe in Artarmon) and also tick the box as gluten-free.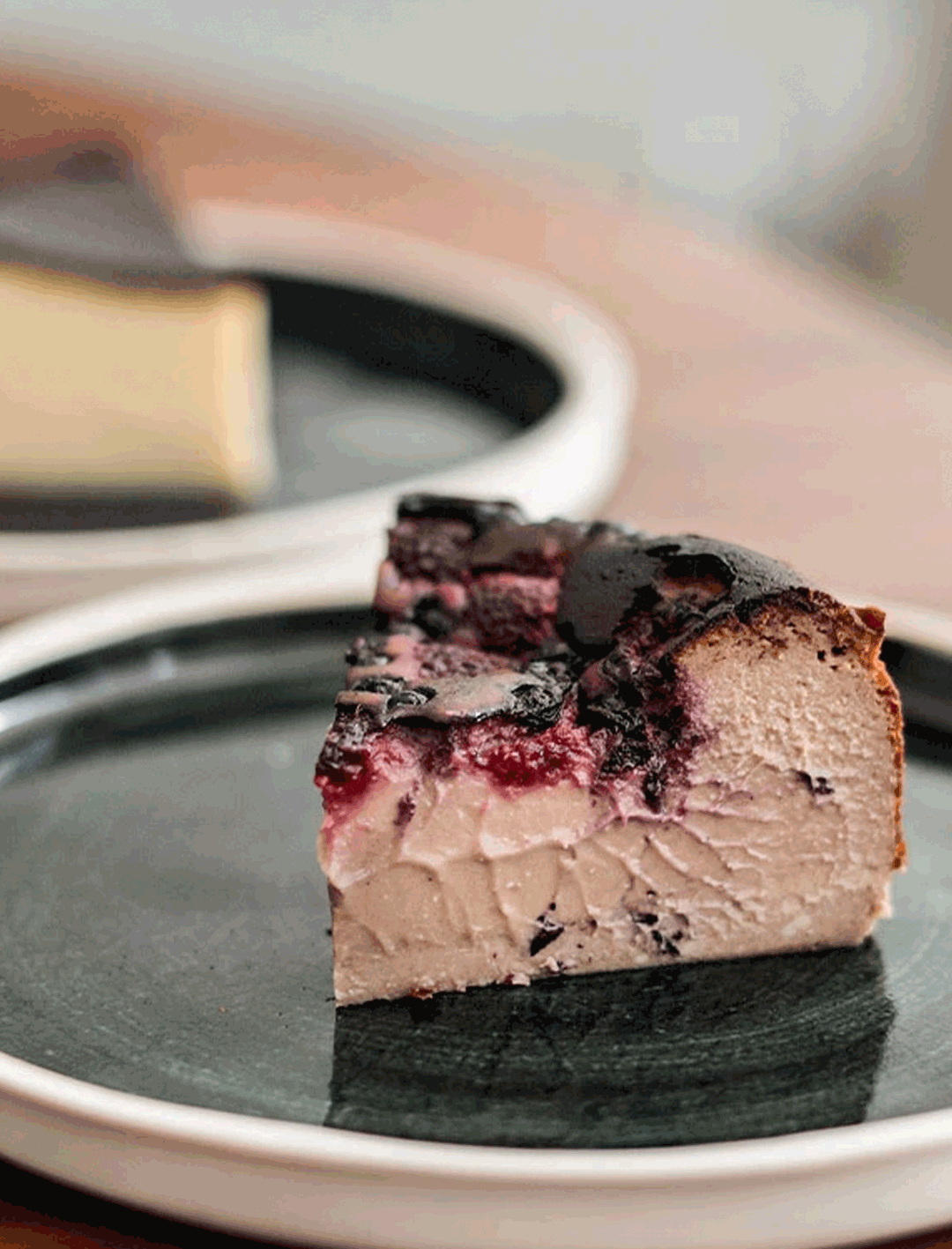 A Box Of Assorted Doughnuts From Shortstop
Darling Square and Barangaroo
If it's an ever-so holy delivery you're after, the sweet goods from Sydney's doughnut mecca Shortstop, are your jam. These beauties are made fresh for you on-site every single day with high-quality all-natural ingredients. And don't expect your pink icing affair either—flavours look like Earl Grey and rose cake, triple matcha, sticky date and gingerbread and lemon ricotta cheesecake. There's even a stuffed s'mores doughnut and a spiced apple cider cruller. Take it from us—you'll want to order up the 24-pack.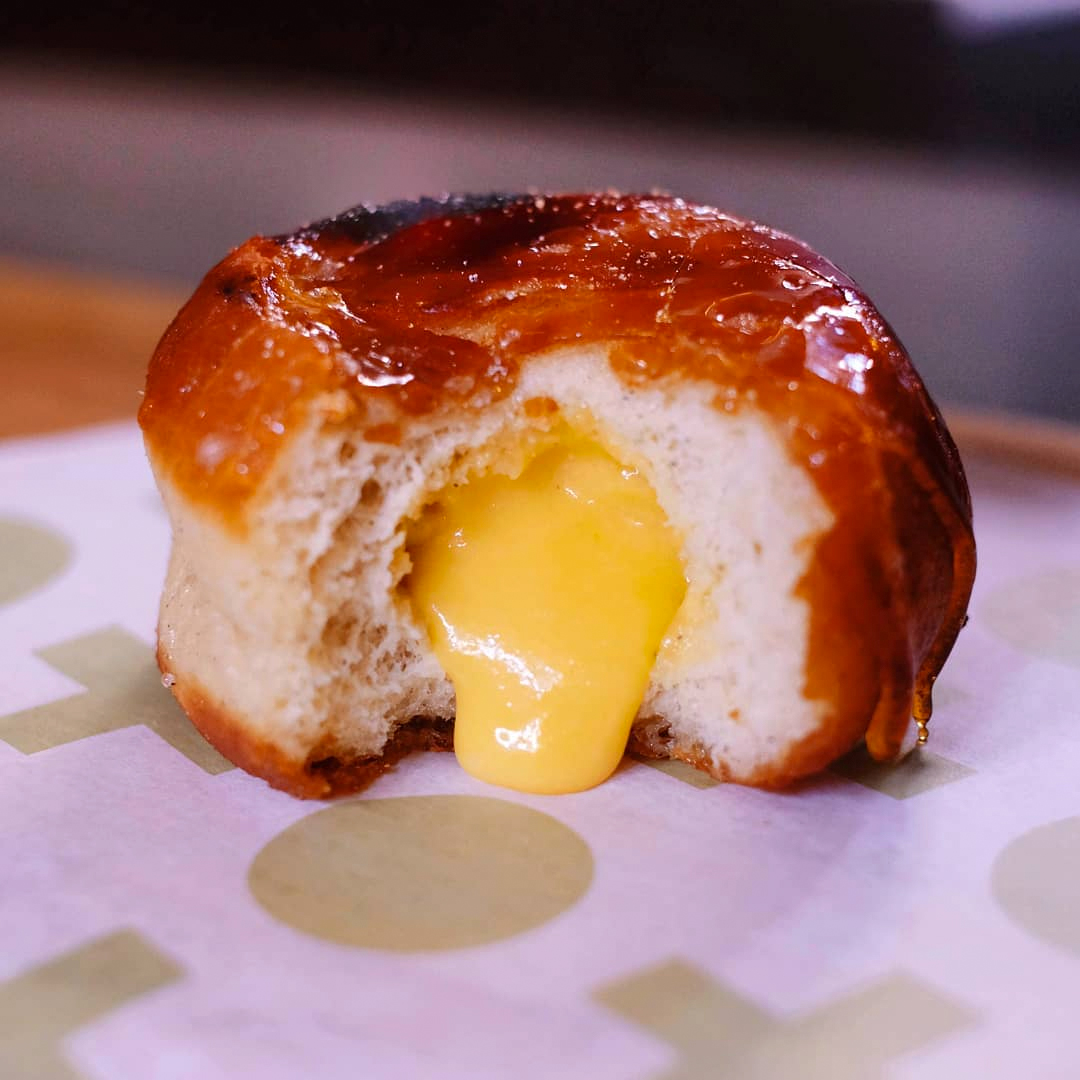 Ultimate Vegan Box From Peanut Butter Bar
Leichhardt
Amp up your dessert feasting with Peanut Butter Bar's "Ultimate Vegan Box". The dessert box has no refined sugar and is totally gluten-free. In it, you'll find two tasty vegan "Snickers" slices, two vegan choc fudge brownies, half a litre of vegan gelato, and a cup of "Liquid Gold" peanut butter that you're going to want to drizzle over absolutely everything. Order by 8pm to receive your box the next day.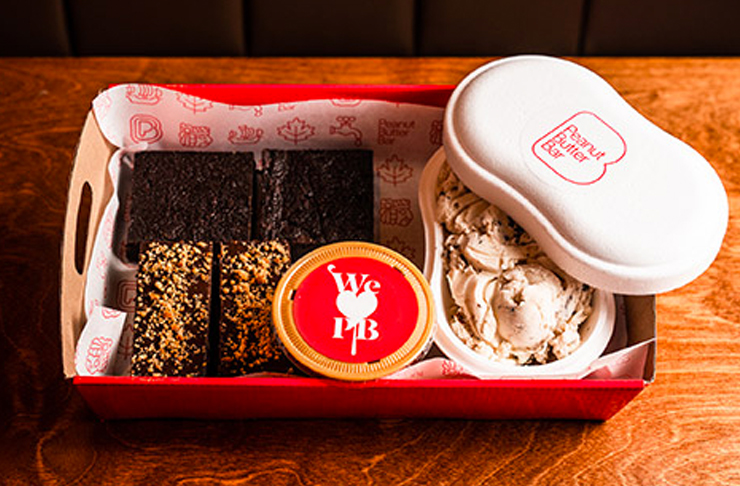 Tray Of Tiramisu From Piccolina Hunters Hill
Hunters Hill
Sometimes you just have a solid hankering for a slab of good old-fashioned tiramisu. Kings of this coffee-soaked treat, Piccolina, have this guy made to order in two different serving sizes. There's a small tray that's perfect for two (ie. a perfect way to finish off iso date-night) or if you live among particularly hungry housemates, the family slab, which feeds up to 10 hungry humans, is your jam.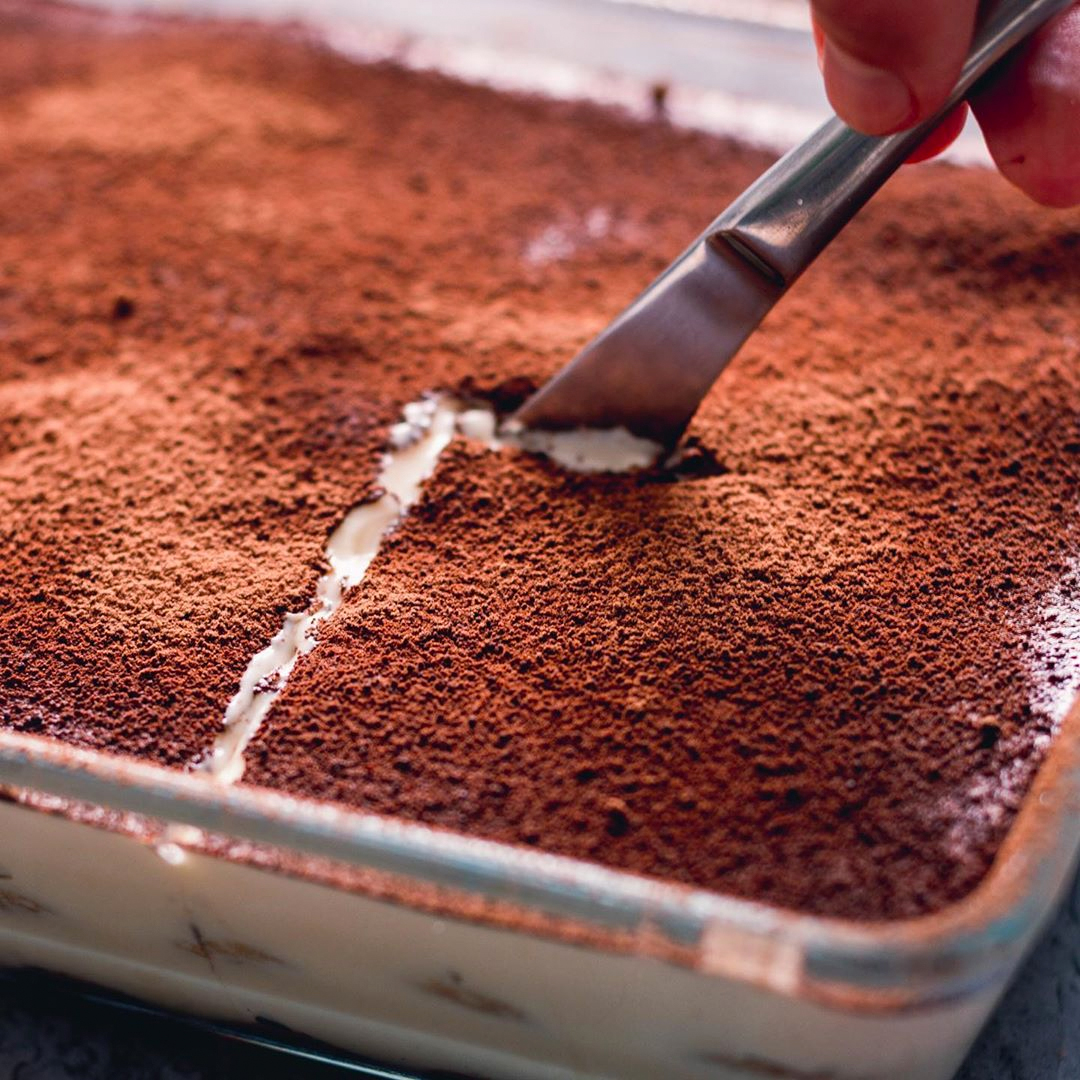 Choc Chip Cookie Dough From Bennett Street Dairy
Bondi
Bondi's Bennett St Dairy, home of the enormous, unbeatable pizza cookie, is slinging rolls of their famous choc chip cookie dough for you to bake at home. Bondi locals may be across this cult cookie hack already but the rest of Sydney will be happy to know city-wide home-delivery within two business days is also now available for Bennett St Dairy's dough. For just $12 you can order a roll of cookie dough, ready to be sliced, placed on a baking tray, baked for just 10 - 15 minutes, and voila: a perfect chewy choc chip cookie, minus all that mess.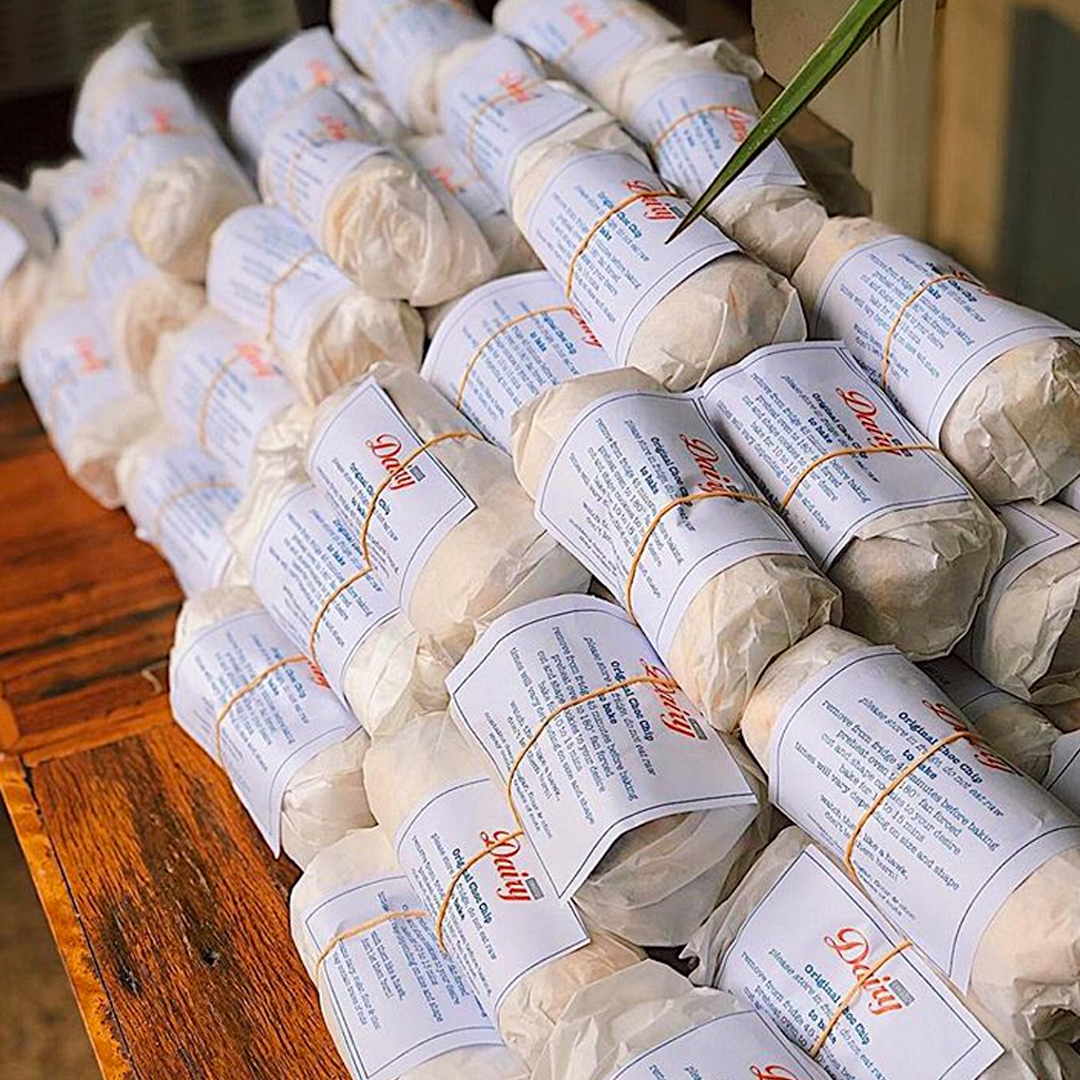 Ferrero Rocher Croissants From Madame & Yves
Clovelly
If you know anything about anything, you'll know the Ferrero Rocher croissants at Clovelly's Madame & Yves are the dang best. The best. The team here is helping you make the most of staying at home so that you can make a decadent breakfast in bed a regular occurrence. You can also switch things up and go for their almond choc croissant, almond raspberry croissant, a cinnamon twist, or even the good old original.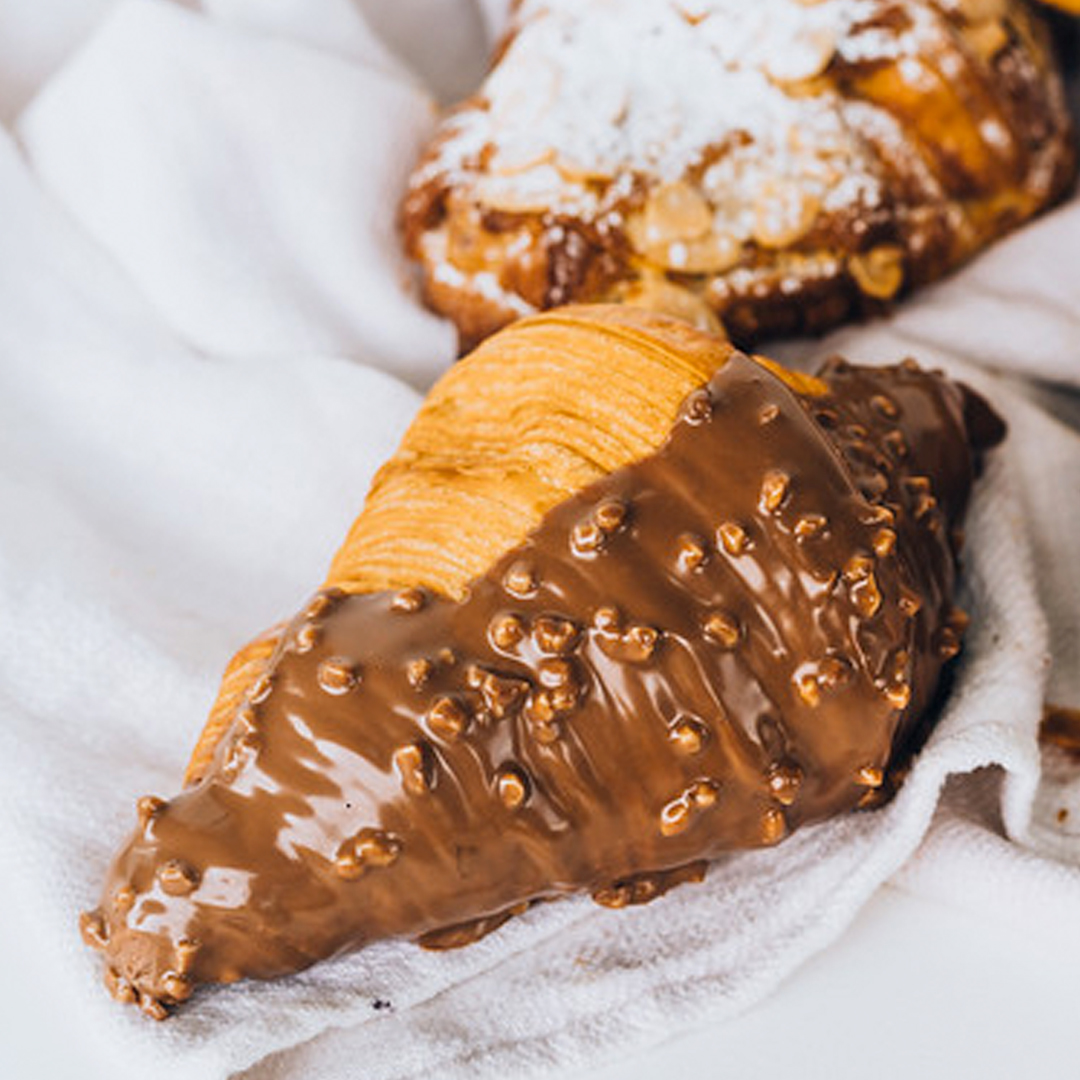 Soufflé Pancakes From Gram Pancakes
Chatswood
Gram Pancakes, the iconic chain credited with creating some of the best soufflé stacks in Tokyo, has officially set up shop in Chatswood. These morsels are ultra-light and have a melt-in-your-mouth consistency, achieved with whipped egg white batter which is then steamed under metal domes and cooked until golden. The good news is, you can now treat yourself to a premium to-go box of these bad boys. That means five soufflé pancakes all filled with Gram's famous NAMA cream (and they're all made fresh every morning). On top of this, there's also a sling of new flavours to get around which includes strawberry, chocolate, and matcha.
For now, Gram is just offering takeaway so you will have to make a dash to pick yours up (house slacks totally acceptable). Call ahead on (02) 8084 0866.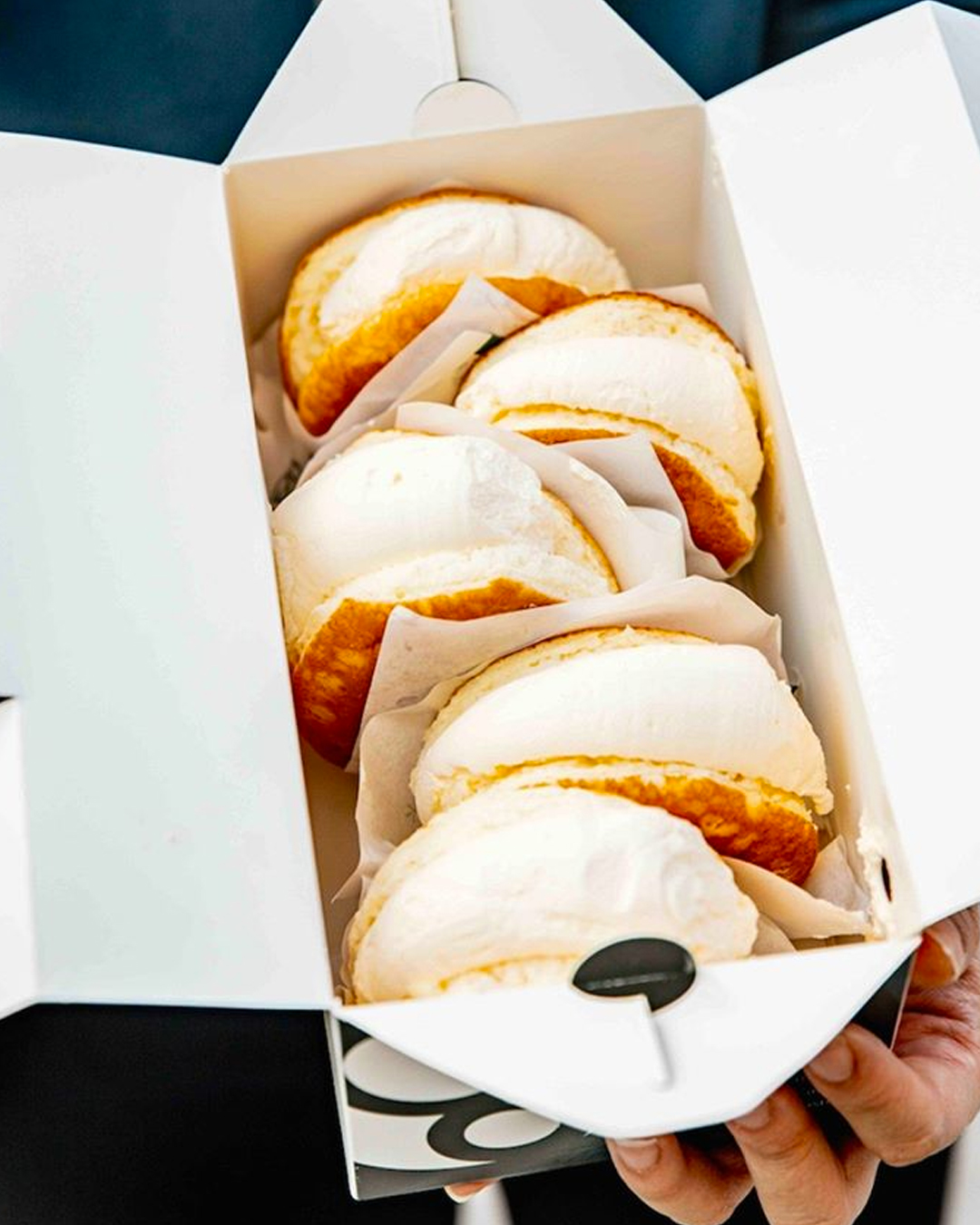 Hot Cinnamon Doughnuts From Butter
Surry Hills, Parramatta
It's no surprise that the crew at Butter knows how to whip up some solid fried goods. On the dessert delivery front, it's Butter's famous hot cinnamon doughnuts that have us drooling non-stop. You can order up a box of five and, look, if you have some vanilla ice cream in the freezer, grab a scoop and load her on top and you may or may not be looking at the greatest dessert pairing of all time.
Butter is currently available on Uber Eats and Deliveroo. Otherwise, you can make their hotline bling and call ahead to pick up a box of takeaway. Call Butter Surry Hills on (02) 8283 9146, and Butter Parramatta on (02) 8849 0389.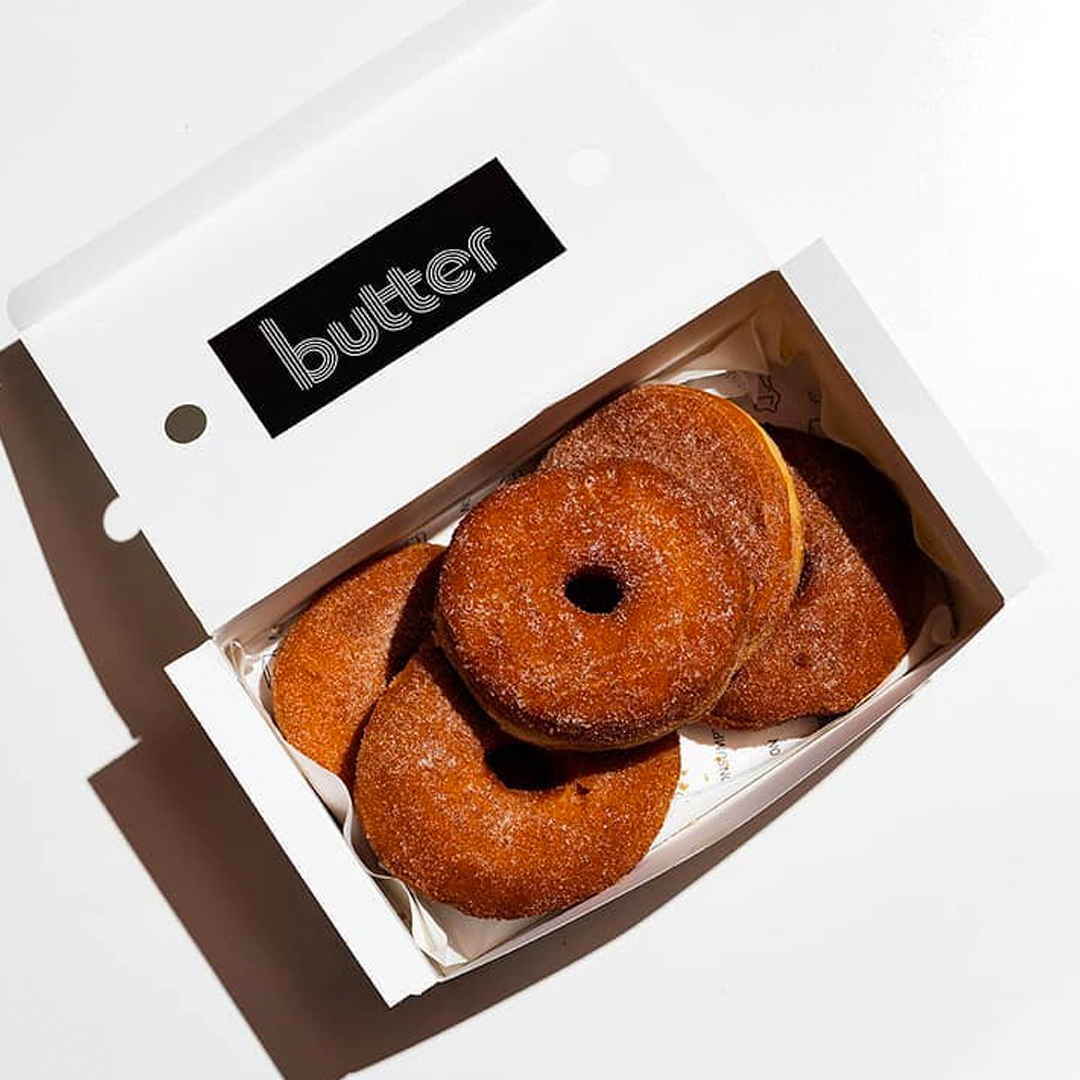 Box Of Fresh Cannoli From Piccolo Cannoli Bar
Hurstville
Sydney, we know your love for cannoli is eternal, so brace yourself for one of the greatest things you could ever get delivered to your front door. Yep, we're talking about a box absolutely full of Italy's dessert pride and joy. Piccolo Cannoli Bar is Sydney's dedicated mecca to the tasty stuff, cannoli loaded with Nonna Angelina's secret cannoli cream. The possibilities are pretty much endless here, you can order a box (14 cannolis) of the classic ricotta with pistachio or go hard on pastel confetti cannoli, caramel almond cannoli, coffee and walnut cannoli, lamington cannoli and even mocha cannoli.
Piccolo Cannoli is available for delivery on Uber Eats, Menulog, and Deliveroo. You can also nab a box for takeaway, more details are here.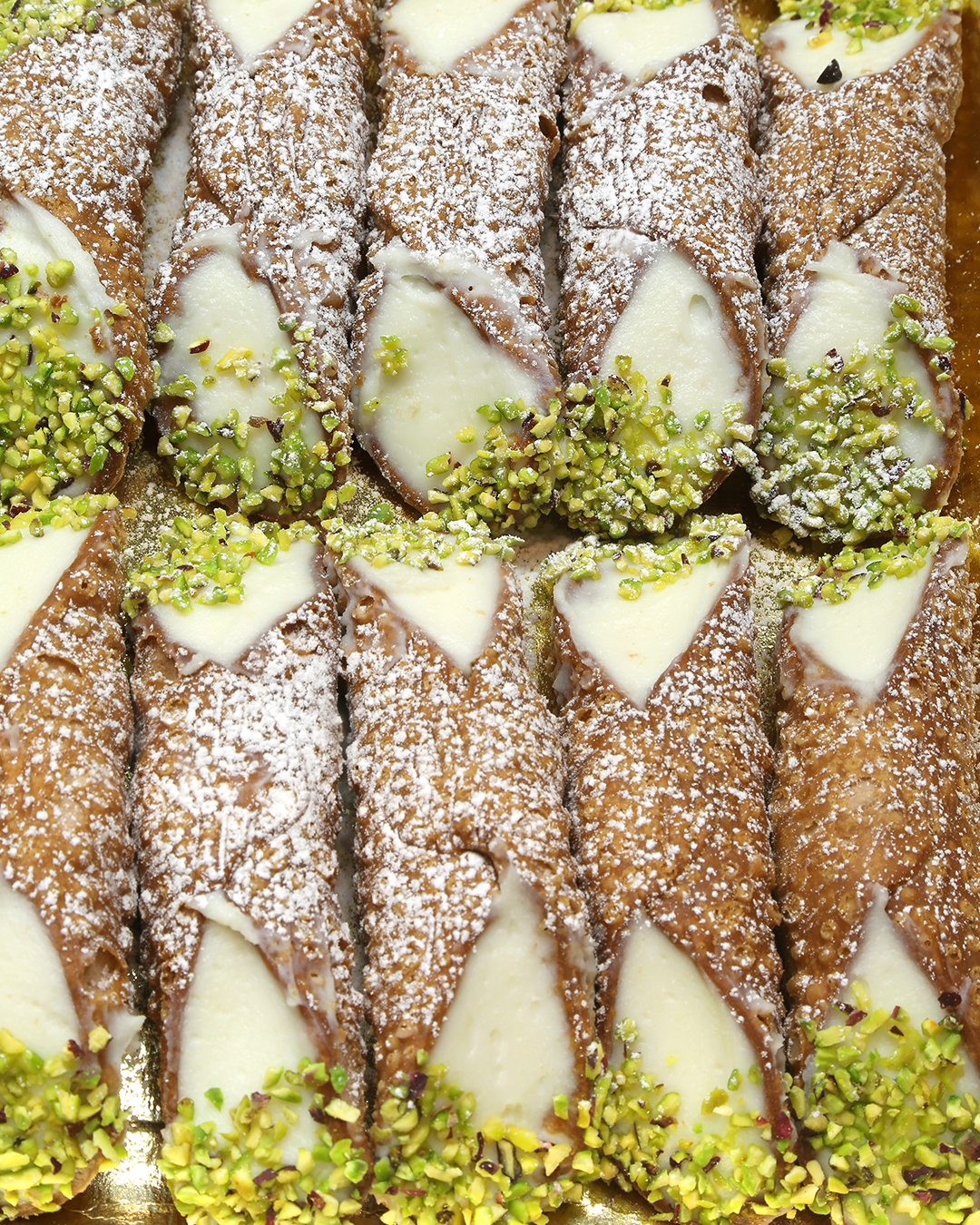 Buttery Crumpets From Pepe Saya
DELIVERY ONLY
Pepe Saya now has a breakfast box that will absolutely brighten up your day. Pepe's breakfast box is a collab with their sister company Crumpets by Merna, and in it, you will find a six-pack of fluffy, fresh-baked sourdough crumpets (to eat today or stow away in the freezer for up to three months). You'll also get six 15g servings of Pepe Saya butter, a 200ml pot of crème fraîche, and a jar of lemon curd—all for $35. You can eat these gems with a coat of butter or honey, use them to jazz up eggs benedict, or, hell, go all out and make yourself a crumpet breakfast burger.
Next-day delivery is available via Australia Post, and if you order over $50—delivery is free. More details are here.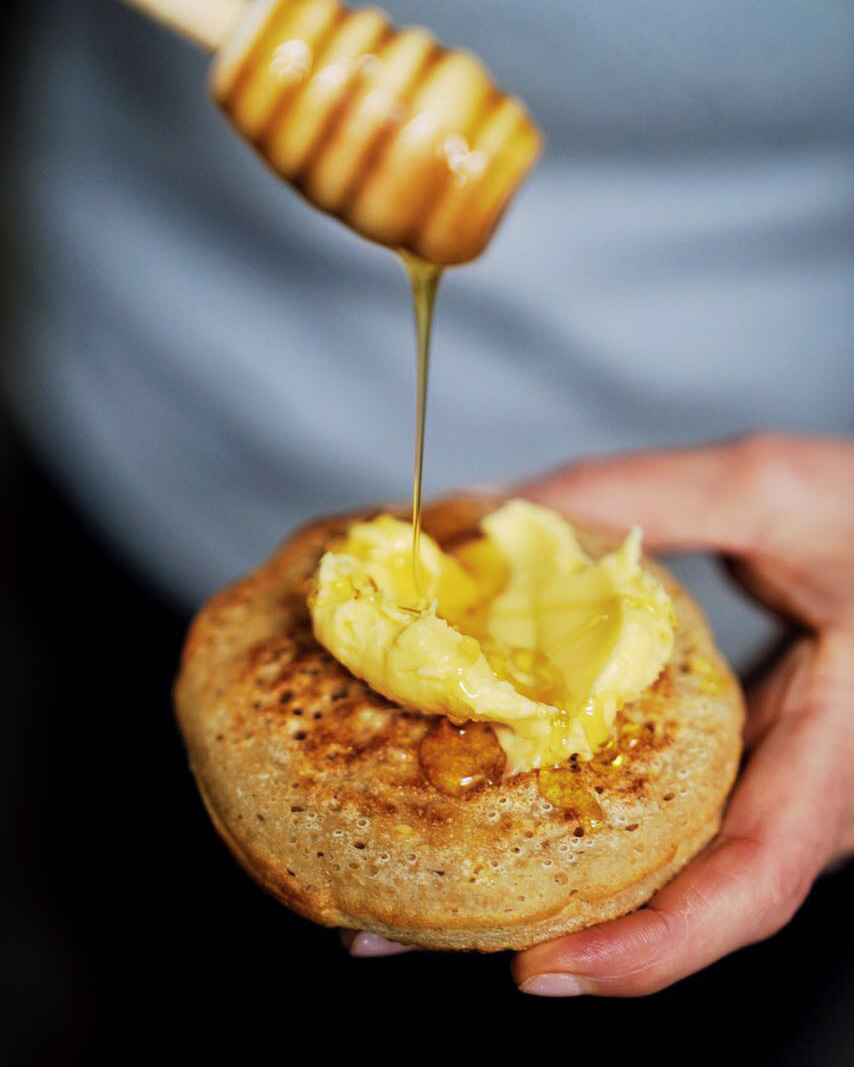 A Tray Of Baklava From Greek Sweets
Marrickville
Greek Sweets doesn't shy away from delivering the sweet stuff. There's a number of filo pastry sweets to dig into, we're looking at the almond rolls and kataifi (shredded pastry loaded with diced almonds), but you'll want to make sure you hit the classic tray of lightly syrup'd baklava. It's a juicy one kilo serving of pastry made up of 24 individual pieces and if that's not enough to get you through lockdown, we don't know what is. Just make sure you place an order 12 hours in advance.
Greek Sweets is available on Deliveroo.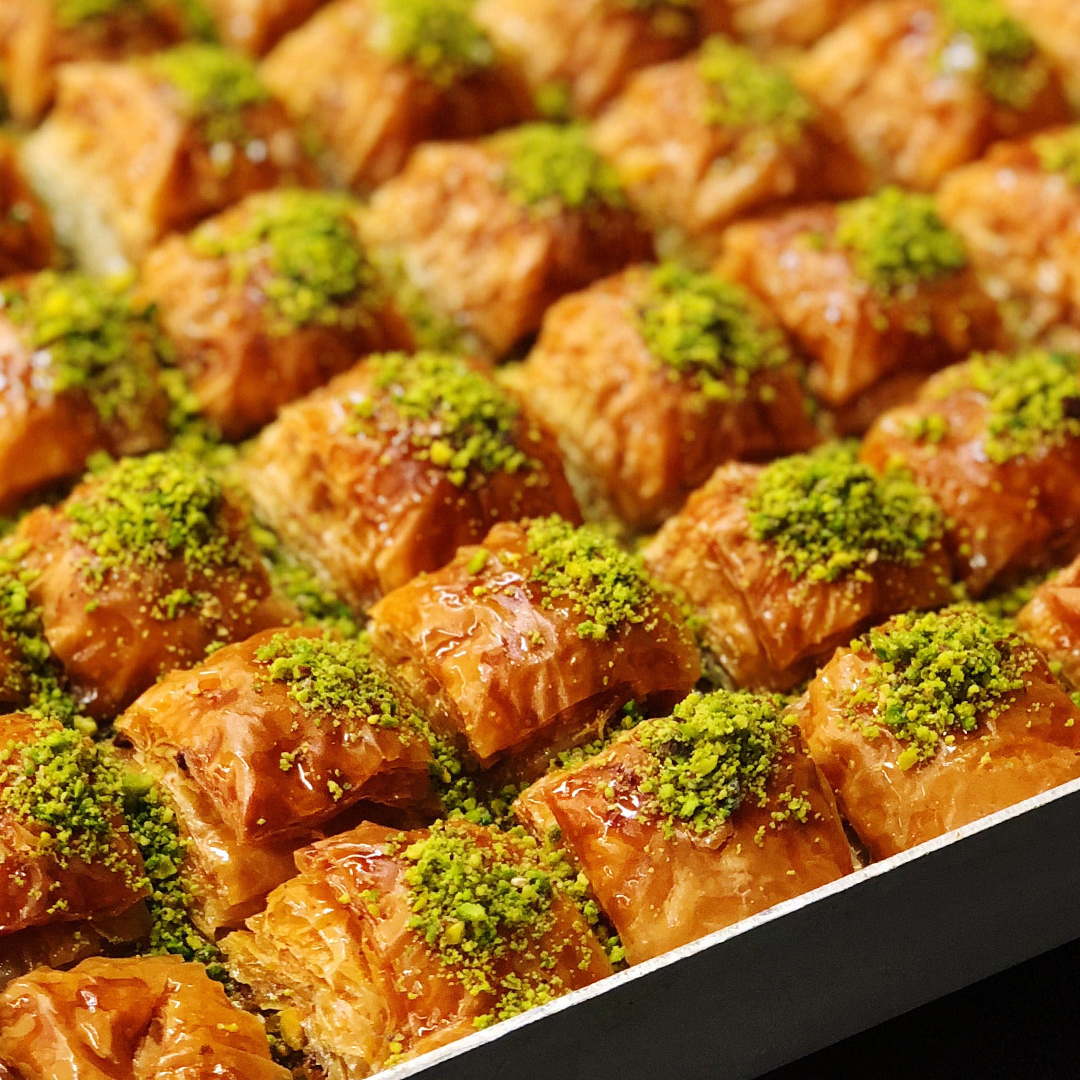 Portuguese Tarts From Zest Patisserie
KellyvillE AND Baulkham Hills
If you could get a whole heap of creamy custard tarts delivered to your door, you'd want to know, right? And to be honest, custard tarts are just the start at Zest Patisserie. You can also load your cart with lemon meringues, baked ricotta cheesecakes, Lindt white chocolate blondies and shortbread.
Deliveries take place between 8am and 2pm from Monday through to Saturdays. Suss it out here.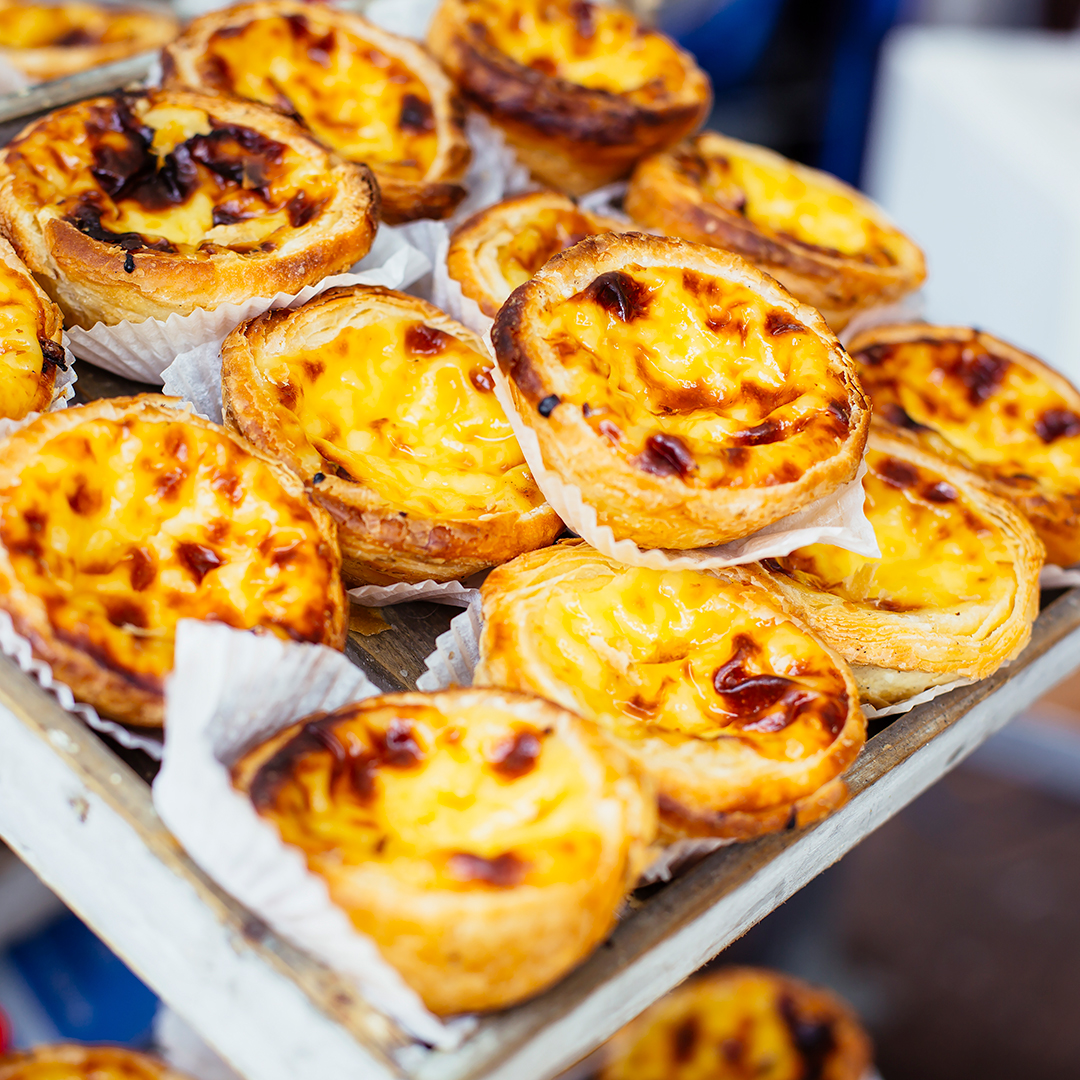 Rafaello Cake From Looma's
Bankstown
The cakes at Looma's are in their own calibre of dessert. These silky creations are what your biggest sweet dreams are made of. The Rafaello cake is the ultimate coconut treat with a velvety texture that's topped with biscuit flakes. Trust us, your housemates will thank you.
Order before 9.30pm and Looma will give you free next-day delivery from Monday through to Saturdays. More info here.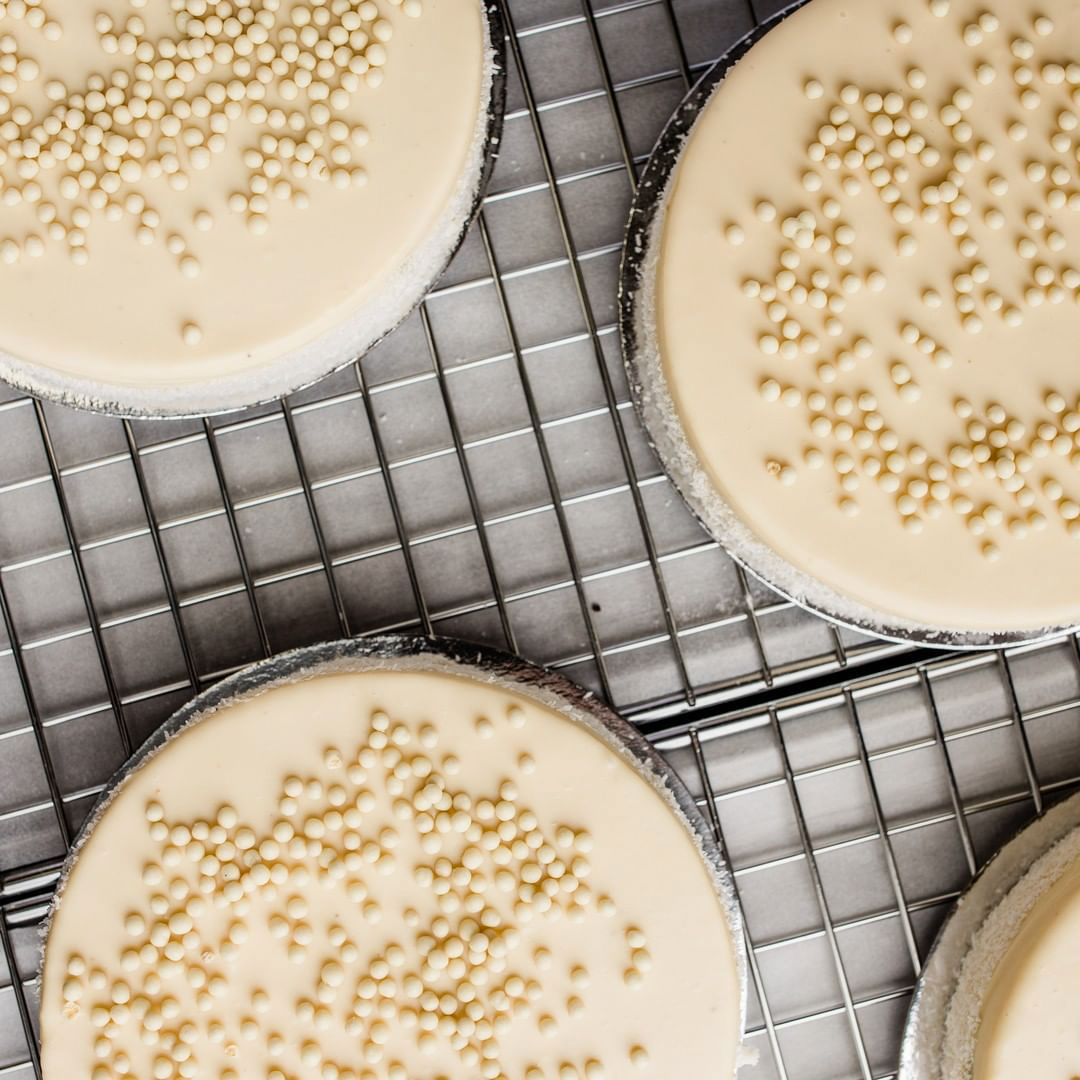 Bored? Get your hands dirty with this DIY pottery kit.
Image credit: Burnt Sydney, Bask Blends Cafe, Just Banoffy, By George Coffee, Burnt SydneyNancy Tran, Nancy Tran, Baked by Blonde Butler, La Maison Cookies, Daughter Of A Baker, Javi Bakes, Black Star Pastry, Babycheeks Beignets, Thicc Cookies, Western Sydney Donuts, Poles Patisserie, Midnight Donuts, Knafeh Queen, Marta, 15cm, Luku Madness, Sandiotchi Cafe, Radoslaw Kozik, Peanut Butter Bar, Piccolina, Bennett Street Dairy, Madame & Yves, Gram Pancakes, Butter, ChiccoDodiFC, Pepe Saya, Kadir Demirtas, Looma's