There's something ever so wholesome about getting goods delivered straight to your front door. Maybe it's the thought of skipping Sydney's infamous traffic, or maybe it's just being able to chill in your house slacks all-day. Whatever it is, we love home delivery.
And to add to the ever-growing list of epic things you can get delivered straight to your front door, we bring you all the desserts worth throwing your cash at only to have them miraculously turn up at your doorstep. Think fancy croissants, soufflé pancakes, cinnamon doughnuts, cannoli, and a whole heap more.
These are the best desserts to get delivered (or takeaway) in Sydney right now.
A Box Of Assorted Doughnuts From Shortstop
Darling Square, Barangaroo
If it's an ever-so holy delivery you're after, the sweet goods from Sydney's doughnut mecca Shortstop, are your jam. These beauties are made fresh for you on-site every single day with high-quality all-natural ingredients. And don't expect your pink icing affair either—flavours look like Earl Grey and rose cake, triple matcha, sticky date and gingerbread and lemon ricotta cheesecake. There's even a stuffed s'mores doughnut and a spiced apple cider cruller. Take it from us—you'll want to order up the 24-pack.
Loaded Loukoumades From Luku Madness
Surry Hills
Sometimes all you need is a big delivery of amped-up Greek treats. Luku Madness is a speciality loukoumades delivery service so needless to say, you'll be ordering in bulk here. Usually, these traditional Greek balls of deliciousness come drenched in honey, but the menu here steps things up a notch with lamington loukoumades drenched in Nutella, shredded coconut and mixed berry coulis sauce; and rocky road loukoumades with Nutella, shaved white chocolate, almonds, marshmallows and chopped Turkish delight. Pick your poison.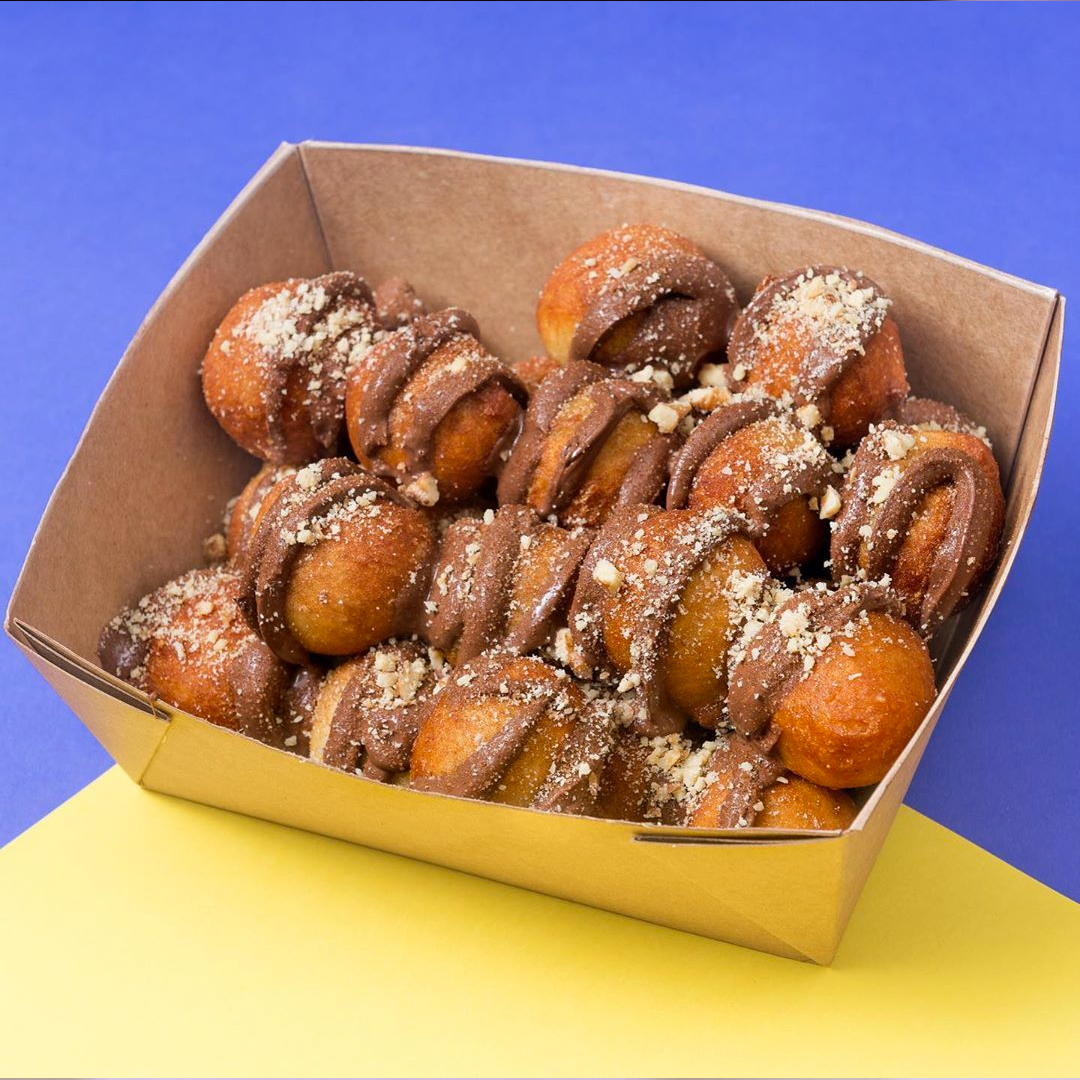 Strawberry And Cream Sandos From Sandoitchi Cafe
Darlinghurst
Though Sandoitchi may be famous for churning out one of the best katsu sangas in Sydney—this Darlinghurst local delivers a mean dessert sambo too. The menu at Sandoitchi is packed with many savoury feeds worth your time, however, we want to draw your attention to the strawberry and cream sandwiches here. This sweet sandwich is loaded with fresh, fluffy cream, sweet strawberries and held together with the beauty that is thickly-cut white bread. You're welcome.
Jumbo Bake-At-Home Apple Crumble From Peanut Butter Bar
Leichhardt
Amp up your dessert feasting with Peanut Butter Bar's jumbo apple crumble. This mammoth tray of crumble, which serves around four people, comes with vanilla gelato and peanut butter shots (made to drizzle all over your apple crumble) so you can nail iso date night the right way. Swoon!
Cheesecake Biscuit Slices From Lattice Slices By Flo
Wentworthville
Prepare your bellies for one of the greatest biscuit creations of all time. If you've never heard of Lattice Slices From Flo, the team here makes crunchy pastry treats with flavoured cheesecake fillings and yes, they're moreish as hell. You can order up an assortment of these treats with flavours looking like Oreo, "Mango-Pash", Hershey's Caramel and Bounty too. Our favourite will always be the original vanilla lattice slices though—are they the creamiest dessert in Sydney? We'd back that.
Tray Of Tiramisu From Piccolina Hunters Hill
Hunters Hill
Sometimes you just have a solid hankering for a slab of good old fashioned tiramisu. Kings of this coffee-soaked treat, Piccolina, have this guy made to order in two different serving sizes. There's a small tray that's perfect for two (ie. a perfect way to finish off iso date-night) or if you live among particularly hungry housemates, the family slab, which feeds up to 10 hungry humans, is your jam.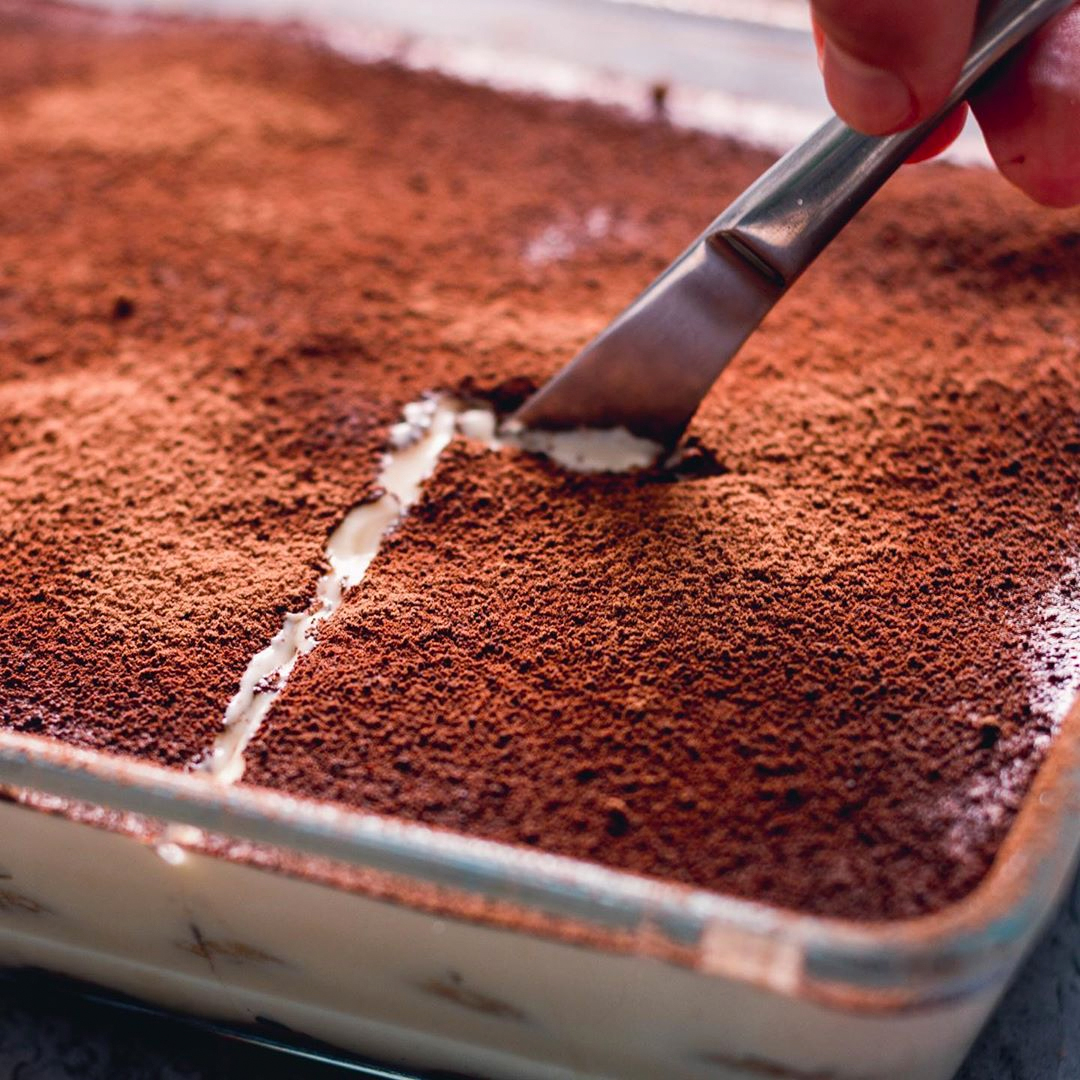 Choc Chip Cookie Dough From Bennett Street Dairy
Bondi
Bondi's Bennett St Dairy, home of the enormous, unbeatable pizza cookie, is slinging rolls of their famous choc chip cookie dough for you to bake at home. Bondi locals may be across this cult cookie hack already but the rest of Sydney will be happy to know city-wide home-delivery within two business days is also now available for Bennett St Dairy's dough. For just $12 you can order a roll of cookie dough, ready to be sliced, placed on a baking tray, baked for just 10 - 15 minutes and voila: a perfect chewy choc chip cookie, minus all that mess.
Ferrero Rocher Croissants From Madame & Yves
Clovelly
If you know anything about anything, you'll know the Ferrero Rocher croissants at Clovelly's Madame & Yves are the dang best. The best. The team here is helping you make the most of staying at home so that you can make decadent breakfast in bed a regular occurrence. You can also switch things up and go for their almond choc croissant, almond raspberry croissant, a cinnamon twist or even the good old original.
For more details on Madame & Yves home delivery, head to their website or call (02) 7900 8498.
Soufflé Pancakes From Gram Pancakes
Chatswood
Gram Pancakes, the iconic chain credited with creating some of the best soufflé stacks in Tokyo, has officially set up shop in Chatswood. These morsels are ultra-light and have a melt-in-your-mouth consistency, achieved with whipped egg white batter which is then steamed under metal domes and cooked until golden. The good news is, you can now treat yourself to a premium to-go box of these bad boys. That means five soufflé pancakes all filled with Gram's famous NAMA cream (and they're all made fresh every morning). On top of this, there's also a sling of new flavours to get around which includes strawberry, chocolate and matcha.
For now, Gram is just offering takeaway so you will have to make a dash to pick yours up (house slacks totally acceptable). Call ahead on (02) 8084 0866.
Hot Cinnamon Doughnuts From Butter
Surry Hills, Parramatta
It's no surprise that the crew at Butter know how to whip up some solid fried goods. On the dessert delivery front, it's Butter's famous hot cinnamon doughnuts that have us drooling non-stop. You can order up a box of five and, look, if you have some vanilla ice-cream in the freezer, grab a scoop and load her on top and you may or may not be looking at the greatest dessert pairing of all time.
Butter is currently available on Uber Eats and Deliveroo. Otherwise, you can make their hotline bling and call ahead to pick up a box of takeaway. Call Butter Surry Hills on (02) 8283 9146, and Butter Parramatta on (02) 8849 0389.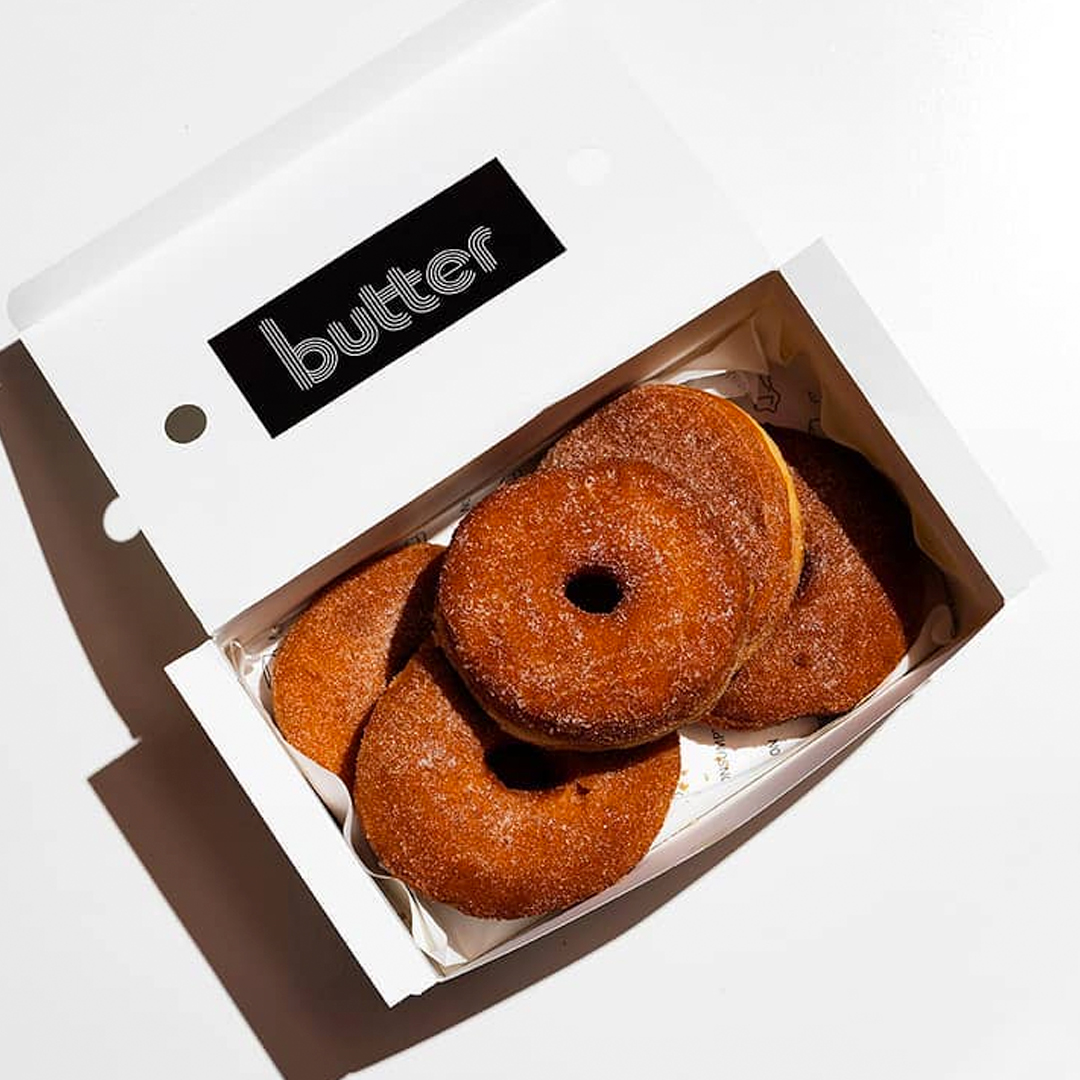 Box Of Fresh Cannoli From Piccolo Cannoli Bar
Hurstville
Sydney, we know your love for cannoli is eternal, so brace yourself for one of the greatest things you could ever get delivered to your front door. Yep, we're talking about a box absolutely full of Italy's dessert pride and joy. Piccolo Cannoli Bar is Sydney's dedicated mecca to the tasty stuff, cannoli loaded with Nonna Angelina's secret cannoli cream. The possibilities are pretty much endless here, you can order a box (14 cannolis) of the classic ricotta with pistachio or go hard on pastel confetti cannoli, caramel almond cannoli, coffee and walnut cannoli, lamington cannoli and even mocha cannoli.
Piccolo Cannoli is available for delivery on Uber Eats, Menulog and Deliveroo. You can also nab a box for takeaway, more details are here.
Buttery Crumpets From Pepe Saya
Caringbah
Pepe Saya now has a breakfast box that will absolutely brighten up your day. Pepe's breakfast box is a collab with their sister company Crumpets by Merna, and in it, you will find a six-pack of fluffy, fresh-baked sourdough crumpets (to eat today or stow away in the freezer for up to three months). You'll also get six 15g servings of Pepe Saya butter, a 200ml pot of crème fraîche and a jar of lemon curd—all for $35. You can eat these gems with a coat of butter or honey, use them to jazz up eggs benedict or, hell, go all out and make yourself a crumpet breakfast burger.
Next-day delivery is available via Australia Post, and if you order over $50—delivery is free. More details are here.
A Tray Of Baklava From Greek Sweets
Marrickville
Greek Sweets doesn't shy away from delivering the sweet stuff. There's a number of filo pastry sweets to dig into, we're looking at the almond rolls and kataifi (shredded pastry loaded with diced almonds), but you'll want to make sure you hit the classic tray of lightly syrup'd baklava. It's a juicy one kilo serving of pastry made up of 24 individual pieces and if that's not enough to get you through lockdown, we don't know what is. Just make sure you place an order 12 hours in advance.
Greek Sweets is available on Deliveroo.
Custard Tarts From Zest Patisserie
Kellyville, Baulkham Hills
If you could get a whole heap of creamy custard tarts delivered to your door, you'd want to know, right? And to be honest, custard tarts are just the start at Zest Patisserie. You can also load your cart with lemon meringues, baked ricotta cheesecakes, Lindt white chocolate blondies and shortbread.
Deliveries take place between 8am and 2pm from Monday through to Saturdays. Suss it out here.
Rafaello Cake From Looma's
Bankstown
The cakes at Looma's are in their own calibre of dessert. These silky creations are what your biggest sweet dreams are made of. The Rafaello cake is the ultimate coconut treat with a velvety texture that's topped with biscuit flakes. Trust us, your housemates will thank you.
Order before 9.30pm and Looma will give you free next-day delivery from Monday through to Saturdays. More info here.
Bored? Get your hands dirty with this DIY pottery kit.
Image credit: Shortstop, Luku Madness, Sandiotchi Cafe, Radaslaw Kozik, Peanut Butter Bar, Lattice Slices By Flow, Piccolina, Bennett Street Dairy, Madame & Yves, Gram Pancakes, Butter, ChiccoDodiFC, Pepe Saya, Kadir Demirtas, Looma's