Resting on the edge of the CBD, Richmond is a bustling metropolis of Melbourne. The bar and restaurant rich suburb is easily one of the busiest precincts for drinking and dining, whether it be a pre-match pint and parma before sauntering to the holy grounds of the MCG or a full six-course set menu.
Here are the best restaurants in Richmond for 2022:
Jamu
Jamu's modern Australian-Asian influences has established itself as one of the best restaurants in Richmond. The menu, which is laden with dishes like the crispy pork hock with tamarind caramel sauce and ginger dressing is a must, along with the cheeseburger spring rolls and some of the best spiced-beef short ribs we've ever eaten. There's no better place to jump on the bottomless brunch bandwagon, with flowing piney limey seltzers and passion fruit spritz and mimosas available every weekend.
Mr Joe
A favourite of the region, Mr Joe on Burnley Street in Richmond has been a go-to for elevated European cuisine since opening a few years ago. With both a tapas and a la carte menu, take the plunge into charcoal-flame charred rump steak with a rich and zesty chimichurri, or the garlic roasted eggplant served up with tomato and melted gruyere cheese. Mr Joe has also made its mark with its bottomless cocktails sessions, a 90-minute foray into mixologist-crafted mimosas, martinis and margaritas, which alongside a few Tapas dishes has proven to be an award-winning formula; booking out regularly.
Baby Pizza
From the team behind Melbourne food haven, Chin Chin, Baby provides quality modern Italian smack-bang in the heart of Richmond. The Church Street Osteria boasts a wonderfully crafted Italian menu, with plenty of pizzas and an array of pasta to fulfil any flavour cravings. With an aesthetic interior, contemporary decor of white booths and wooden tables, it's another perfect after-work staple in Richmond.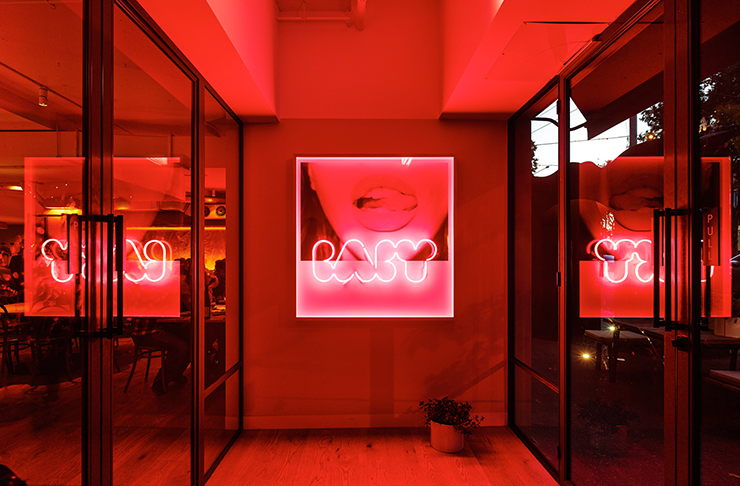 The Meatball & Wine Bar
Specialising in the favourable food group of meatballs and sliders, The Meatball & Wine Bar is hotly favoured as one of the best restaurants in Richmond. Dining here is super easy. Just choose from a range of expertly crafted meatballs (beef, pork, chicken, fish or veg), alongside a sauce from a red tomato sugo, a zesty salsa verde or a creamy mushroom sauce, and something for it to sit on; like a creamy polenta to soak up all the juices. Make sure to leave room for the famous Whoopie Mac ice-cream sandwich—the gingerbread cookie is a favourite.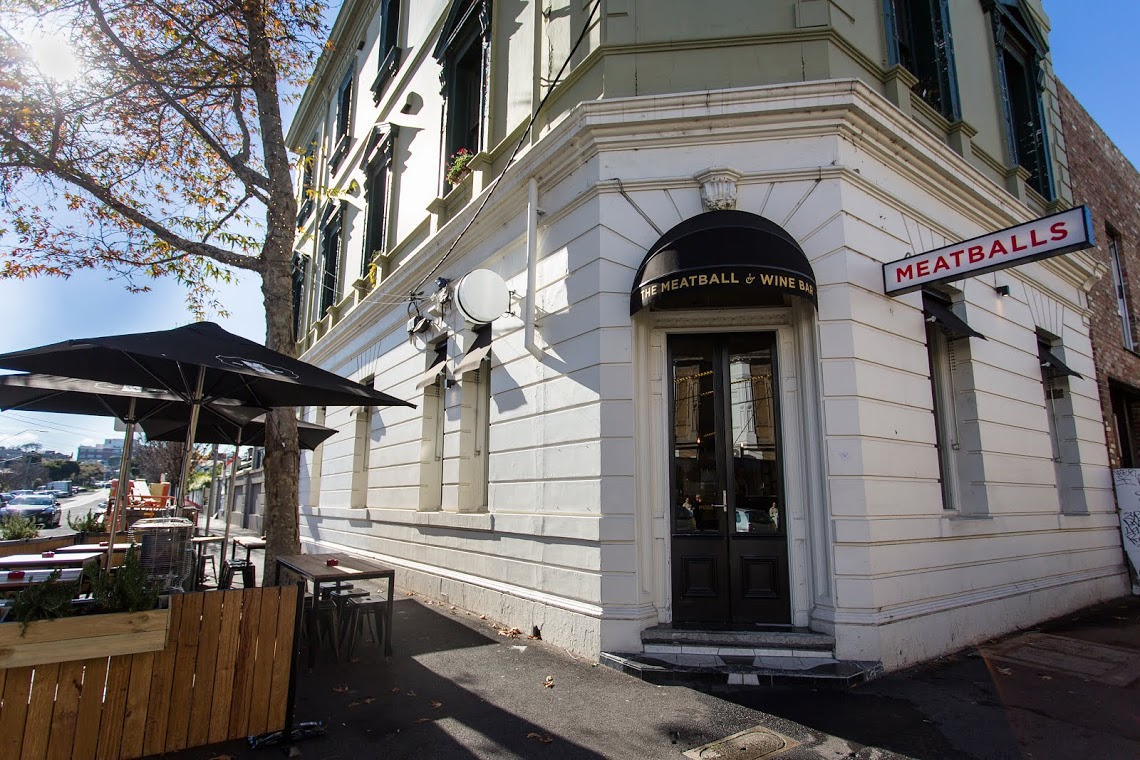 Feast Of Merit
The vibrant shop front exterior of Feast Of Merit on Swan Street in Richmond is the first sign you're in for a good time. Inside you'll find a range of sustainably and locally sourced Middle Eastern-style and southern Mediterranean cuisine, designed to share the feast of flavours from the slow-cooked lamb shoulder with Harissa and artichoke cream to the crushed roasted potatoes with horseradish and labneh a provide a lasting impression. There's a community-centric approach at Feast of Merit, with an ethos on feeding all so you'll find budget-friendly options on the menu.
Onda Bar & Eatery
Fiesta is definitely the mood when we swing by Onda Bar & Eatery in Richmond. This place has a buzz about it. Partly down to the on-point décor, monstera murals and the chairs you see on Pinterest boards, but the food transports you to another dimension. Plantain fingers with lime aioli and kingfish ceviche merely scratch the surface we could go on for days. Best to grab some friends and go try for yourself.
New Quarter
Providing an elevated dining experience, New Quarter is a true revelation for the Richmond restaurant scene. With a vibrantly Vietnamese-influenced menu coinciding with a uniquely curated drinks menu, including a revelatory kaffir lime and ginger Sour as well as more beers than you could poke a stick at. The food menu is playful and explorative, take the now-signature Banh Mi Fingers, or opt for duck floss egg noodles and lemongrass porks cutlets. New Quarter is definitely up for contention in the debate for the best restaurant in Richmond.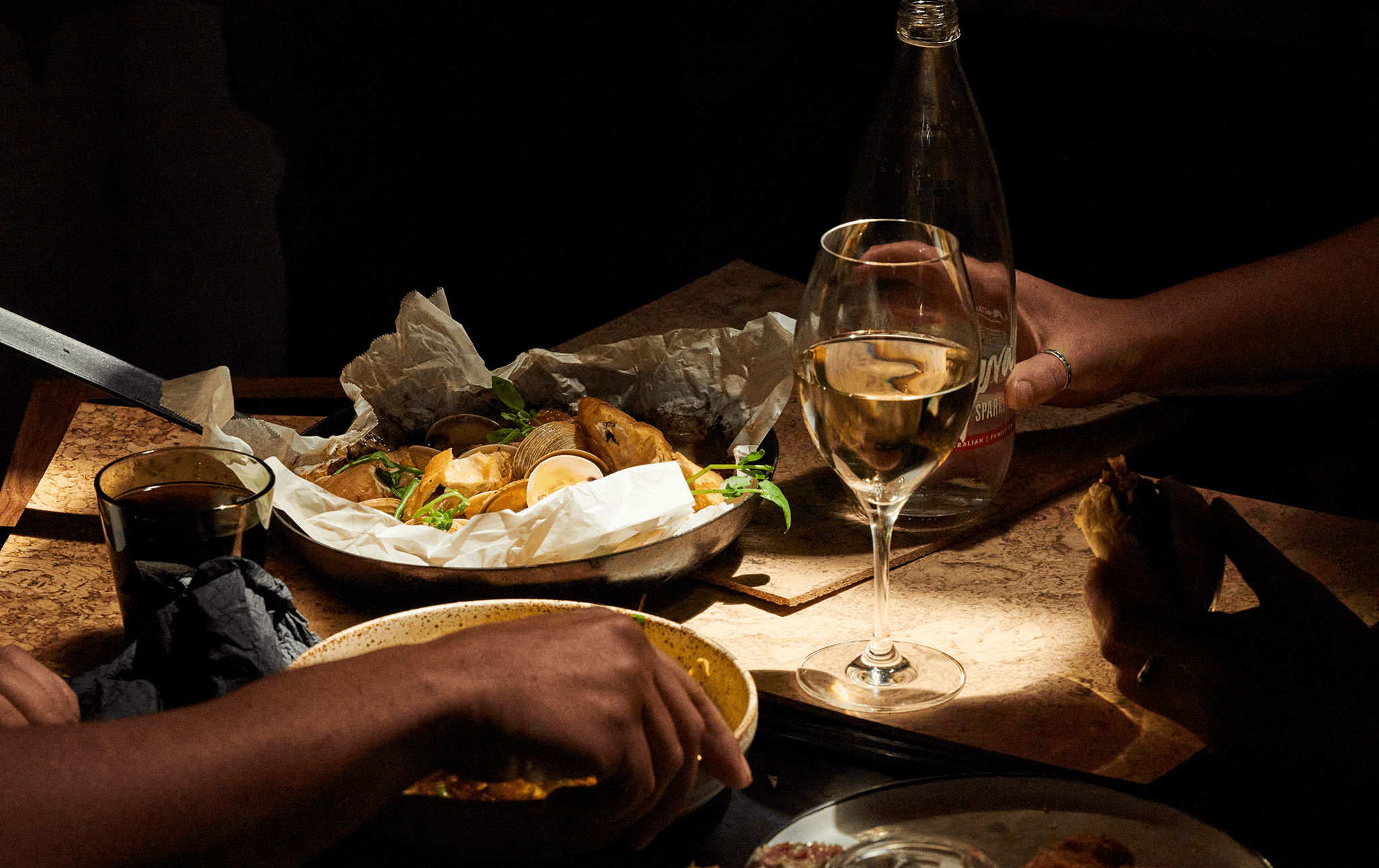 Union House
A heritage-listed hotel in Richmond with an ultra-sleek interior, the Union House is the best venue for modernist pub cuisine. Down at the bar, you'll be kicking back with plate-sized schnitzels and gentleman's relish, rockling burgers and paprika crusted short ribs. Settle in and enjoy their weekly happy hour, serving $8 pints and a range of $12 spritz.
Future Future
Architecturally intriguing and culinarily unique, Future Future brings Japan's best sublime dining to Richmond. The flavours might be pure, but the execution feels experimental. Think Pumpkin Agedashi tofu with parsnip crisps and tempura sauce. Or maybe fried chicken Karaage served with Yuzu Kosho mayo and Shiso Ponzu. Make sure you save room for the salted caramel bavarois with miso cameral and chocolate crumb—you can't leave without a taste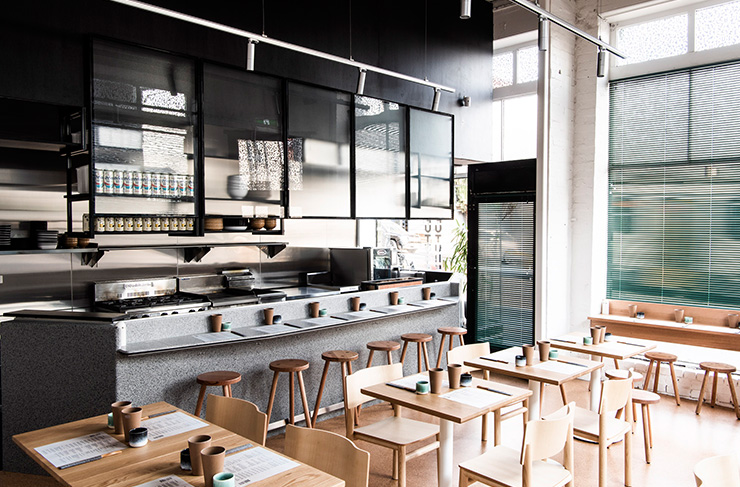 Ms Frankie
It would be criminal not to pay ode to the many epic Italian restaurants floating around Richmond, and Ms Frankie is one to be savoured. Beware, the menu is overwhelmingly delicious, stacked with a lifetime of family recipes and tradition. Start off with fresh wild mushroom, Parmigiano Arancini or the Bruschetta topped with Caponata Siciliana and Ricotta Salata. Pick from ten of the best pasta offerings or if it's too overwhelming, opt for Nonna's Feed Me menu and try a taste of everything.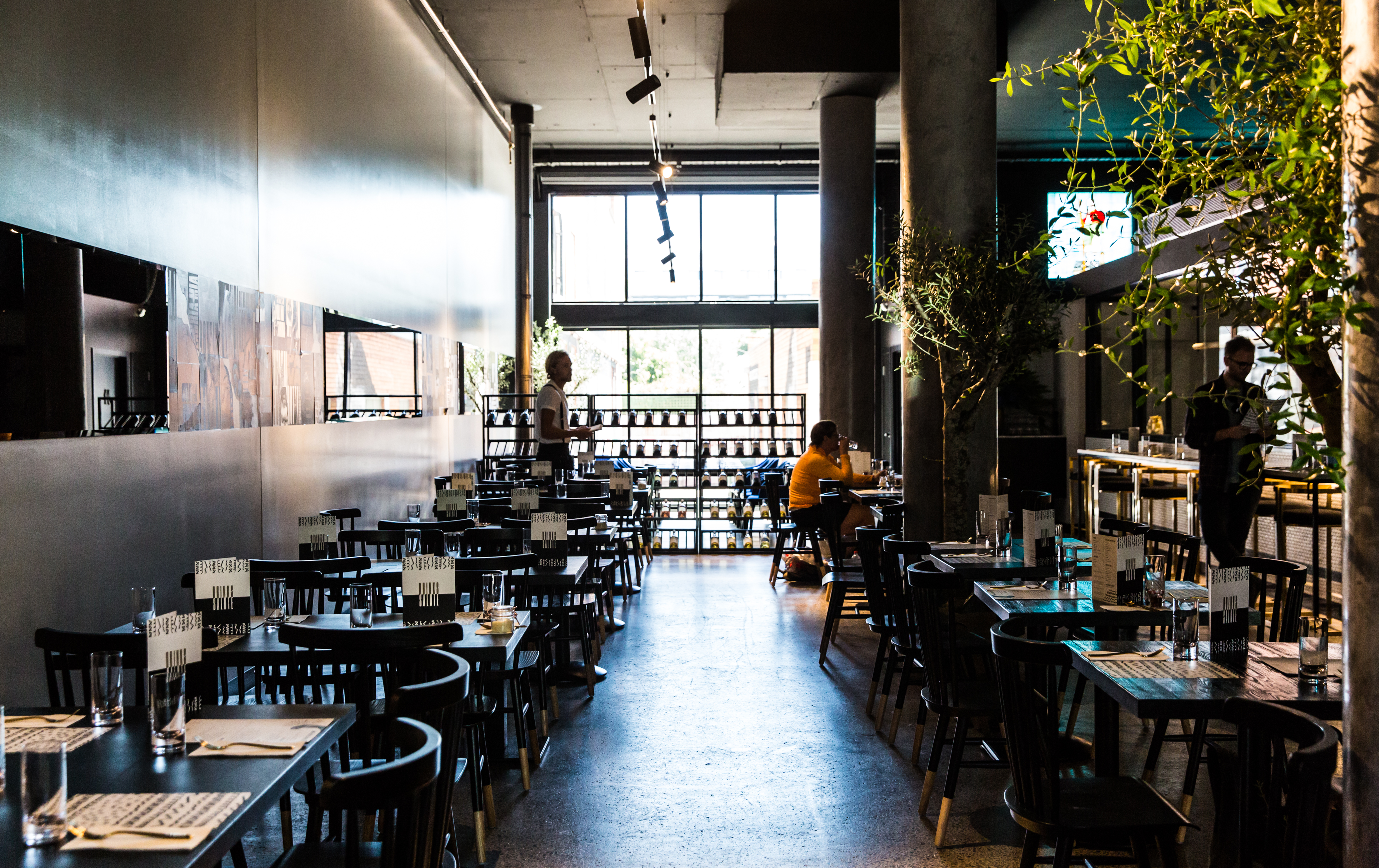 Hochi Mama
Don't settle for sub-par when you could be feasting on some the incredibly solid Vietnamese at Hochi Mama. With booked out restaurants on Little Bourke and Swan Street, rest assured Hochi Mama knows how to serve with style. Think bao buns in the form of crispy pork belly, green tea tofu or kimchi fried chicken. Order red duck curry with lychees and pineapple or maybe sticky beef rib with banana blossom, apple eggplant and mama's secret sauce. Treat yourself to a unique cocktail fusion with a Vietnamese Espresso Martini, Lycheezy Barcadi beverage or a Hoochi Mama ginger beer gin.
LadyBoy
Dine under twinkling fairy lights and paper umbrellas at Richmond's most photogenic Thai restaurant LadyBoy. Stacked with funky decor and bright neon signs, its got ambience in spades. Make it a tapas affair and order DIY Peking Duck pancakes served with sweet plum sauce and fermented chilli or try the corn and kaffir lime fritters topped with dried chilli and kewpie mayo. Die-hard Thai lovers can lean on plenty of Pad Thai and Pad See Ew while being adventurous in their cocktail orders, with a Lyche Long Time, Singapore Sling or a LadyBoy's Einstein.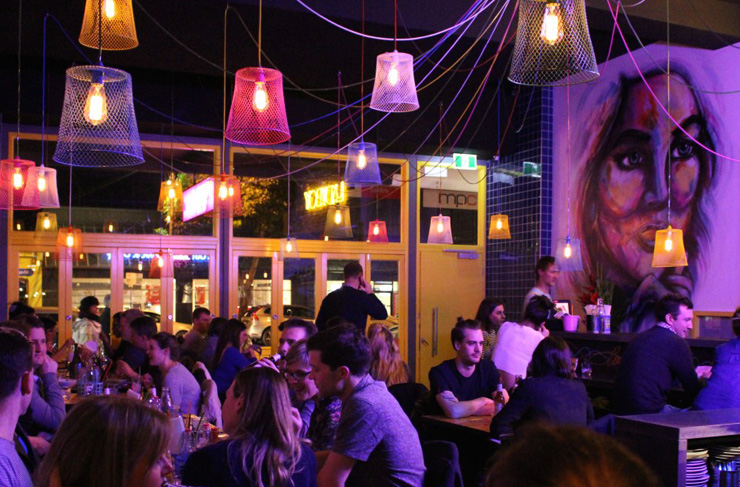 Anchovy
Situated in the heart of Richmond's Bridge Road, a meal Anchovy is the best way to expand your culinary taste buds. Describing itself as 'modern Asian, modern Australian, and a little bit in between,' Anchovy is ticking so many boxes for us. Dishes such as braised goat and grilled gurnard piqued our curious streak without completely scaring us away. The brains behind Anchovy have aimed to pay homage to their South-East Asian roots while using modern cooking techniques and modern Australian influences.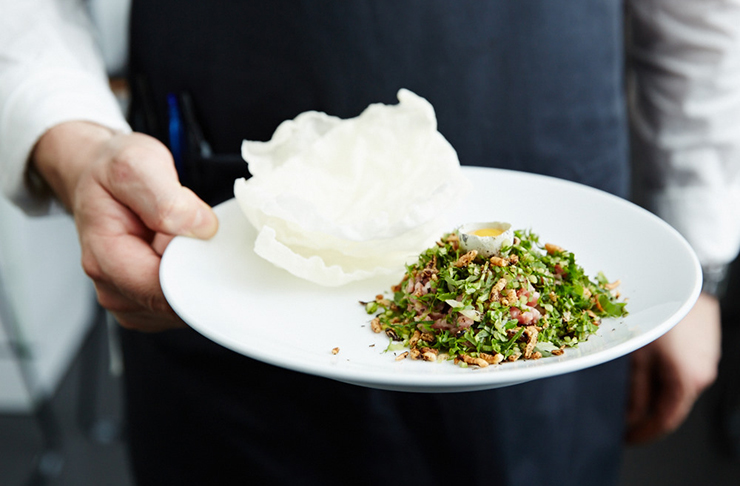 St Domenico Pizza Bar
There are two things Melburnians love. Italian food and bottomless. Well, Richmond's St Domenico is giving you the best of both worlds, with bottomless gnocchi or pizza throughout the week. Their pizza crusts emerge from the Italian stone oven perfectly blistered, and the toppings are all A-Grade. There are no duds on their regular menu, with plump Arancini and lusciously creamy Carbonara but if we had to pick a star, it'd be the veggo Fiorentina topped with Roma tomatoes, eggplant and Fior di latte.
1090 Burger
A restaurant dedicated to the craft of burger making is hiding in plain sight along Richmond's main drag. The golden ratio of ten per cent fat and 90 per cent meat gives this joint its name 1090 Burger, serving the best umami flavour bombs with a secret nine-ingredient marinade. Feast on their appropriately named Thunderburger, stacked with grass-fed Angus beef, double cheese, bacon and chilli mayo and why not throw in a side of Thunderfries for good measure, topped with bacon bits and pickles. If meat isn't your weapon of choice, devour their VegieBurger, loaded with a veggie patty and shiitake mushroom for that savoury punch.
Public House
Richmond's favourite four-story pub has recently undergone a huge reno. Public House is the creme de la creme when it comes to rooftop drinks, with their outdoor areas, lofty dancefloors and introduction of a two-tiered rooftop. With both of the elevated bars showing off sweeping views of Richmond, the MCG and the Melbourne skyline, alfresco dining here is nothing short of 'chef's kiss'. Feast on their steamed Taiwanese Bao, stacked with roasted pulled pork and apple coriander slaw or share an overflowing Charcuterie board with pickled vegetables, grilled ciabatta and a selection of cured meats.
I Love Pho
If you're easing into the world of Pho (pronounced: 'fuh'), I Love Pho in Richmond is maybe the best pho spot to start. The menu is very friendly to newcomers, with classic sliced beef and super-safe shredded chicken. If you want to be more adventurous, you can enjoy your fair share of chicken giblets, heart and liver too. These guys also have a store on the top floor of the Emporium, looking after all you inner-city dwellers.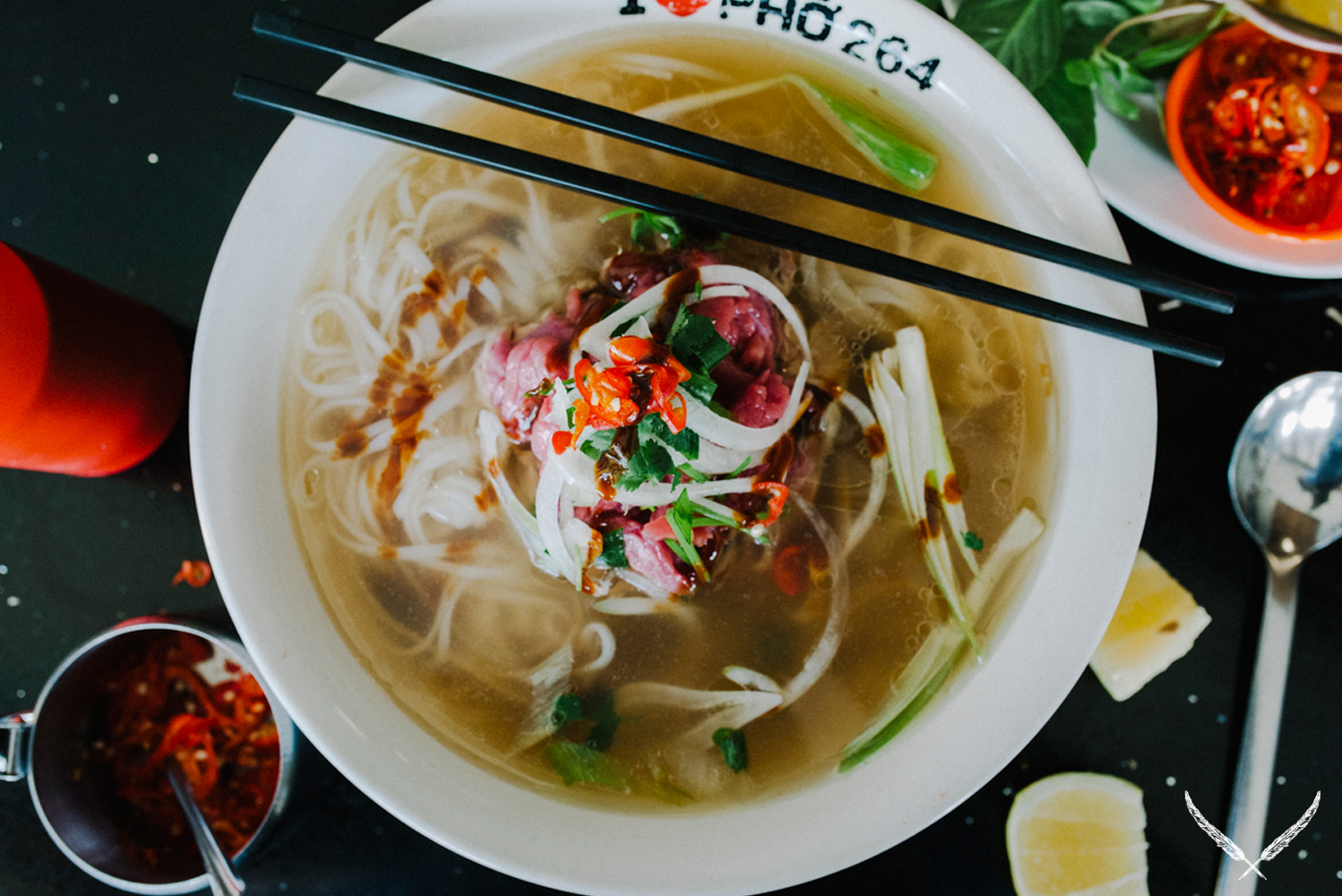 Demitri's Feast
Locals have fallen in love with Demitri's Feast all over again. Sunday brunch hotspot turned Greek Mezze Ouzo bar is serving the best Medditerain vibes in Richmond.
Sitting in the sun-dappled courtyard out back, there are strong Southern Mediterranean vibes, nibbling on Mezze plates like Ouzo cured salmon with horseradish cream or fresh-grilled lamb Keftedes with Tzatziki. Negroni fans should check out the Sevasmos 1919, a Greek twist spiked with mastic and pink grapefruit juice. Personally, though, we'll be pouring ourselves a glass of Retsina while knocking back plates of char-grilled octopus.
Harlow
Harlow is a pub, cocktail bar and restaurant rolled into one, making this Richmond hot-spot the best place for indecisive eaters. The food is a bit of a mixed bag of pub classics with a twist. Munch on mini crab doughnuts or sticky Jack Daniels and cola pork ribs. For more serious eats, there are options like the maple bacon, steak sanga or the smoked beer and cheese dog. The drinks menu is overflowing with cocktails, so sip on a spiced rum maple colada, a John Walker whiskey sour or a fruity peachcella.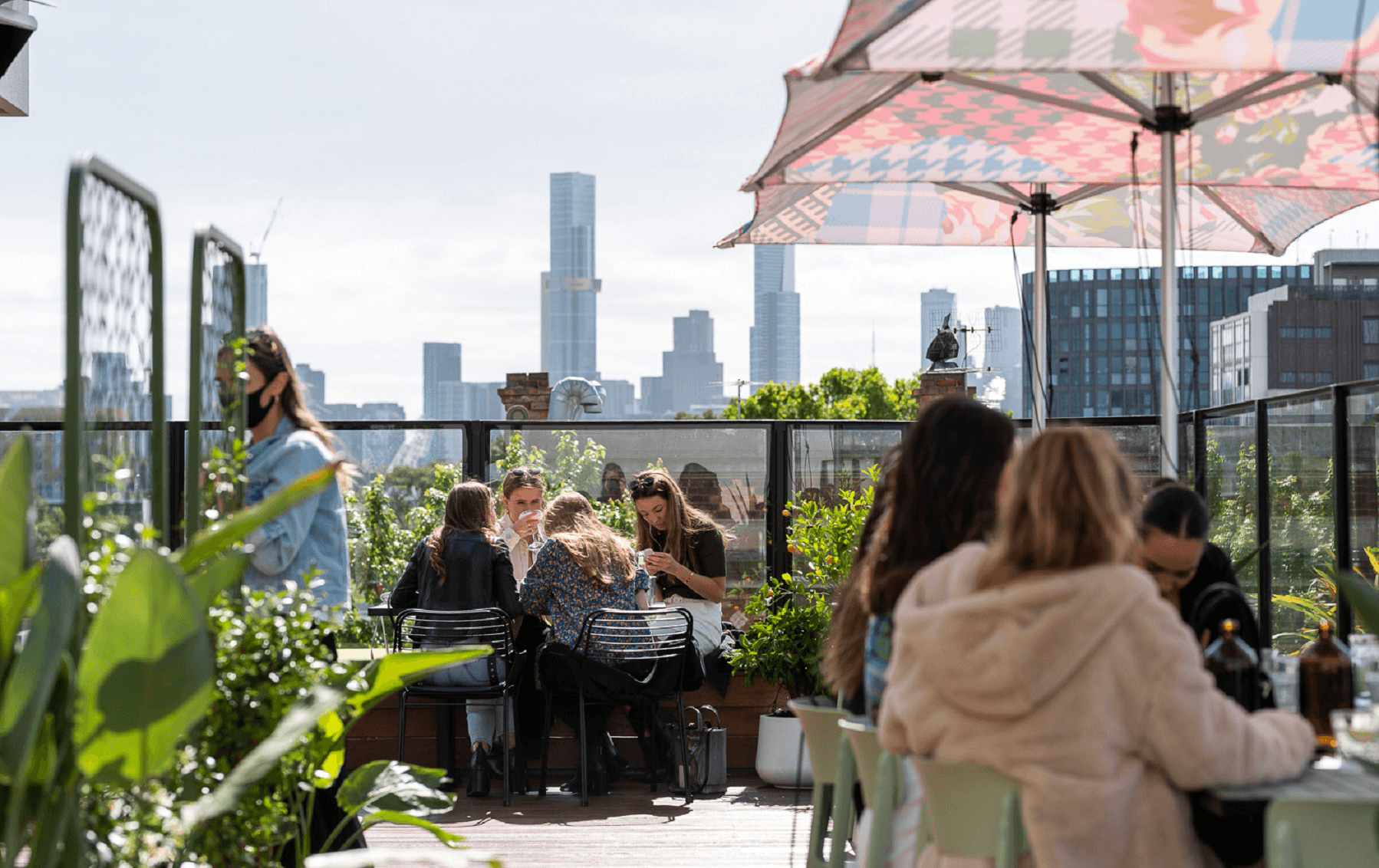 Bouzy Rouge
Bouzy Rouge is the best-kept secret along the Bridge Road strip of Richmond. It's a glamorous space filled with glitz—think Ralph Lauren zebra skins, a multitude of mirrors, and antler-clad walls.
The menu pulls no punches, offering a wide range of modern Mediterranean and Morrocan flavours. Pop into the front bar with your date for a glass of Rustic Bay's Pinot Noir and some grilled globe artichoke and Kefalograviera Saganaki tapas. Or take to the covered courtyard and devour a pot of surf and turf paella with your pals.
Ostēr
The word Ostér means 'to host' in Italian, and that is exactly what the team intend to do when you walk into this Richmond joint. They'll ease you into the dining experience in the rustic, inviting osteria—think exposed bricks, polished concrete and ceramic plates for a Melbourne meets Milan feel. The menu features the best fresh, local produce determined by the seasons and there are options for the veggie fans and meat-eaters alike.
Noir
You'll find this moody french restaurant along Swan Street, just a short walk from the hustle and bustle around Richmond station and the Corner Hotel. Noir's modern menu has been cultivated by Irish head chef Peter Roddy and is inspired by the bistros of southern France. With over 100 beverage options to choose from, you can settle in here for an indulgent evening with some of the best french food in Melbourne.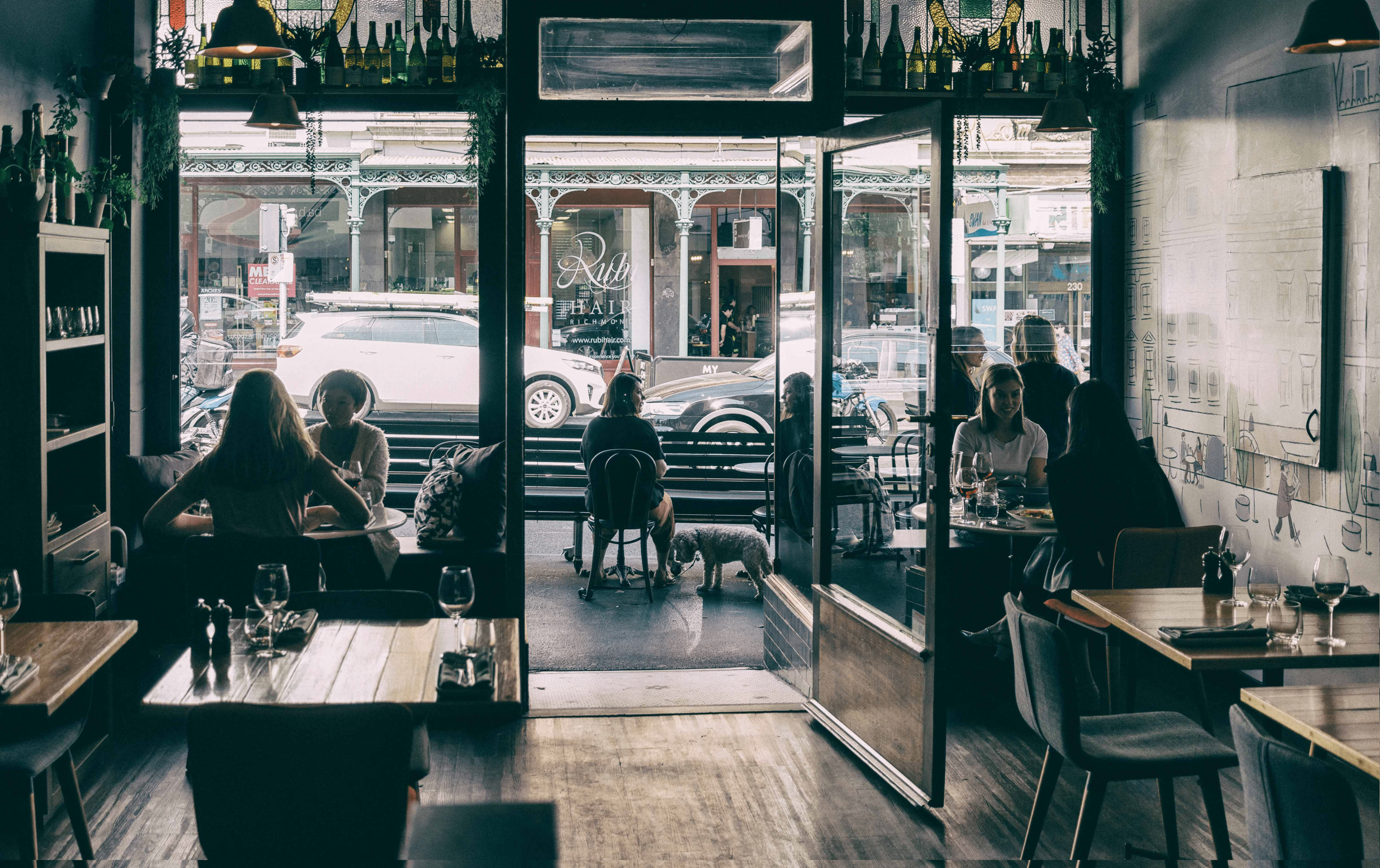 Minamishima
Minamishimia in Richmond serves the omakase of Chef Koichi Minamishima. With 25 years of experience behind him, this chef is known for his A-grade sashimi. You get one piece at a time, prepped with loving care and incredible attention to detail. If you want to impress some out-of-towners, this is a pretty good place to start. We don't throw around terms like 'best restaurant in Richmond' lightly, but this might just qualify.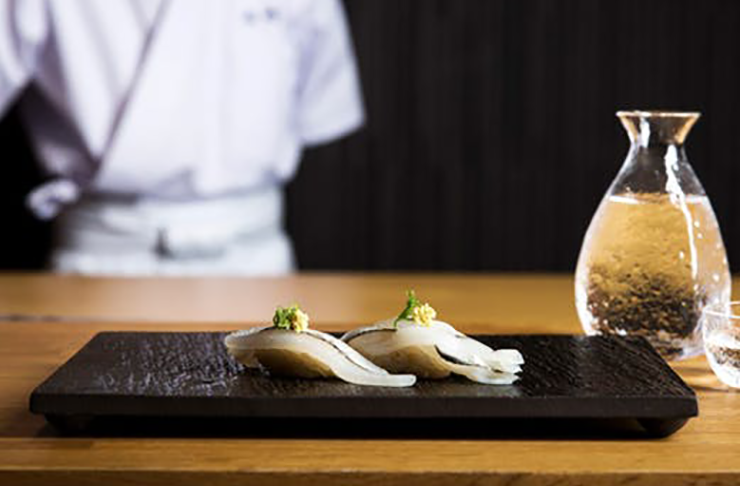 Thy Thy Counter & Canteen
Thy Thy's origins date back to 1980 along Richmond's Victoria Street, and after a hiatus on the strip for quite some time, original owners Le and Ho are bringing their signature style of Vietnamese cuisine back, but not without several modern sensibilities. The classic rice paper rolls and special beef pho are just two stars of the show, but it's their Vietnamese iced coffee that may be the best in town.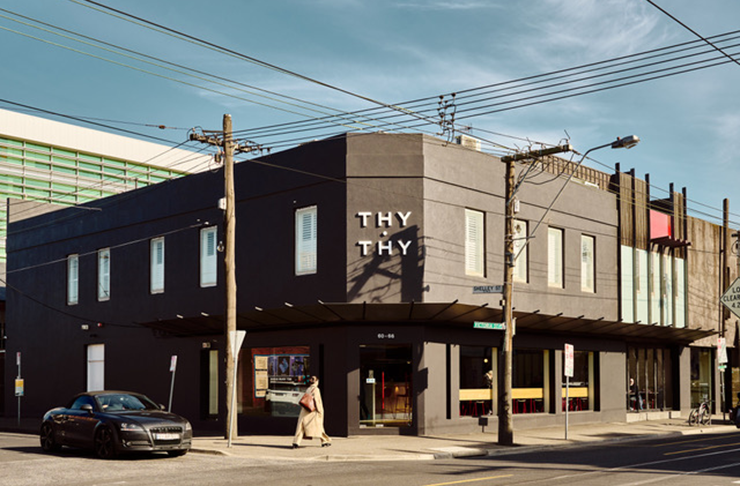 Get a read on Melbourne's best restaurants over here.
Image credit: Public House