Eating out never gets old, especially in a city that keeps cooking up top-notch restaurants for us to try. Yes, 2019 has been a year filled with notable openings, from epic waterfront eateries through to an upmarket pizza bar, food truck-turned-restaurants and more. But no matter what their game, all of these establishments have one thing in common—they're some of the best places to eat in Auckland. Here are some of our faves from 2019.
ELMOS
Ponsonby
We bet you've never eaten at a pizza joint as fancy as this. Step through the chic red door and into a space that screams Italian razzle dazzle, from the Renaissance-style busts sitting atop the marble bar, to the chandeliers (yes, chandeliers!) hanging above it. But what about the food? Prepared by a chef who's legit from Naples, you'll be treated to an authentic Italian menu led by a choice of 12 pizzas—all doughy, cheesy and delicious. We also can't go past the staggering choice of burrata on offer. ELMOS also gets points for its cheekily-named dishes, from the pizzas (one Truffle Shuffle, please) and pasta (the Hottie with a Bodie, thanks) through to the cocktail list (because THIS pizza place serves cocktails, not soft drinks, okay). The latter come served in some pretty sweet vessels—but we'll leave it up to you to discover exactly what...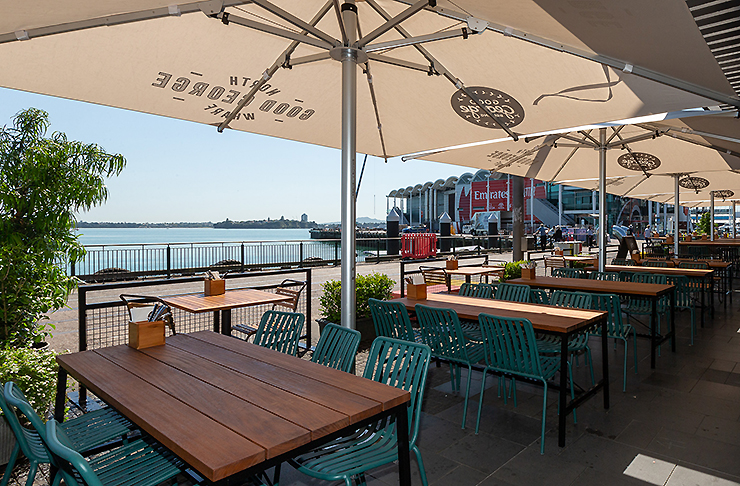 Good George North Wharf
Wynyard Quarter
As huge Good George fans, we were super excited to learn about a new outpost opening on North Wharf. And the result is just as we'd hoped—fun, relaxed vibes in an epic waterfront setting, where the grub is just as good as the drinks (which, we should mention, include a staggering 22 beers and ciders). The mod, all-day menu is full of surprises, one of which is the caramel popcorn ice cream—this is legit one of the best desserts we've ever tasted (and here at Urban List, we know a little something about desserts). We reckon this one's best enjoyed with a group of mates, so round up the crew and get along for an afternoon of tasty eats and cold ones in the sun.
Barbarino's Spaghetteria
Avondale
This is pasta, proper. From the team who bought us successful eateries Winona Forever, Fang and Major Tom, Barbarino's is named after the Italian-American character John Travolta made famous in 70s TV show Welcome Back, Kotter; and serves up delish, no-nonsense pasta dishes we reckon would make him proud. The beauty of this one is that you actually choose the type of pasta you want, as well as the sauce—from carbonara to lasagne, there's something to cover every carb base. Finish off your meal with dessert (one word: cannoli) and a glass of vino (Italian, of course), and we guarantee you'll be living la dolce vita.
Scandal
Ponsonby
The only scandal happening here is outrageously good food. Joining Auckland's hottest dining strip, Scandal has taken over what many will remember as Moo Chow Chow, and with lip-licking results. Exposed brick walls, a marble bar and street-style art create a trendy space in which to enjoy a droolworthy, Asian-inspired menu—think pork buns, dumplings and flavour-packed curries. The cocktails also deserve a special mention, especially The Mikan—its lemon meringue topping is straight-up genius. Many of the dishes here are designed to share, so grab your mates and head along for a night of exotic eats in a setting you won't soon forget.
The Rolling Pin
Wynyard Quarter
If the name alone doesn't pique your interest, then the food definitely will. The Rolling Pin is the permanent home of the food truck of the same name, which has earned its stripes (and a loyal following) over the last three years by churning out some of Auckland's best dumplings—perfect little parcels of steamed goodness, served with a crunchy Asian slaw and chilli sauce that's just the right amount of hot. Ironically, our fave dish here isn't actually a dumpling—rather, the droolworthy pulled pork and apple bao; equal parts sweet, spicy and satisfying. The setting itself is mod and unpretentious, making it the perfect spot to unwind and focus on the most important part of eating out—eating!
Nem Parnell
Parnell
Step inside this charming eatery and you'll be immediately transported to an exotic, otherworldly oasis. Yes, with its hanging parasols, stunning spice displays and greenery-filled courtyard, it's easy to forget where you really are at Nem—just metres from Parnell's bustling main street. The food will only send you further into a fantasty, combining Vietnamese, French and Japanese influences to create a menu that is truly dreamy. The dumplings, sashimi and salads are all fair game, but we also recommend trying some of the more unusual dishes such as the eggplant pâté, and flaming coconut prawns (which literally arrive at your table in flames). If you feel like escaping reality a little while longer, one of the restaurant's vibrant cocktails should do the trick.
Épicer
Ponsonby
Finally, an Indian eatery to really spice things up. With a name that literally means spices in French, Épicer specialises in what we'd describe as refined Indian—none of that stock-standard, butter chicken stuff (which, just for the record, we can still appreciate every now and again). Enjoy a host of innovative, flavour-packed dishes with a dash of French flair, prepared by a chef who's so good, in a previous life he earned a Michelin star. The contemporary decor is a perfect fit, featuring splashes of turquoise paint, chandeliers and funky modern artwork over two impressive floors. And if you still needed a reason to visit, we have one word for you—cocktails. With ingredients like golden rum, pepper and honey water, these tipples will take you straight to the streets of India.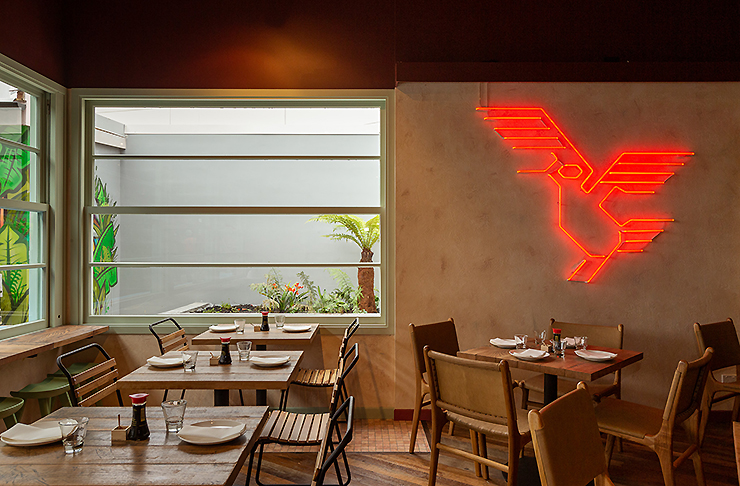 INCA
Newmarket
From its epic rooftop setting to mouthwatering, South American-meets-Asian cuisine, INCA ticks all of our eating-out boxes. The brainchild of chefs Darren Johnson and Nic Watt (who runs award-winning restaurant MASU), this is the place for tasty, Peruvian-style food that will definitely have you reaching for the napkins. Yes, you're guaranteed to get your hands a little dirty while chowing down on its next-level tacos, spicy chicken wings and other dishes, but that's all just part of the charm, right? Wash everything down with a margarita slushy, and you're good to go.
Wynyard Pavilion
Wynyard Quarter
It doesn't matter how stunning the location is, if a restaurant doesn't have the food to back it up—we don't wanna know about it. Fortunately for Wynyard Pavilion, one of the newest kids on the block at North Wharf, it has both. Swish, yacht-club vibes are the name of the game here, along with sophisticated eats that will take you from morning to night. There's plenty of seafood-style grub on the menu—inspired by the waterfront setting, no doubt—as well as upmarket versions of well-loved classics like burgers and pizza (the Margherita, with its trifecta of juicy heirloom tomatoes, is a must-try). For ultimate fine dining feels, grab a spot beneath one of the giant outdoor umbrellas and order yourself some oysters and a glass of something bubbly—life doesn't get much better than this.
Now you know where to eat, find Auckland's best new bars for 2019 here.
Image credit: Wono Kim, Jaiden Bhaga