Wine and pizza, could you ask for a better combination? Well listen up, K' Road's new hidden gem Clay, delivers exactly that and so much more.
A natural wine bar on a mission, Clay has the biggest natural wine selection in the country, with over 200 natural wines on offer from around the world. They've even got packaging-free rose on tap—you can't go wrong with that.
Proud parents Brendan Manning and Dan Gillett are no strangers to the wine industry with Dan distributing local and international natural wines into New Zealand through his company Wine Diamonds. So, we think it's fair to say that they know what they're talking about when it comes to the perfect drop.
What was once an old mobile phone shop has now been transformed into an elegant space, decked out with a long, 32-seater wooden table that was actually built on site by handyman Dan. The tiled mosaic floor, made by Brendan, adds a pop of colour to the otherwise simplistic decor. Five refrigerators surround the space stacked with, you guessed it, wine—making sure that they are served at exactly the right temperature.
The bottle list is not for the faint-hearted, so kindly ask your waiter for their recommendation if needed or opt for one of the daily changing glass pours. There is such a wide range of wines in a wide range of styles that there is a tipple for everyone.
Hungry? Let's get into the good stuff—the food. Shying away from the traditional 'wine bar' dishes, Clay has kept things simple with an array of modern Kiwi plates—now just because they're simple doesn't mean they lack in flavour.
Pizza lovers, listen up! With three different types to choose from, you're spoilt for choice. We say get all three, heck why not. Each is freshly baked in the pizza oven and challenges the traditional pizza norms. Forget about pepperoni, and say hello to sweet peppers with nduja (a spicy, spreadable pork salami) and mozzarella. Yum.
Broccoli cooked forever has to be a fave, made with slow-cooked broccoli broth and topped with shallots and rocket— it's a great way to get in your five a day and is completely vegan.
Now if pizza isn't your thing then maybe the tagliarini will entice you. A fresh egg pasta dish with anchovy butter, parsley, lemon and a sprinkle of breadcrumbs to add that crunch—it's seriously melt-in-your-mouth perfection. Pair this with the Sav on tap and you've got magic.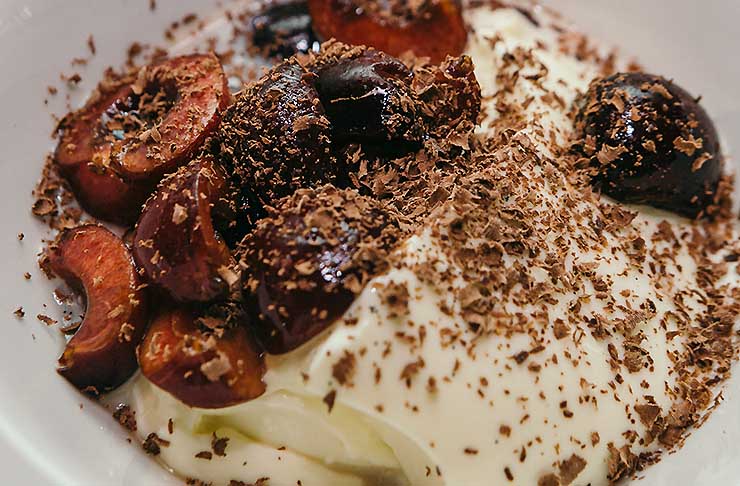 If you've got a sweet tooth then you're in the right place. There is a panna cotta with cherries and chocolate with your name on it. Seriously, you've got to try this, it's a dish straight out of dessert heaven.
Whether you want to have a wine or two or a whole bottle (wine not), or you want to dine in and grab some nibbles, Clay has got you covered. If you can't stay, then never fear as you can even order a bottle to go.
So, what are you waiting for? Go and introduce yourself to Clay, K' Road's fancy new natural wine bar.
For more images and information, including opening times, click here.
Image credit: Wono Kim