Who said that vegan food has to be bland and boring? We think not. Challenging this stereotype is Khu Khu, a light-hearted vegan Thai eatery nestled into the heart of Ponsonby.
After completing a 30-day vegan challenge, Michael Khuwattenasenee (the brains behind Khu Khu) found it difficult to find tasty vegan fare around Auckland—thus, Khu Khu was born and our taste buds couldn't be happier.
Now we know what you're thinking, salads and raw veggies—hell no! Get that idea right out of your head as Khu Khu is home to exotic Asian flavours in the form of big, bold and boisterous dishes that will leave your palate screaming for more.
At first glance, the menu may seem simple, but believe us when we say it's anything but. Think all of your fave Asian classics (with a vegan twist) coming together for one big party in your mouth. You've got flavoursome curries, fresh papaya salad, crispy spring rolls, oodles of noodles—damn we're hungry, let's just delve right into it, shall we?
Designed for sharing, we suggest grabbing a few mates and a couple of plates and you're good to go. The Thai red curry corn fritter is the perfect starter, this bundle of joy is served with a tangy fresh cucumber vinegar dipping sauce, which will add a bit of zing to your plate. The crispy sliced daikon served with tamarind sauce is to die for—an unusual choice but definitely worth trying.
Next up has to be the Panang curry, a mild coconut-based curry filled with fresh ingredients like crunchy lotus root, crispy tofu and plenty of veggies. Pair this with the mixed purple rice with sunflower seeds and you've got a dish fit for a king. Now if you like your curry to pack a punch then opt for the Thai green curry with eggplant and kumara, it certainly won't disappoint.
After a trip to Bangkok, Michael and the team are experimenting in the kitchen with a few new tasty dishes. Our fave has to be the Tempeh Pad Thai—classic saucy sweet rice noodles served with crunchy peanuts and organic protein-packed tempeh. Get in our bellies now. Be warned this dish is seriously moreish.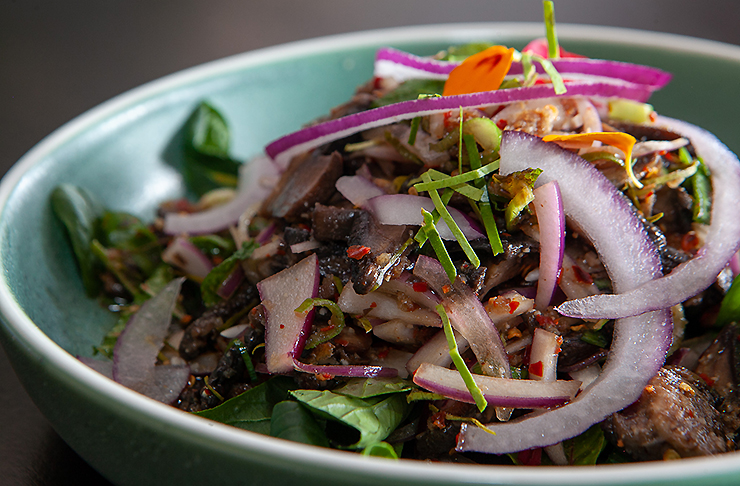 We also fell in love with the Tangy Nam Tok, a light and crispy mushroom salad with plenty of heat. Oh, and we can't forget about the sweet purple kumara glass noodle spring rolls, served with an addictive sweet chilli sauce—heck, we loved it all! Our taste buds certainly had no complaints.
What do you wash all this delicious grub down with? Well, while a decision is being made on a potential liquor licence (which would mean vegan wines and cocktails, yum!) Organic Mechanic has got you covered with ginger or lavender kombucha on tap.
Seriously guys, there is no way you can leave Khu Khu without a full belly and a smile on your dial. We know veganuary is almost over, but hey who needs a dedicated month to try Vegan food—heck, we'll be eating this every day if we could.
So, whether you want to jump on the meat-free Mondays bandwagon, become completely vegan or simply just want to try something new—Khu Khu has got your back. They've set out to inspire and we think they're doing a grand old job.
For more images and information, including opening times, click here.
Image credit: Wono Kim