We're sure you'll agree that if there's one thing 2020 has taught us, it's a fresh appreciation for eating out (say with us now: never again will I take for granted having someone else cook for me!).
Yip, there really is nothing quite like getting together with your nearest and dearest and heading out for a meal somewhere special. And we reckon Onslow—the breathtaking new restaurant from celebrated Kiwi chef, Josh Emett and his wife Helen—is just the place to exercise that freedom.
Located on the ground floor of Princes St's multi-million-dollar residential building, The International (where the famed Grand Hotel, opened by the Earl and Countess of Onslow in 1889 once stood), this is definitely one of the most beautiful restaurants we've set foot in for a while. We're talking four metre-high ceilings, and a gorgeous terrace affording views across the inner-city (we can only imagine how glorious this spot will be come summertime).
Like the space, the food here is refined but unpretentious, and that's a vibe we love. Expect plenty of incredible Kiwi ingredients—including a few lesser-known ones—on this exciting menu that pays homage to Josh's many years cheffing both here and abroad, including of course stints in London and New York for the one-and-only Gordon Ramsay.
And although he's also been involved with countless eateries here at home (among them Rata, Madam Woo, Ostro, Hawker & Roll and The Oyster Inn), Onslow is the first restaurant Josh and Helen have started together, entirely from scratch.
So, about that food. Do yourself a favour and order up large on the aptly-named 'treats'—the Fried Bread is beyond delicious, combining stracciatella cheese, sichaun pepper and olive oil in a dreamy, bite-sized morsel that looks a lot like a miniature doughnut, and melts perfectly in the mouth.
The Chicken Liver Parfait paired with toasted brioche is faultless, combining notes of smoked maple and black pepper in a velvety smooth spread that's not to be missed; while the Fiordland Crayfish Eclairs with spiced bisque and basil are also well worth your tastebuds' time.
Follow up with the highly delicious (and also highly entertaining) Salmon Trolley, whereby your waiter will carve you beautifully thin slices of Big Glory Bay salmon, tableside. Piled on top of toasted Swiss rye with pickled cucumber, honey mustard dressing and sour cream and salmon caviar, you'll be in heaven.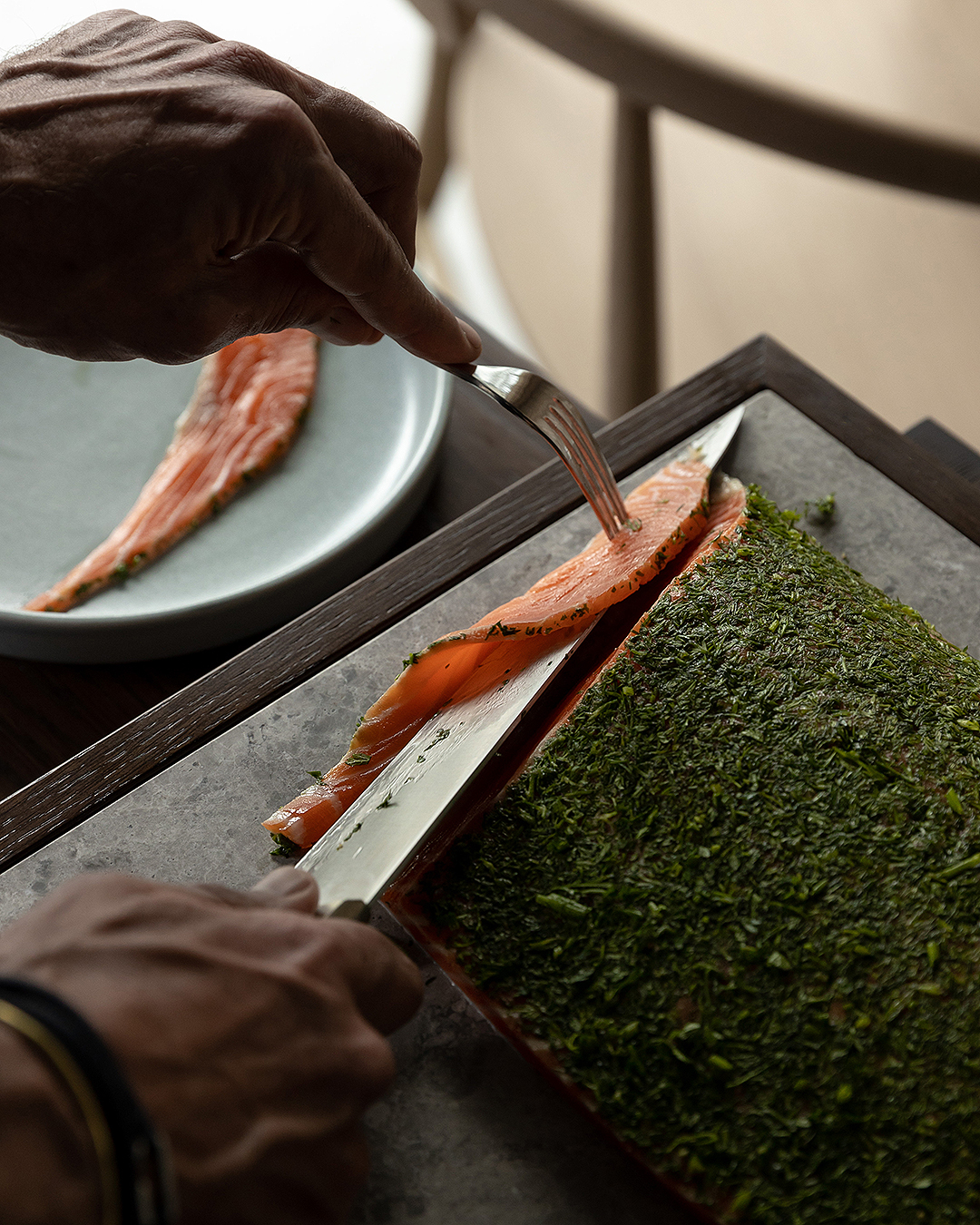 Mains are just as moreish, and you may be surprised to learn that our favourite option is actually vegetarian. We're talking about the Steamed Soy Aubergine, a rich, flavour-packed dish that comes with oyster mushroom fricassé, pickled wakame (a type of seaweed) and kokihi (a kind of native spinach).
We also rather liked the Olive Oil Poached Hapuka, served in generous steak-like portions and perfectly balanced with crunchy new season asparagus, courgette, wild garlic and horokaka (again, a native green).
And you'll definitely want to leave room for one of the show-stopping desserts. We recommend the Chocolate Soufflé, which is light, fluffy and just as you would imagine a soufflé prepared by a world-class chef to be (basically, it's perfect).
However if you're feeling extra greedy, there's also a decadent Cannelé de Bordeaux which has a unique, almost smokey flavour to it served with poached pear, vanilla ice cream and sea salt caramel.
Finally, it goes without saying that a restaurant of this calibre also has an impressive drinks list up for grabs and your waiter will be more than happy to suggest wines (or other beverages) to take your experience at Onslow to the next level.
So what more can we say other than thank you, Onslow, for being the breath of post-lockdown air we need.
For more images and information, including opening hours, click here.
Image credit: Onslow by Jono Parker