It's that time again—where we reflect on the year that was and the long list of incredible new restaurants and bars that popped up in our sunny region.
And believe us when we say there was a heap to sort through! We could undoubtedly make one very long list, but instead we thought less is more—so here's our fave restaurants and watering holes that we're totally high-fiving 2017 for. Hold on to your hats peeps, 'cause shit is about to get tasty.
More importantly, how many have you already visited?
Lupo
Mermaid Beach
When the humbly talented Pearce family took a break from Espana/Francs Deli earlier this year, we waited with baited breath for their next move. Without question one of our most characterful new additions to the best restaurants on the Gold Coast list, is Lupo. Transporting you straight to a vibing neighbourhood bistro and bar somewhere in Europe, with simple yet sensational farm fresh, home-style cooking direct from the wood-fired oven, here you'll feel like you've been welcomed in for dinner at the family home.
Iku Yakitori & Whisky Bar
Burleigh Heads
It was one of the most hotly anticipated new openings of 2017, and when Etsu unveiled their sister venue in Burleigh Heads, our minds were blown. Iku Yakitori & Whisky Bar has quickly skyrocketed up the ranks of Gold Coast's best restaurants with its extraordinary fit-out and suspended tatami-style booths that'll whisk you straight to the atmospheric back alleys of Tokyo or Osaka. With the kitchen and robata grill front and centre of the dining room, order every part of the chicken on a skewer, before devouring beef tataki, Hiramasa Kingfish and a weekly-changing cocktail list. If you're yet to make a date with Iku, well, you clearly don't have your priorities straight.
The North Room
Mermaid Beach
Hunting for one of the best restaurants on the Gold Coast, whether it be date night or to treat your bestie? We're totally crushing on Mermaid Beach's intimate newbie, The North Room. The handiwork of talented husband and wife duo Tim and Shannon Stewart, nab a seat in this stylish 28-seat dining room and be spoilt with a refined European-style dining experience combining faultless, personalised service, buttery smooth ambiance and a menu that champions the finest of seasonal, locally-sourced produce. The North Room strikes the perfect balance between fine yet casual dining.
The Scottish Prince
Palm Beach
When The Cambus Wallace crew set sail south for Palm Beach, southerners knew good things were on the horizon. Throwing all their knowledge and ideas into their atmospheric new bar, the styling is 10 outta 10 and so are the whisky-inspired cocktails and bar eats. Hosting regular whisky tasting workshops for both the connoisseur and wannabe teach-me-everything-you-know newbie, The Scottish Prince is one of the coolest new bars to land on the Gold Coast in recent times.
Yamagen
Surfers Paradise
Twenty years is impressive staying power in today's hospitality landscape, hence why the QT Gold Coast were determined to honour the name of its previous Teppanyaki restaurant, Yamagen, when undergoing a stellar refurb earlier this year. Grandly unveiling Yamagen as a remerged Japanese izakaya, with a raw sushi bar, yakitori grill humming at its heart, a ridic Japanese whisky selection and the most cracking line up of artistically-presented dishes from tempura black cod to sashimi tacos. We're claiming it now; Yamagen is one of the best restaurants on the Gold Coast, and totally worth seeking out.
The Island Boutique Hotel & Rooftop
Surfers Paradise
Topping the list for one of the most staggering transformations of the year, while The Island Rooftop was welcoming its first guests in the last few days of 2016, it was the past 12 months that witnessed a beautiful butterfly spread its wings in the heart of Surfers Paradise. From the 98 boutique rooms, the sprawling Italian bistro and bar with its hip styling, an Insta-worthy poolside courtyard and the latest addition, a penthouse rooftop bar and function rooms some 12 floors up, The Island's arrival couldn't be more perfectly timed, bringing some much-needed swagger back to the tourist precinct, along with the locals. Cheers guys, you rock our world!
Baskk Kirra Point
Coolangatta
Nights in Coolangatta got a whole lot cooler in 2017, when the team from Cafe Dbar introduced their whimsical new long lunch and after-dark destination to see and be seen, Baskk Kirra Point. Adorned with natural fibers of rattan, hard and driftwoods throughout; you can't help but linger for sunset cocktails, cheese and seafood platters, vibing tunes or just mingling with the beautiful people.
Lockwood
Burleigh Heads
We hang out hats for Lockwood's Zac and Brenden, for taking a risk and opening the Gold Coast's first truly speakeasy-style hidden bar. Converting what was once a storage room into an atmospheric watering hole that oozes old soul—with seductive mood-inducing blues and rockabilly tunes and some of the stiffest twist-on-the-classic cocktails in town—if you're yet to hunt down Lockwood's must-text-to-enter bar in the back alley of Burleigh, you'd best take a good hard look at yourself.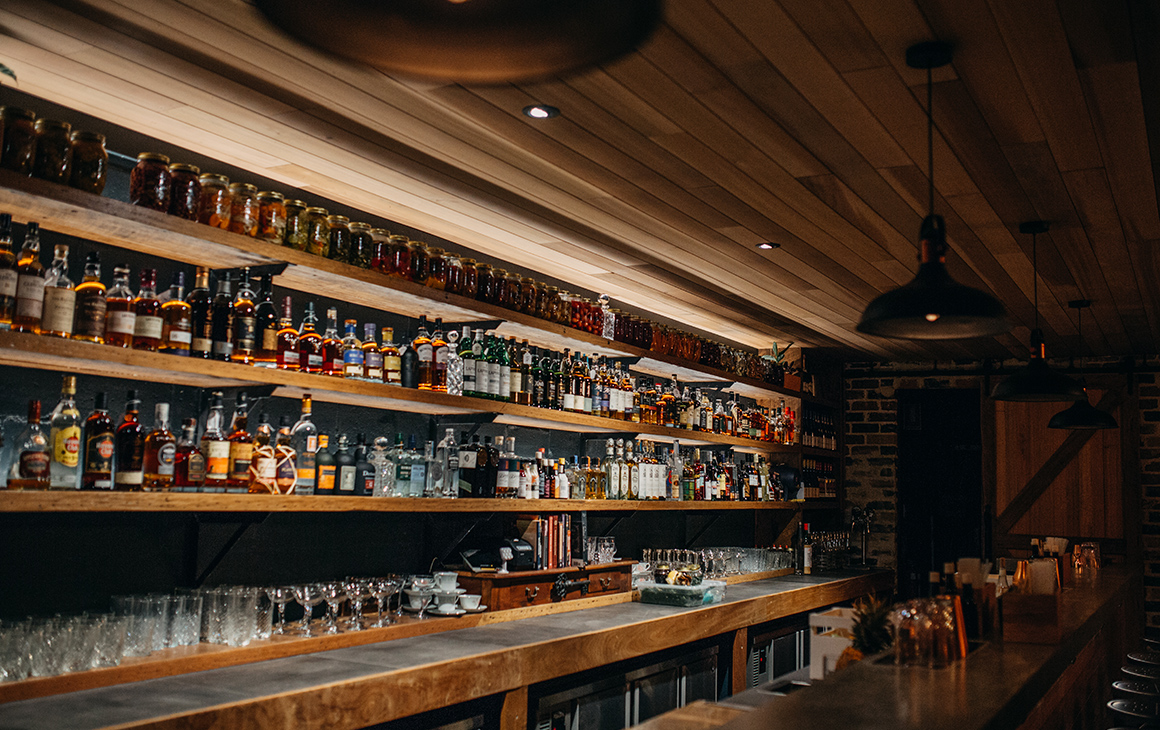 Hellenika 2.0
Nobby Beach
There's no argument, whatever Simon Gloftis touches turns to gold. And while his institutionary Greek eatery Hellenika was definitely not broken, he made the bold move to close and completely renovate over the winter of 2017. Re-launching with a sophisticated dining room reminiscent of new age Athens, a killer wine list and all your home-cooked favourites, Hellenika continues to book out, night after night. But we know it's Hellenika's grand new rooftop bar you are truly salivating over… patience folks, it is so close we can taste it. If you're on the hunt for one of the best restaurants on the Gold Coast, well, you've found it.
Lost Palms Brewing Co.
Miami
For hops lovers, there's nothing comparable to the tank to tap to pint glass experience, and at Miami's colourful new brew house, Lost Palms Brewing Co., you can do just that. Come for a chinwag with the owners, as you discover staple offerings like the summer and IPA brews, alongside more creative concoctions like their Kombucha blends or coffee and chocolate Porter. Cheerleaders for the local art community, these lads are also collab'ing on artist-designed cans and packaging, which is worth two thumbs up in our books.
Greenhouse Canteen Coolangatta
Coolangatta
The latest venture from the vegan 'cruelty free and killing it' team—Greenhouse returned to their southern roots when swinging open the doors to Greenhouse Canteen Coolangatta a few months back and have been delivering plant-based fare to the masses ever since. This intimate urban and leafy eatery is pumping every time we drive past and is changing foodie perceptions with their mantra, "Anything you can do, we can do vegan". Not a vegan or vego? Don't mock it until you try it, 'cause this little gem is totally deserving of a spot among the best restaurants on the Gold Coast.
San Sebastian
Palm Beach
Nestled in the bustling Palm Beach dining precinct of the GC Highway, this late-night tapas and wine bar is basically the embodiment of the typical Hispanic woman: quaint, beautiful and mysterious on the outside, but she packs one helluva punch and a whole heap of fun! With dishes focusing on Spanish authenticity, the meals—traditionally known as pintxos—are a bite-size individual serving often paired with bread. While downing your very generous serving of homemade sangria, San Sebastian's menu drives any mere mortal into severe salivation and sensory overload.
Mr P.P.'s Deli & Rooftop
Southport
While the mid to southern end has seen a flurry of new openings in the past two years, northerners have long been yearning for a slice of the action. This spring, it came in the form of a styling old wine bar cum deli and a rooftop bar with retractable awning and urban city skyline views. Yet to check out Mr P.P.'s Deli & Rooftop? Come and hang with the CBD office workers for sunset knock-offs and you'll likely walk away with a handful of new (slightly more intelligent) friends.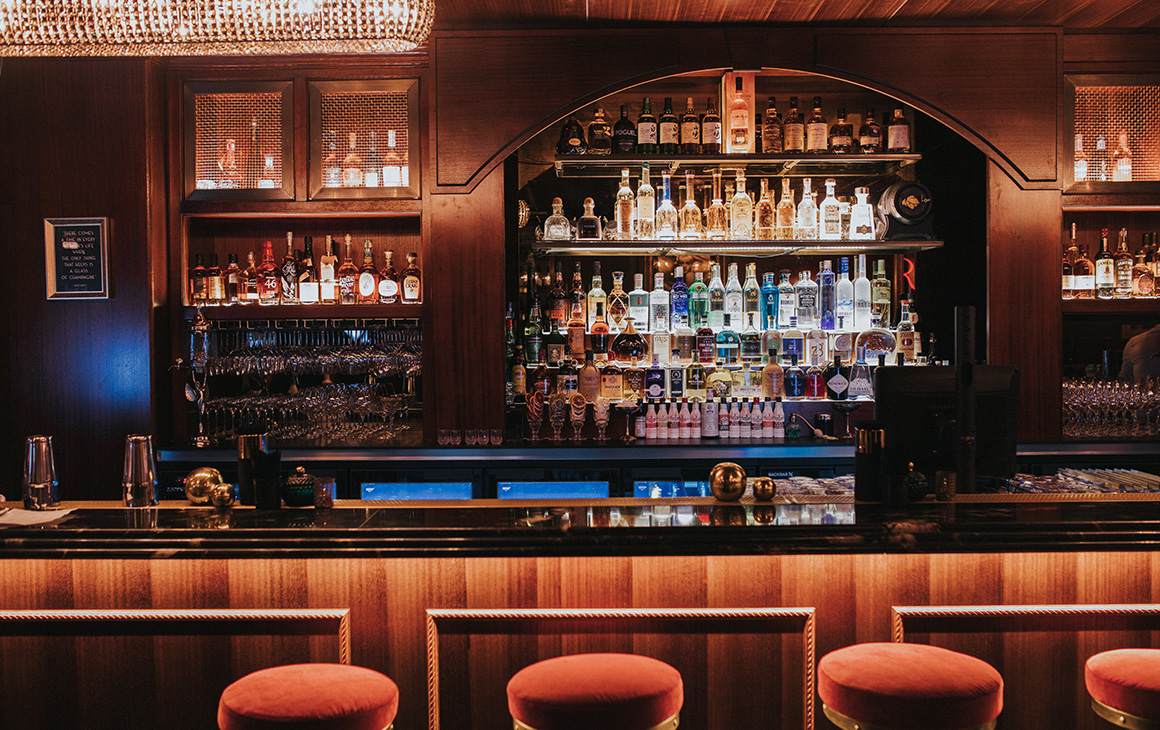 The Roosevelt Lounge
Broadbeach
No expense was spared to create this game-changing 1930s America-inspired lounge bar and restaurant in Broadbeach. If you're not made of money, you'll definitely feel like it after a night spent lounging around looking glamorous in sinkable leather chesterfields and red velvet booths. From the same team that brought us The Loose Moose, along with institutions Koi Dining and Glass at Marina Mirage, we're not going to pretend that The Roosevelt Lounge is for everyone. But if you can make it past the unbending doormen, you'll probably end up blowing your weekly rent when you're in the mood, ordering cocktails for everyone and oblivious to the time flying by.
Tasca
Coolangatta
For us, it was love at first sight when laying eyes on Cooly's sophisticated new wine bar, Tasca. Passion project of gracious and welcoming hospitality personality Carlee Bufalino, this tiny venue packs well above its weight and is a beating heart on Griffith Street come weekends. With a seat at the bar one of the best in the house, settle in with a small batch Italian, French or Spanish vino—served with an origin lesson—and sides of squid ink tagliolini or leek and porchini risotto, all designed to share.
Oasis Shopping Centre's Outdoor Foodie Precinct
Broadbeach
At the risk of blowing out your growing to-dine list, we reckon the entire redevelopment on the outskirts of Broadbeach's Oasis Shopping Centre is worthy of a place among the best new openings of 2017. This buzzing new foodie strip brought us Nutella gyoza and Australia's first Japanese craft microbrewery thanks to Harajuku Gyoza, boozy milkshakes and mega gourmet burgers with Main Street Burger Bar, family-style Italian dining reinvented with Mario's and, our latest crush, spiked bubble tea and the unbeatable value street eats of pan-Asian Junk Boat. How many have you ticked off?
Goccia Italian
Mermaid Beach
For top-notch pizza, pasta and share plates that won't break the bank, it's obvious why locals have fallen head over heels for Goccia. Cosy up inside close to the wood-fired pizza oven or dine alfresco under the festoon lights, Goccia (pronounced 'gotcha') is like a warm hug from family, made all the more authentic by the Italian accents taking your order with a smile. In all seriousness though, we're going to be bold and claim Goccia are serving up some of the absolute best pizzas on the Gold Coast. Bellisimo!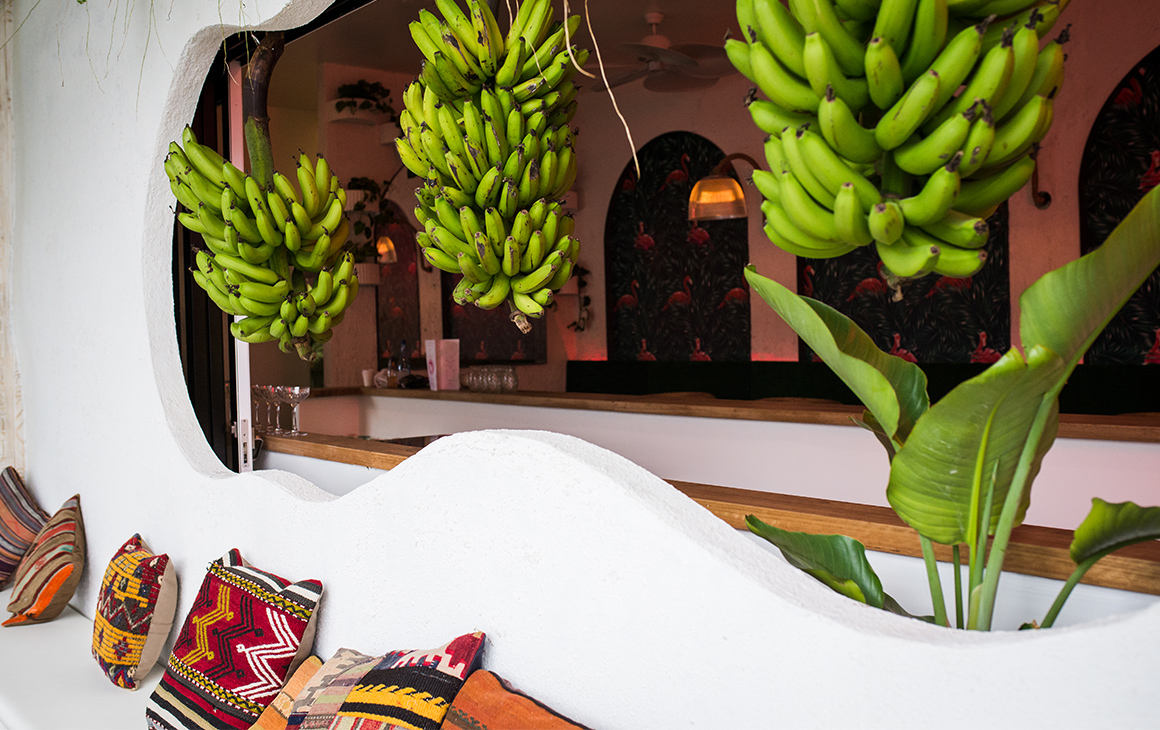 Póke Póke
Mermaid Beach
While you might think of Póke Póke for all your healthy brunchin' needs, it's their after-dark hours and nourishing cocktail offerings which help them fall into our best restaurants on the Gold Coast category. While there are now four (or is it five?) dedicated póke bowl joints on the Coast these days, we can thank much-loved restaurateur Morgan Walsh for grabbing this emerging trend with two hands and creating a characterful venue that gels so well in our chilled coastal home.
Gemelli Sorrento
Sorrento
It's true, the talented Carney boys have done it again. Not satisfied with owning two of the best Italian restaurants on the Gold Coast, earlier this year they extended the family with little brother eatery—Gemelli Sorrento. What's become a refined addition to the affluent neighbourhood of Sorrento, Gemelli is dishing up authentic wood-fired pizzas, just-like-nonna-makes pastas, and those drool-worthy Nutella Bomba desserts. What do they say? Nom nom nom.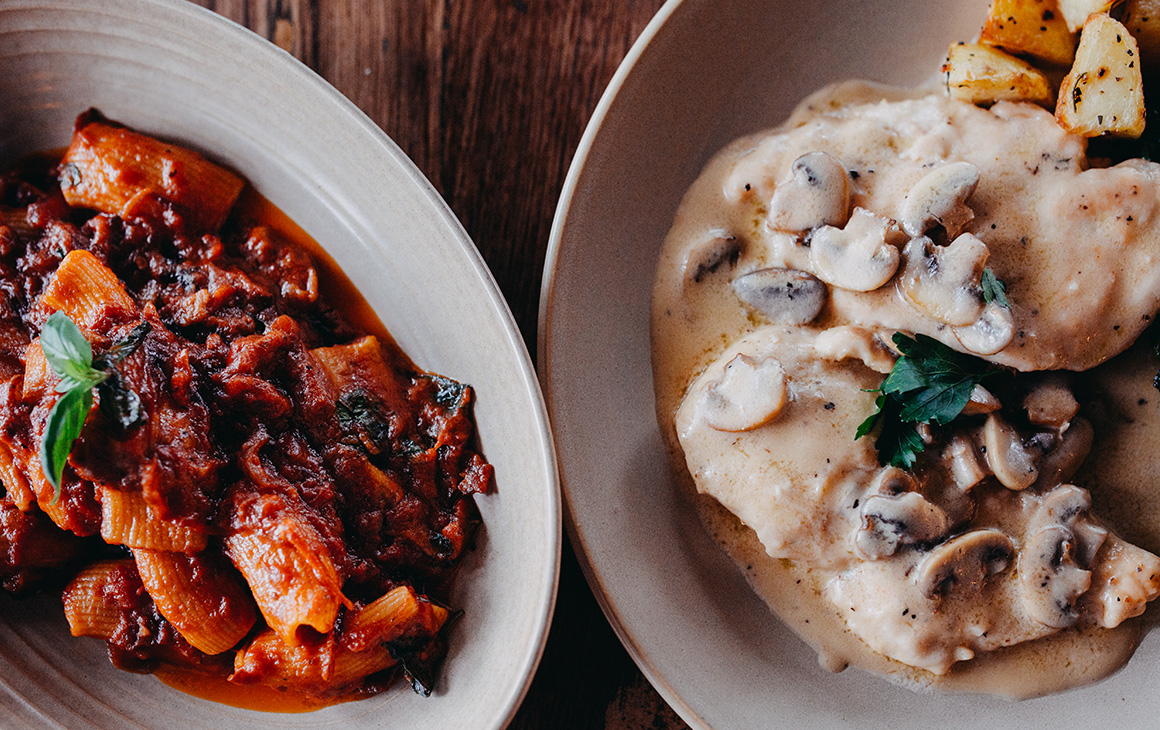 Francie's
Coolangatta
Quickly earning itself a cult following in Coolangatta, we reckon Francie's pizzeria is one of the best new restaurants on the Gold Coast if you find yourself wandering around the southern end with a hunger you need to crush. With cool vibes, a laidback local clientele, hip staff and wood-fired neo-Neapolitan-style pizzas featuring cheeky names like Pears Brosnan and Cheese Louise (not to mention an entire vegan pizza menu!), Francie's is unassuming but a total fan favourite new opening of the year that was.
Old Tom
Broadbeach
Old Tom is a very recent addition to Broadbeach's bourgeoning foodie scene, with decor details including a public house-style façade to fit with the era, a plush dining room, plus lounge and library lined with old English classic books. Tom Angel, one of the Coast's most respected mixologists and amongst the top 100 bartenders in the country, fronts the gin bar. Together with chef Dayan Hartill-Law who serves up a refined three, six and nine-course menu in the dining room, with a relaxed share plate and bar snack offering in the lounge and library.
Nightjar
Burleigh Heads
There's no way we could tie up a 'best openings' list without mention of Burleigh's anything-goes dive bar, Nightjar. You'll likely hear the party before you stumble across it in a rough-around-the-edges Burleigh laneway. By the same team that brought us Bine Craft Beer Bar and Hideaway Kitchen, somehow these guys just nail the formula—every time. The third official small bar to open since the council rules changed (that means if you want food, you've got to order it from outside), come for the daily happy hour and sing-along live music, where you just might end up dancing like nobody's watching until the ugly lights come on.
Already ticked off all the newest additions to the best restaurants on the Gold Coast. Congrats, you little foodie, you. Tell us, how much of a breakfast boss are you?
Image credit: Hayley Williamson for The Urban List