Unless you've been living under a rock, you've no doubt noticed the influx of deli-sandwich operators that have sprung up in Melbourne over the last year. Through the last month alone we've had the opening of Jolly Good Sandwiches in Fitzroy, Saul's opening a second store in Hawthorn, Bala Sanga in Balaclava, and Hector's Deli announcing they're spreading out to South Melbourne. But why is the humble bread and three fillings all of a sudden so popular? And why are some of the city's top chefs hanging up the whites and instead slinging (some damn incredible) sangas?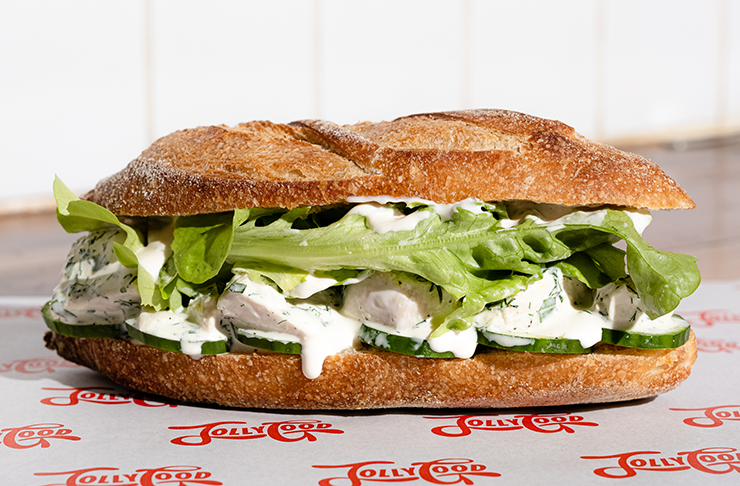 The deli sandwich revolution we're currently living through now is being led by some of Melbourne's finest chefs and hospo veterans, many who possess what one would consider an intimidating CV. Take Rocco's Bologna Discoteca's Josh Fry for example, current head chef of Poodle, former Head Chef at Marion and a direct pupil of Andrew McConnell. Meanwhile, Hector's Deli's head sandwich chef, Josh Robenstone spent time at both Embla and Etta, and the Nico's team including Tom Peansell established three different restaurants such as Dexter, Doms (formerly Peaches) and Takeaway Pizza before launching their sandwich empire.
Speaking first with Tom Peansell, Nico's co-owner and chef, described the situation perfectly "It's gone a bit fucking skitz."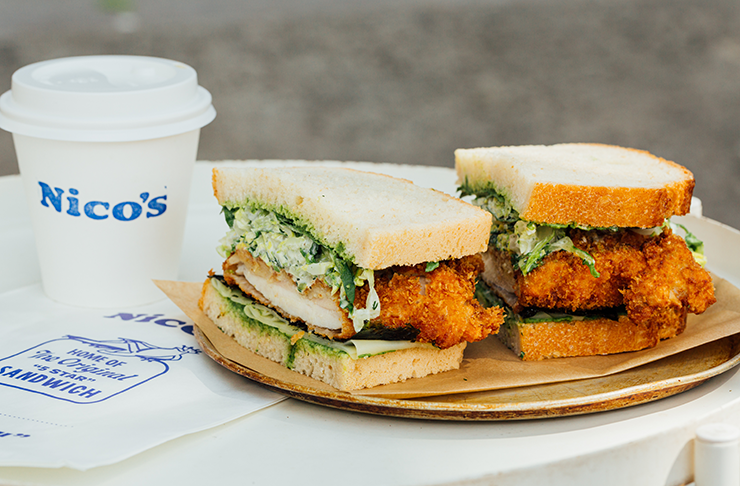 But what's causing the current culinary influx? Among the many reasons when speaking with each spot was one factor which proved unanimous, sandwiches are bloody fun. If you're a chef, the possibilities of the sanga are endless, as Josh Fry said "there's no real goal that you have to follow, you can put anything between two pieces of bread and call it a sandwich," and he's right, along with the staple New York-style sandwiches, we're seeing a whole new movement in innovative kitchen collaborated sandwiches. Nico's just spent their first week of lockdown collaborating with different restaurants and chefs including George Wintle from Attica Summer Camp.
There are also no strict rules when it comes to cuisine; it's a stateless medium. Speaking to Erwin Chandra, who alongside Barry Susanto (ex-Navi), recently opened Warkop, and said that they wanted to get Indonesian style sandwiches into the game: "We want to bring something different to the sandwich scene. So we try to incorporate our tastes, like Rendang, Gado Gado and chicken Taliwang,", and as you can expect it's absolutely delicious.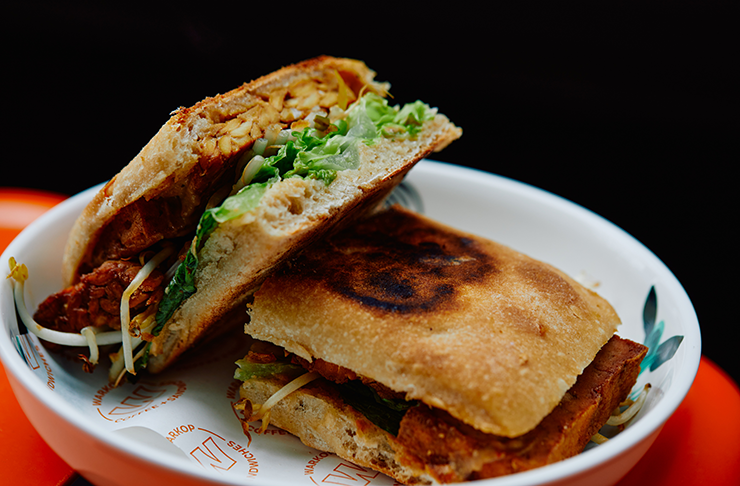 There's also the incredible difficulty of being a chef or restaurant owner in Melbourne in the current hospitality climate. The uncertainty, caused by reasons we're all very aware of by now, makes it challenging to predict which way things are going to turn.
"It's so uncertain at the moment as to what a restaurant can and can't do, as soon as you think you're back to it, it crumbles before you all over again," said Fry.
The sandwich provides an opportunity that is reasonably cost-effective, simple to pack up and down and currently, a winning formula for chefs and the hospitality industry.
"There's a lot more opportunity for younger chefs to get out there and start something similar, we can open in little space and produce something that people like," said Fry.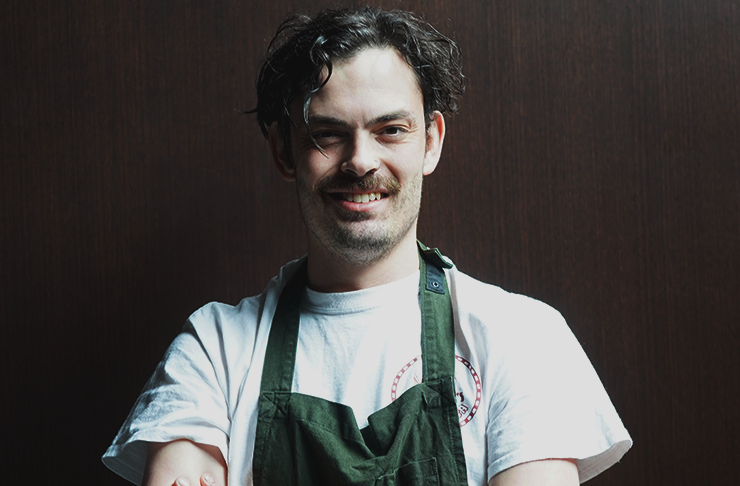 As much as COVID has hindered the hospitality industry, it also forced many to reflect on their working lives. The work-life balance for a chef is typically pretty bloody tough just as it is for anyone who works in restaurants; it can be a gruelling and physically demanding job. Speaking to Dom Wilton of Hector's Deli, a former kitchen chef himself, he described his ten-year stint in the whites as strenuous at times.
"You work extreme hours, rarely do you get a pat on the back, you never get paid properly, you can't sustain a life outside of work, because you work seven am till midnight, it's bullshit."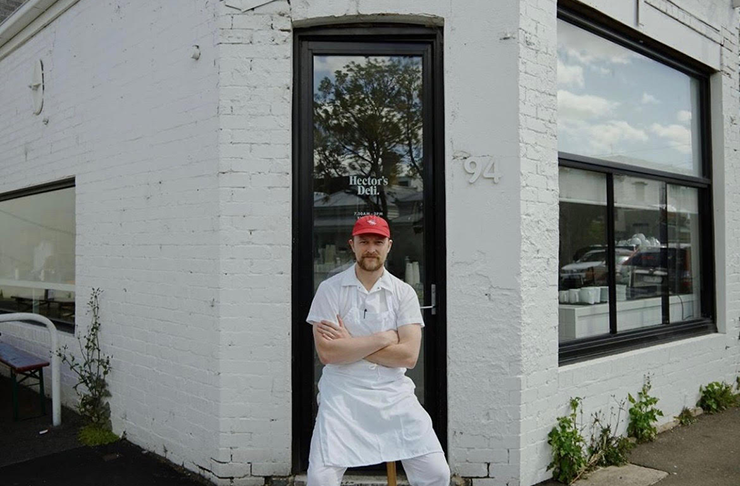 This is not a rare sentiment; the same issue of the expiry of being a chef was shared between many. Peasnell also cited other reasons for a somewhat organic transition of service to sandwich and how it's taken place,
"With all the lockdowns, chefs have been working daytime hours and getting used to it, so it's very enticing for staff to jump on the daytime trade." This coupled with the fact that finding staff in Melbourne is proving difficult, they're no doubt some of the catalysts for the sandwich boom.
Meanwhile, Alex Gavioli of Stan's Deli in Malvern described the situation as such: "It's crazy because hospitality is experiencing the most shortage of staff in history, everyone is trying to find staff, because of COVID so many people have gone home, if you're a chef you could basically get any job in Melbourne at the moment."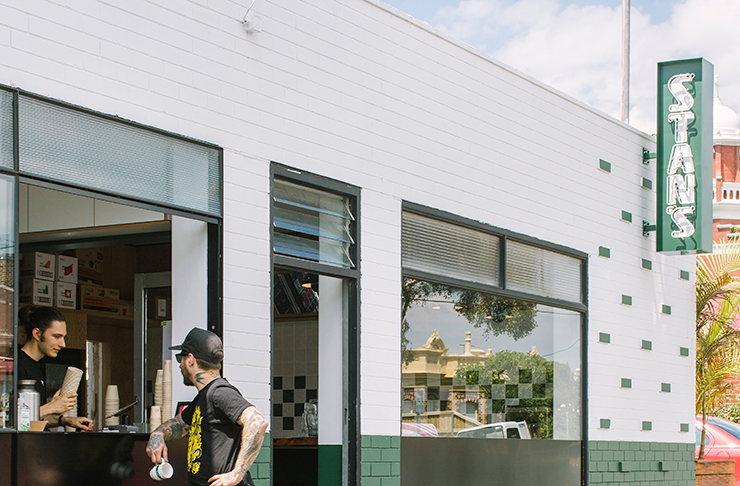 So, that covers off the kitchen, but why is Melbourne currently sandwich obsessed? Well, if there's one thing we're good at as a city it's jumping onto a trend, and it's indisputable that the deli sandwich is having its time in the sun. Along with those bready delights being incredibly delicious, varied, and typically cost-effective, they're also a great lockdown option. As so many outlets switched to takeaway, we soon discovered the sandwich is probably the pinnacle for food on the go. Venturing for a sandwich is like a lockdown event, and when we echoed this notion to Josh Fry he wholeheartedly agreed: "I think a big thing is the times we're facing at the moment, with lockdown, sandwiches are a good reason to get out of the house and get your thirty minutes of exercise," said Josh.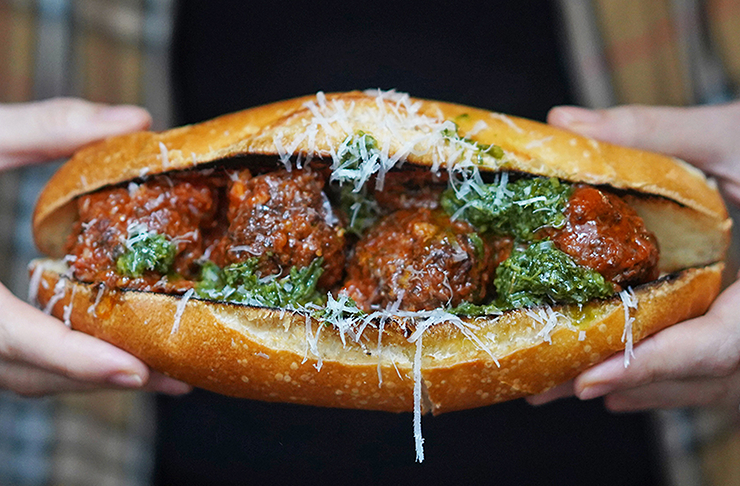 What can we expect for the future of Melbourne's deli sandwich? For one, we can probably assume a few new players will jump in the mix, though discussing the situation with those who have skin in the game, they don't believe that this is a trend that will dissipate any time soon.
Wilton spoke about the timelessness of the sandwich, it sits alongside staples such as pizza and pasta, they're just not going away, there'll always be a raft of hungry punters looking to get their hands around a toastie or Turkish roll.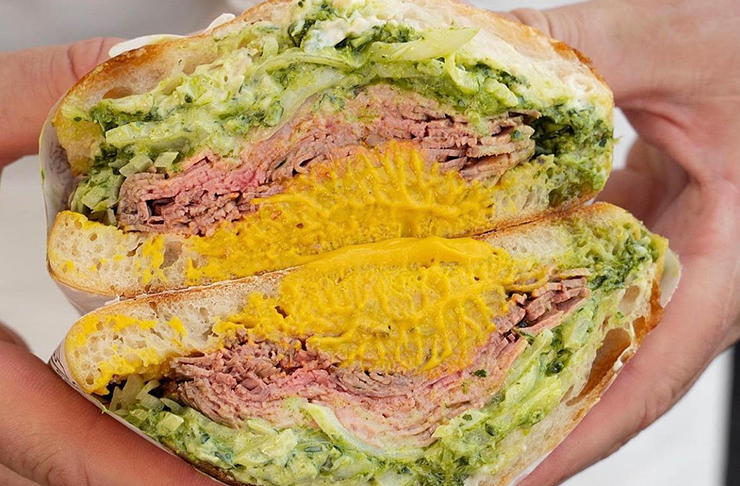 While the current popularity might recede to more stable levels, Peasnell believes that as long as they continue to consistently dish up quality sangas and good times, there'll be people lining up to get them, and we couldn't agree more.
Melbourne Food & Wine Festival's winter program has just been released. Check it out here.
Image credit:
Jolly Good Sandwiches - Tim Harris
Rocco's Bologna Discoteca/Josh Fry - Supplied
Nico's - Annika Kafcaloudis
Warkop - Annika Kafcaloudis
Stan's Deli - James Butler
Hector's Deli - Weiming Sun