It's official, winter is well on its way. Donning a duvet and taking to the street would be a great option for facing the cold, we get that. Yet, unfortunately, it's not the most 'en vogue' option, is it?
Dressing for winter needn't mean itchy jumpers and ill-fitting thermals. Nor should it need to be a gruelling or a chore.
What if we were to say, you only needed 10 key pieces to see you through winter? And no, we're not saying you can't wear anything else—we're not crazy. We're talking compiling a collection of pieces that sync with the rest of your day-to-day wardrobe.
For easy and effortless winter wear, these 10 wardrobe staples are a must this season.
#1 Black Turtleneck
A true timeless classic, the turtleneck is the ultimate winter failsafe. Investing in Staple and Cloth's 100% merino version is a no brainer. Irresistibly soft, allow it to slot effortlessly into your day-to-day wear. Team it under a slip dress for casual chic. Layer it under a crisp, white shirt with light wash denim. Or let it do the talking with your favourite jeans. An item that goes with everything, you can thank Staple and Cloth later.
#2 Knitted Jumper
Created in a warm, neutral shade, Moochi's Luxy sweater guarantees to work wonders with your wardrobe faves. From blue denim to black leather, this 100% merino item is completely versatile. Allow shirts and turtlenecks to peek through the relaxed v neckline. For instant warmth and instant cool, this sweater is the perfect piece.
#3 Midi Skirt
Created from 100% silk and love, Miss Crabb's Spindrift, midi skirt is sheer perfection. With a tie effect at the back and slight split, prepare to feel sexy and effortless, in an instant. Khaki is a great warming, winter tone that never seems to go out of fashion. Team this silky skirt with slouchy jumpers, white shirts, slogan tees and leather.
#4 Knitted Scarf
The scarf is the ultimate throw on and warm up winter staple. Practical and pretty, Seed's Check Scarf is a must this season. Comprising of warm tones and subtle checks, it's a slight nod to traditional tartan we all know and love. With such a neutral tone as its base, it will work ever so well with your closet staples. Wrap around chunky knits, team with a duster jacket and wear with leather accessories for a rock n roll vibe.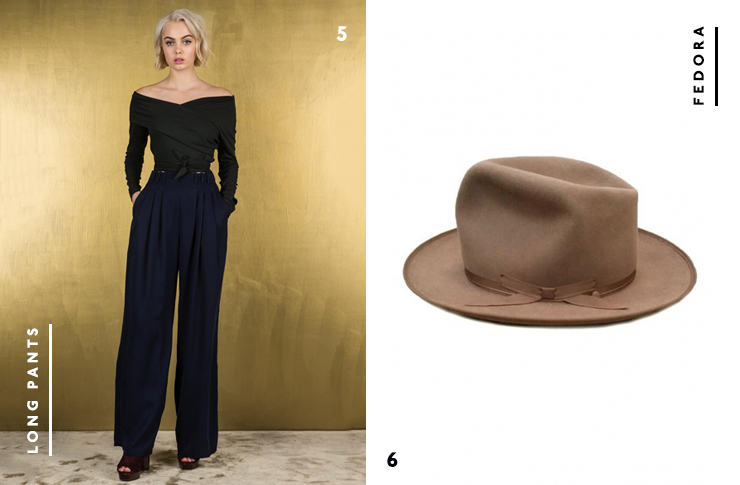 #5 Long Pants
Not only are RUBY's Paloma Pant easy on the eye, they're also easy on the environment too. Made from 100% tencel, it's a sustainable fabric that feels good and looks good. High-waisted with slight front pleats, this wide leg pant is perfect for winter. High-waisted trousers are timeless. They work well with most body types and offer comfort and style. Tuck tops in or slouch over the top, the choice is yours! Take from day to night with a heel for instant leg elongating magic!
#6 Fedora
Although winter may bring beanies to mind, we're all about rocking the fedora. Amuse Society's Ozzie Hat is a great addition to any look. Made from a taupe, felted wool, keep the heat on your head without sacrificing style. For instant warmth and style, team with an oversized knit and leather pants.
#7 Long Dress
Stay cosy and show a little leg in a midi length t-shirt dress. Auckland winters are temperamental, we all know that. For days when the weather can't make up its mind, the Avoca Pocket Dress by C&M makes a perfect choice. Charcoal in colour and suitable in length, layering couldn't be easier. Wear under a knitted jumper, add a leather jacket and boots for rock and roll attire that will keep you warm too!
#8 Black, Leather Boots
An obvious must have, you can't go wrong with a black, leather boot. Suitable for all occasions (bar the beach), they also happen to work well with everything. Mi Piachi are the shoe queens. Made from 100% leather, their Penelope Ankle Boot is the perfect wardrobe staple. Team them with jeans, dresses, skirts - the lot - they'll match. Dress them up or down with ease for daytime errands or drinks with the girls.
#9 Raincoat
Living in Auckland, you can bet your bottom dollar that it's going to rain in Winter (and all year round!) Battling with a brolly isn't fun and doesn't keep you dry all over. Switch it up and go for a raincoat instead. Practical, pink and oh so pretty, Rains version is one you'll actually want people to see you in. Lightweight and breathable, team your knits under for warmth, practicality and style!
#10 Statement Coat
It's all well and good having a practical coat to see you through the winter months, we get that. But, there's nothing wrong with having a more 'fancy' option too. Trellis Cooper's Destinys Wild Coat is the perfect option. Faux fur leopard print with a contrasting red colour, c'mon, could you get any more statement?! Perfect for special occasions and events, expect all envious eyes on you, wherever you go. Team it with jeans and boots for a more casual look or go all out with statement jewellery and heels.
Want More?