Truth time, the Netherlands is home to so much more than just Amsterdam. Don't get it twisted, Amsterdam is one of the best cities to visit in Europe, but there's something magical about those small town vibes.
Each are bursting with their own share of history, stunning (and 'grammable) sights and seriously good beer—priorities—so we've rounded up four Dutch towns that are well worth a visit the next time you're in The Netherlands.
Alkmaar
Location: Province of North Holland, 35 minutes by train from Amsterdam.
Did someone say cheese? Alkmaar is most famous for its Friday cheese market or kaasmarkt, in the Waagplein held from March all the way through to September. A total time warp, the market is so popular that in 2020 they're launching an evening cheese market from July to August, so your chance for cheese has officially doubled in the new decade and we see this as pretty delicious news.
Along with cheese, this small but mighty Dutch town is also home to its own beer museum, Beatles museum, and perhaps the most well known of the bunch, the Stedelijk Museum for modern and contemporary art and design.
But as with every day trip, first you'll need coffee. De Koffie Molen is the perfect mix of relaxed vibes and serious caffeination that will have you sorted and amped for a day of touristing. Next, it'll come as no surprise that a town with its own beer museum lays claim to a taproom that's well worth a visit. The Brouwerji de Moersleutel or the scrapyard is the place to sample brews not only from Alkmaar, but the surrounding area, all in one glorious place.
Delft
Location: The Province of South Holland, under an hour by train from Amsterdam.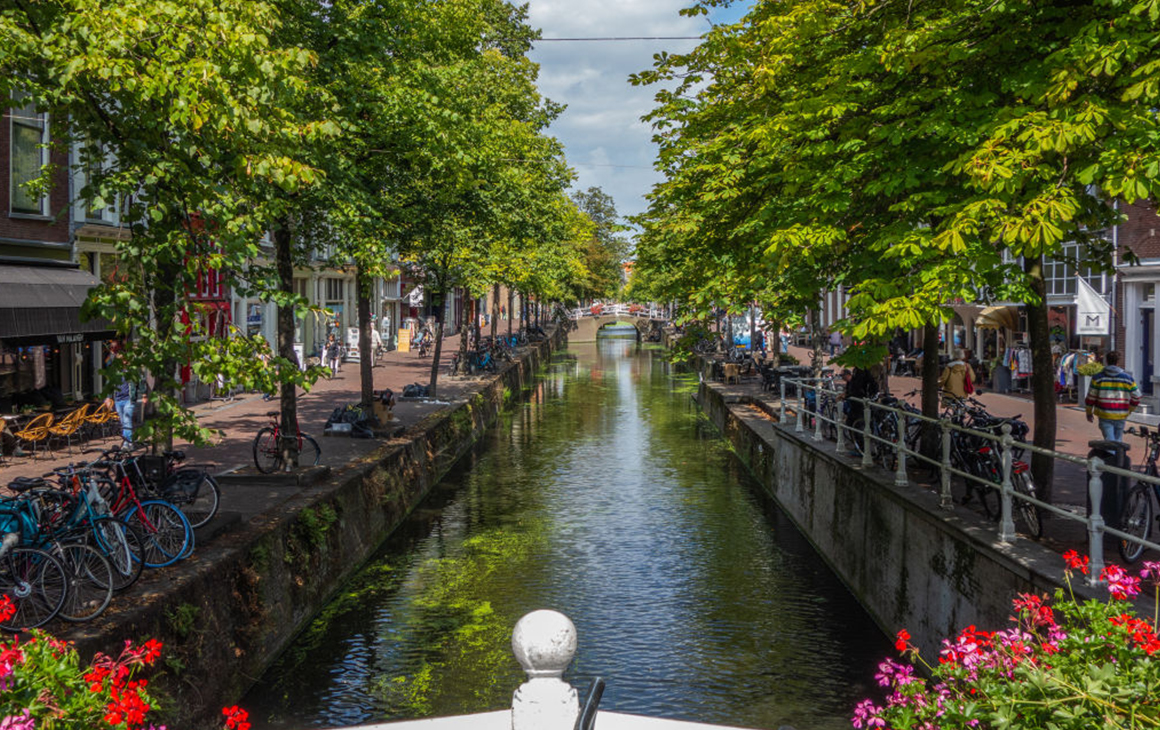 Delft is a canal ringed town famed for its blue and white pottery of the same name. This town was also home to the famous Dutch Master, and creator of 'Girl with a Pearl Earring', Johannes Vermeer. Fast forward to the present day and Delft is an easy escape from Amsterdam with regular direct trains.
In the Markt or main town square you'll find plenty of sun drenched terraces, along with the Nieuwe Kerk or new church, which is a spectacular site to see. The church is the burial site of many Dutch royals and it also boasts a pretty impressive, 100 metre high tower, and for only three Euros you can check out the view from the top. Not far away you'll find the Oude Kerk or old Protestant church, built in the 13th century and with a slightly crooked tower, at a somewhat less impressive 75 metres high.
The Dutch love a market, and a visit to Delft comes with three; there's a flower market, an antique market and a fresh produce market—make sure you treat yourself to a piping hot fresh stroopwafel when you're there. Along with markets, the Dutch love a warm cup of coffee and of course, a good beer. Delft is no exception to the rule with plenty of good places for a tipple or a caffeine hit. For the coffee fiends, Kek and Koffie en Zo will have you sorted, and when it's time for brews head to Bier Fabriek and sample one of their many local brews and pair it with a serve of the French roast chicken.
Breda
Location: North Babant region, just over an hour by train from Amsterdam.
This Medieval city is sitting pretty along the border with Belgium, and it is without a doubt one of the most 'grammable day trips from the city of Amsterdam. Complete with its own castle and surrounded by a moat, Breda is exactly the type of town you go to Europe for. With small winding streets and a plethora of canals, this Dutch town is perfect for a boat tour, and even more perfect if you decide to hire and skipper the boat yourself.
Now, did someone say hipster filter? Because team, in the land where your latte is often more milk than coffee, the scene here in Breda is worth getting excited about. Our top picks are Koffie Bar Sowieso and Koffie Bijteun, both with their own selection of specialty beans and snacks for the day ahead.
It's not just good looks and coffee that makes Breda a drawcard. The beer scene here is pretty epic too. Starting with the moody darkwood vibes of Aogse Markt and their mysterious surprise beer, to Beer Barrels with 100 different brews and a table tap where you pay by the kilogram (yes, that's kilo not litre), and the historic de Boterhal with more than 100 beers making Breda a beer lovers perfect day trip.
Volendam
Location: Northeast of Amsterdam, less than an hour by bus.
If you didn't wear a pair of clogs did you even visit The Netherlands? The short answer is no. Nestled on the Markermeer Lake, this Dutch fishing village is famous for its colourful wooden houses, historic harbour and dress up shops. In fact, no day trip to Volendam is complete without trying on some traditional Dutch threads, clogs included, and smiling with your crew whilst holding a giant wheel of cheese for the ultimate keepsake.
Once the happy snaps are done, your next mission is to find a smoked eel sandwich at one of the best fishmongers in town, Vishandel Lekkers or Fishmonger and Deli De Haven. All that fish will no doubt make you thirsty, so next up it's time to pay a visit to the local micro brewery, Bierbrouwerij 't Vølen, and if you're really thirsty then nearby village Monnickendam (a 10 minute drive away) has its own watering hole, Bierderij Waterland, and a selection of quality brews on offer.
If you do want to pay Amsterdam a visit, ditch the regular spots and check out these under the radar neighbourhoods.
Image Credit: Mario Eduardo, Picture Alliance, Sara Winter