Chinese food is a cuisine that holds the ability to satisfy everyone's needs thanks to its amazing flavours, versatility and variety. Whether you want go out for bougie wine and dine session, need a quick fix on your lunch break without breaking the bank or just too lazy to cook but want a hearty takeaway while you Netflix and chill, Chinese food has you covered. The immense popularity of Chinese food makes it inevitable for Auckland to be spoilt with options. To save you all from the underwhelming experience of trial and error, we have broken down a list of the best Chinese food in Auckland.
Grand Harbour Chinese Restaurant
Auckland CBD
Brunch doesn't always need to consist with a coffee and smashed avocado. Get out of your comfort zone and try brunching the Chinese way, if you haven't already done so. Round up a few friends and swap out the coffee for some herbal tea and replace the avocado dish with some hot dim sum. The Grand Harbour has been booming for over 20 years now, making it one of the OG's when it comes to traditional Chinese yum cha. With around 80 different dishes from savoury to sweet, The Grand Harbour located in the CBD is the place to experience as many different flavours of China as possible in just one sitting. Make sure to give their prawn dumplings a go as their perfectly cooked so the prawns remain plump and flavourful.
Grand Park Chinese Seafood Restaurant
Epsom
We couldn't talk about yum cha and not give this place a mention. Auckland-Chinese locals never fail to name drop Grand Park whenever Chinese food is the topic of conversation. This place also has trolleys of dishes constantly flying out of their kitchen and don't let the high quantity fool you as they certainly don't forget about quality. All the dishes are cooked fresh and to absolute perfection to make your Chinese dining experience unforgettable. Grand Park are also highly popular for their dinners as master chefs from Hong Kong work their magic with the tanks of premium quality seafood they have in the restaurant. We're talking more than just fish, we're talking lobster, paua and more.
Empress Garden Chinese Restaurant
Herne Bay
Peking duck is one of the many stand out dishes of Chinese cuisine and Empress Garden do a mighty fine job at it. These guys don't let the duck go to waste and make the most of the meat through a three-course experience. Firstly, we have the tender cuts of juicy duck with the layer of crispy skin that you wrap in thin slices of savoury pancake and fresh veggies. Then comes the chunky bits of duck meat cooked in your choice of bean sprouts, noodles, vegetables, rice cakes, sesame pockets or fresh ice-berg lettuce. Just when you thought you were done, they work their magic with the carcass and you choose how you want it cooked.
Barilla Dumpling
Dominion Road, University of auckland
Barilla Dumpling have made a name for themselves over the years for being one of the hottest dumpling places in town with their massive portions and quality dishes. Located on Dominion Road, this little eatery is always packed with people looking to satisfy their Chinese food cravings without straining their wallets. Their standout dishes are of course their dumplings and also their Mapo Tofu, silky smooth tofu marinated in spicy sauce which gives the flavour a real kick. Not only is Barilla Dumpling great for a casual dinner with mates but now that they've opened up in the quad of University of Auckland, students can get a solid meal without stressing their wallets too much.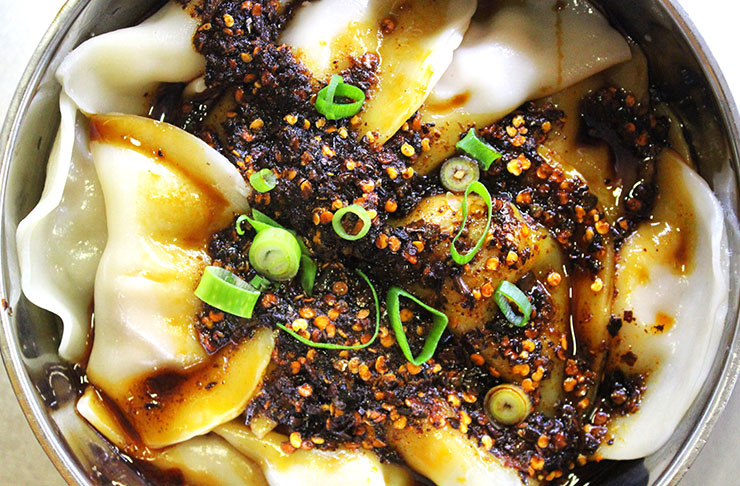 Eden Noodles Café
Dominion Road and Albany
If you're on the look-out for some flavour explosion, Eden Noodles Café is a must. These guys take authenticity seriously and make all the elements of their dishes by hands, including their chewy noodles that soak up all the flavours of the spicy soup. The Dan Dan Noodles are compulsory when you visit this eatery and anything that says "special sauce" on the menu stays true to their name. Special is an understatement as this flavour is something that you cannot find anywhere else which is probably why there is always a line of customers waiting in absolute excitement. If waiting isn't your thing, just call up, make an order and get it to takeaway. North Shore locals don't need to cross bridges to get a taste of Eden Noodles as they recently opened up a store in Albany so all of us get an equal chance to have these bowls of magic.
The Old Fashion Hot Pot
Albany
North Shore locals have been blessed with the Old Fashioned Hot Pot. Many of us have given Korean BBQ a go, where you grill your own meat but a lot of us still have Chinese hot pot to try. How this works is that each table literally gets a hot pot of flavourful broth and you order plates of veggies and different meats. After continuously adding side dishes to the broth, all the flavours combine and creates the best soup you will ever have in your entire life. What a lot of people like to do is finish their feed by adding noodles to the pot of intense flavour so they get the ultimate bowl of slurpy goodness to add the cherry on top off their meal. It's easily one of the best Chinese restaurants in Auckland.
Momo Tea
Henderson, Newmarket, Albany
People of West Auckland, city locals and North Shore citizens, we all get to enjoy this mighty fine place as their immense success has led to three outlets being scattered around Auckland! When you're just in the mood for a small get together with friends, this is the perfect place for you. Momo Tea has a really social vibe with their bright colours and fun menu of Chinese specialty dishes. Their menu has the classic Chinese stir fries and noodles but they're mostly known for their unique drinks! These guys have been around before the freakshakes trend with their killer mountain jelly slushies and milk teas with endless flavours from the good old chocolate to the more quirky ones like taro and winter melon!
BBQ Duck Café
High Street and Queen Street
Auckland CBD citizens are spoilt by one of the best Chinese takeaway restaurants in town. They don't only have one located in Central Auckland but THREE – two on Queen Street and one on High Street and there's a good reason for that. Their menu of huge variety and quality tasting meals have gotten them a strong reputation amongst the Auckland community for being the go-to place when wanting something quick and hearty. Their stand out dish is their roast duck and yes, it is very different to the famous Chinese delicacy – the peking duck. Roast duck has more of a crispy texture and smokey flavour and BBQ Duck Café does this dish justice.
White + Wongs
Auckland CBD, Newmarket
Sometimes trying out different sorts of cuisines can be a little intimidating. In these cases, we like to recommend you try out a place that serves fusion dishes where they take key points and elements of a cultures dish and put a Western spin on it. White + Wongs located in Auckland CBD and lately in Newmarket have taken some star dishes from China like steamed buns and dim sum and given them a modern twist to please more palates of the public. Along with their super tasty food, White + Wongs is beautifully decorated making it a booming place on weekend nights with people getting their wine and dine on. Their bao buns are a must and so is their pork siu mai dumplings, a great first taste of traditional Chinese yum cha.
Basu Lounge
Takapuna
Basu Lounge on the North Shore is a cozy but fast paced restaurant with people walking in and out constantly throughout the day. Their noodles are highly authentic and what makes Basu Lounge unique is their peanut topping on their spicy dan dan noodles. This adds a nutty and somewhat creamy flavour and texture which balances out the intensity of the spicy soup. They also know how to work their dumplings as their pork and chive ones are juicy, tender and exploding with meat, making them a favourite to their locals. These dumplings are so good that people will make a trip to the North Shore to get a taste of them. To make it even better, these guys do takeaway! Get your dumplings to go and enjoy them on the beach.
Gogo Music Café
Wairau Park, Dominion Road
Think of Gogo Music Cafe as a place where you get to choose different sorts of skewers of meat, seafood, veggies and order huge sharing dishes for the table. Skewers are cooked to order so they're piping hot and fresh and covered in a special seasoning which enhances every flavour. The crowd favourite at Gogo Music Café is their Spicy Stir Fry Chicken in Xinjiang Special Sauce, don't forget to add the handmade noodles. We recommend you get a large one of these for the table and order your own skewers, don't miss out on the lamb! If you're wondering about drinks, look no further as the Tsingtao beer is the compulsory beverage to go with your Chinese BBQ experience. This is definitely somewhere you'll want to tarry a while so if you're on a tight schedule it might be best to head elsewhere.
Lee Hong BBQ
Manukau
So much food envy for the people who live in Manukau as they have a takeaway restaurant who serve up one of the best BBQ pork buns in Auckland. The soft and fluffy bun paired with the salty, juicy pork filling is a combination sent from heaven above. Staying true to their name, any dish with pork in it, this place does it to perfection from the flavour to the texture. All dishes are prepared fresh and portions are very generous, what more could you ask for in a takeaway joint? Lee Hong BBQ have heaps more to choose from their menu so get experimenting and order up a storm.
Water Drop Vegetarian Café
Flat Bush
If you haven't yet noticed, meat is a huge staple for Chinese food. But we could never forget about our vegetarian readers as we never want you to feel left out. Water Drop Vegetarian Café have an all vegetarian and predominantly vegan menu to cater to those who don't live the carnivore lifestyle. By utilizing seasoning, fake meats and fresh seasonal produce, Water Drop cook up some of the best Chinese vegetarian dishes in Auckland, it's hard to believe that there are no animal products in these dishes as they taste no different to the original dishes. All their dishes taste bomb but they're especially known for their braised noodles soup so don't miss out on those!
The Classic Bakehouse
Auckland CBD, Greenlane, Northcote, Burswood, New Lynn, Manukau, Highland Park, Mt Wellington, Mt Eden
There's a sweet tooth in all of us, try satisfying your sugar cravings with some Chinese bakery goods. The Classic Bakehouse can be found all around Auckland and they can do things with flour and sugar like no other place can. Chinese desserts think out of the ordinary and don't limit themselves to generic flavours like chocolate, vanilla and strawberry. They think outside the box and incorporate natural, wholefood ingredients to create something unique and tasty. Some examples would be their sweet red bean bun, green tea toast, taro bun and coconut bread. When your sugar cravings take over and you feel like something new and different, be sure to check this place out, you'll find some of the best Chinese food in Auckland.
If you're after something a little more... specific, check out Auckland's best steamed buns.
Image credit: Lauren Matilda Matthews, Jaiden Bhaga