It's true—food trends come and go in Sydney, but some dishes have a certain star power that reaches well beyond what's new and cool, transcending time and space and holding onto the hype they so deserve.
From top-tier bar snacks to celebrity breads and the desserts that set our hearts ablaze, here we've compiled a list of Sydney's most iconic dishes (according to Urban List Sydney editors). Some are new, some are sort of new, and some have been wooing Sydney for decades.
Here are 15 of Sydney's most iconic dishes.
Cordelia Williamson's Picks
Sydney Deputy Editor
Pretzel & Whipped Bottarga
10 William St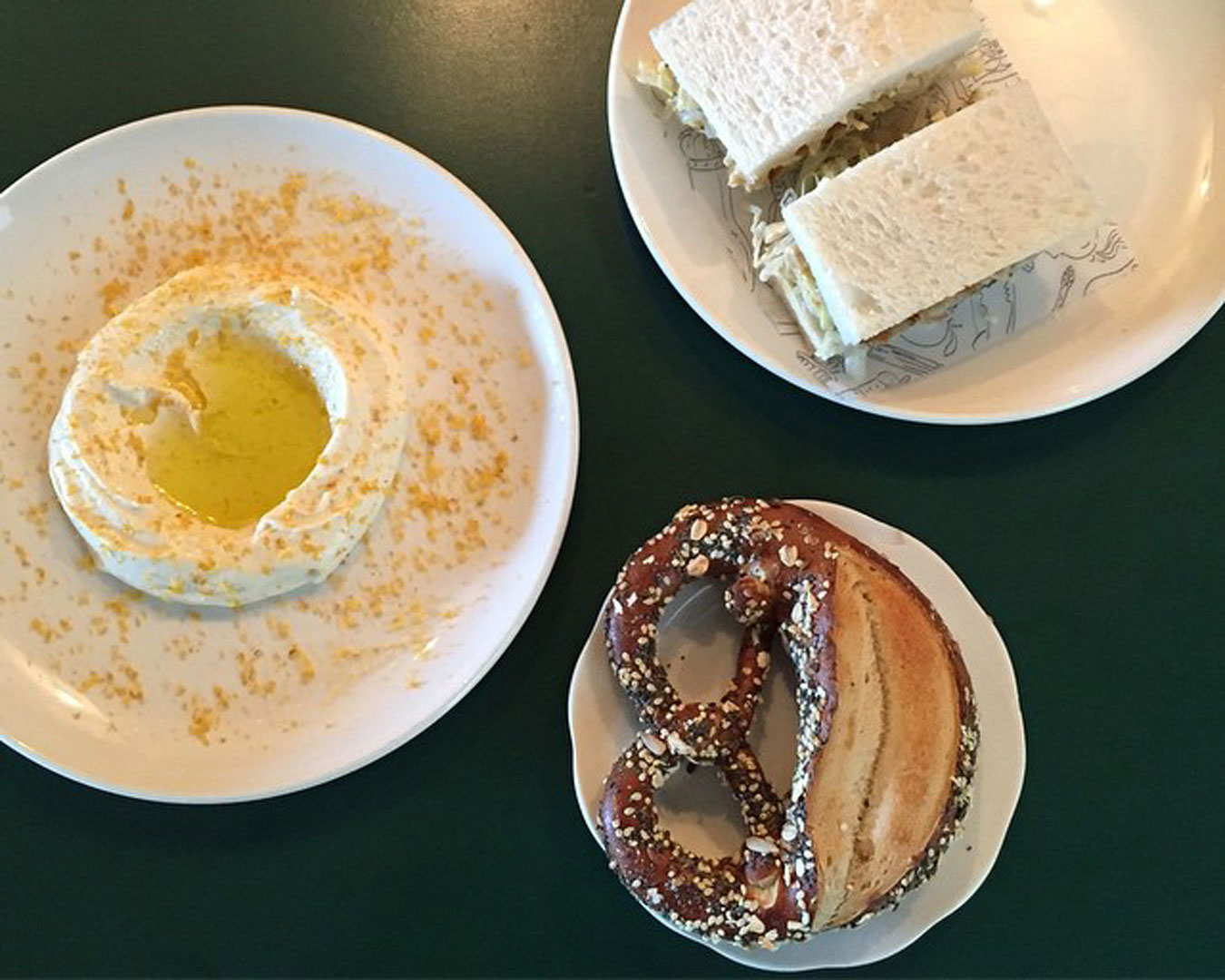 Natural wines, Nonna-level pasta, and an always packed restaurant are recipes for a good time. But it's the pretzel served with whipped bottarga that is an essential order whenever you find yourself at 10 William St. You'd think living around the corner from one of the best restaurants in Sydney would make me want to branch out on the ordering, but no—without fail, I order this trustworthy snack every time. What makes it iconic? The pretzel is sort of like a chewy, bready bagel with seeds and it's the perfect vessel for the silky, smoky whipped bottarga dip that comes topped with smoked oil and sprinkles of grated bottarga. Heaven. If you're a regular, you'll also know to order some light-as-air focaccia to mop up any extra dip. And if it's good enough for Action Bronson, then it's good enough for you. Honestly, it's the best bar snack in Sydney.
Clam Pizza
Bella Brutta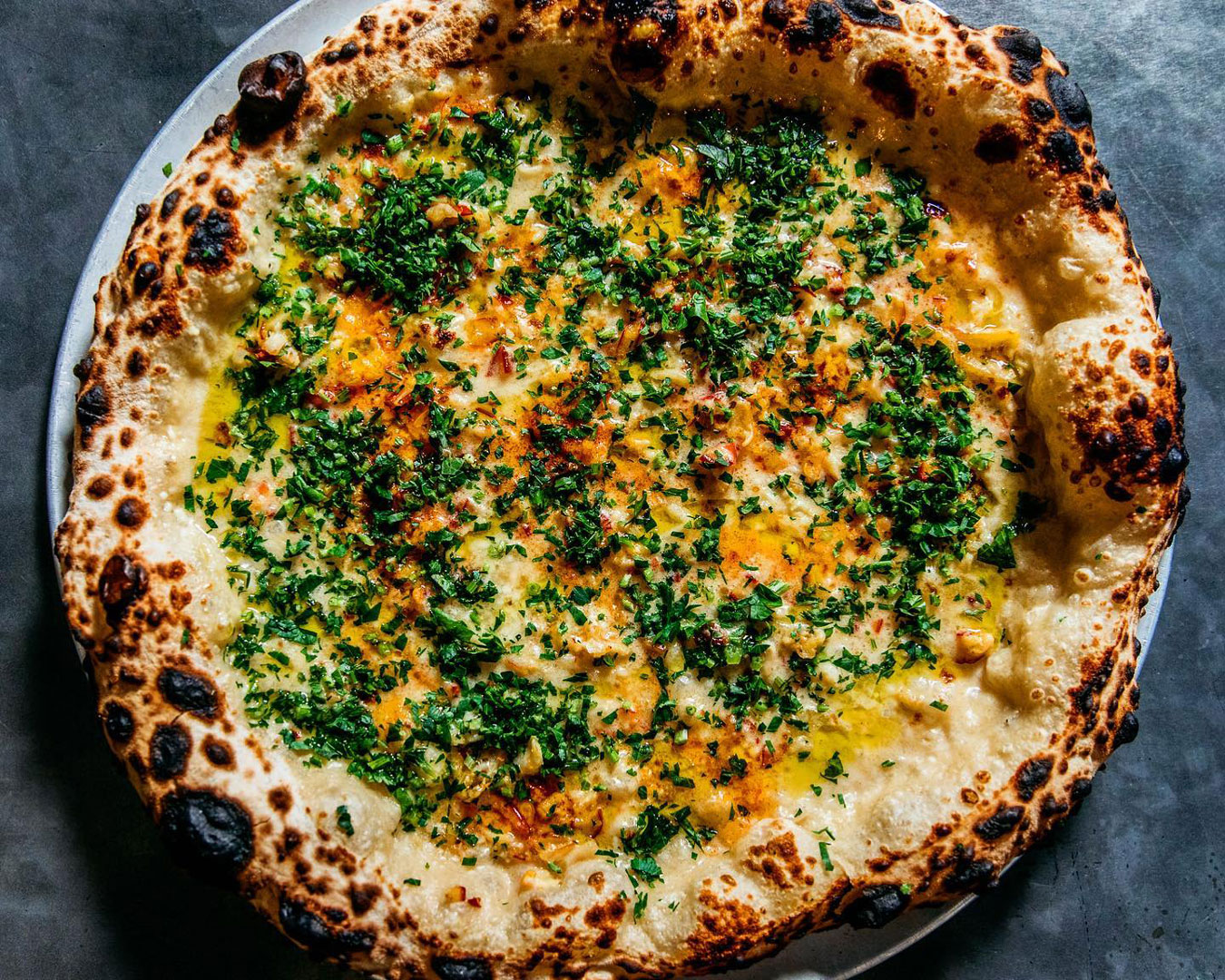 I'm a strong believer that pretty well anything can belong on a pizza. Pineapple lovers, I'm with you. But what I unabashedly adore on pizza these days are clams—and it's all thanks to Bella Brutta. Located on King Street, Bella Brutta is from the culinary masterminds behind Porteño and LP's Quality Meats, so if you're a fan of those places then chances are you'll like this unassuming Italo spot. The pies come hot out of the wood-fire oven that's located smack-bang in the centre of the dining room (dress accordingly, people), and come topped with the likes of LP's mortadella or thinly sliced roast potato with gorgonzola. But it's the salty, garlicky clam pizza that puts Bella Brutta a step above the rest. Whether you approve of seafood on pizza or not, you have to try it. Extra points for the fermented chilli.
Wood-Fired Bread
Totti's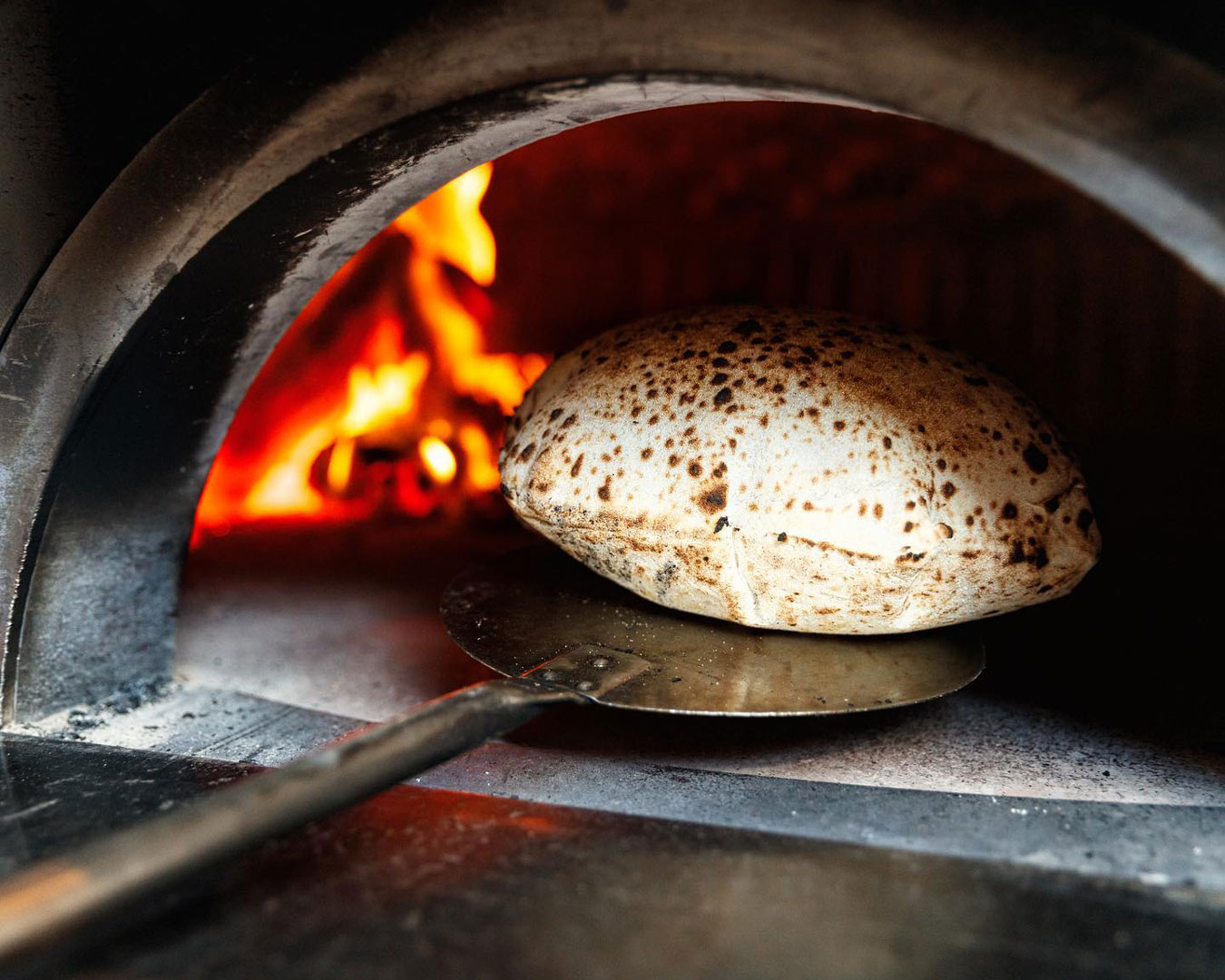 Love Totti's, hate Totti's, or have never been to Totti's—it doesn't matter, because its puffy bread disc has achieved legendary status since the OG Totti's opened in Bondi in 2018. And yes, Totti's is now one of the most popular Sydney restaurants, having expanded to two other locations; one in the CBD and one in Rozelle. This could be because Merivale has the Midas touch, but my money is on the cult-like fame of this humble bread. It is *chef's kiss* simple, which is what makes it so perfect. It's made to order, before being thrown into the flames for a hot few seconds. The dough puffs, bubbles, and chars, and then it's on its way to your table, ready to be ripped by impatient fingers. Of course, it is just bread—so you'll want to order some antipasto plates to really appreciate its beauty. Highlights include the plump cherry tomatoes, cucumber with stracciatella and dill, and 'nduja.
Mary's Burger
Mary's and The Unicorn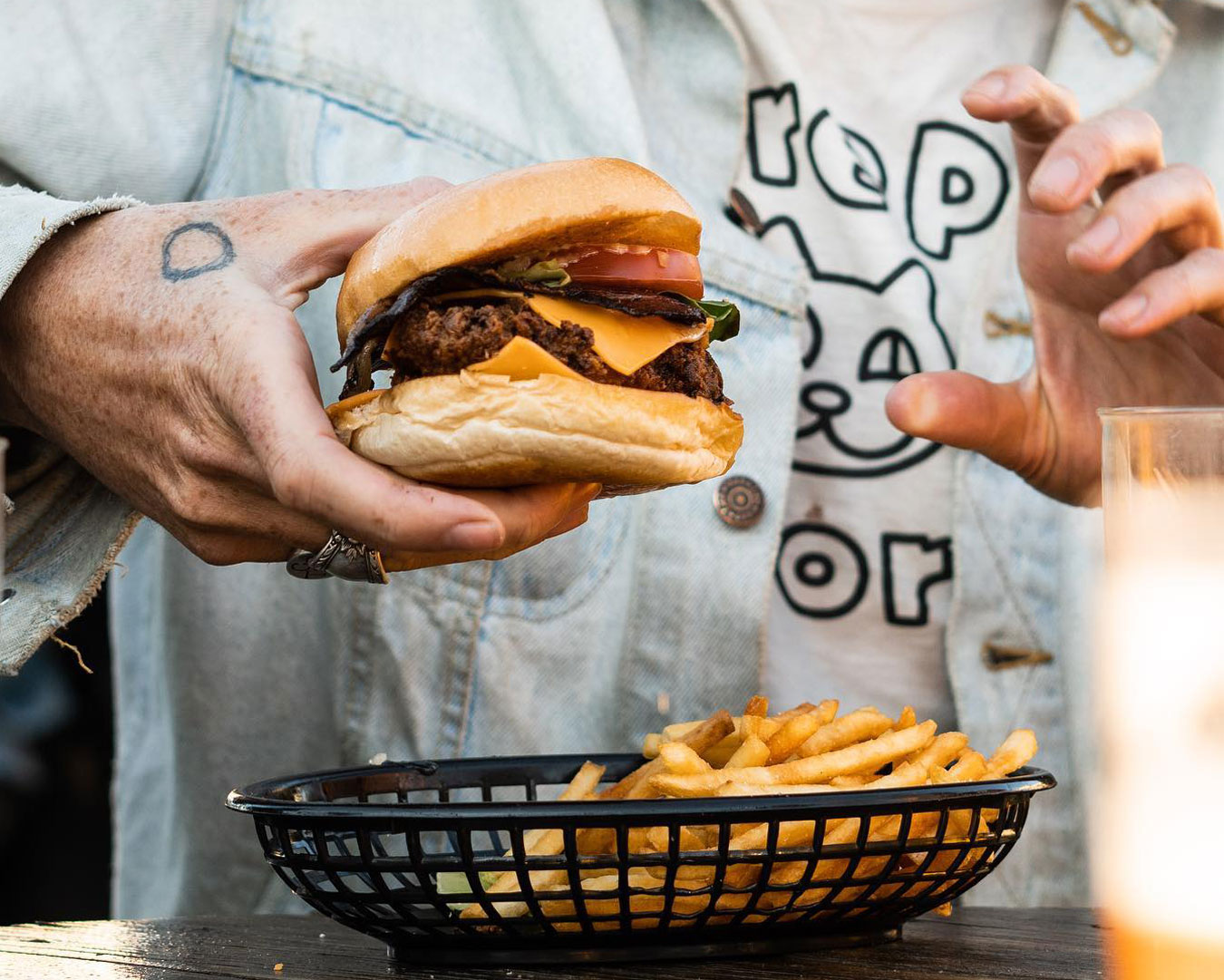 I don't know who started the OTT, stacked-to-the-sky burger craze, but I reckon they were overcompensating for something. If you're a fan, good for you. But I like my burgs simple, cheesy, and able to fit into my mouth. So, thank god for Mary's. The raucous, rock 'n' roll burger chain can be thanked for a few things—like championing live music and saving Sydney's nightlife—but the boys' biggest achievement has got to be the Mary's Burger. It's a classic, comprised of beef, American cheese, tomato, onion, lettuce and that famed Mary's sauce that I could drink by the gallon if it wouldn't clog my arteries. The eponymous burger comes served with crisp fries and there is no better greasy late-night feed (or hangover cure) around.
Emperor's Puffs
Emperor's Garden Restaurant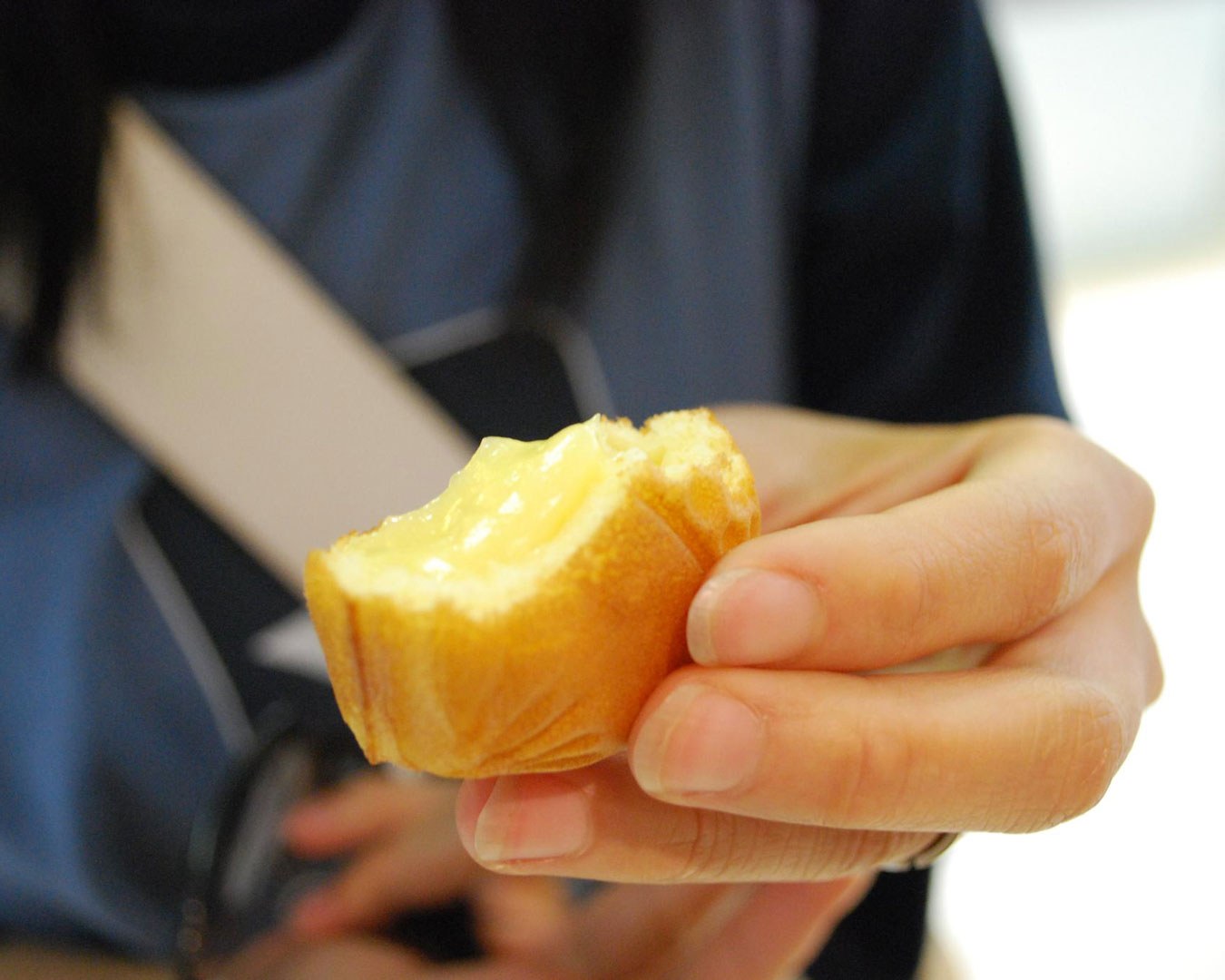 If you haven't had a cream puff from Emperor's then it's high time you did so—and they'll only cost you a bit of pocket change. At 40 cents a puff, they may well be the best wallet-friendly dessert in Sydney. But you'd be remiss in thinking that's what makes them iconic. The bakery window, located on the corner of Hay and Dixon Streets, often has a long line of people waiting to get these delights by the bucketful. So patience is key here. But once you snake your way to the front, you'll score these tiny custardy buns as they come straight out of the oven. The dough is slightly chewy and light, the custard gooey and hot, and you'll have a handful more to eat as you walk away smug as can be. Hot tip: bring cash to avoid a card surcharge.
200+ Day Dry-Aged Steak
Firedoor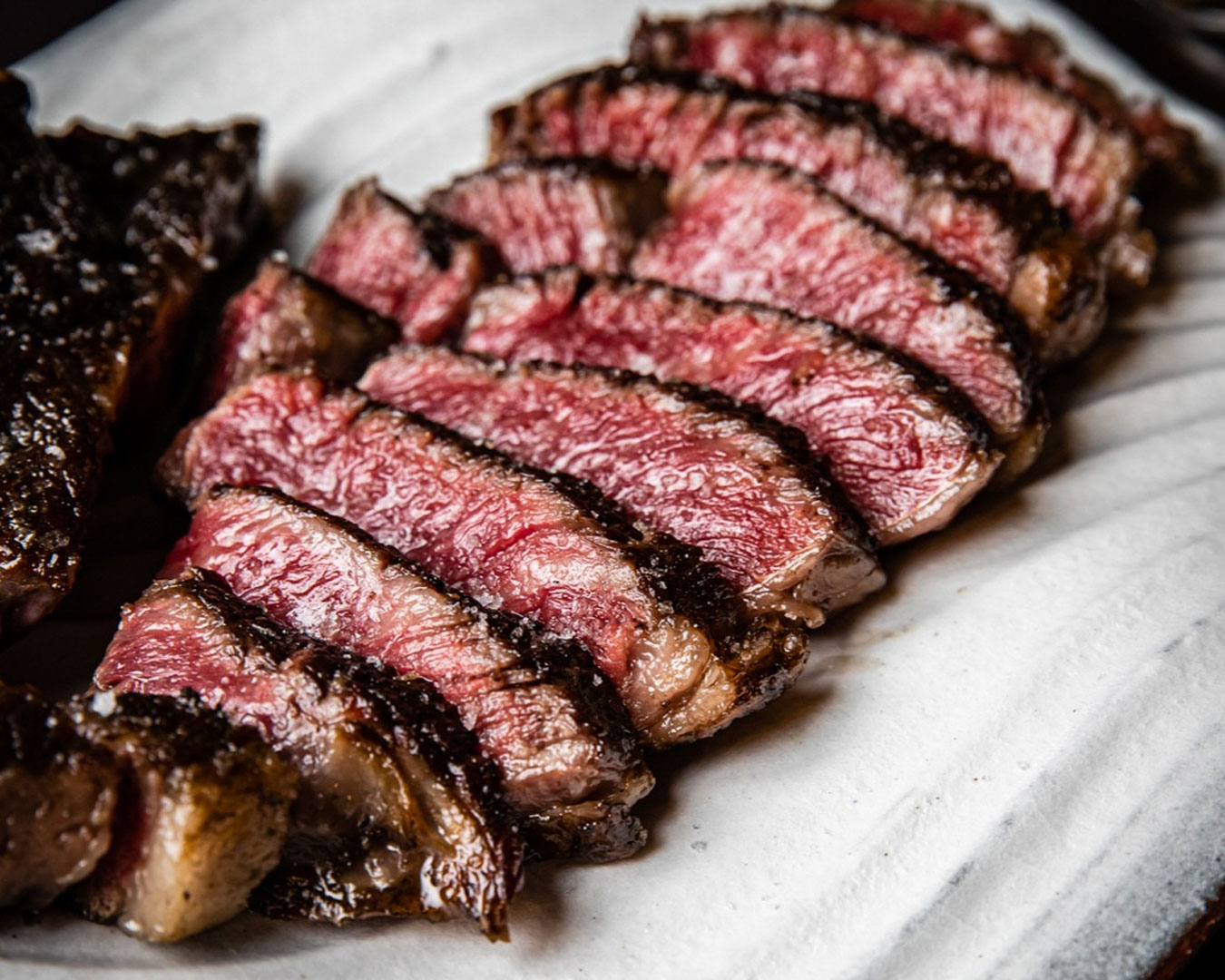 I used to think a steak was a steak. Obviously, a sirloin with a 9+ marble score served at Rockpool is a cut above a pub rump on steak night. But I didn't really get it. Then, I went to Firedoor. Not only is it the best steak I've ever had, but it's also the third-best steak in the world according to this year's 101 World's Best Steak Restaurants. There's also a Chef's Table episode on chef-owner Lennox Hastie—and if that's not iconic, I don't know what is. As the restaurant's name suggests, it's all about fire here, with every single ingredient cooked over open flame or coals. Seriously, the kitchen uses no gas or electricity—just primitive and genius cooking—and this, of course, extends to the cooking of steaks. The beef is dry-aged at upscale Woollahra butcher Victor Churchill for over 200 days (yes, that's a very, very long time). This centuries-old method makes the meat incredibly tender and intensifies flavour, too—only to be enhanced by the open flame it's cooked on. Sound good? Well, good luck getting a table. But if you do, I recommend sitting at the bar so you can watch the kitchen in all its theatrical action.
Pho Dac Biet
Pho Tau Bay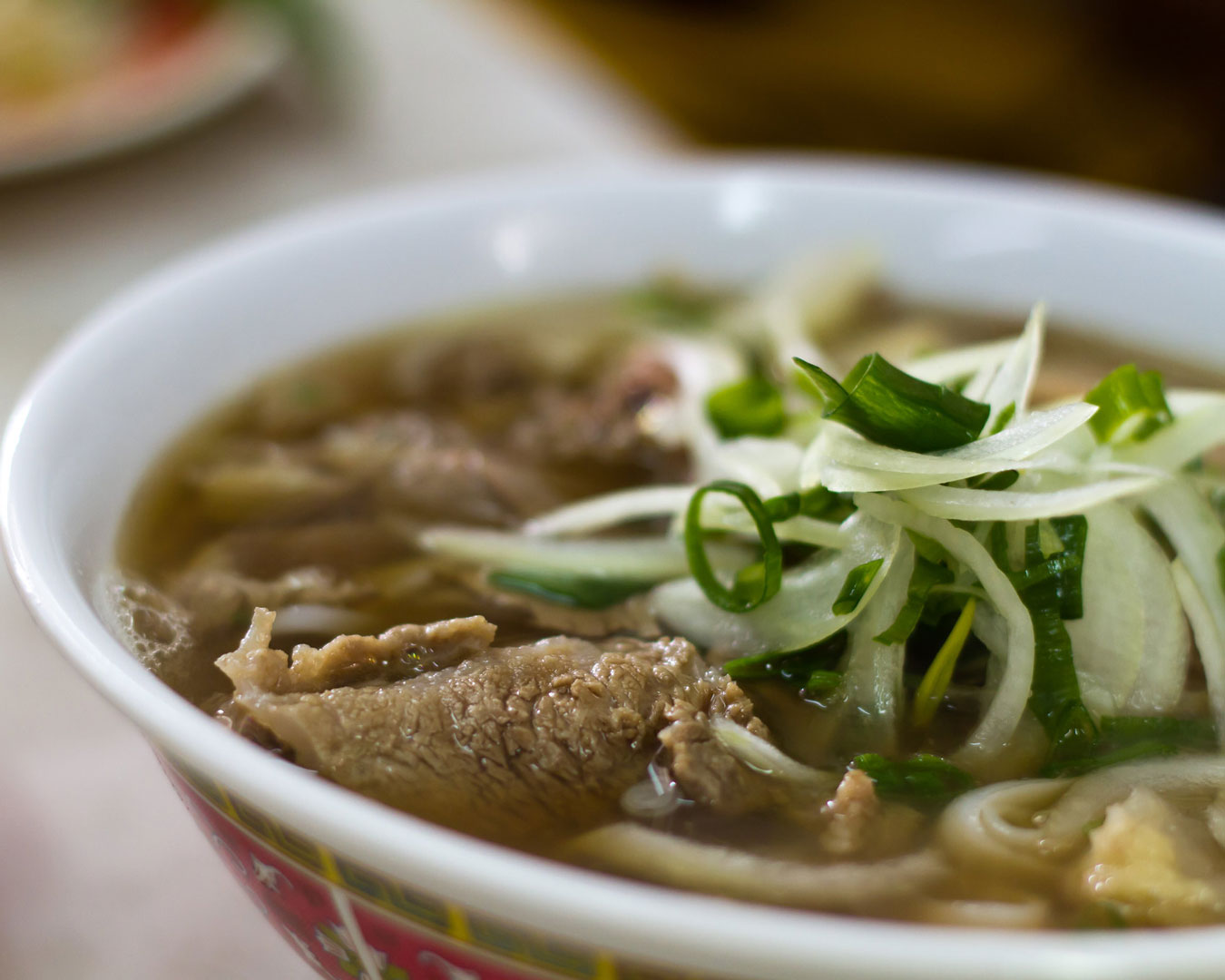 Everyone has their go-to pho place. But we're not talking about any ol' steaming-hot bowl of noodles here. We're talking about elite-level pho, and Pho Tau Bay is where it's at. Opening way back in 1980, Pho Tau Bay was the first Vietnamese restaurant in Cabramatta—a suburb that's now synonymous with Sydney's best Vietnamese food. And now that the temperature has dropped, it's a timely reminder to get a giant bowl of pho from the no-frills hole-in-the-wall where it all began. The beef noodle soup here is widely regarded as the best in Sydney packed with silky noodles, aromatic broth, and tender beef. What can top that? Pho Tau Bay's pho dac biet (AKA the works), packed out with sliced beef, brisket, tripe, and Vietnamese meatballs.
Cantabrian Anchovy, Butter, Sourdough
Ragazzi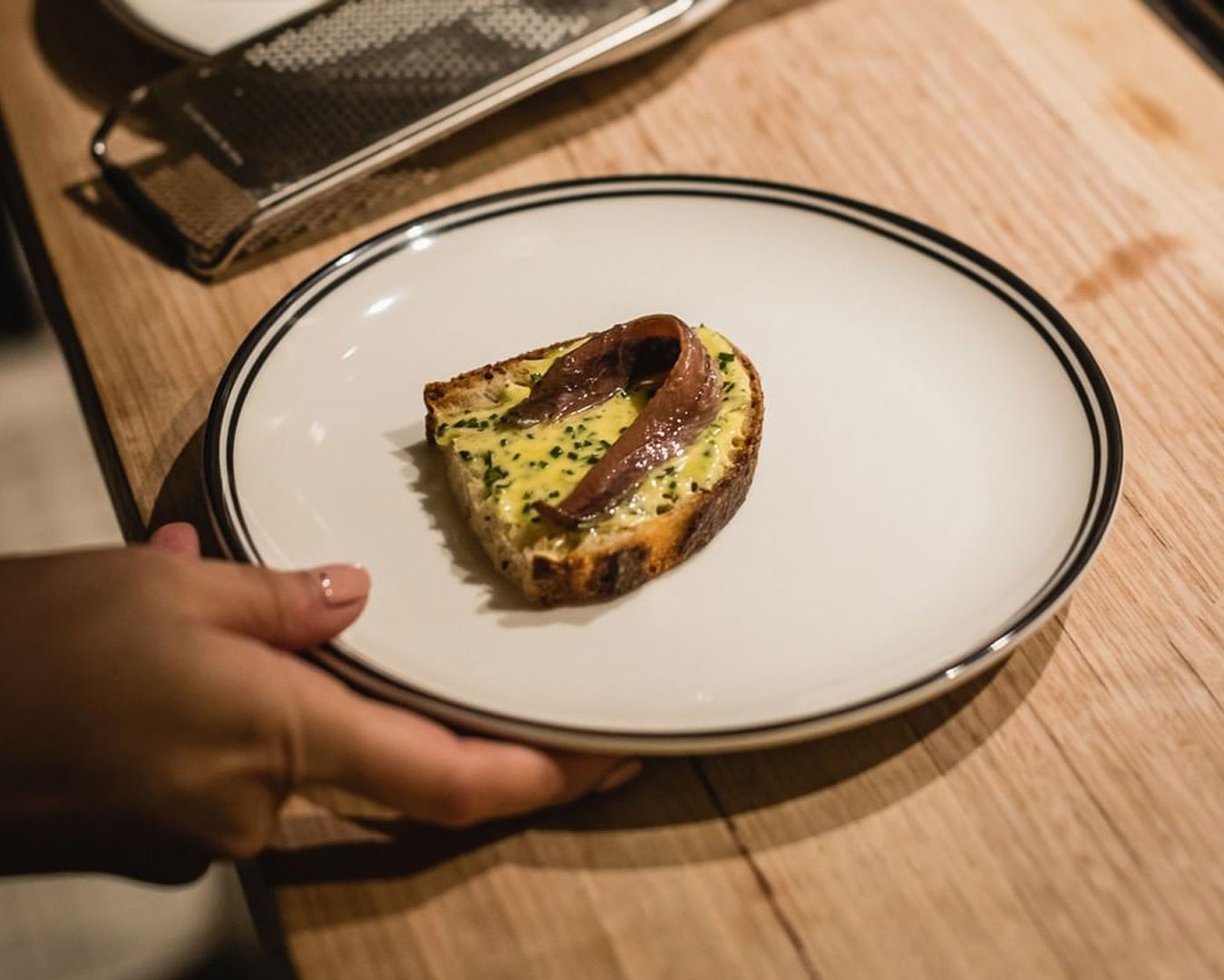 I never thought I'd say this, but anchovies have become sexy. Too sexy in Sydney, in my opinion. It seems every bar, restaurant, cafe, pub, diner, and whatever lies in between is now peddling these salty snacks in one form or another. My great love for anchovies has dwindled, but you will find me ordering them at Ragazzi time and time again. Why? Well, these guys plate up the best. Simple as that. Thick, fresh sourdough with sweet-salty whipped butter caked on top and a Cantabrian anchovy fillet to finish. I know I said 10 William St's pretzel is the best bar snack—and this is too.
Sammy Preston's Picks
Sydney Editor
Double Yellowfin Cheeseburger
Charcoal Fish and Fish Butchery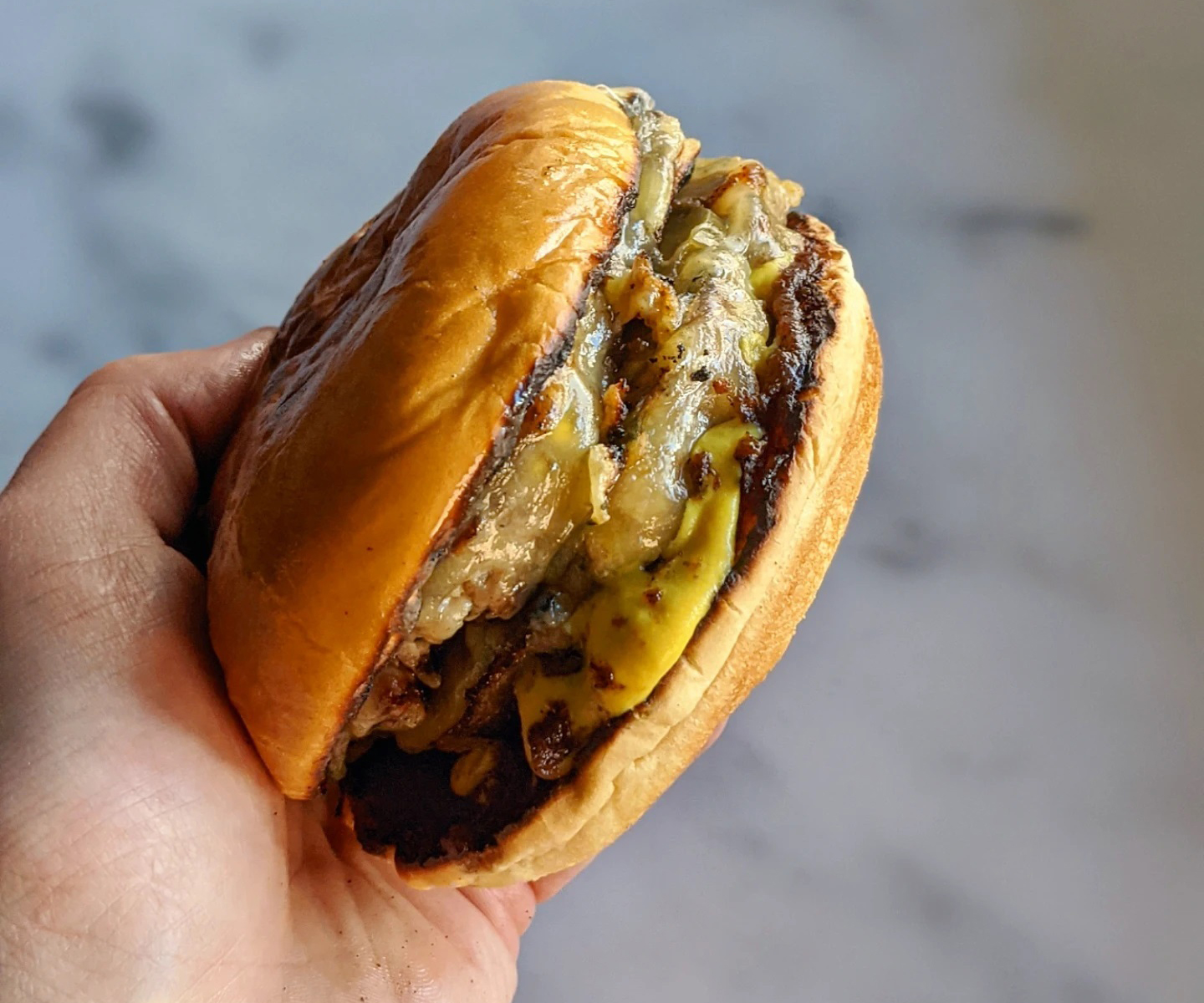 The fact that national treasure Josh Niland calls Sydney home is pretty special. Seafood has always been a part of Australia's food culture ("shrimp on the barbie" being probably the most obvious citation there), and Niland's scale-to-tail approach in this era of overfishing is as important as it is original. Since opening Saint Peter, Niland has proved his theory of sustainable seafood can move beyond just fine dining too—and his Double Yellowfin Cheeseburger is exhibit A. It's one of the chef's best-ever creations (according to me), layered with cheddar cheese slices, bacon, BBQ sauce, and his signature yellowfin burger pattie. Don't go in for a bite expecting a fish burger—this has all the feels of a beef burger, minus the beef—and that's where the magic lies. These days you can even top yours with crispy Murray Cod "bacon" too. Get yours at Charcoal Fish or Fish Butchery.
Cheeseburger Spring Rolls
Ms. G's
Dan Hong's Lotus cheeseburger ignited Sydney's undying love of American-style burgers (the cheddar, the ketchup, the caramelised onion, the chargrilled bacon, the Japanese mayo). The Merivale chef went in for round two at Ms. G's when he dropped his Maccas-inspired self-saucing cheeseburger spring rolls. Both are as iconic in Sydney as the other, but for this list, I'm giving you spring rolls for the simple fact that they're still on the menu at Ms. G's (Lotus, while it was revived briefly, has since closed). While there are heaps of cheeseburger recipes online, none taste quite like Hong's. Made with Ketchup, hamburger cheese, and American mustard, there's all the nostalgia of the Macdonald's classic, folded and fried into a bite-sized roll.
Egg Hopper
Lankan Filling Station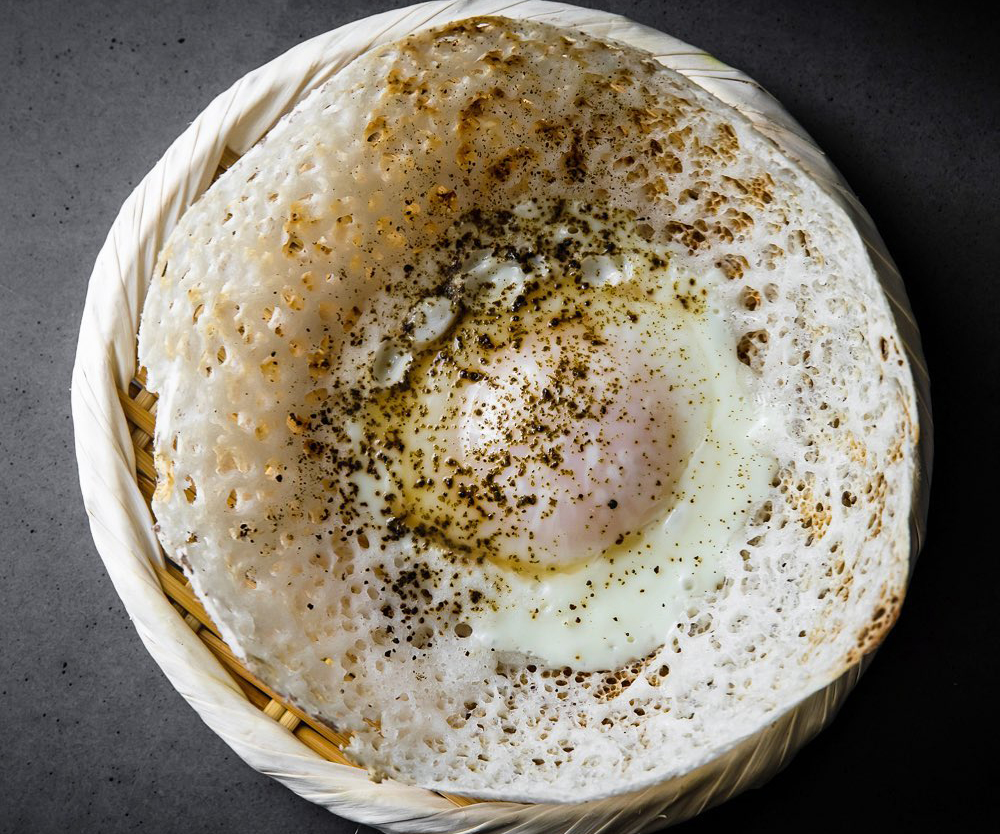 This might be a bit of a rogue inclusion for our list, given the hopper could be considered to be more of an edible vessel than a dish on its own—but we couldn't leave it out. Lankan Filling Station's menu is crafted around their hoppers, designed to be the centrepiece of your meal; folded, torn, dipped, and scooped into the Sri Lankan diner's fragrant curries and sambols. The lattice-like crepe is made from a fermented batter of rice flour and coconut milk (yes, they are gluten-free) and shaped into a bowl. Lankan Filling Station chef-owner O Tama Carey serves hoppers with or without a biodynamic egg in the centre cooked to runny perfection—but the egg hopper is where it's at. A worthy contender for your B&E roll on a weekend morning.
The Breakfast Sammy
Frank's Deli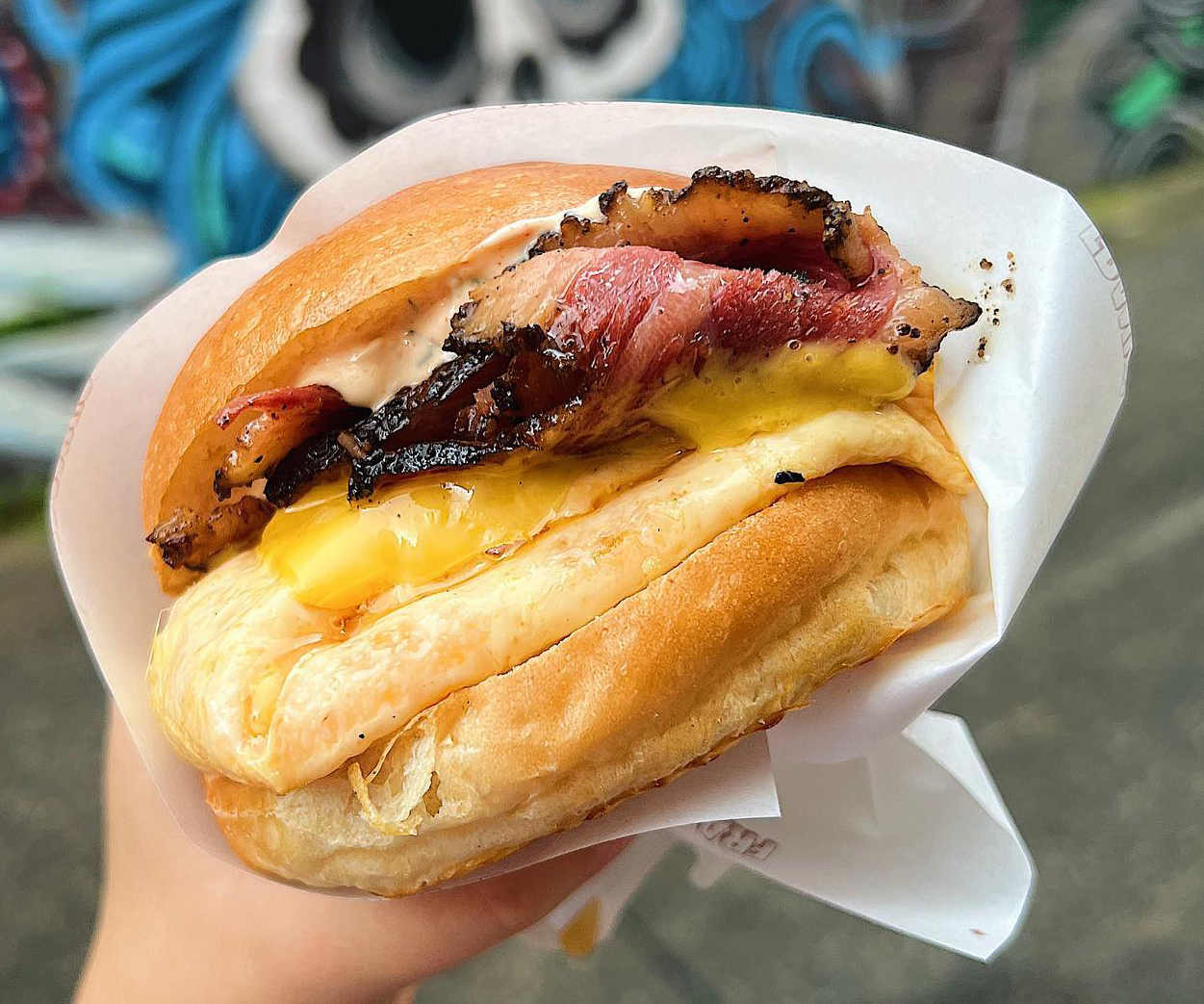 This is a fairly recent entry into Sydney's foodie zeitgeist—but it's a goodie (and look, I don't hate the name). Deli sandwiches are big right now and Frank's Deli in the Eastern Suburbs is leading the pack with its Breakfast Sammy. Unlike your standard brekkie burger, this is made with a thick scrambled egg and American cheddar fold, your choice of Polish speck or LP's Quality Meats pastrami, and Frank's Polish dressing. The queues at Frank's on Saturday mornings are there for a reason, is all I'm saying.
Truffled Egg Pasta
Buon Ricordo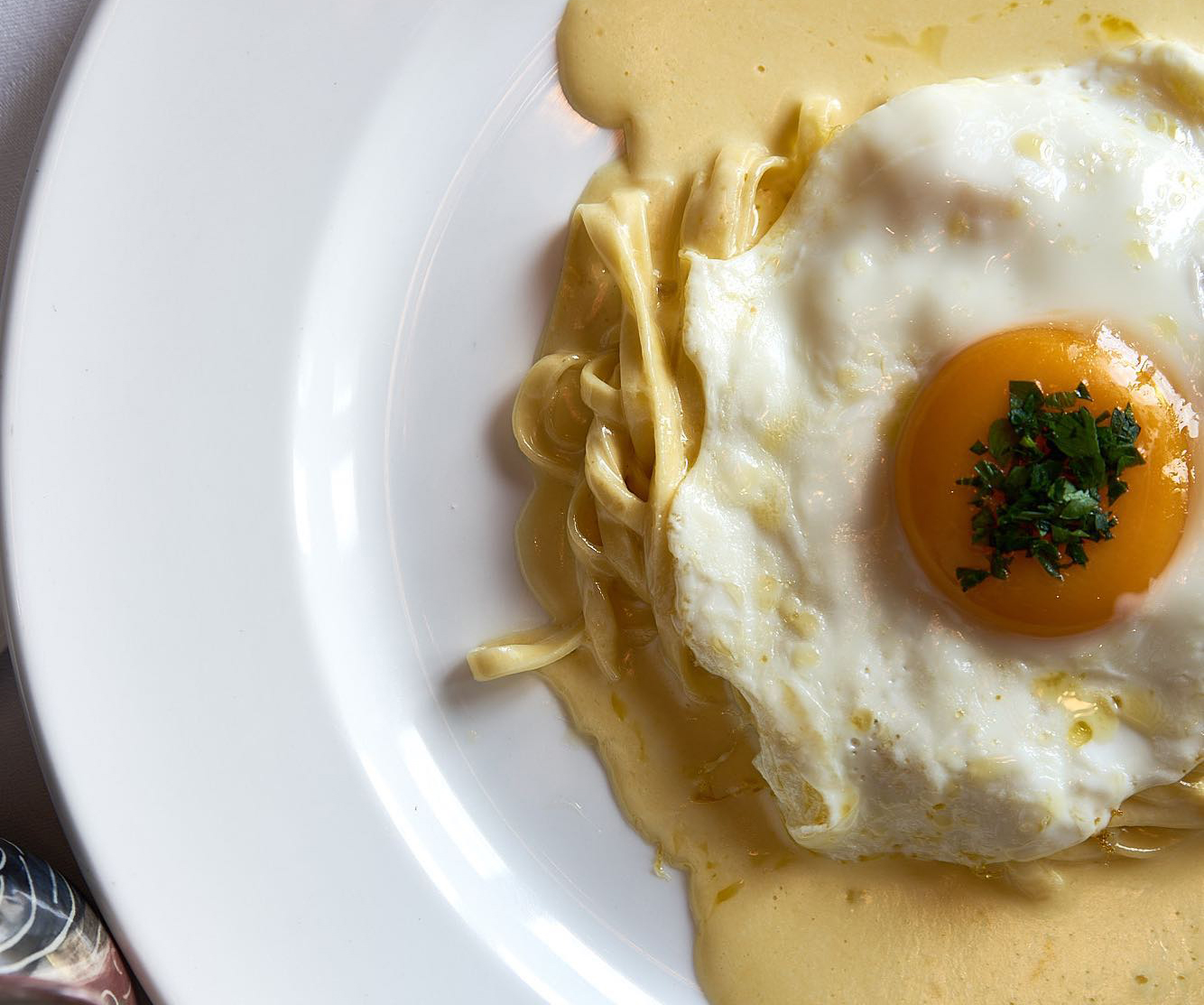 Sydney's restaurant scene has changed so much since Buon Ricordo opened its doors back in 1987 with Armando Percuoco OAM at the helm. But while trends come and go, Italian food done right can be ageless—and Percuoco's famous truffled egg pasta is all the proof you need. It's old school, like, impossibly rich and creamy, topped with a fried truffled egg and tossed at the table (precisely the dramatic treatment it deserves, in my opinion). These days Percuoco's protégé and long-serving head chef, David Wright is in charge, but the fettuccine al tartufovo lives on in all its original glory. The name "buon ricordo" translates to good memories, and that's absolutely what's in store with this very regal plate of pasta.
Saganaki
The Apollo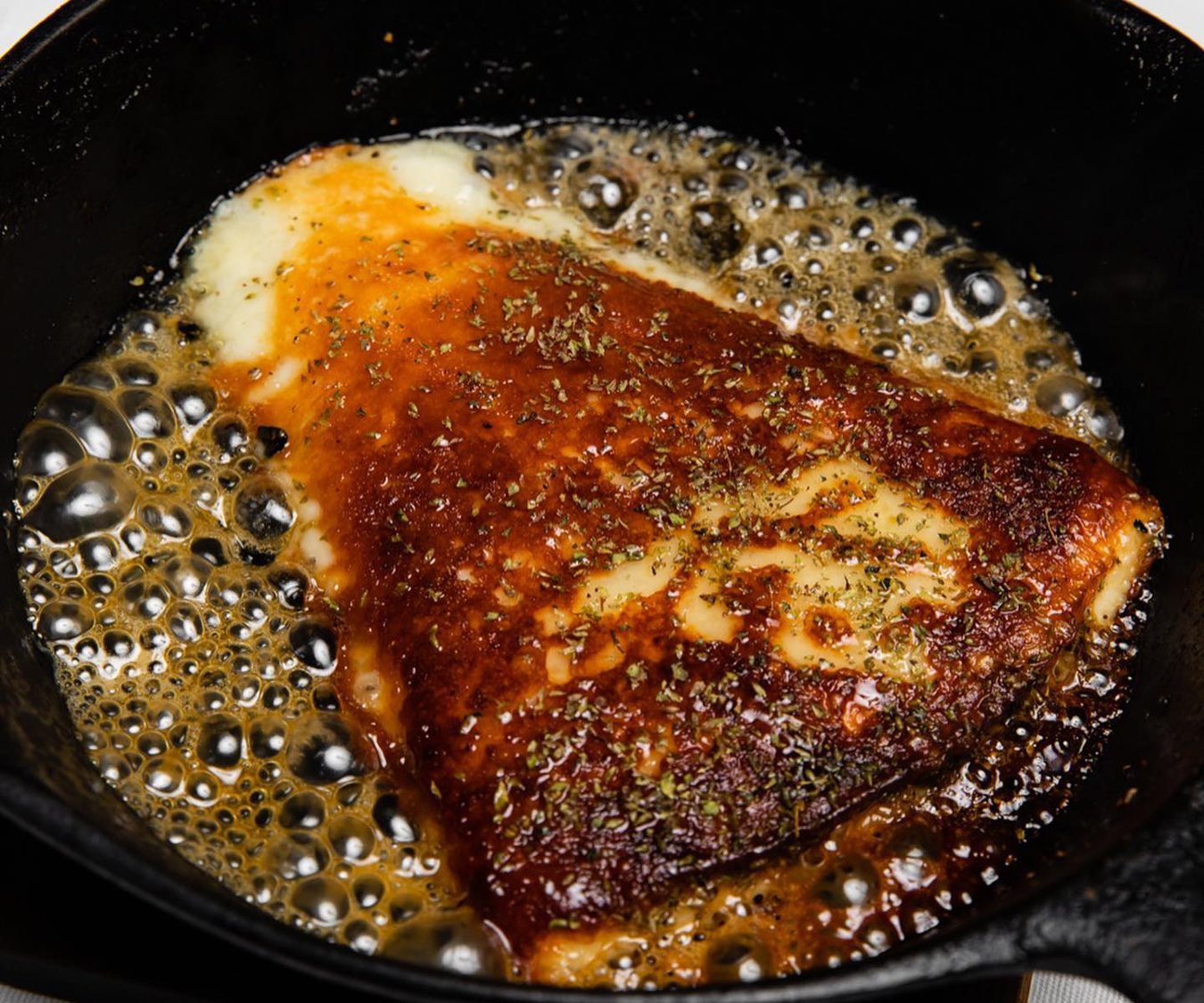 The Apollo is a Sydney restaurant that nails its first impressions. Immediately, I loved the George Livissianis-designed space that subverts your expectations of a Greek taverna—though there are subtle cues like Mediterranean archways and slabs of silvery marble (he'd already won a few awards at this stage, but The Apollo is one of the restaurants that really put Livissianis in the hospitality design spotlight). Beyond its good looks, The Apollo's snacks and starters keep the mood sultry and sizzling. The saganaki cheese with honey and oregano—served as a literal hot frying pan of melting cheese and honey—has been the superstar of the menu since day one. Sweet, gooey, hot, and bubbly, it's fried cheese heaven and one of those dishes you never want to end.
Strawberry Watermelon Cake
Black Star Pastry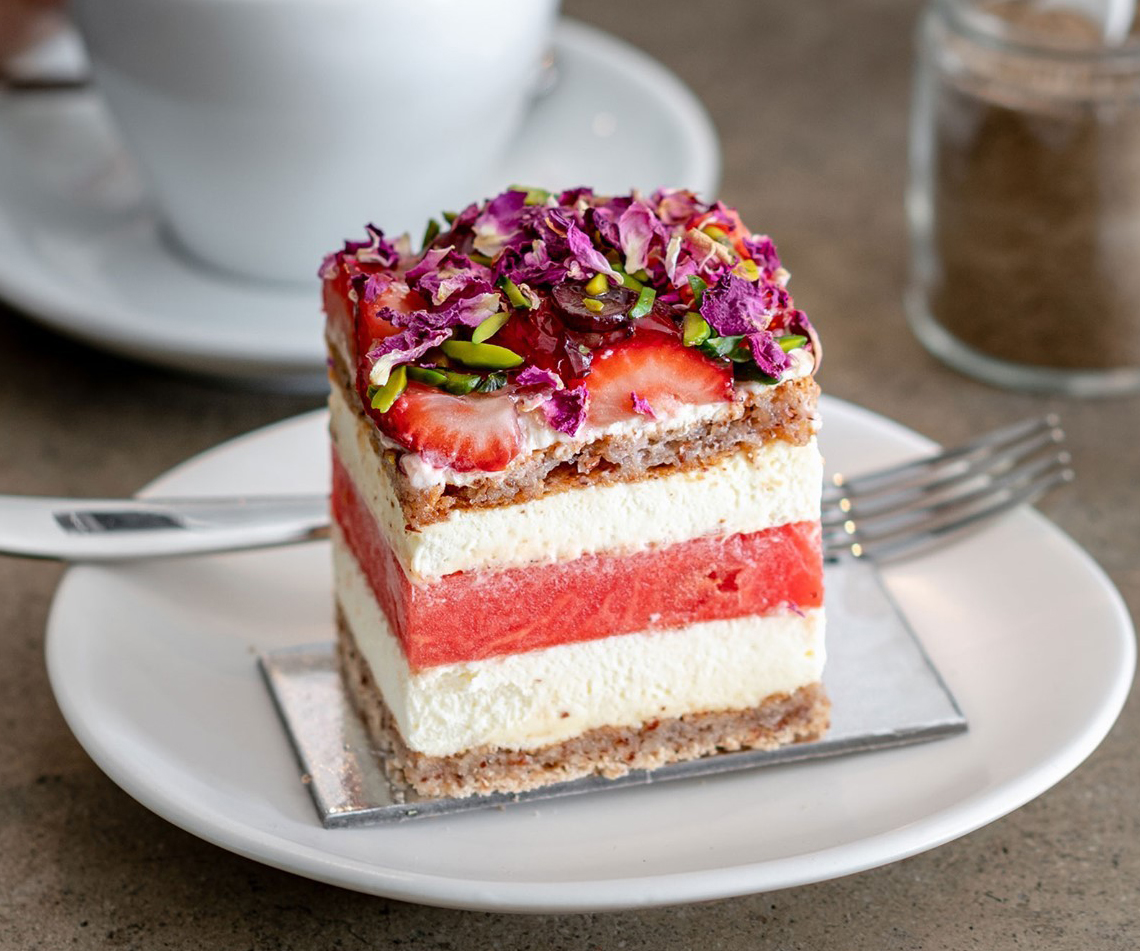 One thing I've learned about Sydney over the years is that we are a city of iconic desserts. We could actually just do a list dedicated to dessert—from Bennelong's Opera House-shaped passionfruit pavlova to Andy Bowdy's insane creations, the Snow Egg at Quay (RIP), and Messina's ultra-hyped hot tubs. If I had to pick just one though, perhaps the most prolific of all sweets in Sydney is Black Star Pastry's Strawberry Watermelon Cake.
Made with two layers of almond dacquoise, rose-scented cream, and fresh watermelon, and topped with strawberries, pistachios, and dried rose petals—it's been called the most Instagrammed cake in the world, and was once thought to rival the legacy of the lamington as Australia's national cake. Well, time will tell on that one—but you can hardly call yourself a Sydneysider if you haven't had a slice of Strawberry Watermelon Cake.
Still hungry? Check out 24 of the best restaurants in Sydney right now.
Image credit: Alpha via Flickr, 10 William St, Bella Brutta, Totti's, Mary's, Alpha via Flickr, Firedoor, Anthony via Flickr, Ragazzi, Fish Butchery, Lankan Filling Station, Frank's Deli, Buon Ricordo, The Apollo, Black Star Pastry