The most wonderful time of the year is fast approaching: a chance to let your hair down and get a bit rowdy with your fellow nine to fivers. However, if you've been tasked with the responsibility of organising the office Christmas party, then chances are you probably aren't in the most festive of spirits— finding the perfect venue for your Christmas soiree isn't the easiest job, check out the below to lock in your end-of-year celebrations.
Here are the best Christmas party venues in Melbourne for 2022:
Tokyo Private (Tina)
WINDSOR
Home to exquisite Japanese-style dishes, Melbourne's favourite Tokyo Tina is showing off their new private dining room; Tokyo Private. The space has a luxe 1970s feel and has been fashioned in the style of an ultra-boujee Japanese train carriage. The warm environment fits up to 28 guests and highlights Tokyo Tina's seasonal and delicious menu. The best bit is the event package includes karaoke so after a few rounds of sake you can really get stuck in. Book here.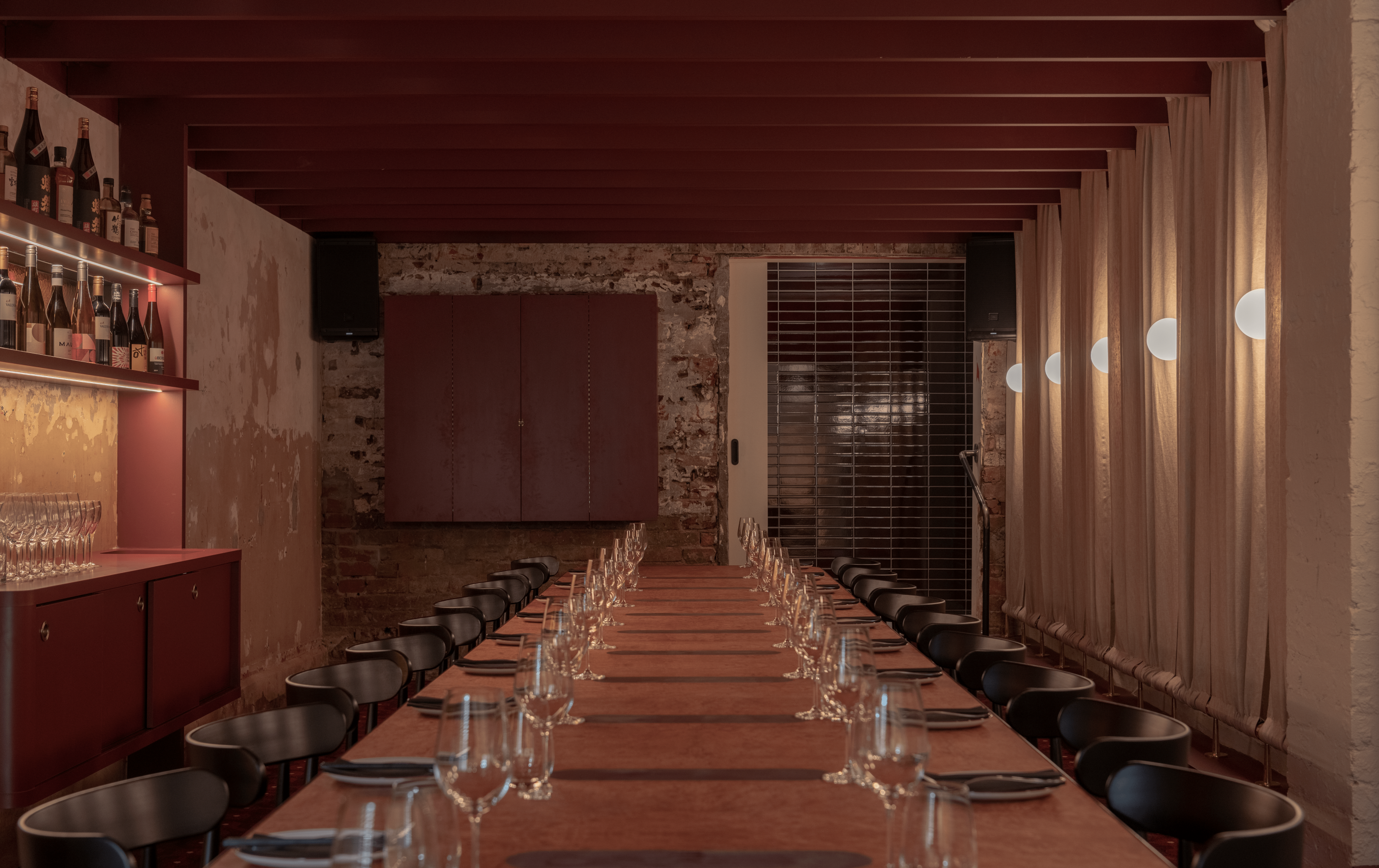 Johnny's Green Room
CARLTON
Johnny's Green Room's rooftop has an incredibly fun ambience and also includes seriously impressive 360-degree views over Carlton and the city. Mirroring an ambience similar to an Italian rooftop terrazzo—you can host your next event at their dedicated function space. Think good times, great tunes and an exquisite combination of Negronis, Bellinis and antipasti, and a range of top-tier pizza. Buona. Book here.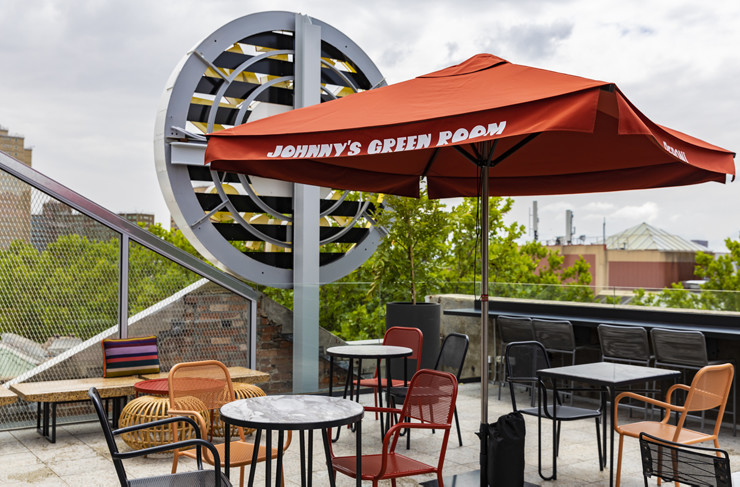 Arbory Afloat
CBD
Situated on the Yarra River, Arbory Afloat has grown to become a Melbourne summer favourite. Not only is the spot slinging cocktails and pizzas to the public, but you can also hire the space for private events. It's a pretty ideal location and they can cater for 30-1000 people. This year's theme is all about the Turkish coast, so if you wanna enjoy an inner-city oasis, this is your spot. Book here.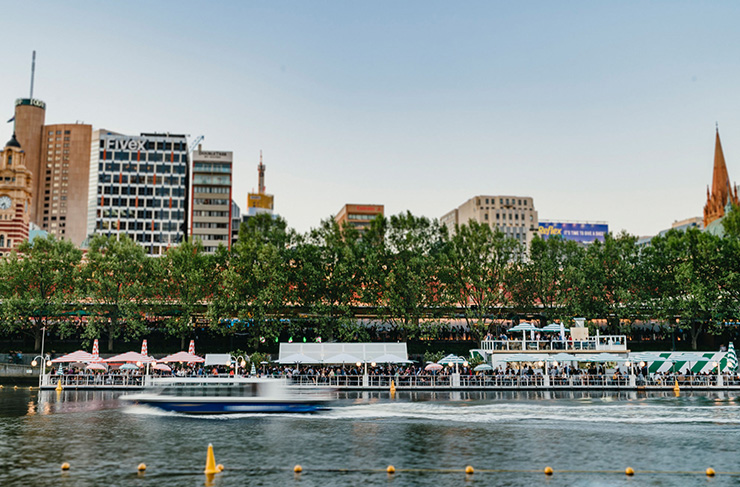 Mr Miyagi
WINDSOR
If you haven't tried their Salmon Nori taco, you've gotta make a run to Mr Miyagi. Luckily, their event menu consists of those items along with other goodies—and a 3-hour beverage package. The upstairs private space has an energetic vibe and is perfect for between 23-70 people. Book here.
Builders Arms Hotel
FITZROY
Builders Arms Hotel is renowned for its simple, seasonal and contemporary menu which you can enjoy in one of their private dining spaces. Whether you opt for a cocktail or sit-down event, they're flexible to different party sizes and occasions. Both rooms showcase elements from the original hotel and have been restored to emphasise their character while you enjoy their food and drink. Think pub-style vibes with a boujee twist. Book here.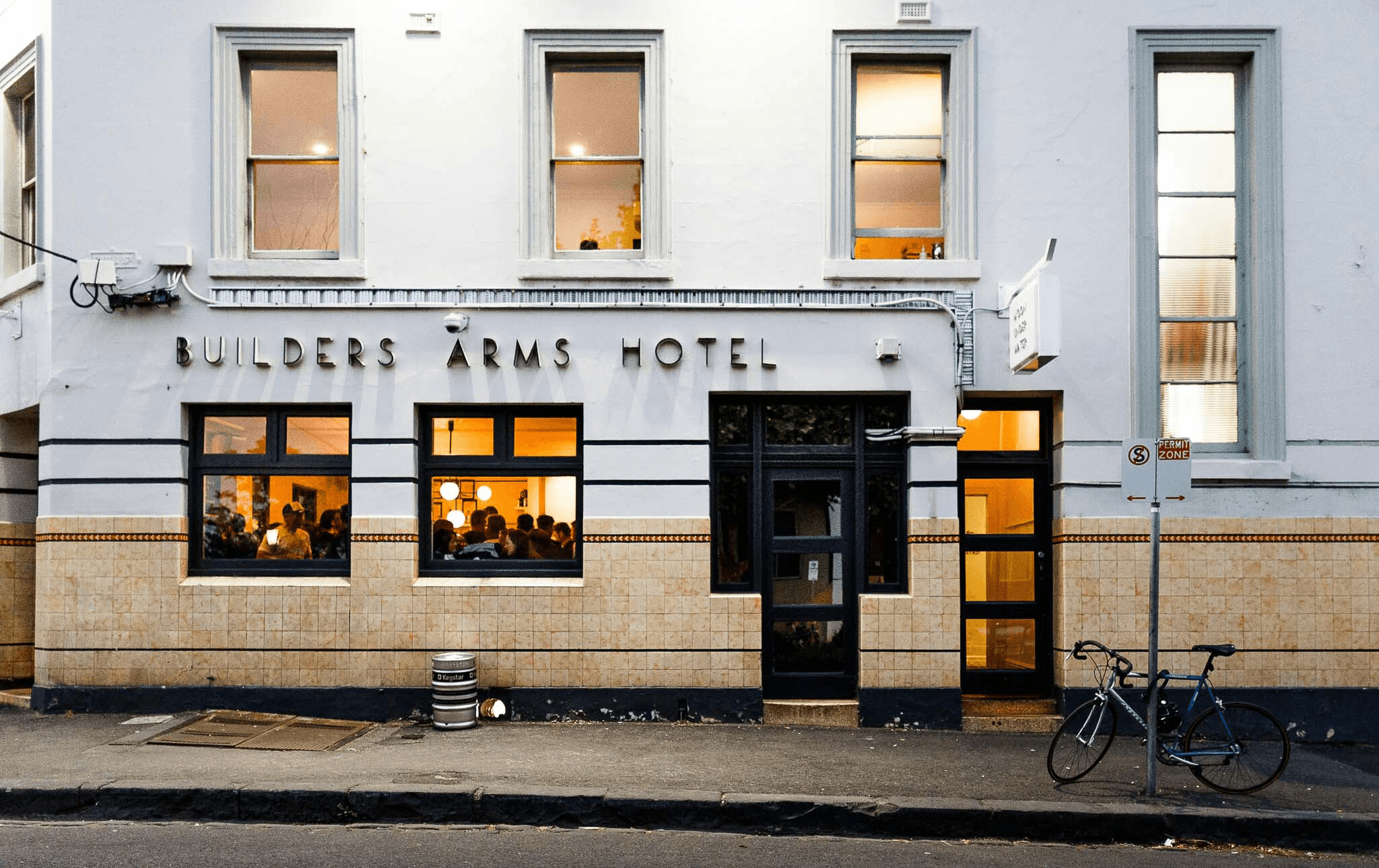 Poodle Bar & Bistro
FITZROY
Poodle is a bistro-style bar that is one of the best Christmas party locations in Melbourne's north. They have a seated event space that's hidden away from the hum of the main bar, making it perfect for more intimate events. They also have an upstairs lounge and courtyard area if you are looking for something a little bigger. Their event packs include a variety of smaller Euro-inspired plates and drinks, so all your guests are sure to have a good time. Book here.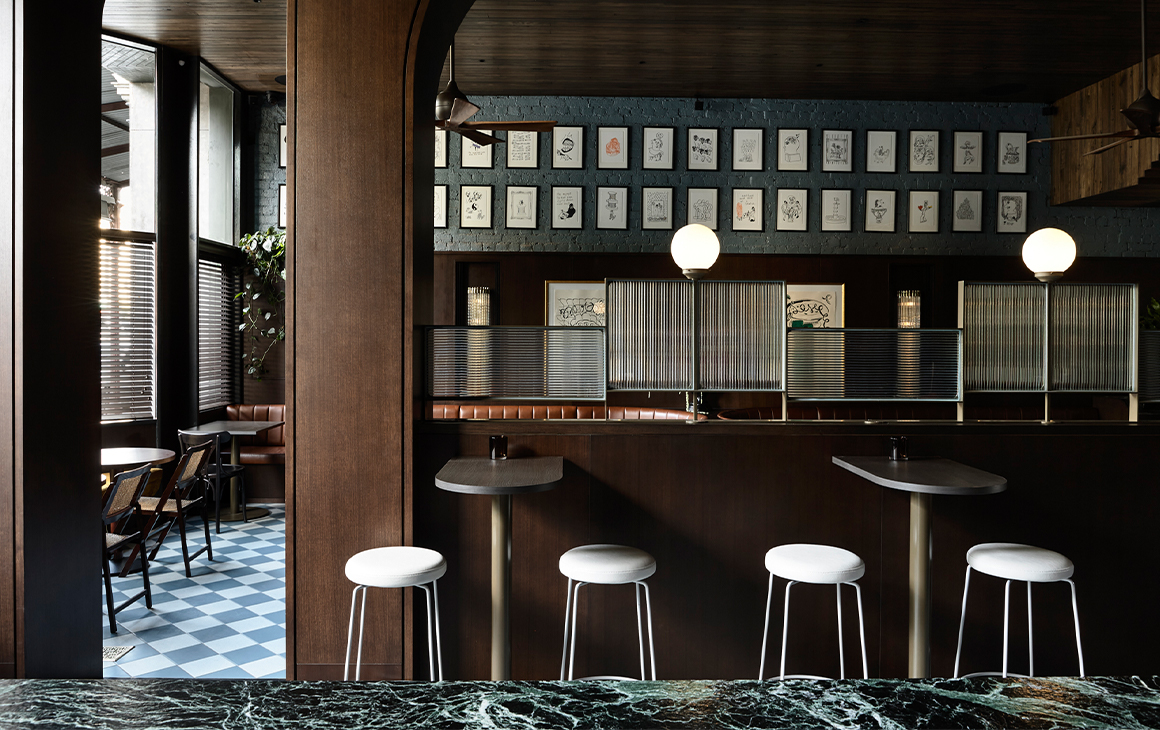 Agostino
CARLTON
Agostino is the upscale Carlton local that knows wine like no other and its bluestone cellar downstairs is prepped to host functions. This completely private space is the ideal Melbourne location if you're looking to throw an unforgettable Christmas party. Celebrate the end of the year in the temperature-controlled wine cellar that has its own bar and vinyl-driven sound system. Book here.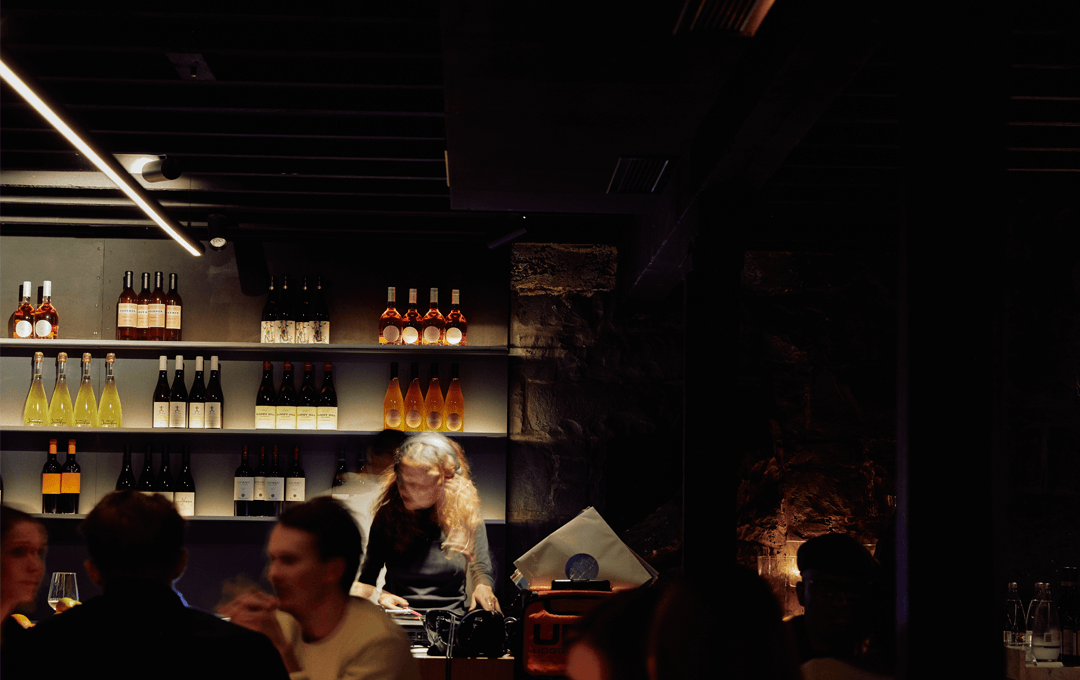 Pasty's
CBD
Pasty's Italian cuisine and wine-focused menu will help bring all your guests together for a Christmas function. Every dish on the menu is inspired by the Northern Mediterranean regions from where Pasty's wine selection originates from, so you are guaranteed a match made in sommelier heaven. You can book out its upstairs space for a private function for anywhere between 16 to 32 guests. Book here.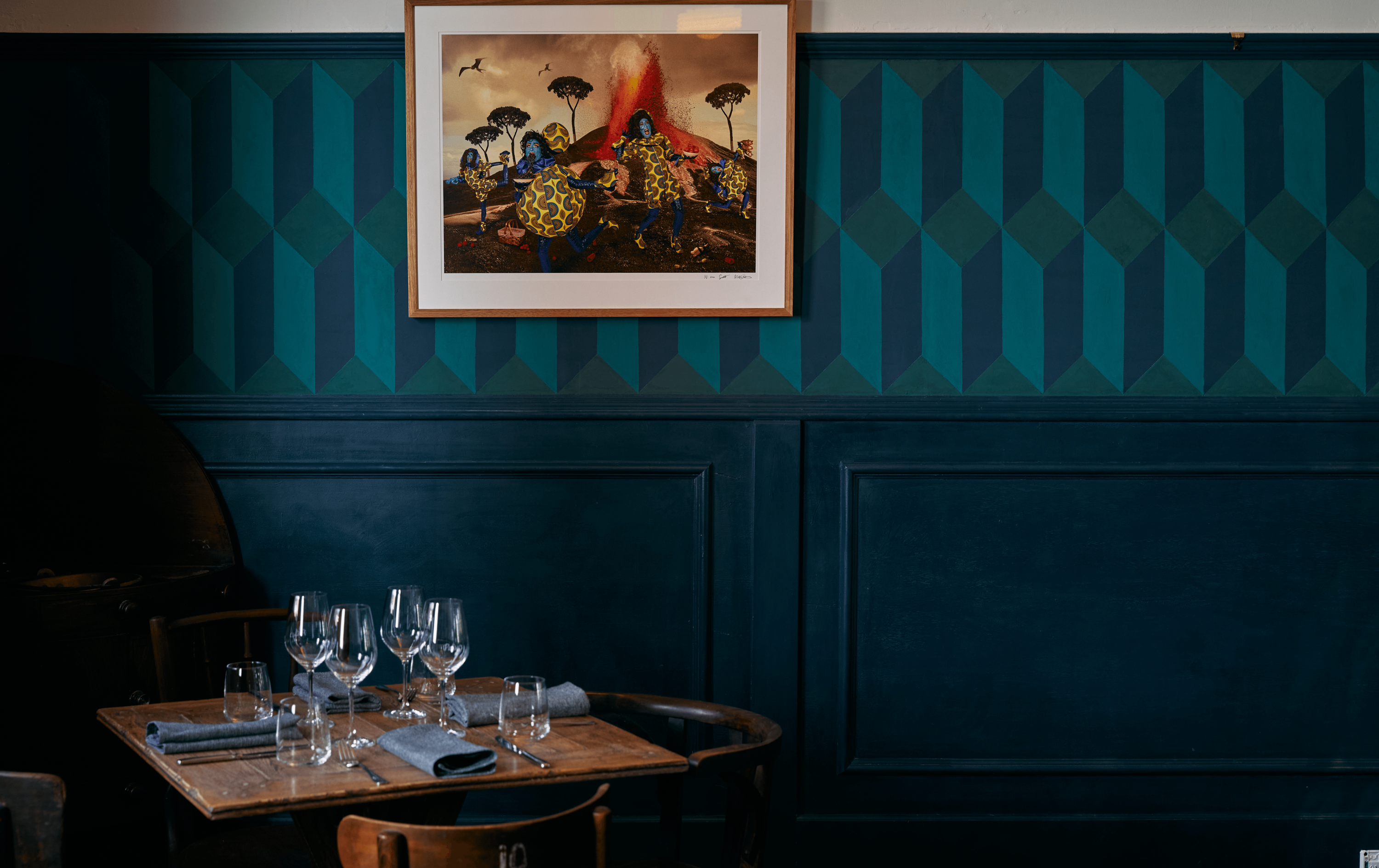 Stokehouse
ST KILDA
Stokehouse is St Kilda's infamous seaside venue best known for its award-winning food and unparalleled views. You can reserve a semi-private function space for an intimate gathering or book out the entire venue if you're looking to host a Christmas blowout like no other. Where beach charm meets luxury, Stokehouse is the perfect venue to kick off the summer season of celebrations. Book here.
Cutler & Co
FITZROY
Cutler & Co have earned themselves a name in Melbourne's restaurant scene thanks to their ethos around serving wild food and wild wine. They are willing to close the restaurant so you and up to 100 of your nearest and dearest can roam the entire venue or you can book out the private dining space and host up to 40 guests for an unforgettable sit-down meal. Book here.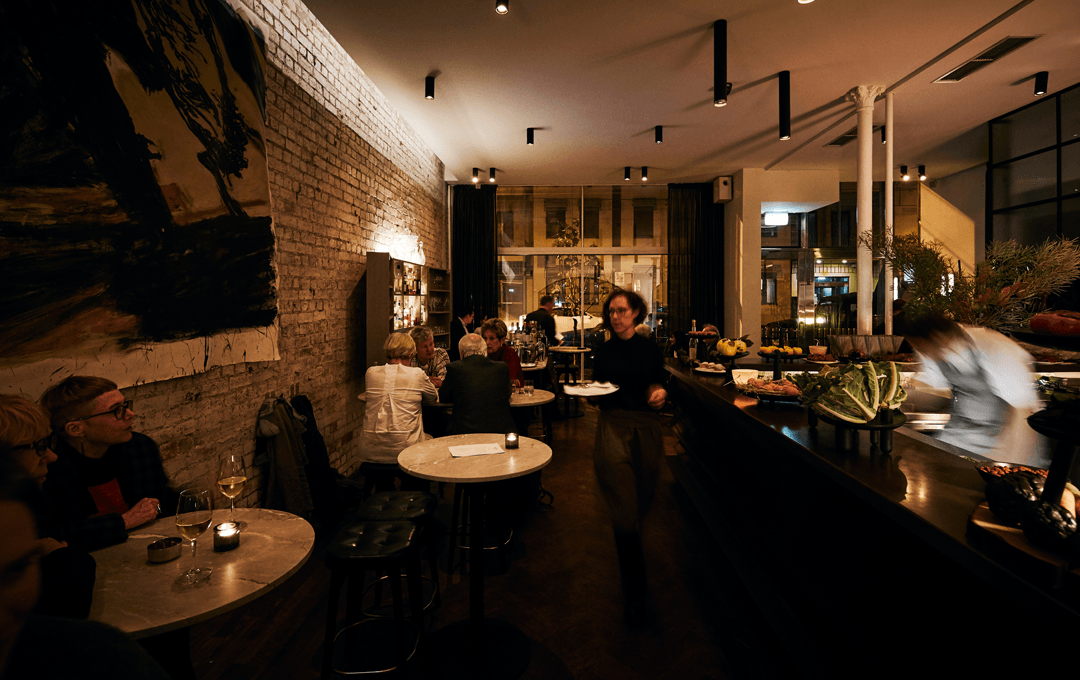 Supernormal
CBD
Supernormal private dining space can be found at the bottom of the spiral staircase and is inspired by the Shoin zen-like rooms of Tokyo. But don't let the interior fool you, this room is designed to host serious parties with its built-in karaoke system. You can host up to 40 guests for a seated Christmas party or 60 guests for a standing Christmas party. Book here.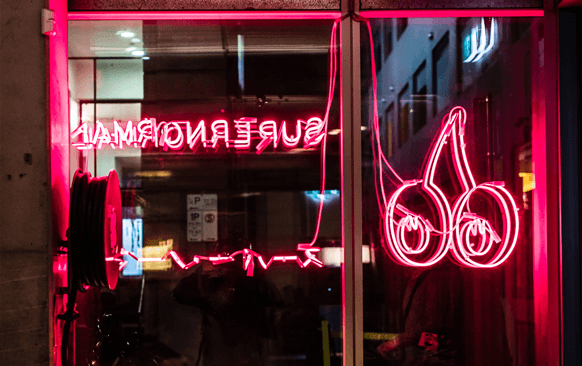 Marion
FITZROY
Marion is taking lunch bookings for up to 40 guests between Monday and Thursday exclusively throughout December. Nothing gets a party started better than a glass or two of wine and the Gertrude Street bar knows their drops pretty well. Book here.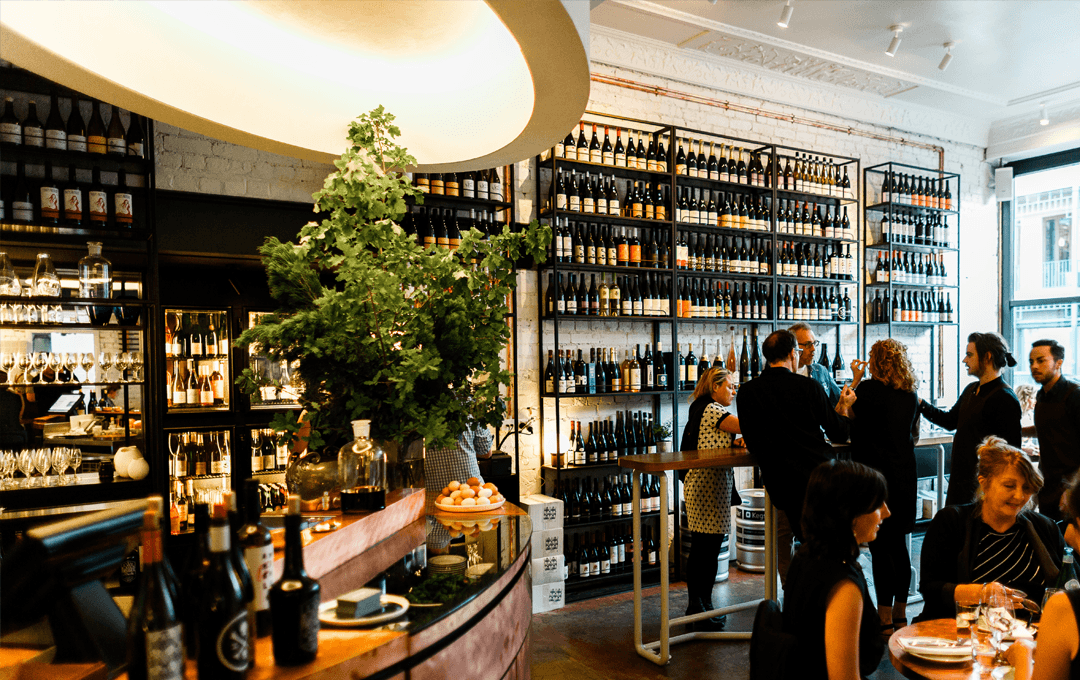 Lee Ho Fook
CBD
Lee Ho Fook is one of Melbourne's best laneway secrets. The lofty space welcomes intimate functions with its exposed brick walls and can host up to 48 guests in its dining space. They will create a bespoke menu for your Christmas party that will be sure to create a memorable evening. Book here.
Audrey's
SORRENTO
Audrey's menu is as impressive as its sweeping view of Port Phillip Bay. If you're after a location that delivers on old-world opulence and a culinary experience that showcases the best of seafood, Audrey's is the venue for your Christmas party this year. For groups up to 30, you can book out the private dining space and treat your guests to a menu curated by Scott Pickett. Book here.
Barlow
SORRENTO
Barlow is the elegant late-night cocktail bar that insists on an evening of celebration centered around decedent cocktails and live entertainment. You can book a private booth for up to 6 guests. This is definitely the right spot for an intimate Christmas party with your closest mates. Book here.
Moonhouse
BALACLAVA
Moonhouse is one of Melbourne's infamous heritage-listed restaurants and its private dining room upstairs above the main restaurant is a prime Christmas party venue. The Chinese-inspired bistro can host up to 28 guests for a seated experience with a set menu of its very best dishes. Book here.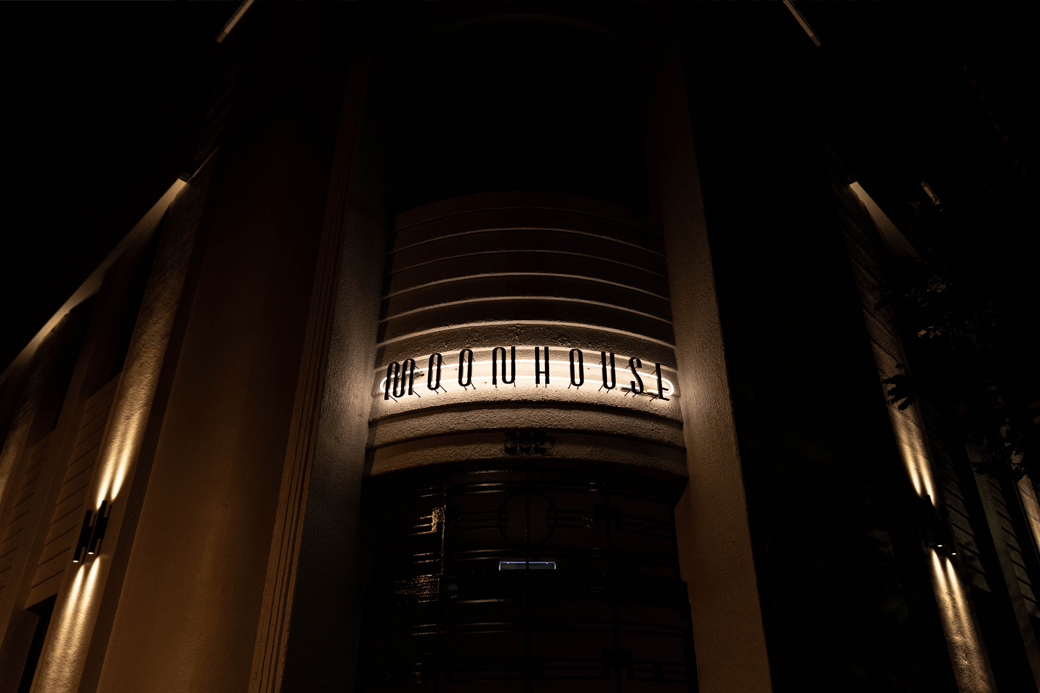 Longsong
CBD
Longsong is ready to cater your 2022 Christmas party with their upstairs space designed with events in mind. Whether you're looking to seat 80 guests to a private dinner or 250 guests to a cocktail party, they are eager to help you celebrate in style. Book here.
Chancery Lane
CBD
Chancery Lane has several luxurious private dining rooms perfect to host your Christmas party. The Archway and Cellar Door are prime locations to host the best Christmas party in Melbourne. Chancery Lane is ready to seat up to 40 of your favourite family, friends and colleagues for an elegant and festive fine dining experience. Book here.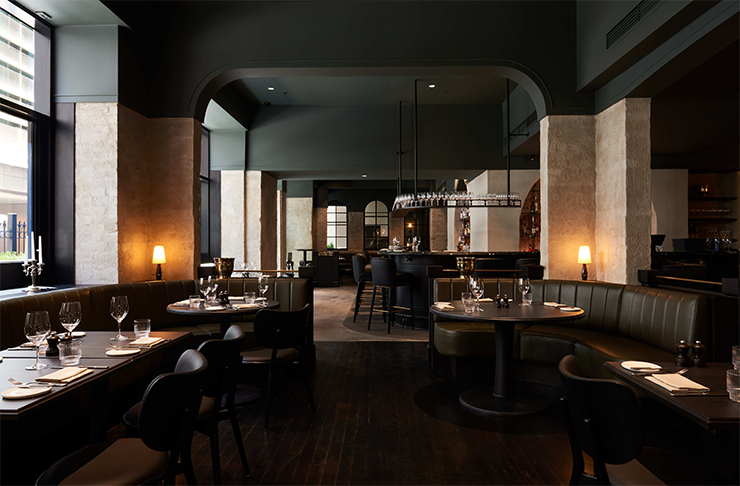 The Estelle
NORTHCOTE
The Estelle provides the perfect backdrop and service to your Christmas party in Melbourne. The Northcote gem has two dining rooms for you to choose from that both serve a rustic chic bistro vibe. Or, if you're hoping to take advantage of the December sun you can book out the enclosed courtyard that is filled with both greenery and natural light. Book here.
Matilda 159
SOUTH YARRA
Matilda159 is Domain Roads' darling restaurant and will certainly bring the heat to your Christmas party with its live flame, warm coals and smoke cooking techniques. You can reserve the Harrison and Oscar room or book out both for a larger combined space to treat 60 guests to the kitchen's renowned modern Australian menu. Book here.
Smith St Bistrot
COLLINGWOOD
Smith St Bistrot is the updated french dining experience we've all been looking for and the ideal space to host your Christmas party to wrap up the year in a classy manner. For a multi-level dining experience, you can rent out the entire venue for up to 150 guests. Book here.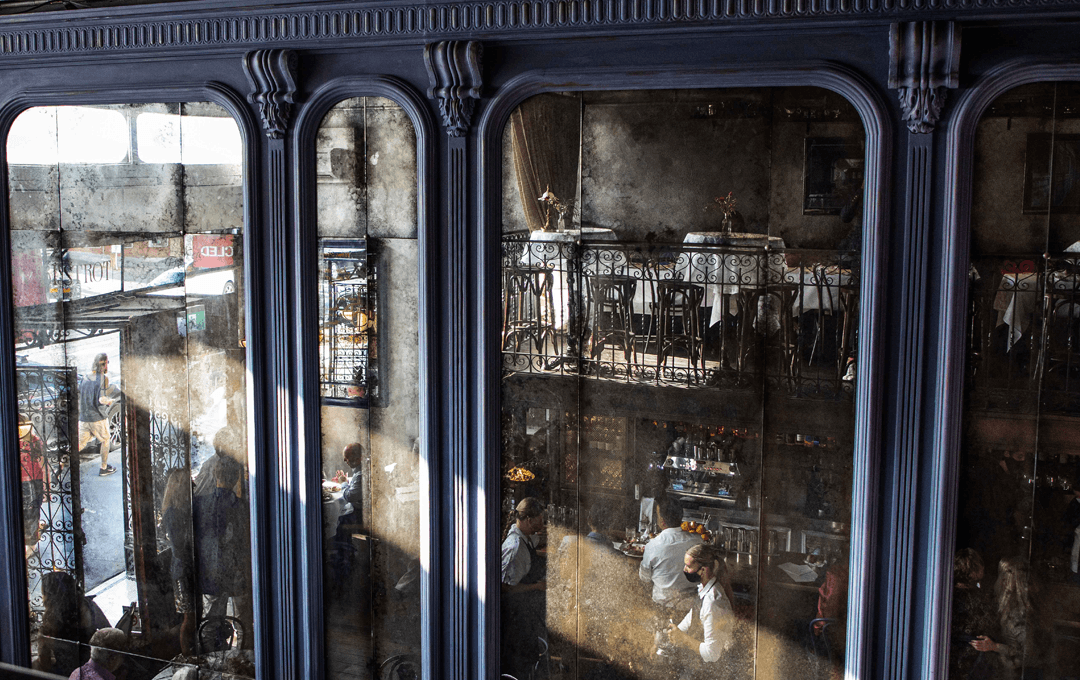 TarraWarra Estate
HEALESVILLE
TarraWarra Estate is the perfect location if you want to turn your Christmas party into a day of celebration. Dig into a carefully curated three or four-course menu with your nearest and dearest accompanied by fine wines, of course. This venue can host up to 60 guests seated and 80 guests standing so you shouldn't have to compromise on the guest list. Book here.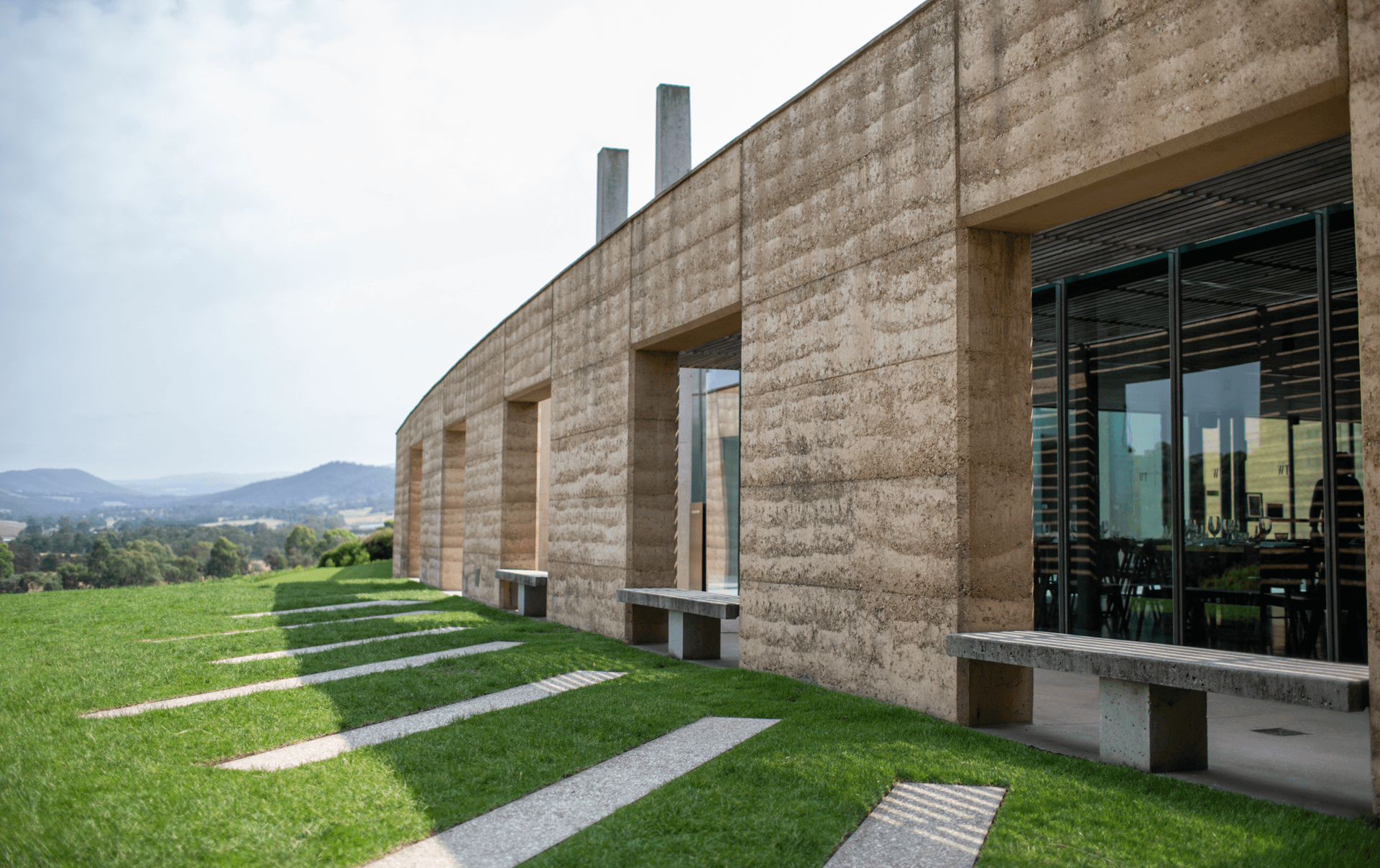 Check out Melbourne's newest openings over here.
Image credit: Parker Blain (Moonhouse)