Another week, another two lol-inducing episodes of The Bachelor NZ. This week Jordan and his slowly diminishing gaggle of groupies continued to booze their way around Hawaii. Here's what we were thinking as we tuned in this week (with photos because we're savvy like that).
1. It doesn't matter whether it's Auckland or Hawaii, the girls always find a pool to hang around while they wait for their mate Mike Puru to show up.
2. A single date with Naz? Heck yes. This is gonna be gooood.
3. Oooh the Where's Wally singlet comes in a black and white version.
4. …And a t-shirt version! Who dresses this fool?
5. "Yes, she's very confident. But I don't think she's gonna be all over him". Clearly Ceri didn't see Naz begging for a kiss last week…
6. Jordan: "I know she has a little bit of a fear of water". No shit, Sherlock.
7. Omg and now there's a striped towel. It's like a bloody stripeception tonight.
8. The sequins are no longer reserved for the cocktail party—we've got a sequined bikini!
9. There's no such thing as too much spaghetti, Fleur. Geddit, girl!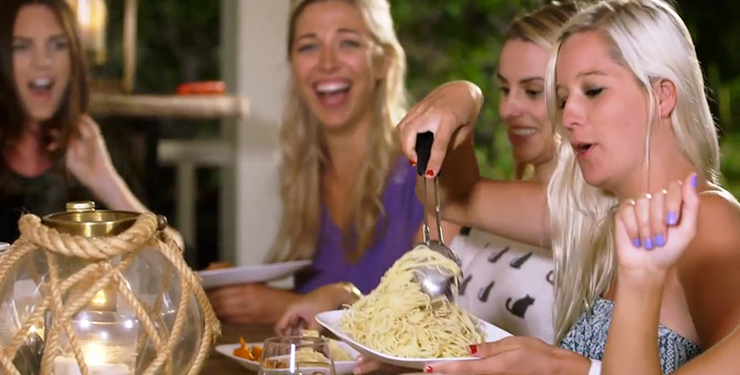 10. Rebecca has multiple cat t-shirts. You're our kinda gal.
11. Alicia's job title is file management officer? What does that even entail?
12. From a Where's Wally singlet to a Hawaiian shirt, we don't know what's worse.
13. Jordan: "I think I'd take you guys to Canterbury." Geez, that sounds…awesome.
14. All these girls seem to do is eat and drink. Wait, that's what we do. Maybe we should apply.
15. YAY FIRE DANCING!
16. Werk that booty, Jords.
17. How to lure girls (according to Jordan): Blow a conch and say "follow me, follow me".
18. Sarah is on this date? Where on earth has she been hiding?!
19. Barefoot girls get roses. Go Kate.
20. Don't worry your beautiful head, Fleur. You're not going anywhere soon.
21. Pleased to see Naz is up to her old tricks again—and this time Ceri is her new partner-in-crime!
22. "You need to focus on yourself and the time that you've had with me…I can take care of myself." BURN, NAZ!
23. Who needs a man when you've got 20 animals to love ya, right Alicia?!
24. OH MY GOD THE WHERE'S WALLY SINGLET IS BACK. I CAN'T EVEN.
25. Erin finally gets some screen time—hurrah!
26. More oodles of noodles at The Bachelor HQ.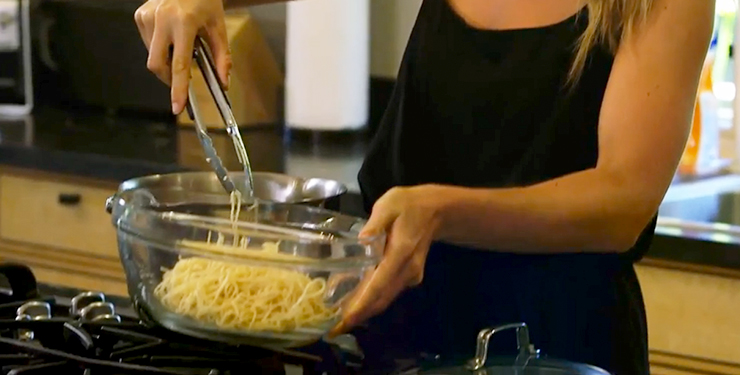 27. What's with the underwater soundtrack? "I've gotta be me! I've gotta be strong!"
28. We have a kiss!
29. Ooh fireworks! There seems to be a 'spark' between Jordan and Erin.
30. SLUMBER PARTY!
31. This gather and hunt date would be right up Art Green's alley!
32. Fleur + Jordz 4evs.
33. Rebecca knows her nasturtium…
34. …And how to make profit from cows. Respect.
35. One coffee in your ENTIRE life?! What is this madness?
36. Check out these two BFFs.
37. Why so nasty, Gab'n'Kate? We thought Naz was bad but mocking someone's name takes things from bitchy to downright mean.
38. But but but! Shari was in our top three picks! We did not see that one coming.
39. Shari: "If we're not meant to be then dat's cool". Talk about taking bad news like a bawse.
40. They're off to Queensland?! I thought this was The Bachelor NZ. Key word: NZ!
Stay tuned for next week's round-up of Bachie-related thoughts. If you can't wait until then, check out our previous weekly round-ups here.
Image credit: TV3
Want more of the best of Auckland?
Sign up below to have the best delivered to your inbox every week