The Bachelor may be done and dusted but—fear not—the trash quality telly isn't over yet! Enter The Real Housewives Of Auckland. In last night's season premiere we were introduced to the six ladies and their luxe lifestyles. Here's what we—and most likely you—thought as we tuned in.
1. Let the games begin! Naz and Fleur who?
2. Nice house, Louise. Where's our invite?
3. Shout-out to Lou's gardener Christine. She's a lady who knows her thyme from her rosemary.
4. She has an IRONING LADY? Who has an ironing lady? That's a job description?! God, we want an ironing lady.
5. Oh hai, Naz 2.0 aka Gilda.
6. You had like a 50-year age gap with your husband?!
7. "My name is Gilda Kirkpatrick and I live on Paratai Drive." Note to self: start introducing myself as Natasha of Onehunga.
8. God, Gilda you're older than 39? Lookin' good, girlfriend!
9. "My days are full of appointments. Waxing, Botox, manicure, pedicure…appointments are completely full-time jobs." Hectic life you lead, Julia!
10. Julia's daughter turned down a trip to Peru to go shopping in Newmarket? What the eff?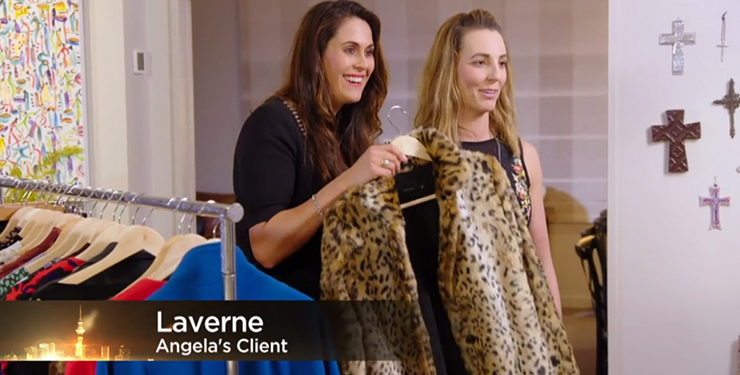 11. "This is going to bring the animal out in you!" Jeepers, Angela. This show didn't need any more fur and animal-print!
12. So Angela apparently sits in a park and throws leaves around. Seems legit.
13. "Dad's meatballs are getting old." Lewl.
14. We'd rather Dad's meatballs over that limp salad…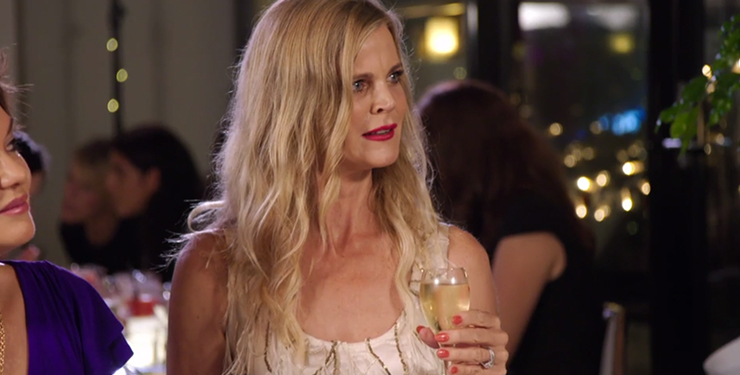 15. Julia is naaaht impressed by the fact there are "lots of tunics and lots of chiffon" in Christchurch. It seems chiffon is for peasants. Our bad.
16. She wants to be Oprah? She did hand out free books (of herself). That's kinda Oprah-esque, right?
17. Gilda: "I think you should kinda talk less." Buuurn. Shit just got real.
18. Ain't nothing worse in this world than handrails from Bunnings (apparently).
19. Yikes, that necklace is hideous.
20. …Not to mention expensive! $65k for that? I could buy my Ford Festiva 16 times over with that kind of money.
21. Anne's known as the Champagne lady? Now there's a title we wouldn't mind having.
22. Life lessons from The Champagne Lady #1: "Champagne: The only drink a woman can drink and still remain beautiful." No more beersies for us.
23. "I'm Anne Batley Burton: The Champagne lady AND the cat lady." YES, Anne! You are officially our favourite housewife.
24. Anne: "I've had quite a few fiancés—in fact, I've lost count!" Actual lol.
25. Anne (again): "The biggest challenge I'm facing at the moment is getting my husband accept more stray pussies." Oh, Anne. You are too much!
26. Stray pussies and handrail dramas. The life of the rich and famous, huh?
27. Anne's farm manager slash Champagne-glass polisher seems like a top bloke.
28. Life lessons from The Champagne Lady #2: Always ALWAYS hold your glass by the steam.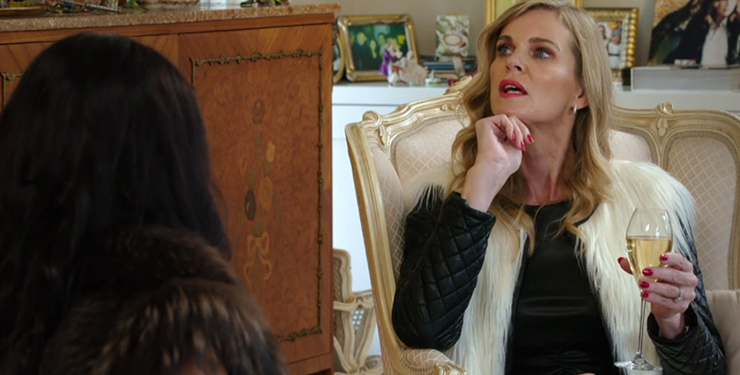 29. Uh no, Julia. You're holding your Champers glass ALL wrong.
30. Julia: "On the weekends we go to our vineyard in Matakana." Just casually…
31. "I pay for the pants and I get into the pants. That's my role." TMI, Michael. TMI.
32. Lunch at Ostro? Good pick, ladies!
33. Is Gilda New Zealand's Kim K?
34. "Limousines aren't tacky." We beg to differ, Julia.
35. You know what this show needs? Suzanne Paul.
36. Michelle: "You still model? What, plus size?" Oooh. That's not going to go down well!
37. It's episode one and we've already got tears!
38. "With tits like that you're not a normal-sized model." Insult or compliment? We're not sure.
39. "Who would want a birthday like that? It's got to be the birthday from hell." Too right, Anne!
40. There's an hour of my life we'll never get back.
Don't know who the eff these woman are? Check out We Meet The Real Housewives Of Auckland.
Image credit: Bravo New Zealand via Facebook