Episode one of The Real Housewives Of Auckland went off with a bang. And by bang we mean dramas of handrails, stray pussies and plus-size models. It was a fascinating insight to the lives of the rich and famous. While we're not quite sure whether we love or hate the show, we found ourselves tuned in for episode two. Here's what we were thinking.
1. Here we go again!
2. Of course Gilda owns a Chihuahua-type thing.
3. Why you no like Marley, Michelle?
4. Michelle ain't afraid to call a spade a spade and a plus-size model a plus-size model.
5. Are dinner parties the equivalent of a cocktail party on The Bachelor?
6. Gilda: "Don't forget, I come from land of AK-47." Watch out, ladies!
7. Is this what it means to be spiritual?
8. Karen The Spiritual Lady: "I'm stabilising your central vertical power current." Her what?
9. This Karen lady is hella loopy.
10. …But she's pretty good at removing those indivisible daggers.
11. You pull that sword out, Karen!
12. What are chakra oils…?
13. Ang needs to learn what's appropriate to bring along to a play date. Ie. Not her book and not a clothing rack.
14. "Let's have some champagne! I know I invited you for tea but you've always got to start with champagne." This is why we love you, Anne.
15. Julia needs to learn how to hold a champagne glass. You don't want to get on the wrong side of Anne.
16. Never mind what these ladies think. We wouldn't mind having Angela show up to ours with a clothing rack.
17. "Ooh! Someone's ringing me!" Not staged at all, Bravo.
18. That shoe collection…swoon!
19. Michelle: "I don't want you to end up really bulky and muscly." God forbid that happening to your daughter!
20. Getting head shots is a thing?
21. Don't you hate it when you have to cook potatoes like a commoner? Worst.
22. No shoes in the house? Should've worn your Uggs, ladies.
23. Is David Michelle's husband or bartender?
24. Julia: "Every house should have a bar." Never mind food and insulation, right?
25. Not only does she have an (ugly) bar but she also has a wine cellar.
26. Wait, you called Gilda a gold digger too, Louise!
27. "We really do need to explore what is going on for Gilda." Do we? Do we really?
28. Who cares if she's a gold digger. Let it go, already!
29. Louise: "How she's been described in the past is *BEEEEEP*." Why the beep? What's she been described as?!
30. First it was the shoes and now they have to serve themselves. Ugh.
31. All these ladies do is drink alcohol. It's just like The Bachelor all over again.
32. "Do you know what seasonal palette you belong to?" That's also a thing?
33. 45 years is quite the age-gap.
34. We have no idea what is going on.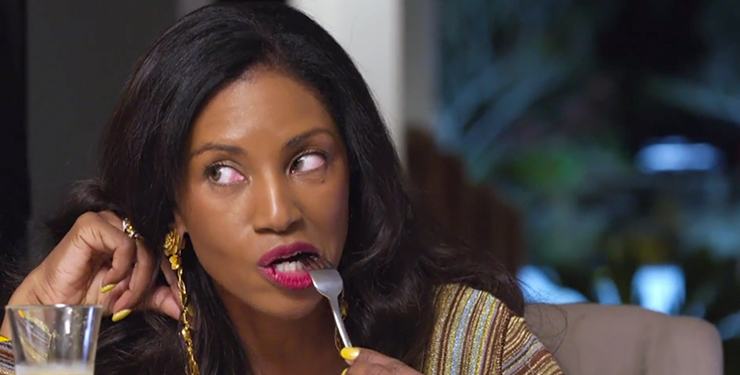 35. Michelle is lovin' it.
36. Angela: "You're still obviously still very upset with me."
Gilda: "I'm not upset. I just don't care." Sassed!
37. "Oh my God. You can't say anything like that. That's dreadful." LIKE WHAT?! Enough with the beeping out the punchlines!
38. Gilda: "Do you know what I've heard about you?"
Angela: "Not a clue."
Gilda: "Not a fucking thing." Sassed (again). Gilda 2. Angela 0.
39. "How about some cake?" Anne gets the last word.
40. What on earth just happened?
Stay tuned for next week's round-up of Housewives-related thoughts. In the meantime, here are 40 thoughts we all had while watching episode one.