Although happy hour with the workmates and cocktail dates with the S/O are nice, sometimes you just want to blow off some steam by rounding up some of your closest friends, getting a table and chugging down a strong drink while munching on some good grub.
Without further ado, here's a list of Auckland's best bars for groups!
Talulah
Britomart
If you want to feel as though you're on holiday with your mates, then head to Talulah. Found up the stairs from The Chamberlain, it's a haven in the heart of Britmart. Hang out on island time at the tiki hut bar, and sip away your worries on one of the many delicious cocktails on offer. Even better, they have a selection of drinks to share between two and six people, so your whole squad can get amongst the good times. We recommend the Talulah original the Neo-Tokyo punch, with an oriental twist. This bad boy features sake, yuzu, lemon, coconut, vanilla, sherbet and a whacky blue foam.
The Conservatory
Wynyard Quarter
If you're feeling like a casual vibe but still wanting to feel a taaad bit fancy, The Conservatory is the bar for you and your group. The chilled back ambience but million dollar scenery of the waterfront makes The Convservatory a unique bar and their food and drinks menu will not let you down. Their 18-inch pizzas are the go-to if you're in a group and they taste hella bomb. Pair that cheesy pizza with their famous Margarita Sunrise cocktail, look out to the ocean view and you will feel like you and your squad are living your best lives.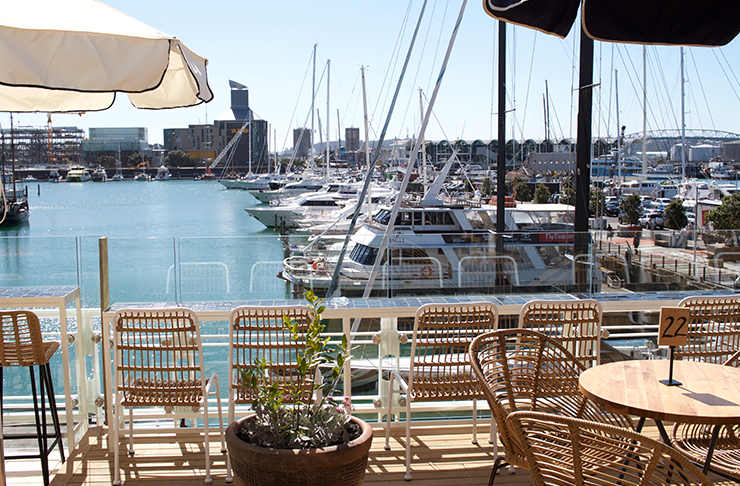 Dr. Rudi's Rooftop Brewing Co.
Viaduct Harbour
Sometimes an 18-inch pizza is just not enough to feed a hungry group, head on over to Dr. Rudi's and grab a three-foot-long pizza for the squad. They also do some killer platters which are perfect to nibble on while you and your group bounce off each-others rants. What makes Dr. Rudi's such a fave for groups is the strong social aspect of this rooftop bar. There's a bowling alley in the bar and being situated on a rooftop, a beautiful view is guaranteed. It's seriously a challenge to not be entertained at Dr. Rudi's!
Neighbourhood Brew Bar
Kingsland
The whole experience becomes so much better when you're vibing with both your group of friends and the staff at the bar! Neighbourhood Brew Bar in Kingsland isn't only renowned for its wood-fired pizzas but also the next-level humour and top-quality service of their staff. There's an outdoor area with tons of space (complete with cosy fireplace) and some desserts that cannot be missed. The cookie dough with Whittaker's chocolate and oozing Nutella is an absolute must—thank us later.
Bellini
Viaduct Harbour
If you're all about breath-taking cocktails and stunning harbour views, Bellini is your one-stop bar! Located on the ground-floor of the Hilton, the cocktail bar is all about good times, good vibes and—of course—good views. Perfect for a catch-up with your galpals, book your squad in for a cocktail masterclass and create your very own cosmo, Moscow mule or mojito (hens' party = sorted). They also offer high tea alongside your choice of hot bevvies, cocktail teasers, bubbly or whisky.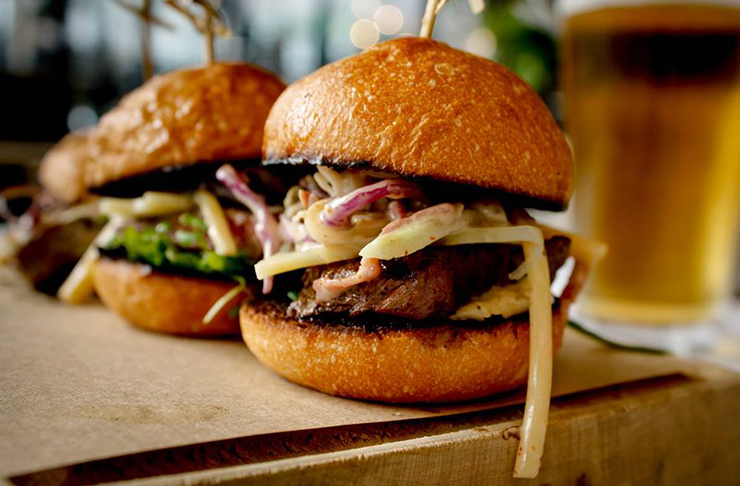 Citizen Park
Kingsland
Wide space, endless amounts of seating and huge tables aren't the only thing Citizen Park has to offer you and your group. The rustic space is enhanced by the amplified music in the background to create an ambience of pure casual and chill. Citizen Park is also the bar where you and your group can't be scared to get a little messy as silver utensils are used less than your fingers. Enjoy the intimate experience of sharing the best grub consisting of fish sliders, BBQ bourbon glazed pork ribs and their infamous beef brisket nachos!
Twelve
Chancery Square
Branch out from the pizzas and platters and try something a little different! The bar culture in Korea is something that must be experienced by everyone as they're truly something special. Twelve is a Korean bar that is loved by many Aucklanders for their modern fit out, large indoor and outdoor space and some of the best drunk food in Auckland. Order the table the Sno-Wing Chicken, deep fried chicken wings with a sprinkle of parmesan cheese (hence the snow) and pair that with a strong bottle of soju. This stuff is strong so don't start off ordering a bottle each!
Kushi Japanese Kitchen & Bar
Durham Street West
Speaking of different bar cultures, we couldn't miss out on the Japanese izakaya style of late night drinks with the group. Izakaya is a Japanese bar that provides typically inexpensive small dishes and snacks that accompany the main focus of the bar which is the DRINKS! Unlike the other bars that have been mentioned so far, although Kushi has lots of available seating for your group, the vibe is a little less casual and more posh so remember to not get too rowdy at this joint. Have a long sit down with your mates and enjoy some hot sake while conversing over their infamous butterfly prawns.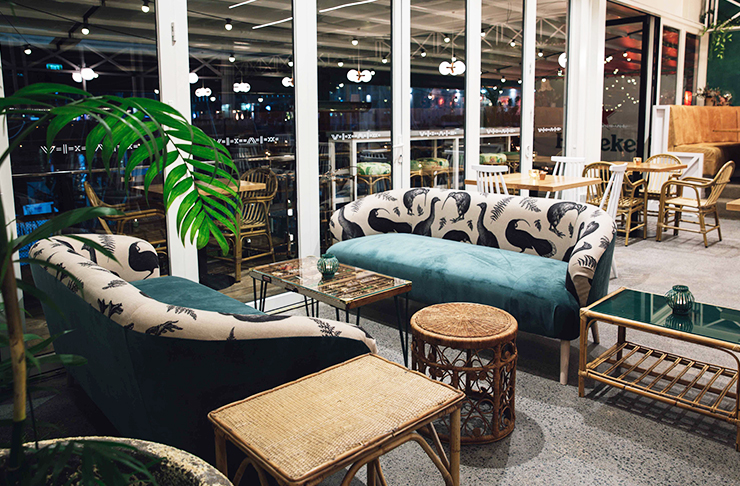 The Lula Inn
Viaduct Harbour
Group bar hang out sessions don't need to be limited to the evening, especially when The Lula Inn are providing Aucklanders with a bottomless brunch! Every weekend from 9am, for a little less than $45, you get to have as much food, cocktails and bubbly as you want! Yup, bottomless doesn't just apply to food, it also applies to their drinks and it's the perfect opportunity for you and your group to test your limits.
Lord Kitchener
Sandringham
We all have that one person in the group that talks too loud, it's almost embarrassing and Lord Kitchener is perfect for that. The music is pumping, the other customers are just as loud so there is no need to feel self-conscious! You can also never go wrong with halloumi polenta chips, especially if they're coming from the kitchen at Lord Kitchener as they are fried to golden perfection. Their chip butty is also the ultimate form of comfort food, hand cut chips slathered in gravy and tucked in to white, buttered bread, yes please!
Mr. Toms
Ponsonby
On the streets of Ponsonby, you'll find a contemporary bar with lush décor, spoilt with space and seating and photoshoot worthy cocktails called Mr. Toms. Don't let the cosy, warm and candlelit environment as this bar can go off. The food is top quality as well as their drinks which has led to Mr Toms becoming one of the best bars in Ponsonby. Their menu is top notch but don't let your group miss out on getting a taste of their infamous lamb ribs that just melt off the bone.
The Merchant Bar & Kitchen
Albany
North Shore gem, The Merchant Bar & Kitchen has one of the biggest outdoor spaces which makes this a fave amongst large groups and the inside is just as spacious! There are so many different types of nibbles, platter and pizzas that all taste amazing, you really can't go wrong but there is one thing that you must order if you're drinking at The Merchant. The Flat White Martini is a concoction of Absolut Vanilla, Kahlua, Baileys, espresso and cream and it is a coffee lover's dream come true.
Want More?
Image Credit: Talulah, Dr Rudi's, Citizen Park, Lydia Arnold