So you had an idea to host a dinner party to showcase your insane cooking skills but things don't go as planned? Sometimes a little thing called life can get in the way and come in the way of what seemed like such a great idea! Whether you find yourself in a time crunch or your masterpiece decides to overcook and burn, there's no need to panic just yet!
Little did you know that there are some eateries that provide takeaways to replicate a wholesome and home-cooked meal. Menulog recently released a study which showed that Kiwis are the most likely to try and pass off store-bought Asian stir-fry, Indian curry and Italian pizza as their own. And, we're totally on board with that! A little white lie won't kill anybody...
We've rounded up the best restaurants who have covered—from hearty roasts, indulgent desserts and the really impressive stuff like Italian, Indian, Thai and Chinese there's plenty to choose from.
Here are Auckland's best takeaways...or what we like to call, 'fakeaways'!
Boy & Bird
Ponsonby
Only using ingredients that are sourced locally and free-range, Boy & Bird's food makes you feel like you're eating a meal cooked by your loving nanna—which is exactly what we want! You can buy a whole roast chicken to go which will act as the star of the night and buy some starters and sides to fill the gaps at your dining table. You can't miss out on their salads, gravy is also a must and their potato chunkies will really take things up a notch!
Jess' Underground Kitchen
Remuera
Freshly cooked meals on the daily, Jess' Underground Kitchen don't only serve up tasty homemade meals, the "Underground" part of their name assures us that they'll keep things on the down low! To give you an idea of what this Remuera kitchen has on offer, they do a killer Thai green curry, Swedish meatball fettucine and beef bourguignon pie. When your guests ask you what the meal of the night is, you'll genuinely mean it when you tell them it's a surprise!
Archer's Eatery
Auckland CBD
Located in the CBD, Archer's Eatery cooks up meals that hit closer to home for us Kiwis. Yep, we're talking fish and chips, of course! When done right, it's an absolute feast that will have your guests raving! With premium battered fish, crispy and freshly fried potato chips as well as a range of salads, you really can't go wrong with Archer's Eatery. Plate it up all pretty and fancy and give the dish the love and respect it deserves!
Big Fish Eatery
Penrose
Become the sushi master amongst your guests with the help of Penrose's Big Fish Eatery. Offering free delivery for orders over $30, they have the goods to give you and your guests a Japanese feast. The salmon roll, teriyaki salmon and honey soy salmon should do the trick. Big Fish don't play around when it comes to the freshness of their fish, you could even get away with saying you caught it yourself!
Chamate
Auckland CBD
Situated in the heart of Auckland City is Chamate prides themselves in using fresh ingredients and no added preservatives or MSG. It really doesn't get more homely and wholesome than that! Saying that you hand-pulled the noodles may be a bit of a stretch so stick to the premium four seasons menu at this eatery. The slow-cooked braised lamb with potatoes is packed with flavour and reaches new heights when mixed with some steamed rice.
Krung Thep Thai Street Food
Auckland CBD & K'Road
Both CBD and K' Road locations offer takeaway and thank goodness for that as Thai is a crowd favourite! Move past the classic pad Thai and experience something new. Surprise your guests with some of Krung Thep Thai Street Food's specialty sizzling hot plates like the tom yum sizzling prawns and the garlic pepper beef. Just a little reminder to reheat and serve on a hot frying pan to replicate the flavours and the experience too!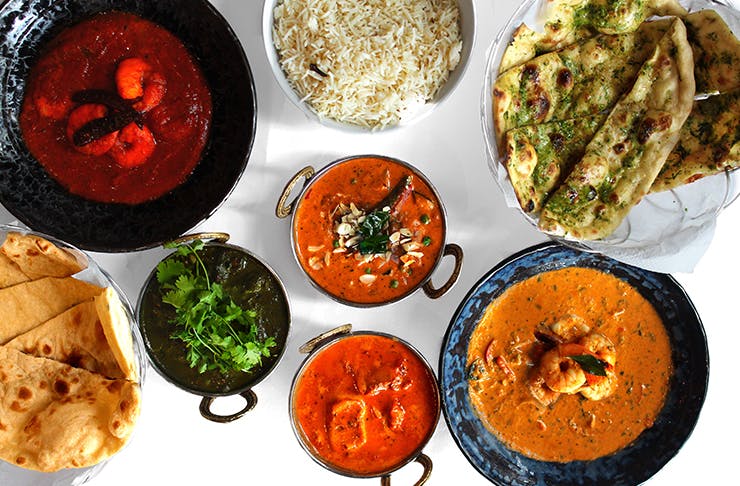 Bawarchi
Sandringham Road
On Sandringham Road, Bawarchi is serving up some of the best Indian in town! All of their curries are absolutely 10/10 but you need to get amongst their Biryani. Biryani is basically a rice dish and probably the tastiest rice you will ever have as it's and is packed with flavour. Get in my belly!
7 Siri: Taste Of Sri Lanka
Sandringham Road
Not only will 7 Siri: Taste Of Sri Lanka make you look like a professional chef with their one-of-a-kind mussel dishes, but you also get the chance to sound like one as you explain the difference between Indian and Sri Lankan cuisine. Sri Lankan food is similar to Indian cuisine but offers more vivid flavours, thinner curries and is more heavily spiced. The devilled mussels, mussel biryani and mussel fried rice are not to be missed!
Oh Calcutta
Parnell
Well-known as one of the most popular Indian eateries in Auckland, go all out with your 'homemade' Indian feast and take away their menu made for groups! To make things even better, they do delivery. Oh Calcutta provides the Indian food we all know and love like tikka masala, tandoori chicken and samosas. Using the best and freshest ingredients, curry night has never been this good!
La Porchetta
Albany, Parnell & Henderson
Found in Albany, Parnell and Henderson, La Porchetta whips up far better Italian than what most of us can cook! Their pizzas are cheesy and loaded with toppings but remain simple. The pasta dishes are also a step up from the sauces out of the glass jar—get amongst their pollo e funghi gnocchi! Creamy, cheesy and indulgent, your guests' tummies will be full and minds will be blown.
Archie's Pizzeria
Newmarket
This Newmarket eatery is fully packed on weekend nights but that won't be a problem for you as you're getting it to fakeaway! The ravioli or tortellini are super delicious but you can't leave Archie's Pizzeria without getting some pizza! Keep it simple with their alla puttanesca—a tomato base with chilli, capers, black olives, oregano and parsley.
That's Amore
Chancery
If you're willing to risk the eyebrow raises of wood-fired pizzas being on the table with no wood fire oven in the kitchen, hit up the rustic Italian kitchen in the Chancery, That's Amore. The pizzas are simple yet flavourful and highly authentic! The shape of the pizzas isn't perfectly round so it gives the impression you hand rolled them yourself! Dust some flour on your kitchen bench tops and you'll fool anyone.
The Pie Piper
K'Road
Not only does The Pie Piper sell by the slice but they also have whole pies available. This K 'Road dessert hub whips up some of the most heart-warming pumpkin pie, key lime pie, pecan pie and cherry pie Auckland has to offer and your guests will be begging for the recipe. This is when you simply respond with a cheeky, "it's a top secret ingredient".
Federal Delicatessen
Auckland CBD
Were you aware that you could get a full pie from The Fed? Not just a slice, a FULL pie? Yeah, not many people know about this fun fact which means not many will be suspicious when you lay a whole Federal pie on the table for dessert! The banoffee, chocolate cherry or lemon meringue? They're lll equally amazing, so take your pick!
Want more:
Image Credit: Jaiden Bhaga