Beaches, bars, boutiques—the North Shore has it all. While we could write copious lists (well, love letters) for every aspect of this much-loved corner of Auckland, we'll stick to what's most important: the drinking spots.
If a top-shelf drop of international wine tickles your fancy, or you're in the mood for a night on the cocktails, you'll find whatever your booze-loving heart desires at the North Shore's best bars. Sip your way through this list of where to drink on the North Shore, and let the good times roll.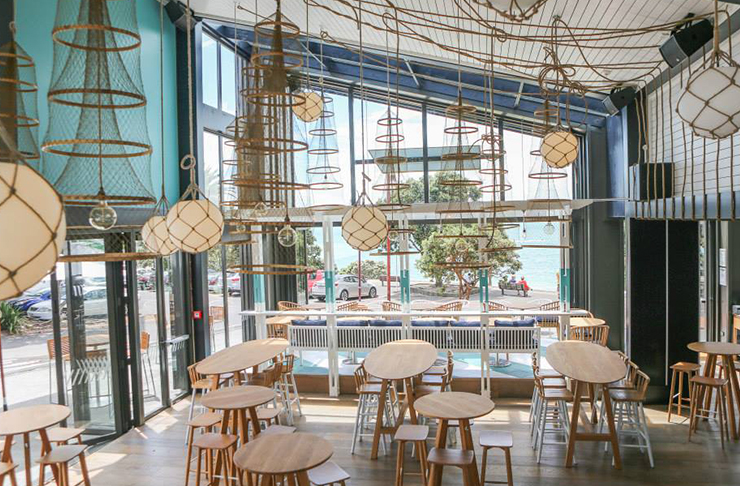 Regatta
Takapuna
Beachside dwellings + bubbles = match made in heaven. There's no better place to indulge in this perfect pairing than at Regatta Bar and Eatery, where refreshing drinks and nibbles are served alongside scenic views as a signature offering. Open from breakfast until past your bedtime, Regatta is the kind of place where you can rock up for breakkie, stay for a long lunch, then graze and tipple your way into the night—cocktail constantly in hand, of course. Not to be missed is their Rosé Bottomless Lunch: a boozy bonanza devoted to pink wine and dotted with a delish three-course lunch.
The Beer Spot
Takapuna
When you find yourself in the mood for a refreshing tipple, hop on over to The Beer Spot. True to its name, this neat little tasting room, bar and beer boutique is one of the best places to drink on the North Shore for ale and lager lovers. Here you can create a pick-your-own float of any one of their forty rotating beer types, and also bring the brews back to yours in a take home bottle. It's not just about beer at this joint though—they have top-notch wines and spirits to sip away at, as well as a different food truck that parks up on site every week. It's safe to say that a visit to The Beer Spot will leave you with a happy and hoppy belly.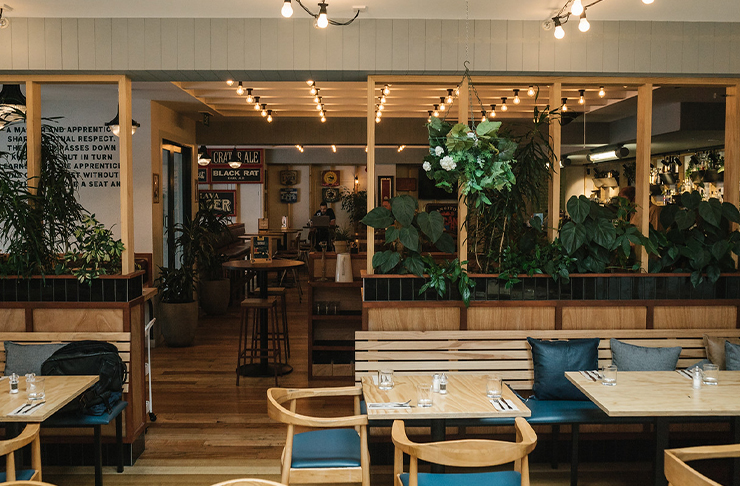 Master and Apprentice
Takapuna
One of the best places to eat, drink and be merry on Auckland's North Shore is none other than Takapuna's Master and Apprentice bar. There are tapas, bar bites, grazing platters galore, and one of the best brunch menus in Auckland's gastro bar scene—Belgian breakfast waffles, shiitake and cheese fritters, and a delicious = breakfast burger all make an appearance, just as an FYI. As for the boozy business, you'll find all kinds of wine and bottled and tapped beers on the drinks list, as well as beer and whisky floats that come in both apprentice and master quantities.
Also deserving a special mention is their cocktail menu. One sip of their concoctions will make it clear that the team here are—pun incoming—masters of mixing and stirring.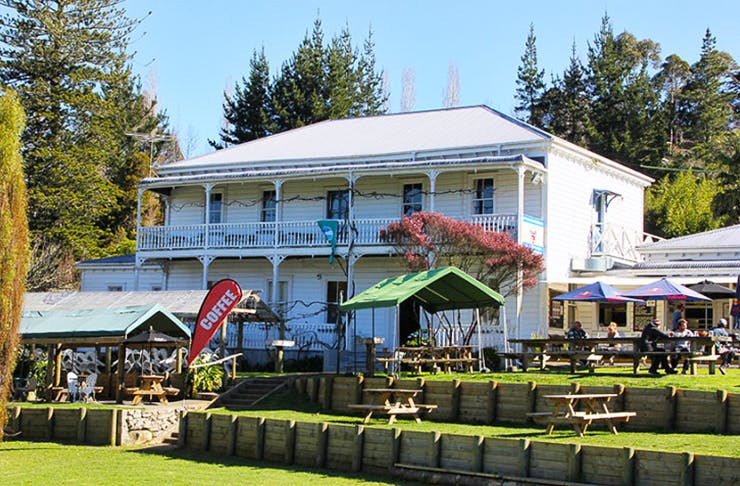 Puhoi Pub
Puhoi
Forget beaches and bush walks, the far North Shore is worth making a day trip to for one reason alone. That reason is none other than Puhoi Pub, a classic colonial icon that simply bursts with charm. Formerly a hotel and horse stable, you'll now find the Puhoi Pub housing a mighty fine selection of everyone's favourite beers, wines, ciders and spirits as well as a classic pub food menu. Easily one of the best bars north of Auckland, it's the ideal place for stopping in for a quick sip and bite on your way through this tiny town, or for settling in for a day of eating, drinking and repeating.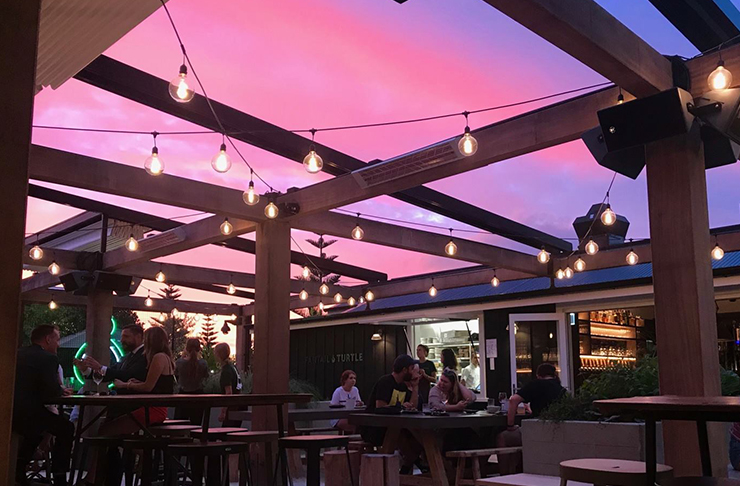 Fantail & Turtle
Goodside, Smales Farm
You know when a place's phone number is 09 215 BEER, it's bound to be great. At Smales Farm's Fantail and Turtle in the Goodside precinct, that greatness involves copious grazing platters and over 30 craft beers, ale, cider and kombucha as well as a 6 tank community brewery. The good stuff doesn't stop flowing there, there's also a mighty fine selection of over 50 wines, plus all the cocktails and spirits one could imagine. Gather your posse around their veranda benches and watch the sun go down around a pizza or two, or perch around the fire with a whiskey in hand for a cosy end of day tipple, the choice is yours.
Bedford Soda & Liquor
Takapuna
The legends at Bedford Soda & Liquor have grown their cocktail empire, setting up their second bar in the North Shore's Takapuna, much to the delight of local cocktail lovers. Here you'll find a colourful drinks list, jam-packed with all kinds of wonderful boozy creations and your go-to drops. Indulge in a liquor-laden milkshake, a stunning seasonal cocktail or perhaps a handcrafted soda. If you fancy a side of theatricality served with your booze, then the Polynesian Painkiller(a flaming tiki bowl) or the Steaming Copper Kettle (served over billowing dry ice) pitchers are the way to go.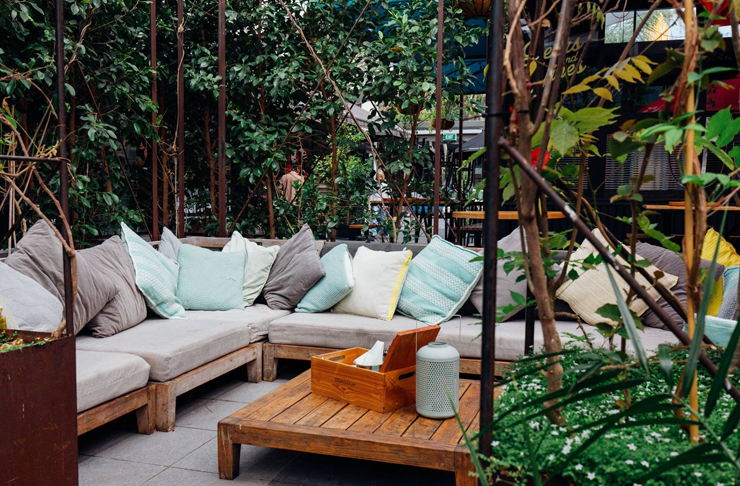 The Commons
Takapuna
The Commons is a fabulous North Shore bar that is anything but common. With delicious food, a friendly atmosphere and a stellar drinks list, it's no wonder that this gem of a spot is considered one of the best places to drink on the North Shore. Perch up in their gorgeous garden courtyard, and while away the hours among the flora, fauna and sunshine over your favourite drops of beer, local wines or cocktails. If one glass isn't enough, their cocktail or sangria pitchers will definitely do the trick. Beer fans are covered here too—their daily 4-6pm happy hour will sort you with all the beer buckets and tap bear jugs your heart (and wallet) desires.
Stafford Road Wine Bar
Northcote Point
Sip your way around the world without so much as leaving the North Shore at Northcote's Stafford Road Wine Bar. From Alsatian Pinot Gris to Tuscan Castellos, silky Central Otago Pinot Noirs right through to iconic champagnes, you'll find the crème de la crème of local and international wines here. Not only is this chic yet cosy wine bar one of the best places to drink on the North Shore—their fabulous seasonal menu makes it a perfect destination for a quick bite, or swanky snacking marathon. It's as finely curated as their wine list, so expect deliciousness along the lines of rosemary baked camembert, duck parfaits, and the traditionalassiette de charcutrieaka cured meat platter.
Image Credit: Jaiden Bhaga, Regatta, Puhoi Pub, Faintail & Turtle, The Commons, Master And Apprentice