Sometimes occasions call for a romantic gesture for that special someone. And no, we don't just mean a swipe to the right. It might be a simple date, an anniversary, a birthday, or time to pop a question. Whatever it is, we've got you covered with a round-up of the most romantic things to do in Hamilton.
So, read on, DM bae this link and watch the romance unfold. From picnics and spa days to cocktails and sunsets, here are the best dates in Hamilton.
Snuggle On A Picnic Blanket
When it comes to luuurve, a romantic picnic will never go out of style. Bundle up an impressive array of deli items (remember: there's no such thing as too much cheese), pack a cosy blanket and head to a fitting spot. If you need some picnic-spiration, reach out to the talented team at Gather Foodhouse to create an impressive grazing platter for two. The Little Lunch Company also whip up picnic boxes guaranteed to impress with gourmet sammies, flavoursome salads and baked goodies. If you're picnicking on a summer's evening, head along to the ever-popular Gourmet In The Gardens. The weekly event sees a mouth-watering selection of food trucks and stalls take over the Hamilton Gardens for a festive al fresco dining experience.
Smell The Flowers Together
Speaking of, the Hamilton Gardens is the perfect date destination any time of year. Famed for its "themed" collections with an Italian Renaissance garden, sustainable backyard, Japanese garden of contemplation, and a garden dedicated to Katherine Mansfield's short story 'The Garden Party'—complete with tennis court and an Edwardian-style house. For more flower romance in the Waikato, check out Clandon Daffodil fields in Gordonton and the Lavender Backyard Garden in Newstead. The latter is like a scene from Provence, France with rows upon rows of vibrant Instagram-worthy lavender bushes. Pro tip: bring a picnic (see above) and make an afternoon of it.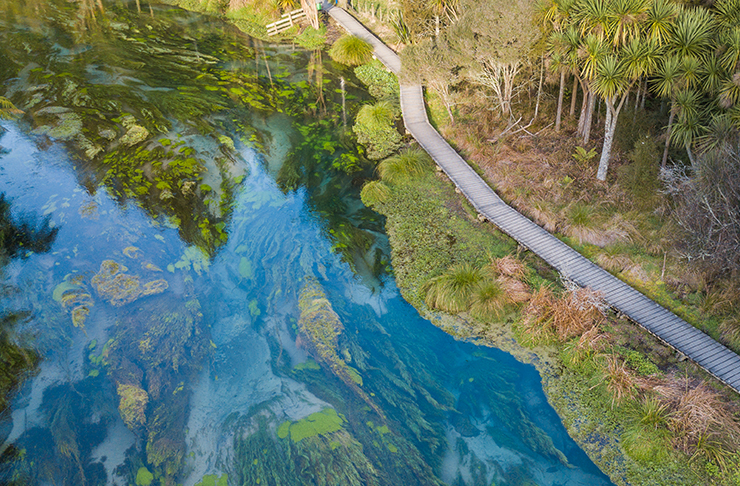 Stroll Hand-In-Hand
From easy strolls to more challenging star climbs, there's no shortage of walks in Hamilton and beyond. Link hands with your bae and enjoy a leisurely wander through the Taitua Arboretum with its abundance of trees, lakes, gardens and delightful picnic spots. Alternatively, opt for a weekend stroll around Hamilton Lake before refuelling with a coffee from The Verandah Cafe. For an out-of-town adventure, check out the tranquil Waihou Walkway with its crystal-clear Blue Spring or work up a sweat by tackling the famous Hakarimata Summit Track in Ngaruawahia. The view from the top makes the challenging climb all worth it—and remember, couples who train together, stay together.
Relax With A Spa
Nothing says "I love you" like a pampering spa treatment with your main squeeze. Unwind with Forme Spa's signature 'romance' spa package. Soak in a circular tub for two before enjoying a relaxing body massage together. Waters Day Spa also offers a dreamy selection of massage treatments to share with your loved one beside you. You're spoilt for choice with the massage options including therapeutic, aromatherapy, deep tissue, reflexology or hot rocks. Alternatively, head to Cambridge's Le Papillon Day Spa for a duo package overlooking the tranquil countryside. The options include a 45-minute couple massage or go all out with the oh-so-romantic four-hour treatment including a divine lunch spread. This is romance at its finest.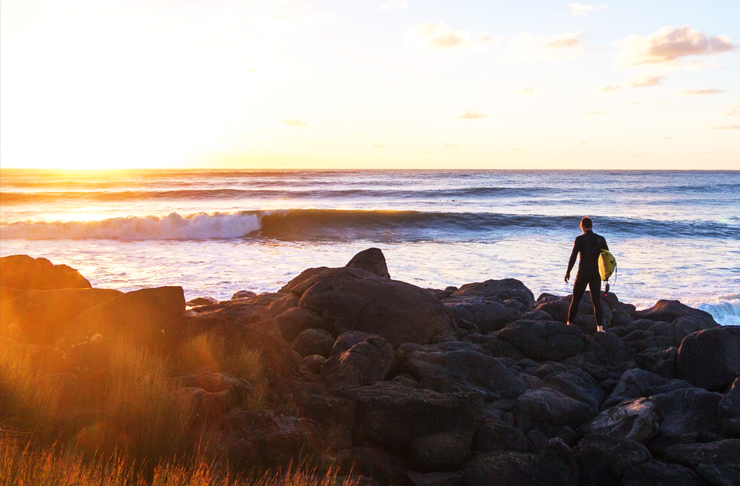 Soak Up A Raglan Sunset
Hamiltonians are just a 40-minute drive from one of New Zealand's most stunning sunset destinations. We are, of course, talking about the West Coast gem, Raglan. Watch the sky display dramatic hues of orange, pink and purple as the sun sinks below the sea on the horizon. Head to Ngarunui Beach and rug up under a blanket with your lover on the black sand beach. Double points if you have the foresight to pack a flask of hot chocolate to sip as day turns to night. Go you romantic thing, you.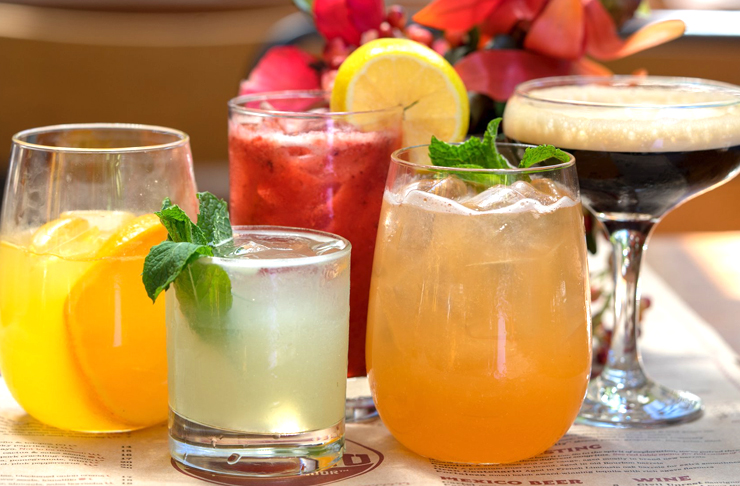 Share A Cocktail Or Three
There's nothing more romantic—or fun—than working your way through a cocktail list together. Scout out Wonder Horse, Hamilton's hidden bar tucked away down an unassuming alleyway off Victoria Street in the CBD. It's set in a two-storey loft, so you can sneak upstairs and find a cosy spot to gaze lovingly into each other's eyes as you sip on tailor-made cocktails. Mr. Pickles is also good for innovative cocktails and sophisticated yet easy-going vibes—yes, it's a Hamilton date favourite. If your significant other loves a cheeky tequila, head to Mexico for their dedicated margarita menu and tequila tasting boards. They also have seasonal sangria, served in a carafe and perfect for sharing—cheers to that.
Book A Table For Two
An oldie but a goodie. A table for two will forever be one of the most romantic things to do in Hamilton. Choose between flavoursome Vietnamese from Banh Mi Caphe, wood-fired pizza from Dough Bros or Madam Woo's unmissable Asian fusion. For a little bit of 'this and that' work your way through a selection of tapas from Gothenburg or design your own charcuterie platter at Mr. Pickles. Across the river, neighbourhood favourite Hayes Common serves dinner sharing plates from Wednesday to Saturday—the crispy duck wings are unmissable. However, the award for "most romantic dinner in Hamilton" goes to Chim Choo Ree. Set in a converted brewery (trust us: it's more romantic than it sounds), the restaurant serves modern dishes presented like works of art. Start with freshly shucked oysters before moving on to the likes of king prawns, mushroom gnocchi or a perfectly cooked eye fillet steak. Dreamy.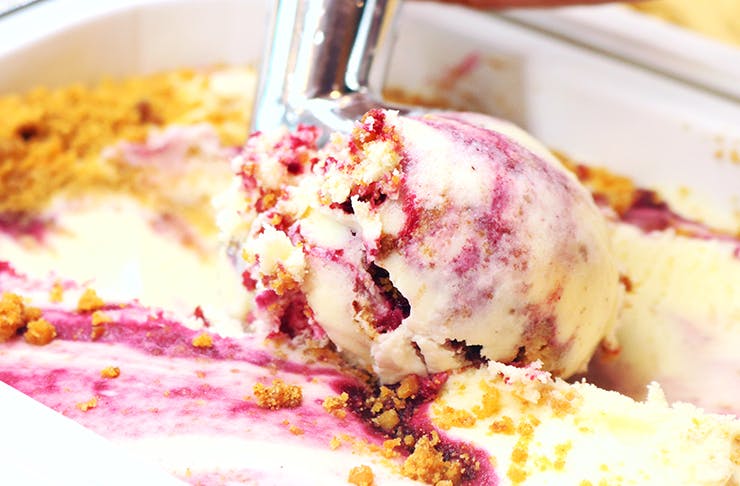 … And Indulge In Sweet Everything
There's always room for dessert on date night—or any other night, for that matter. At Iguana, you'll discover a dedicated dessert menu with brownie, crème brûlée, tiramisu and everything in between. In Hamilton East, Winner Winner's chicken eatery also has an insane pie game with lemon meringue, banoffee and a vegan-friendly chocolate peanut butter pie. We can't go past a slice of the pinky pie with super sweet caramel, decadent caramel and raspberry marshmallow. Alternatively, a scoop of Hamilton's finest Duck Island ice cream is sure to go down a treat. Share a sundae with your loved one at their flagship parlour in Hamilton East or the CBD scoop shop in Riverbank Lane. You could also grab a hand-packed tub to take away and enjoy snuggled up on the couch while watching Netflix. Whoever said romance is dead?
Experience Twinkling Glowworms Together
There's something special about gazing at the twinkling night sky with your lover. But there's no need to pitch a tent in your backyard to experience the magic. Instead, head to the world-famous Waitomo Caves to see thousands of glistening glowworms light up the aptly named Glowworm Grotto. Experienced from the comfort of a boat, you'll glide silently through the 30-million-year-old caves as you marvel at the starry wonderland. Alternatively, Karapiro's The Boatshed Kayaks hosts evening glowworm tours along the banks of the Waikato River. As the sun sets, you'll kayak down a stream and stop for a glass of mulled wine (or hot choccy) before paddling through a spectacular glowworm canyon. This experience is one of the Waikato's best-kept secrets and most romantic date nights.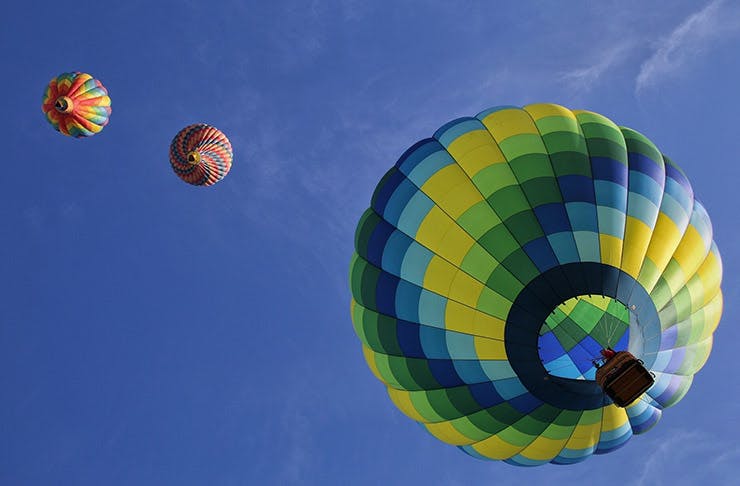 Ride In A Hot Air Balloon
Hamilton has cemented itself as New Zealand's hub of hot air balloons. The city is known and loved for vibrant balloons gracing the skyline—especially when Balloons Over Waikato makes its yearly return. And, from September to June, you can treat bae to a hot air balloon ride over the Waikato with Kiwi Balloon Company. The experience begins at dawn when the breeze is gentle for optimal flying. You'll then rise above sleepy Hamilton and drift out to the green pastures of the Waikato. Soak in the beautiful scenery as you hold your partner's hand in excitement. You might even be lucky enough to see the snow-capped mountains of Tongariro National Park. Kiwi Balloon Company even has the option to book a special private flight—proposal goals, right?
Send It With Love
Do the classic romantic gesture and surprise your girlfriend/boyfriend with flowers. Get a swoon-worthy bouquet delivered by Hamilton florists Aster & Bloom, Amy's Flowers or Le Fleur. Otherwise, if your partner has a total sweet tooth, opt for baked goodies instead. The Girl On The Swing is Hamilton-famous for their iconic cupcakes with 100 quirky options to choose from. Think: 'bohemian rhaps-berry', 'get in my jelly' and 'on cloud lime'. Chrissy Cakes also has a cake selection guaranteed to woo your lover—and they're so, so pretty. Choose between the likes of banana salted caramel, lemon raspberry or a pretty-as-picture lemon, blueberry and white choc cake. Fingers crossed they save you a slice.
Image Credit: WaikatoNZ, Jaiden Bhaga