It's impossible (not to mention unethical) to ignore the climate crisis that's going on in the world today, but we're the first to admit that we're probably not going to stop travelling anytime soon. Instead, we're trying to find the most eco-friendly ways to live our best lives.
We'll try to fly a bit less, we'll research our destinations and when we arrive, we'll support the accommodation options doing their part to lessen their impact. As luck would have it, there are plenty of amazing eco-friendly accommodation options out there, so there's no need to slum it while you're saving the planet. From natural hot springs and private waterfalls powering entire resorts to sleek designs made entirely from sustainable materials, here are 10 of the best eco-friendly accommodation options in the world.
Daintree Eco Lodge and Spa
Queensland, Australia
The only hotel sitting smack bang in the middle of the world's oldest living rainforest, the Daintree Eco Lodge and Spa is luxurious with a capital L. Boasting 15 bayans (treehouses), a private waterfall, one of the best spas in the country, private dining and a plethora of activities to keep you busy, we wouldn't blame you if you were booking your stay regardless of their sustainable practices. The lodge is run according to the United Nations Sustainable Development Goals which focus on everything from climate change and ocean preservation to ending poverty and improving health and education. Daintree Eco Lodge has a huge amount of initiatives in place to meet these goals from solar power, carbon offsetting and planting trees to toxin-free cleaning, composting and an on-site herb and veggie garden to keep things local. Of course, they minimise single use plastic throughout the lodge meaning there are no straws and you'll be provided with stainless steel water bottles and ceramic cups instead of plastic and takeaway coffee cups.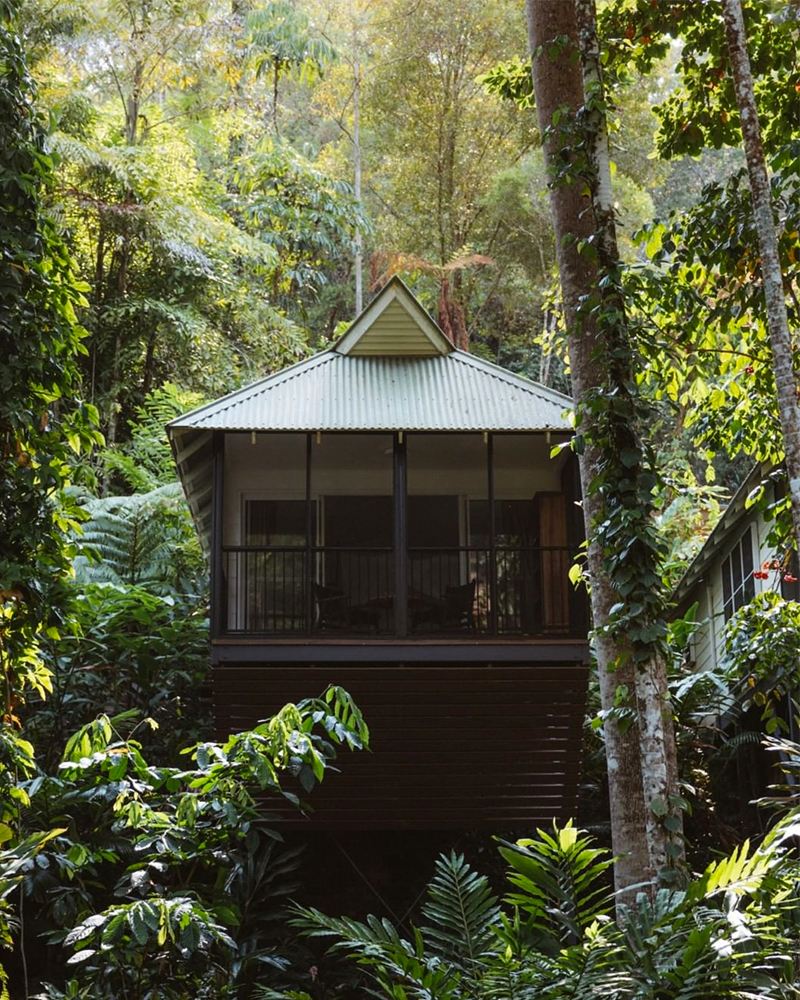 Jetwing Vil Uyana
Sigiriya, Sri Lanka
If you want to swap tropical rainforests for rice paddies and the chance to spot elephants, Jetwing Vil Uyana in Sri Lanka's cultural triangle is the place for you. Whether you decide on an eco-friendly garden room, a marsh room with your own private pool or a villa above the water, you'll notice they've all been built around the natural environment instead of on top of it. The architecture favours wide open spaces, thatched roofing and natural materials to reduce energy requirements while their man-made lake—which uses 100% rainwater—has seen the reintroduction of a huge variety of native flora and fauna to the area. Perhaps most importantly, Jetwing Vil Uyana invests in their community, training young adults from disadvantaged local families through their Jetwing Youth Development Project.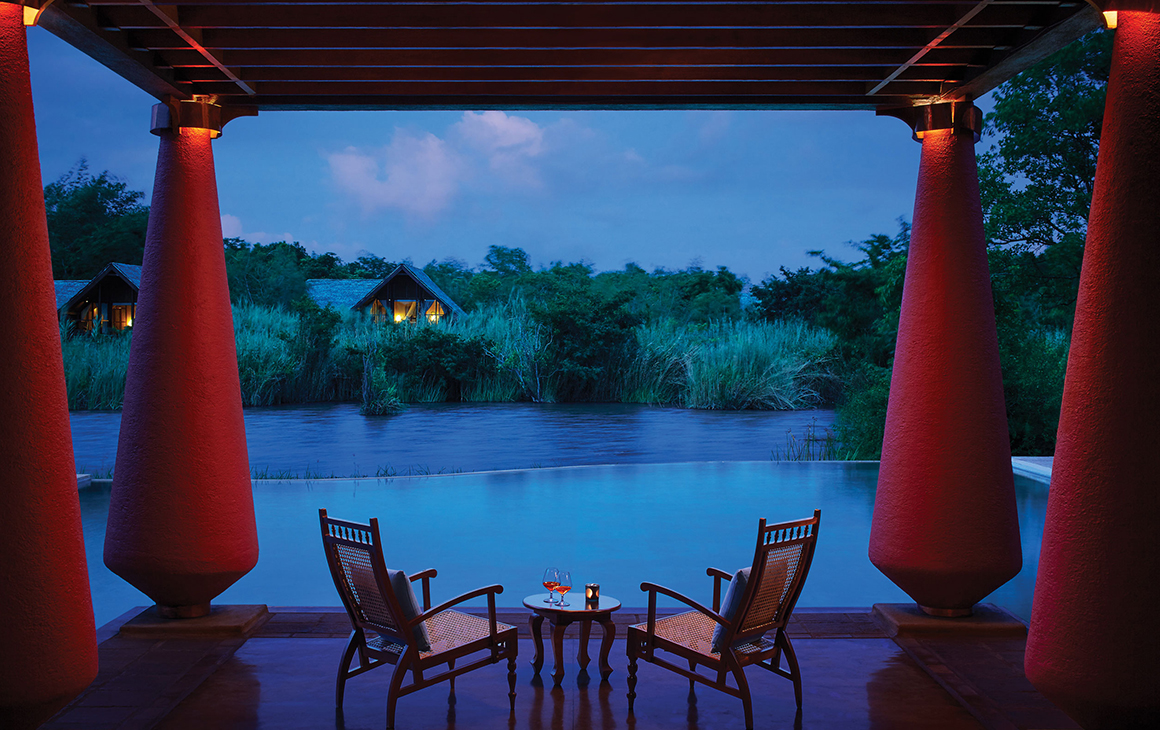 Algonquin Eco-Lodge
Ontario, Canada
For those of you more into the wilderness than luxury resorts, Algonquin Eco-Lodge in Ontario might just float your boat. To get to the lodge you'll have to walk, bike or ski (depending on the season) an easy 2.3km through the beautiful Algonquin Park, so we're not joking when we say this place is off the grid. In fact, it's so far off the grid that they've had to create their own electricity from the gushing waterfall on their doorstep, but don't let that fool you into thinking you'll be having lukewarm showers. Their micro-hydro generator powers the only carbon neutral hot tub in Southern Ontario and there's also a wood-fired sauna—the perfect end to a big day of hiking or cross-country skiing through the park.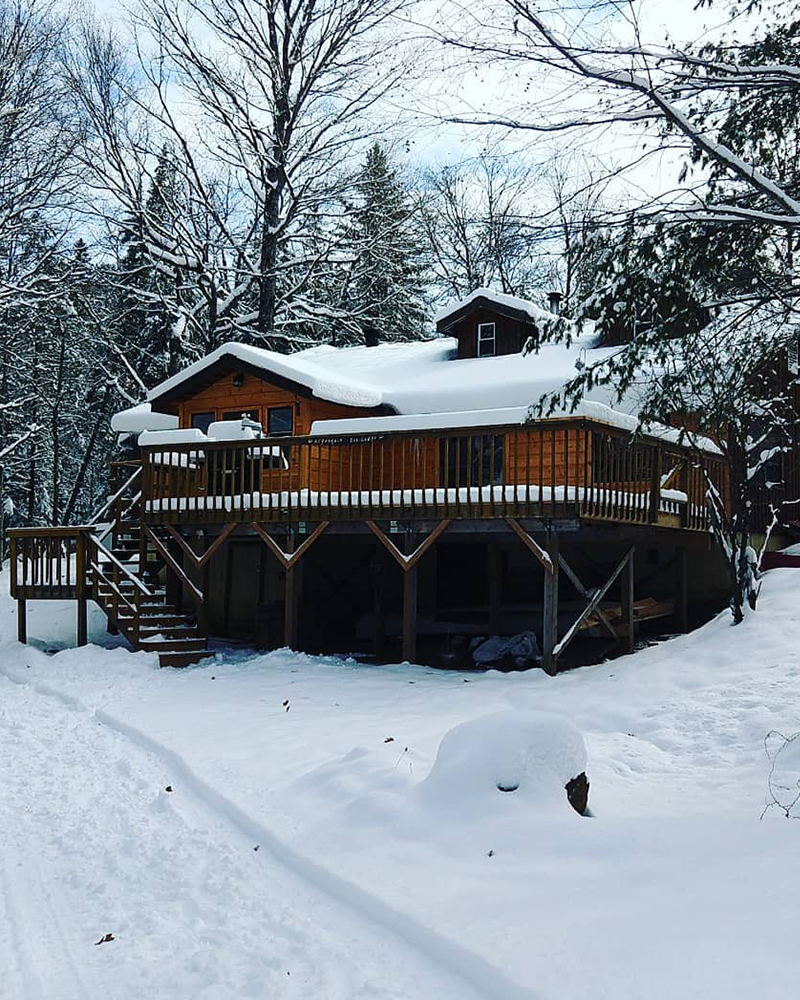 The Green House
Dorset, United Kingdom
A boutique hotel in southern England, you'd barely know The Green House was a sustainable haven if you weren't paying attention, but you'd better believe it is. During a massive refurbishment back in 2010, the team made every single decision with sustainability and the environment in mind. For every piece of furniture they bought into the hotel they considered not only where it was coming from but also where it would go at the end of its life. They've used natural and local materials throughout the hotel and they upcycle everything from their furniture to the waste oil from the kitchen (which is made into fuel). All their suppliers are vetted against sustainability standards and they even consider the carbon footprint of each bottle of wine stocked in the bar. But what you'll actually notice when you're staying at the hotel is the beautiful architecture, the gorgeous rooms (fitted out with natural, local and sustainable materials of course), the proximity to the beach and forest and the amazing locally sourced food coming out of the restaurant.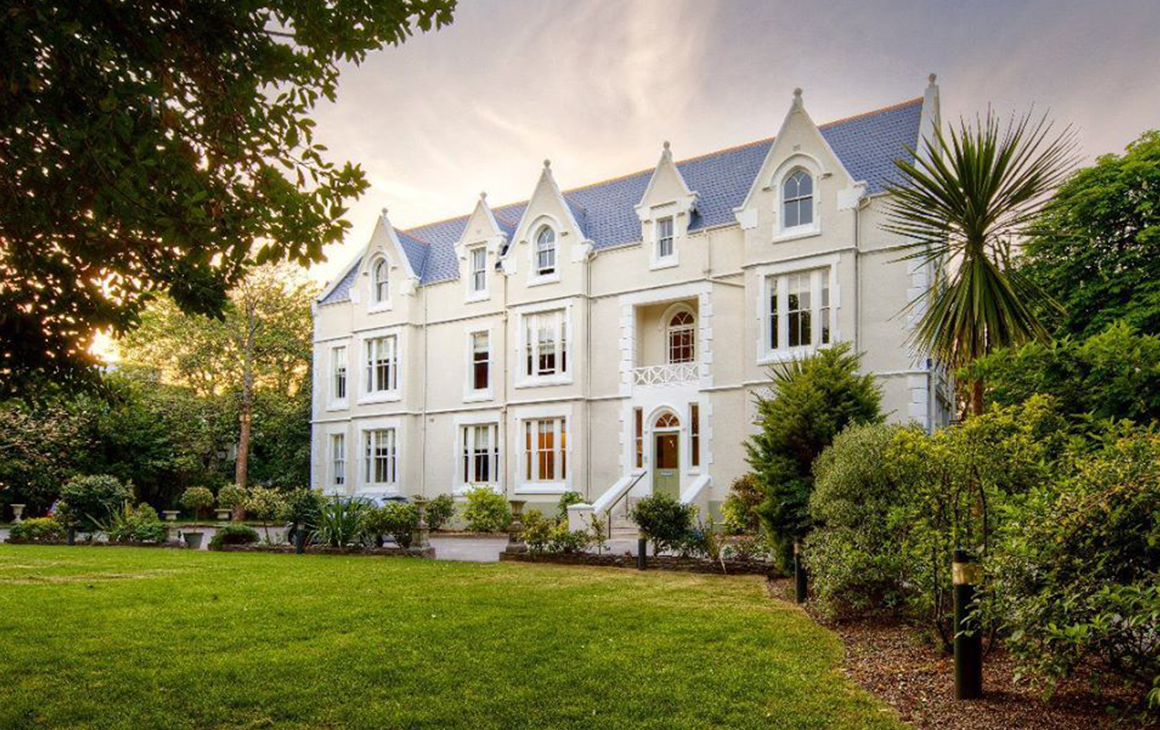 Whitepod
Le Valais, Switzerland
We know how much you all love a bubble hotel and it doesn't get much better than a transparent luxury pod at the base of the Swiss Alps. Whitepod's geodesic domes create a naturally strong structure—so there's no need to cart in a lot of material to support them—and can be heated and cooled much more efficiently than your standard building. The team here is big on environmental awareness, encouraging guests to experience the local flora and fauna and even changing the colour of the pods to match the season—white in winter to blend in with the snow-covered mountains and covered in green in summer to blend in with the natural vegetation. The use of cars is limited in the area—you'll have to walk about 20 minutes from reception to get your pod—but breakfast is served right in your bubble each morning so you can enjoy a cuppa with breathtaking views before you even start your day. There are also plenty of environmentally friendly activities on offer each day from snowshoeing in winter to mountain biking in summer.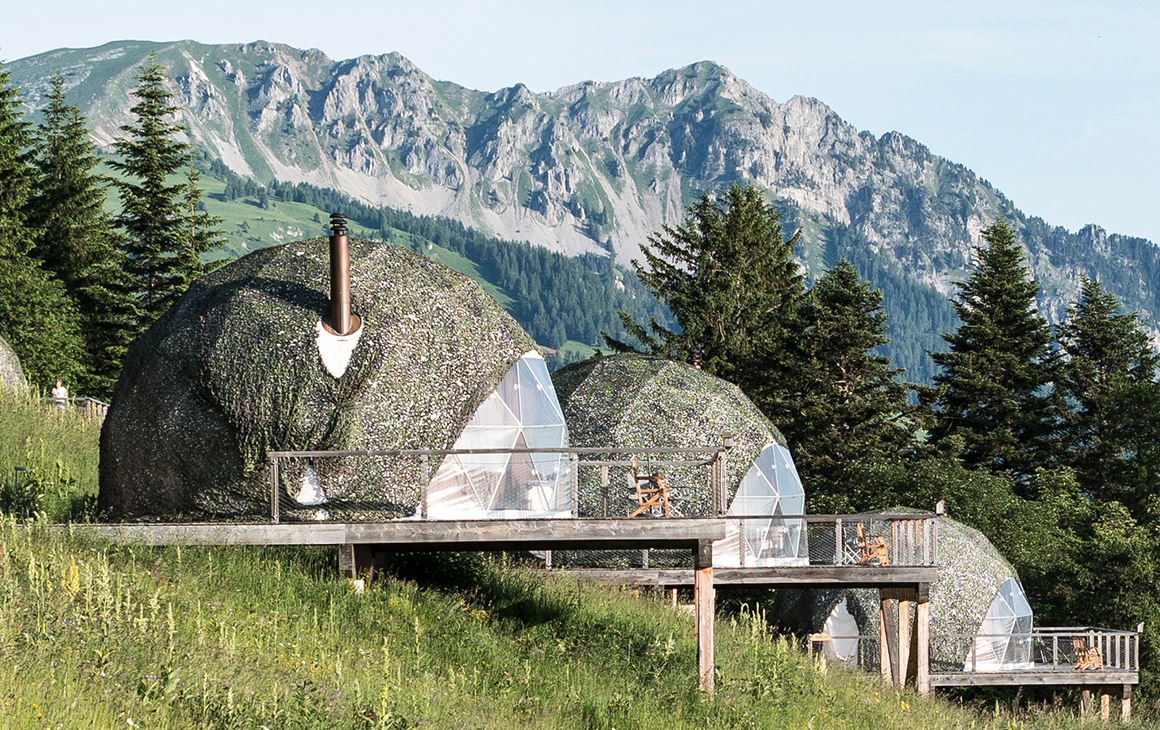 Alila Villas Soori
Bali, Indonesia
Offering everything from one to 10-bedroom villas, Alila Villas Soori in Southwest Bali was designed in line with the EarthCheck international environmental standards is Green Globe certified; and they certainly walk the walk of a sustainably-minded company. Located off the beaten path, the resort has been designed in complete harmony with the natural environment in which it is located. The building principles have reduced the need for electricity—think open spaces and materials that naturally decrease the need for air conditioning—and the property takes advantage of the torrential rain during the wet season to provide all of its water requirements for the entire year. They also support the local community, sourcing many of their materials from nearby providers and employing local people to work in the hotel.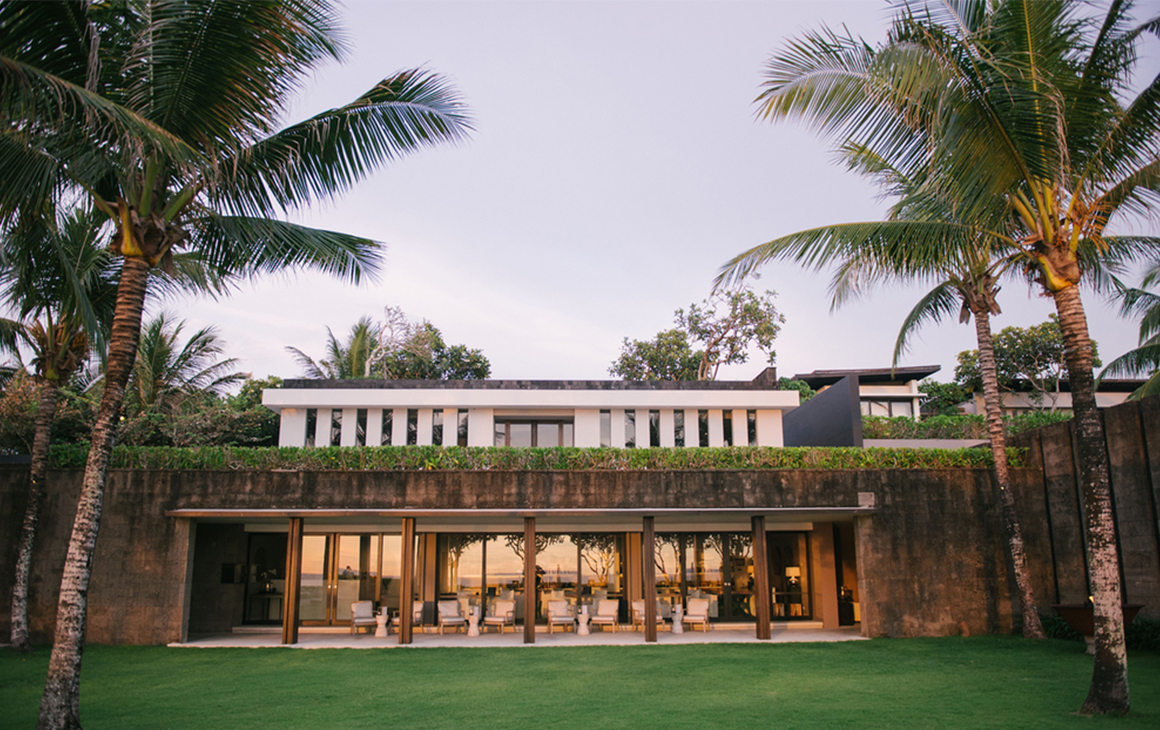 Wilderness Safaris
Throughout Africa
Operating since 1983 and now running over 40 camps across seven countries, Wildnerness Safaris has been doing the whole eco-tourism thing since way before it was cool. They'll help you find the Big 5, but they're more interested in the 4 Cs—Commerce, Conservation, Community and Culture. Born in Botswana, 1039 of the 1079 staff in Botswana are local citizens and 47% of the staff are female. 13 of their camps are run on solar power alone and they save close to 2,500 tons of carbon each year thanks to their sustainable practices. They also work closely with the Wilderness Wildlife Trust on conservation and protection programs. Check out their seven day Namibia Eco-Safari for the lowest impact safari experience.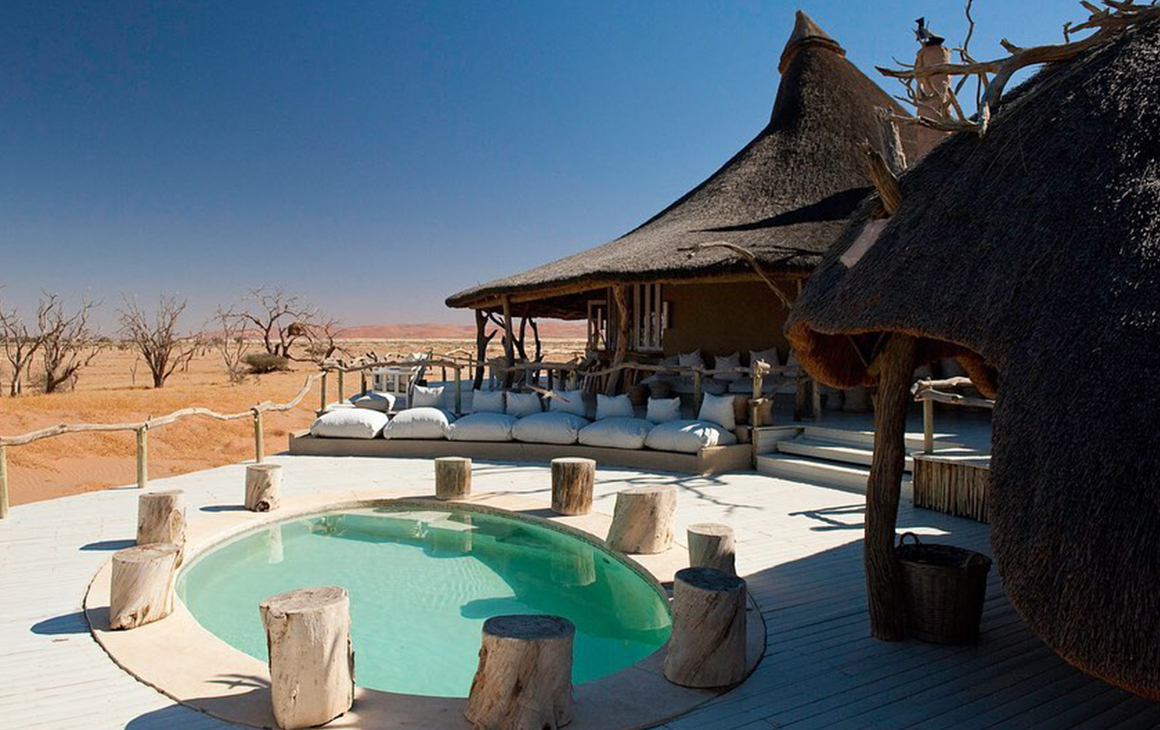 1 Hotel Brooklyn Bridge
New York, USA
While it might seem like you have to go off the grid to find good eco-accommodation, it's simply not the case. If you're after a city holiday full of eating and drinking, check yourself into 1 Hotel Brooklyn Bridge and get going. Using native greenery and reclaimed wood to decorate the space, just stepping into this hotel is like a breath of fresh air. Never mind the Tesla in which they'll happily take you for a spin around town. Mattresses are made from a hemp blend, sheets are organic cotton and the dining room tables are made from wood from the Brooklyn Botanic Garden trees that fell as a result of Hurricane Sandy. The hotel is powered entirely by wind and it also boasts a water reclamation system that captures rainwater which is used to irrigate Brooklyn Park throughout New York's scorching summers.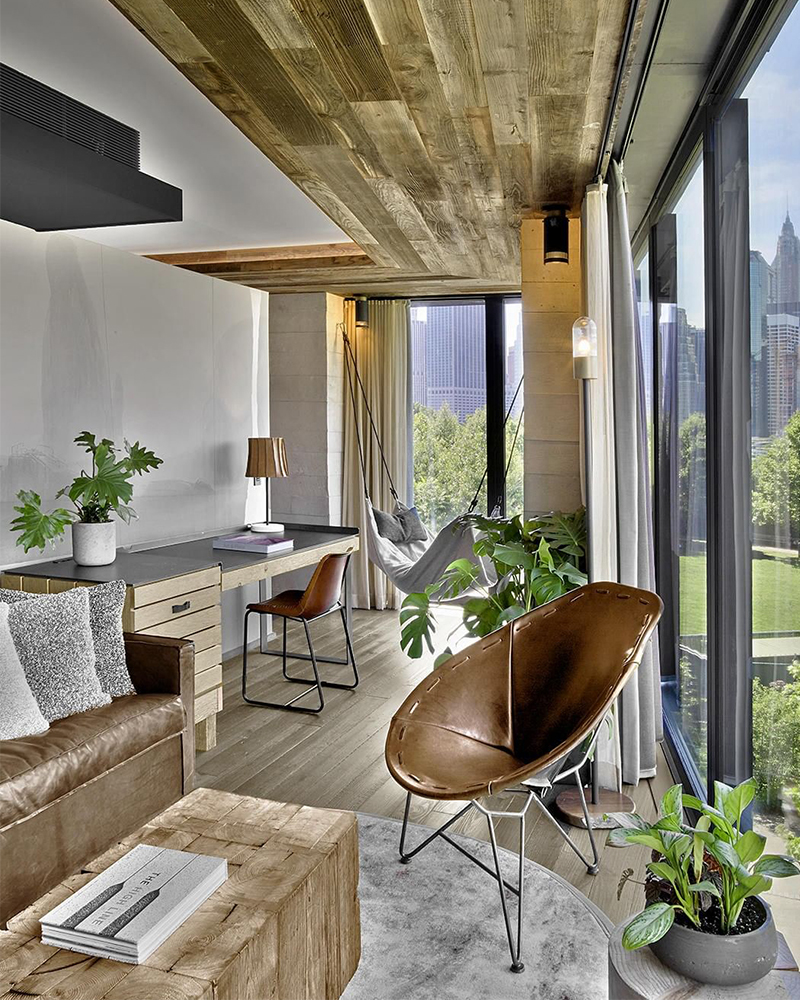 Hoshinoya Karuizawa
Nagano, Japan
Fancy a soak in a natural hot spring in the forest? Us too. Upon arriving at Hoshinoya Karuizawa you wouldn't believe you're only 90 minutes from Tokyo. This secluded escape is home to Japan's first wild bird sanctuary as well as mountains, rivers and waterfalls that are a sight for sore eyes. Almost 70% of the hotel's energy needs are supplied by hydroelectric power generation and geothermal heat, while the buildings have been designed to reduce reliance on electricity. There's also a huge focus on waste management with staff sorting all waste into 28 categories for recycling. Back in the early 90s the group launched Picchio, a company which focuses on protecting the ecology and, more recently, running ecotourism activities for visitors so you'll never get bored.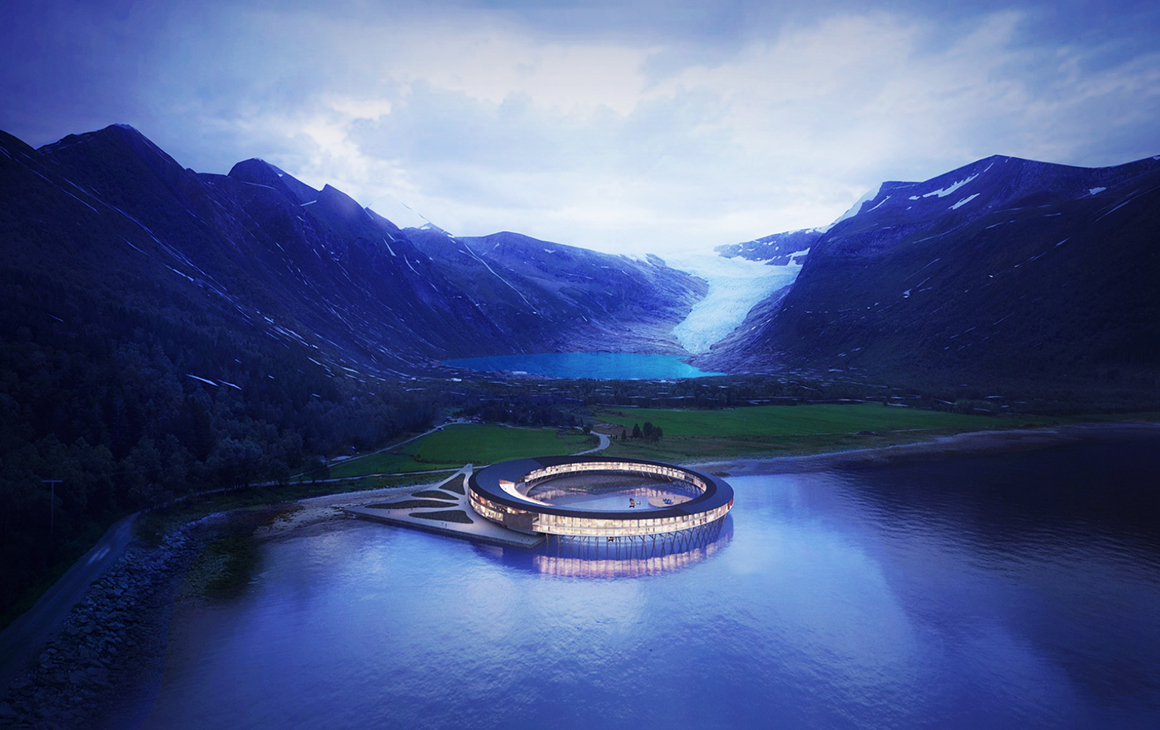 Svart
Norway
Not yet open but still worth a mention, Svart is set to be the world's first energy-positive hotel and it's going to be sitting pretty above the Arctic Circle. Word on the street is that it will use 85% less energy than your typical hotel and will generate more renewable energy than it uses in its lifetime. Expect breathtaking design, endless days in summer, winter nights lit by the Northern Lights and some pretty incredible activities like glacier hikes to keep you busy while you're there.
Check out our eight steps to become a more sustainable traveller.
Image Credit: Svart, 1 Hotel, Wilderness Safaris, Alila Villas Soori, Algonquin Eco-Lodge , Whitepod, The Green House, Jetwing Vil Uyana, Daintree Eco Lodge and Spa