Hey there champ. We see the hard yards you've been putting in. Showing up to work at 9am and not stabbing co-workers with pens, forks et. al. Claps all around for you Glen Coco.
You go Glen Coco.
With this drudgery and masterful self-control in mind, we thought we might introduce you to a few of our favourite hotel spas from around the world.
After all, travel is great, but pampered travel? Divine.
Four Seasons Resort Bali @ Sayan
Ubud, Indonesia
Plush hotels are all well and good but TBH, resident Buddhist monks are where it's at. Keen? Well boy, have we got the destination for you. The Sacred River Spa at the Four Seasons Resort Bali at Sayan is exactly how you'd image a Balinese luxury spa would be. They have yoga, chakra ceremonies and massages, plus extras like anti-gravity yoga—smack-bang in the middle of a paddy field—and traditional Balinese body wraps.
And if a Buddhist monk weren't enough to impress, a Balinese high priestess should push you over the line. This true blue, legit priestess pops around the spa to help out with a water purification ceremony. So bloody cool.
Remède Spa, St. Regis Bahia Beach Resort
Bahia Beach, Puerto Rico
If there's a phrase in the English language we love more than, "Fresh Parmesan ma'am?" it's the following: beachfront spa.
While we're not sure about their cheese game, the Remède Spa at the St. Regis Bahia Beach Resort certainly ticks the 'beachfront spa' box and for that, we're immensely grateful. If you're aching for some Remède time, make sure to try the signature Queen Loiza Royal Treatment, with Vichy shower and 24-karat gold oil to improve hydration and boost collagen. Top it off with a deep-tissue massage featuring Isla del Encanto rum and you're laughin'. You can also get your rubdown of choice performed in a thatched-roof cabana near the ocean (upon request).
All treatments are tailored to the individual and the spa also spruik private yoga, Pilates and meditation sessions 'cause apparently it's the law not too—not that we're complaining, we love us some shavasana.
P.S. The spa is currently on down-time due to Hurricane Maria, so be sure to check their website for updates.
Lefay Resort & Spa, Lago di Garda
Gargnano, Italy
The Lefay Resort & Spa, in Gargnano Italy is nothing short of super spesh. Without sounding to fancy-pants, the spa combines classical Chinese medicine with Western scientific research to "reactivate internal energy systems" i.e. achieves nek level nirvana.
The spa has not one, not two, but six different types of sauna for you to chill in (see: lightly boil) after enjoying Ayurveda therapies, thalassotherapy (body wraps and facials based on marine derivatives), and almost every type of massage out there. If you're up for some actual body movement, a spot of tai chi or cycling 'round the lake never hurts.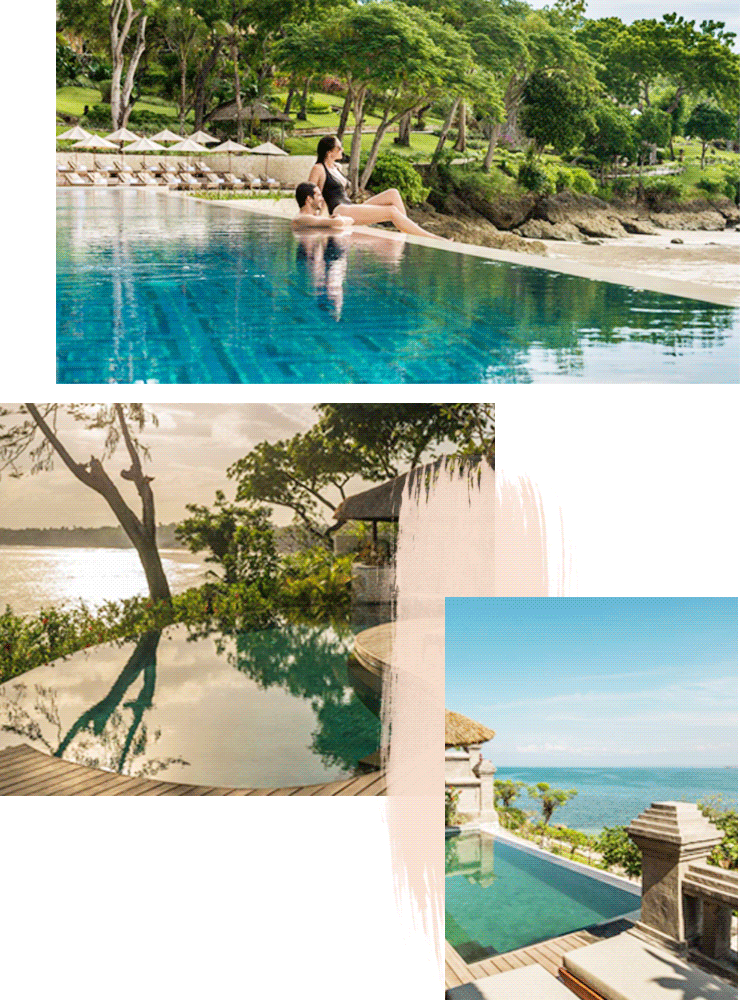 Wellbeing & Thermal Spa, Grand Resort
Bad Ragaz, Switzerland
Switzerland is already pretty; there isn't a traveller out there that doesn't know this. But do you know what's glorious? Getting a massage from a spa at the base of Pizol Mountain, overlooking the Alps. Yeah.
The Wellbeing & Thermal Spa within the Grand Resort Bad Ragaz offer just this. There are 12 spa suites with floor-to-ceiling windows, personal saunas, colour-therapy baths and therapeutic water from the nearby thermal springs to enjoy. The spa also has a swish – and world first - Swarovski glass-covered steam room. We recommend the La Prairie Platinum Rare a four-hand massage with sea salt and mountain crystal scrub when you're not soaking in the thermal baths that is (36.5 degrees exactly).
Bora Bora Spa, Four Seasons Resort
Bora Bora, French Polynesia
Our bodies let out a sigh of relaxed relief at the mere mention of 'Bora Bora' so how could we not add one to the list? Heck, we'd add ten if we could.
The Spa at the Four Seasons Resort Bora Bora is built on the edge of a lagoon—that colour!—and surrounded by tropical groves. To be frank, it's luxurious AF. We're mad for the Back Relaxer treatment, Reiki healing and signature gold ritual—coconut and scrub plus massage featuring 24k carat gold oil. If that weren't enough, you can get most treatments in the iconic, overwater bungalow suites.
P.S. They also have a sunburn relief spa treatment, you goof.
Villa Stephanie @ Brenners Park-Hotel & Spa
Baden-Baden, Baden-Württemberg, Germany
We've reached a new standard people; it's former royal residences or GTFO. Okay, maybe not a standard, but when in Germany, we're sticking with Villa Stephanie at Brenners Park-Hotel & Spa.
The spa focuses on beauty, detox, nutrition, emotional balance and medical care. Massages and facials focus on skin health as much as muscle and we're enamoured by the very idea of the Ayurvedic full body massage, it activates the metabolism and stimulates the removal of toxins. They also have an on-site physio, sauna, plunge pool, tailor-made menus and personal trainer. If you're game, you can also try a hammam by the resident massage specialist.
And, if you'd like to really immerse yourself in spa life, all rooms have a magic button to block Wi-Fi. Sayonara Snapchat.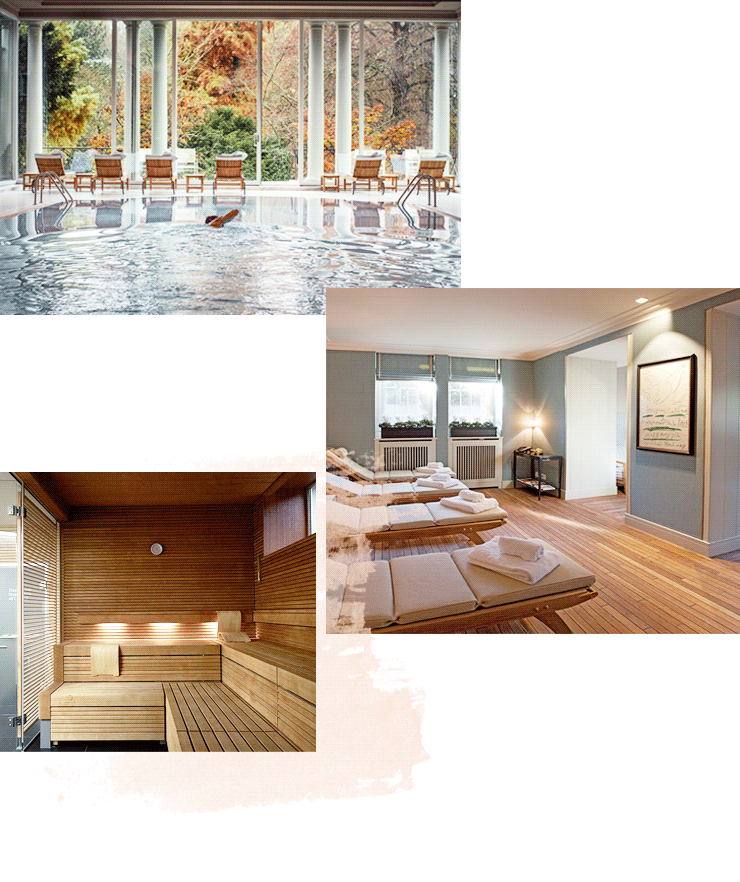 Melisse Suite, Auberge du Soleil
Napa Valley, USA
We don't really know how to slide into this one so we're just going to come out and say it: complimentary use of the hotel's Mercedes Benz vehicles.
Okay, now that you've had a moment to recover, let's get to the deets. When not indulging at the Auberge du Soleil's Michelin star restaurant or sipping the regions' award-winning wine, guests can visit spa, Melisse Suite. We're mad for the Fleurs of Earth & Vine treatment which includes a warm cabernet mud mask for the body and nourishing oil massage as well as the exfoliating Auberge Purifer treatment featuring jasmine marine mud masque, healing massage and energy work.
The Oriental Spa, Mandarin Oriental
Thailand, Bangkok
It only takes a few seconds in the presence of the Mandarin Oriental to feel relaxed. Hell, a picture almost does the trick. The Oriental Spa within the hotel holds the same power, we assume due to its waterside location, but jury's out. Go for the full Oriental Pampering package to feel, well… pampered or the Life Balance Ayurveda that will work your mind, body and soul with treatments like shirodhara (therapy in which hot oils are poured over the head) and private yoga.
You'll detox your mind (yes, colouring books are on hand) as well as physically with rosemary and black pepper wraps and top-of-the-line facials. If you want to stay fit the spa offers Muay Thai classes with a professional fighter.
Aman Spa, Tokyo
Tokyo, Japan
Billed as a 'luxury urban hotel', Aman Toyko is different from all others on this list for one distinct reason: it's up high. Like, way high. Despite sitting on the 33rd/34th floors of the hotel, the Aman Spa is spacious and surprisingly grounded, if you get our drift. Therapies combine traditional Japanese principles and ingredients with top-of-the-line equipment. We highly recommend the 150-minute Signature Treatment, inspired by a 16th-century tea ceremony and featuring kuromoji wood and medicinal herbs. Follow that with a dip in the 30-metre, heated black granite pool and you'll be happy as Larry.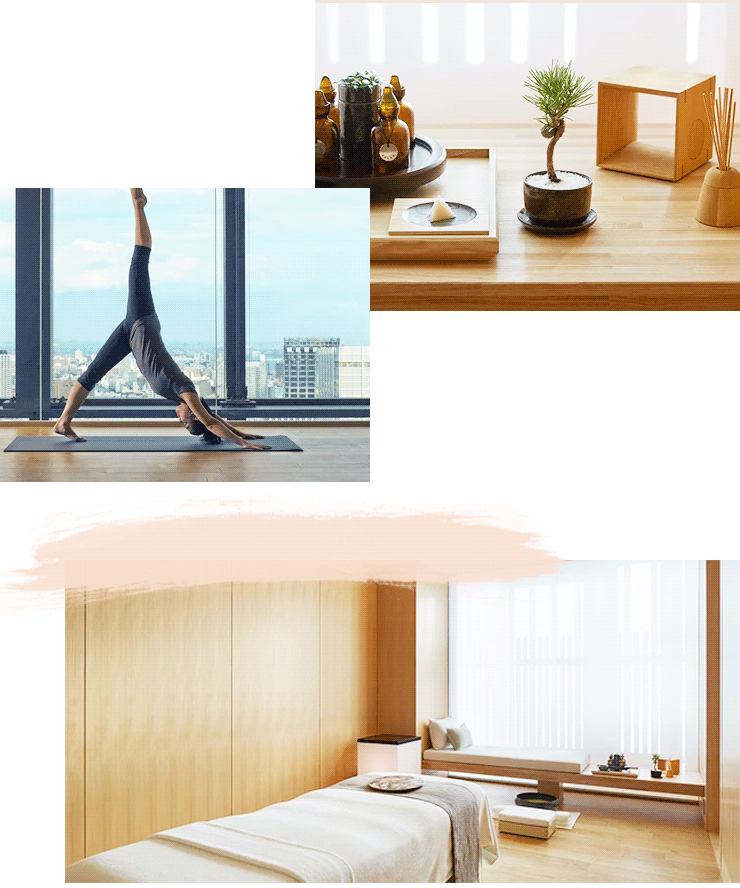 If you want a Muay Thai workout a little close to home we recommend trying Bikini Bods.
Design credit: Sarah Law