Meet a Thai friend on a Bangkok street and instead of asking how you are, they'll probably query: "Gin khao laew ruu yaang?" ("Have you eaten yet?"). This food-obsessed city dishes up plates that are vibrant, colourful and full of flavour. And whether you dine curbside with a longneck of beer in hand or in a top-tier restaurant where you can see your reflection in the cutlery, you'll never tire of the culinary offerings.
Here are the best restaurants and cafes to grab an amazing meal in Bangkok.
Bo.lan
From its dimly lit dining room decorated with bespoke lighting and art, to its uber-talented young husband-and-wife chef-owners, Bo.lan dishes up a lotta love. With both a Michelin star and a high placing on the World's 50 Best Restaurants list, the eatery's menu focuses on the flavours of traditional Thai using organic, sustainable ingredients from local purveyors, including their own kitchen gardens—it all contributes to a zero carbon footprint promise. Order dishes like stir-fried bottle gourd with Phang Nga Bay banana prawns and organic egg, or geng yort kair curry of prawn and crab with hummingbird leaf, young ginger and Thai sunchoke are a must try.
Err
Bo.lan's team relax a bit at Err, their second venture in the Thai capital. Here, the emphasis is on fun food (they describe it as "rustic"): think, mouth-puckering pickled turnip with chilli and lime, pork jerky with native coriander seeds, salted deep-fried eggs, and an Issan-style salad of squid wing with toasted rice. It's a flavour bomb—the kind that pairs perfectly with cocktails emphasising traditional Thai spirits. Our pick? The Flower Market Number Two, which muddles a spirit made from rice with jasmine vodka, lime, lychee and elderflower.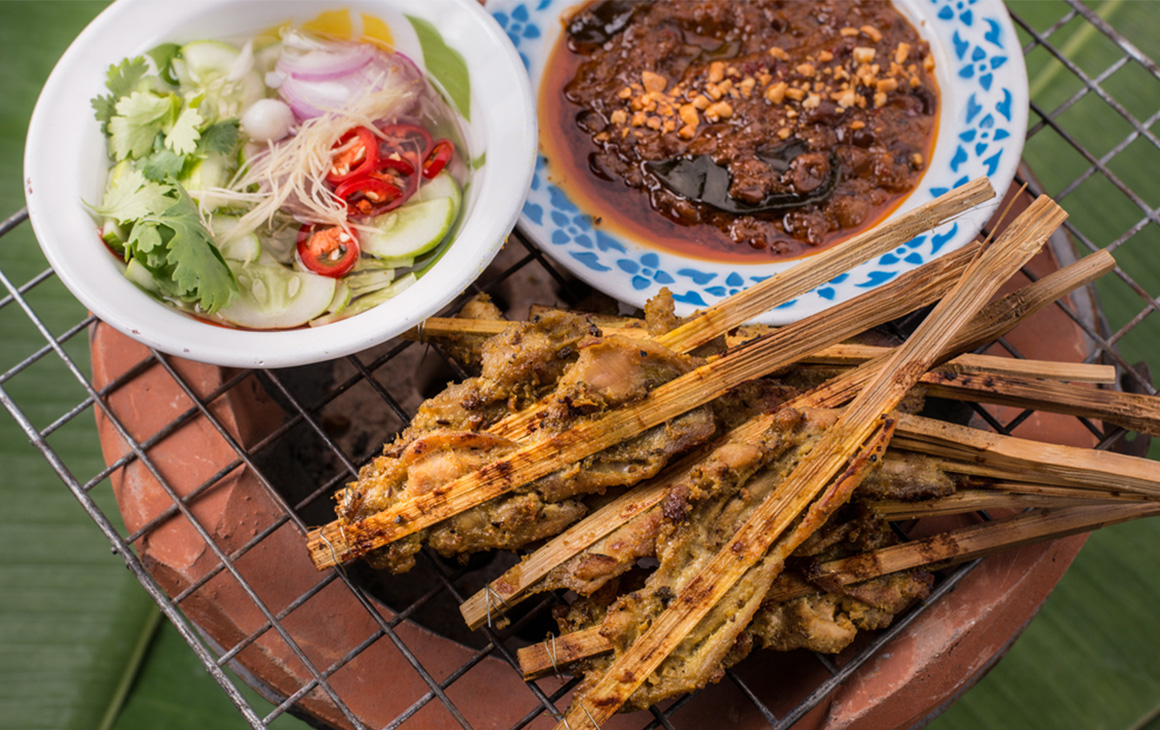 Mezzaluna
Remember that scene from The Hangover, where the 'Wolf Pack' are drinking in Bangkok's views from a lofty aerie? That was filmed at Sky Bar & Sirocco, the glam open-air lounge near the top of Lebua Hotel. Begin your night with a cocktail here on level 63, then slide up two more floors to two-Michelin-starred Mezzaluna. This is the place for French-Japanese fusion at its finest, with the restaurant's seven-course seasonal tasting menu delivering dishes that are as pretty as they are tasty. It's a special-occasion meal you won't forget in a hurry.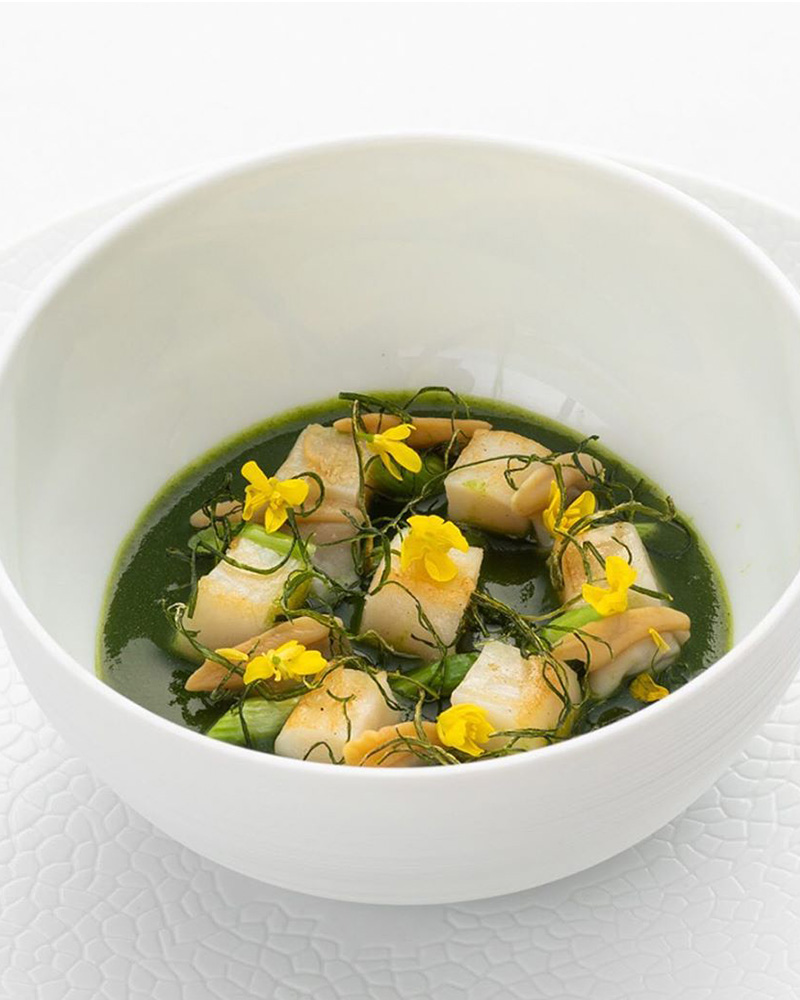 Raan Jay Fai
The humble omelette becomes heavenly at this street-food eatery, where legendary chef Jay Fai prepares a crab version that is so good it has earned her a Michelin star. Always done up to the nines and wearing oversized goggles and a ski cap, Jai Fai has been making this delicacy for decades. She whisks and flips over coals, preparing her signature dish for crowds willing to pay more than $20 for the treat. The other house specialty is the poo phad pong kari: generous chunks of sweet crab cooked with curry and scrambled eggs.
Nahm
An Australian chef preparing Thai food so tasty it has been awarded a Michelin star? It's a reality at the COMO Metropolitan Bangkok hotel's Nahm, where David Thompson uses local ingredients and cooking techniques, but elevates his dishes with whimsical modern elements. Get ready to take a twirl across the country: Thompson's set menus feature everything from betel nut leaves packed with Miang lobster, green mango, snakefruit and herbs to stir-fried young fiddlehead ferns and a memorable relish of wild prawns from southern Songkhla province.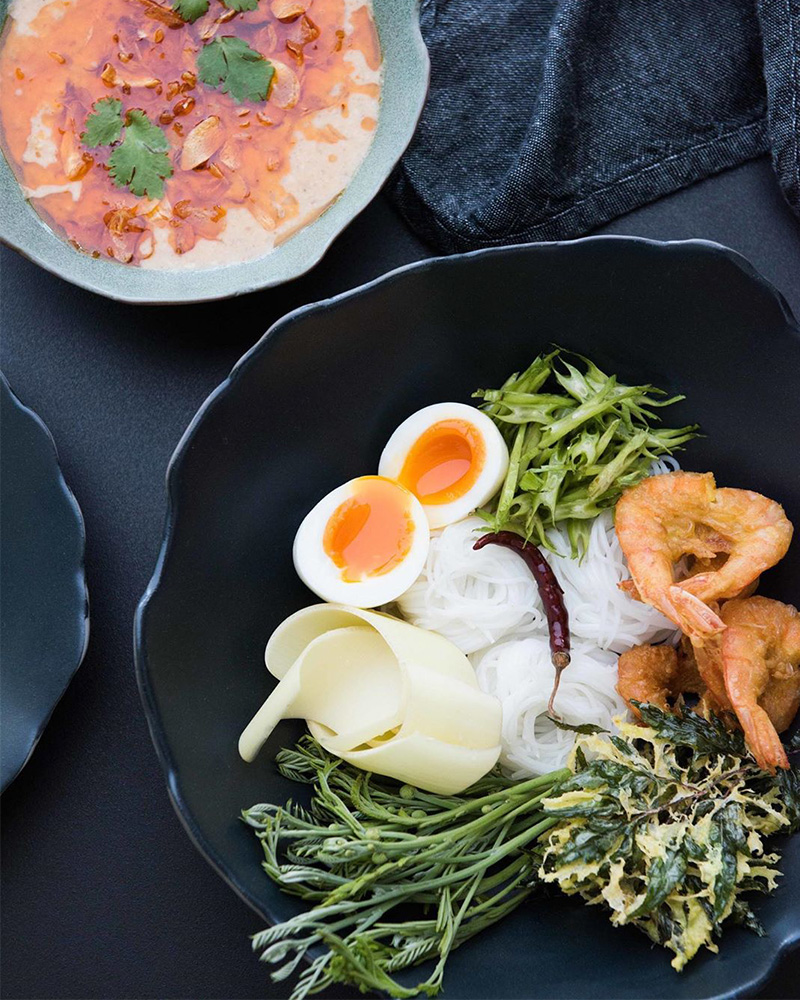 Guay Jub Mr. Joe
There are only a handful of coins between you and the ultimate crunch feast at this street-food restaurant, where the guay jab (rice noodles in broth) come topped with crispy pork belly so good you'll be dreaming about it months after you return home. It's the perfect complement to the unctuous, soft noodles languishing in a peppery, chilli-dusted soup—and the good news is, you can order an extra serve on the side, should you become addicted to the tantalising texture of the salty, fatty, crunchy meat.
Kope Hya Tai Kee
Bangkok doesn't have many old-school cafes left—among the handful that have survived modernisation, this place stands out for its vintage décor as much for its classy service. Come for the beautifully crumbly photos and objets d'art; stay for the Thai-style coffee made with condensed milk (tip – get it iced), served to you at polished marbled tables that have a few stories to tell. This place has been serving up the house specialty (eggs with minced meat, spices and crispy baguette) since 1952.
Authors' Lounge
Bangkok's Mandarin Oriental is one of the most storied hotels in Asia: guests are as varied as the King of Siam, Somerset Maugham, Joseph Conrad and Christian Louboutin. On the banks of the Chao Phraya River, it's the ultimate place to soak up Thai history—best done over high tea. You can learn more about the famous patrons by browsing photos that line the walls, then sit down in turn-of-the-century wicker furniture to enjoy homemade scones with clotted cream and rose-petal jam.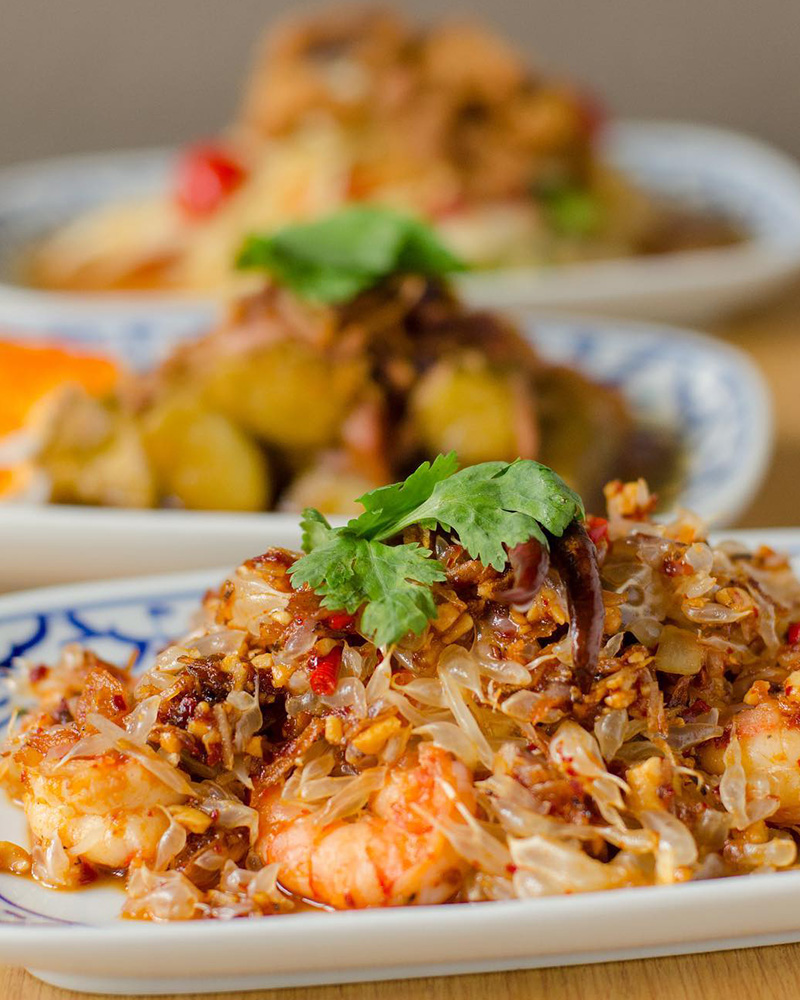 Soul Food Mahanakorn
The first two words of this restaurant's name sum it up in spades: Thai comfort food rules here. Soul Food Mahanakorn is all about street food, but eaten in a comfortable setting. Order delish banana-flower fritters, Issan-style sausages with chilli dip, smoked duck laarb (minced salad) and sticky tamarind pork ribs. Then settle in for well-mixed cocktails like the Jai Yen Yen, with gin, passionfruit, pineapple, cucumber, lime and ginger ale. It's fresh, fruity, and the perfect complement to the heat and humidity outside.
Aesop's
Banging Greek cuisine in the middle of Bangkok? Yes please! If you're looking for a break from traditional Thai eats then you'll want to head straight to Aesop for some mouth-watering dishes. Known for it's Greek plate smashing experience, Aesop was awarded a Michelin plate for its delish menu and large array of excellent tipples. Our faves? The ridiculously tender chargrilled octopus tentacle, the flaming cheese saganaki, the super juicy chicken souvlakia and the sweet, perfectly puffy Baklava.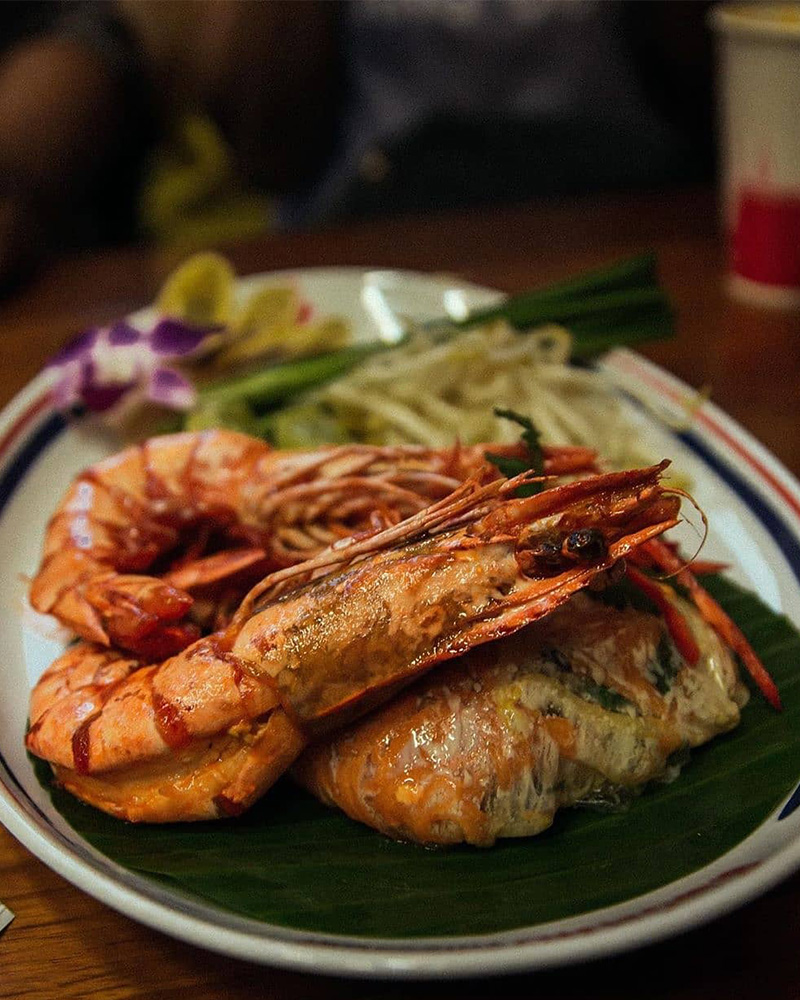 Thip Samai
There are a few must-try dishes when you're in Thailand: a fragrant bowl of tom yum soup, mango sticky rice and pad thai are among them. There's a lot of friendly competition in kitchens across Bangkok when it comes to these staples, and to be honest, it's hard to find a restaurant serving a bad rendition. If you want an excellent plate of the latter noodles, make a beeline for Thip Samai. Regularly voted the city's top spot for pad thai, this no-frills vendor serves smoky, slightly sweet noodles topped with prawns, crushed peanuts, bean sprouts and chilli flakes. Just look for the queues.
Image Credit: Thip Samai, Soul Food Mahanakorn, Nahm, Mezzaluna, Err, Lisheng Chang