So, here's the low-down. The internet in NYC functions at a lightning-fast pace and would you really be a wonderful, tech-savvy Millennial if you didn't take advantage of it? The answer is no. No you would not.
And sure, we all know the one place that will ALWAYS connect us to the socials and let us update the 'gram (we're lookin' at chu Starbucks) but there's a tonne of spaces throughout the Big Apple to get your interweb on. Cue picturesque parks, old libraries, hidden cafes and cosy bookstores. Now that's real New York City livin'.
Here are the best spots for free wifi in NYC!
Brooklyn Bridge Park
Where else can you score the best views of the Williamsburg, Manhattan and Brooklyn Bridge, ice-cream, lobster rolls, a cute carousel and a wonderfully strong four-bar connection to the internet? Pretty much nowhere. Watch the sunset while you Insta spam your beloved followers with the bagels you've managed to stuff yourself silly with.
Housing Works Bookstore Cafe
If winding, wooden staircases are your thing, then say no more. Housing Works Bookstore is the glorious little nook (which is actually kind of a massive institution on Crosby Street) stocked with all the books ever, caffeine and free wifi.
Madison Square Park
There's always a thing or two happening around these parts but for those of you wanting to shoot off the ol' Facetime or 'check-in' on FB you're well catered for here. And we highly suggest you do so on the lawns because they're lush AF.
Spreadhouse Cafe
Yep, this is the one. This is the type of cafe you reallyyyyyy wouldn't want anyone to know about because it's absolute hole-in-the-wall perfection. Doused in Persian rugs, neon signs, wooden tables, floating egg chairs and filled with what always seems like an endless supply of homemade pastries, beer and wine (for night time shenanigans) if it weren't for 'closing time' we'd move in straight away.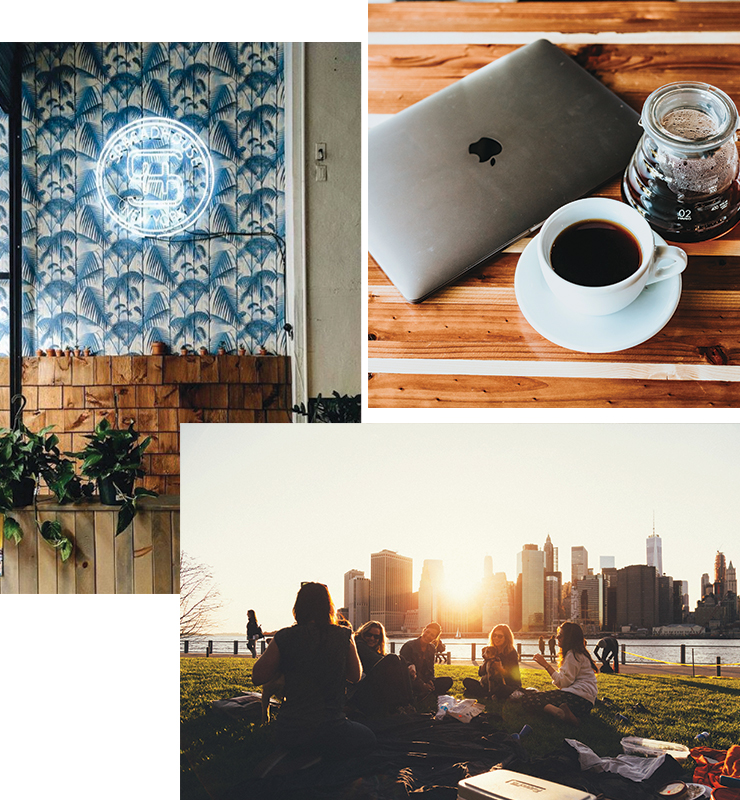 New York Public Library Terrace
Look, it's not unheard of to spend an entire day here. It may sound corny but this gem has actually been donned an 'urban oasis' and we're just confirming- it kind of is. There's actually no shame if you're keen to stream YouTube for an endless amount of time because people actually come here to just sit, chill and enjoy the serenity (NYC-style).
Bryant Park
Scoring wifi will be the least of your worries when you hit up Bryant Park. Here you'll also find chess, backgammon, bread (because if you didn't carb-load in NYC did you even go?), swings, lounges and an actual art area equipped with a heap of craft supplies. Seriously, ditch the internet and just colour for hours, we all know your inner kid wants to.
B Cup Cafe
Holy Mother of God, you don't know what fast wifi is until you've been to B Cup. This groovy lil' bric-a-brac inlet is packed with vintage couches so you can stretch out and hit the Netflix for a couple of hours. Fill up on Nutella and banana stuffed croissants (because that's a thing here) and definitely order the hot choco topped with whipped cream and marshmallows.
Metropolitan Museum of Art
It shouldn't come as a surprise that MoMA is also is throwing up four out of four bars, after all, it is one of the most famous museums around NYC ever. And ahem, speaking of free things, entry to MoMA is also free every Friday from 4pm to 8pm. A win-win situation really.
Ninth Street Espresso
Lucky for you, Ninth Street Espresso actually has a number of locations around town and before you start yelling at us, relax, this joint is no typical 'chain-store'. We wouldn't do that you. Instead, you'll be delighted by the presence of other coffee purists and some seriously great minimalist decor.
Union Square Greenmarket
Cheese, bread, flowers and wifi. If that doesn't sound like everything you've ever wanted, we give up. Union Square Park itself actually has free wifi but we're thinking you might like to jump on the group chat with some market vibes and maybe a collection of new jams, pickles and cider.
Top Of The Rock Observation Deck
It makes sense really. Once you've crafted the best Boomerang of all time in one of the most famous locations of all time captioned with "feeling on top of the world", it's basically your god-given right to upload that glorious (and cringe) shiz straightaway. The regret will come later.
You'll probs be working up a juicy appetite while you're around so here are the best burgers to jump on in NYC.
Image Credit: Unsplash | Spreadhouse | Unsplash