New Zealand-born sustainable sneaker brand Allbirds has just revealed a new partnership with Chinatown Market (CTM)—the LA-based label known for its smile motif and its creative, democratised approach to streetwear.
Unlike other sneaker-streetwear collabs, rather than only producing a pair of limited-edition kicks to covet and shop, this creative meeting-of-the-minds is more about sharing design know-how in the name of sustainability, and skilling up in all things DIY-style in the era of iso.
The aim of the multidimensional collab is to hero creative responsibility, upcycling, natural materials and DIY to delve into what inspiring collaboration looks like without physically working with others, and how to go about making something new from what you already have.
As for what this Allbirds X CTM project entails, the first element of the collab is a series of one-off, upcycled pieces created for CTM by artist Nicole McLaughlin. If you're into your upcycled, logo-clad pieces, like the super-hyped work of Mini Swoosh—McLaughlin's work needs to be on your radar. We love her weird and wonderful pool slides, always worn with gym socks sometimes featuring trays of Oreos, a bento box, an ice tray, or watercolour paints.
For Allbirds X CTM, McLaughlin has created a vest, a chair, two bags, a bra and, of course, some pool slides. Each of the six items will be auctioned off this Friday 7 August on the CTM website with 100% of the proceeds going to The Okra Project and Sunrise Movement.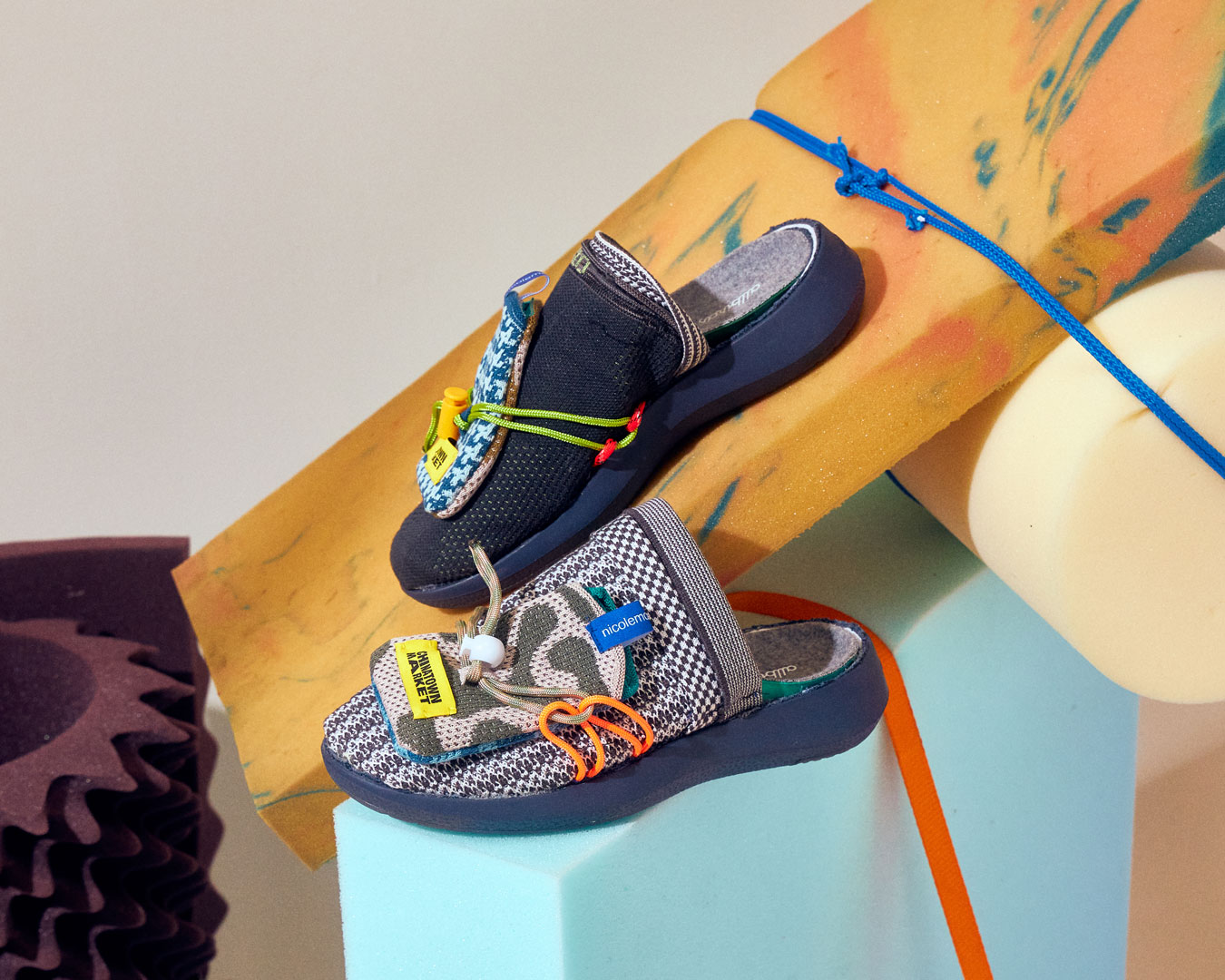 From there, Allbirds and CTM will drop a 5-episode IGTV series with renowned creatives leading digital sessions on sustainable design and DIY methods. McLaughlin is locked in to lead the first ep, while the remaining creative legends are still to be announced. And finally, you'll be able to put your learnings into practice and submit your DIY work of art for the chance to win a two-week digital mentorship with the Allbirds and Chinatown Market teams.
Keep your eyes on the Chinatown Market and Allbirds Instagram accounts for more.
While you're here, check out the brand new sustainable collection from Champion.
Image credit: Allbirds and Chinatown Market