The Dutch might be famous for their canals, windmills and the odd tulip or two, but there's a whole lot more to Netherlands that just that. It's actually home to 450kms of renowned oastline, which means beach towns and beach bars a plenty. Now, anyone who has spent a decent amount of time in the Netherlands knows that if the suns out you better do like all good Dutchies and find yourself a terrace stat, margarita in hand.
So before you plan your next Euro-Summer we've done you a solid and rounded up the four best beach towns in The Netherlands—bars included.
Bloemendaal aan Zee
Less than an hour from Amsterdam

Ah, Bloemendaal. It's pretty surprising if we're honest that this beach party town isn't on more itineraries—well we guess that was true, until now. Sitting pretty on the Dutch side of the North Sea, this town is seaside chill meets a serious clubbing vibe. Famous for numerous beach clubs and festivals, including Luminosity, as well as visiting DJs right throughout the summer, Bloemendaal is a world away from Amsterdam.

There are a plethora of bars to choose from, but only a few are a must-visit. Starting with Woodstock '69, the OG beach bar that guarantees a good time (with a giant pirate ship how could it be anything else?). Next up is San Blas, think a little bit more refined but with a Carribean flavour. These guys are open 365 days a year (yep, even in the winer) which makes for a real gezellig as the Dutch say, or cosy experience under the heaters in the cooler months.
Because nothing screams summer like bar swings, beach lounges and sundrenched patios, that's exactly what you'll find at Later aan Zee. A little bit more refined, but still a whole heap of fun, this is a set yourself down and stay the whole day kind of situation. Finally, Beach Club Bloomingdale has been dropping beats since 2002 and will open this summer with a completely new design. This is your go-to for epic trance and DJ nights as well as long, lazy sundays on the deck. Keep an eye on their website for gig guides and their famous opening and closing parties.
Scheveningen
Just over an hour from Amsterdam
For anyone that thought The Hague was all politics and mansions, think again. In addition to some impressive architecture and international relations, The Hague is also home to Scheveningen, a spot famed for windsurfing, kiteboarding, and (you guessed it) drinking and merrymaking. Coined as the most famous seaside town in The Netherlands, Scheveningen is also home to some of the best beach clubs in the country.
The Fat Mermaid on the Scheveningen shore is understated, and we mean that in a good way, making it the spot for a chilled Thursday, Friday or Saturday night with live DJ sets spinning soul and funk beats. Combine it with exposed bulbs hanging across the open-air courtyard and a side of tacos, means just making the decision to spend the day here guarantees you've already nailed it. We love a locale that makes us forget entirely where we are—Bali? Mexico? Totally confused, sandy but happy? Thought so. That's exactly where your mind will go once you spend a bit of time at Whoosah. Famed for their Sunday night dance parties, you'll be glad you don't have to rock up to work on Monday.
But, if you fancy your beach views more on the laid back side, then you'll want to make a beeline to Buiten and feast on their organic menu, including their impressive organic wine list. And if nothing says beach club to you like sun loungers actually on the sand, then you've come to the right place with Barbarossa. This Dutch beach club is also great in the colder weather with an indoor fireplace and floor to ceiling windows to watch those awesome storms roll in.
Noordwijk
Less than an hour from Amsterdam
This 13km long stretch of coastline is also located in the middle of the Bollenstreek, otherwise known as the area for tulip fans to bike their way through 'grammable fields of colours. Whether you're after a day by the sea or a day by the blooms, it's always the right time for a bite to eat and a cheeky tipple. Starting with Tulum Beach Club. This place is total interior goals when it comes to their styling, and we'll forgive you if you spend your entire holiday budget on a table, or a lamp or both after. The menu is pretty great too, and the wine list, and the white umbrellas, we could go on but you should really just go.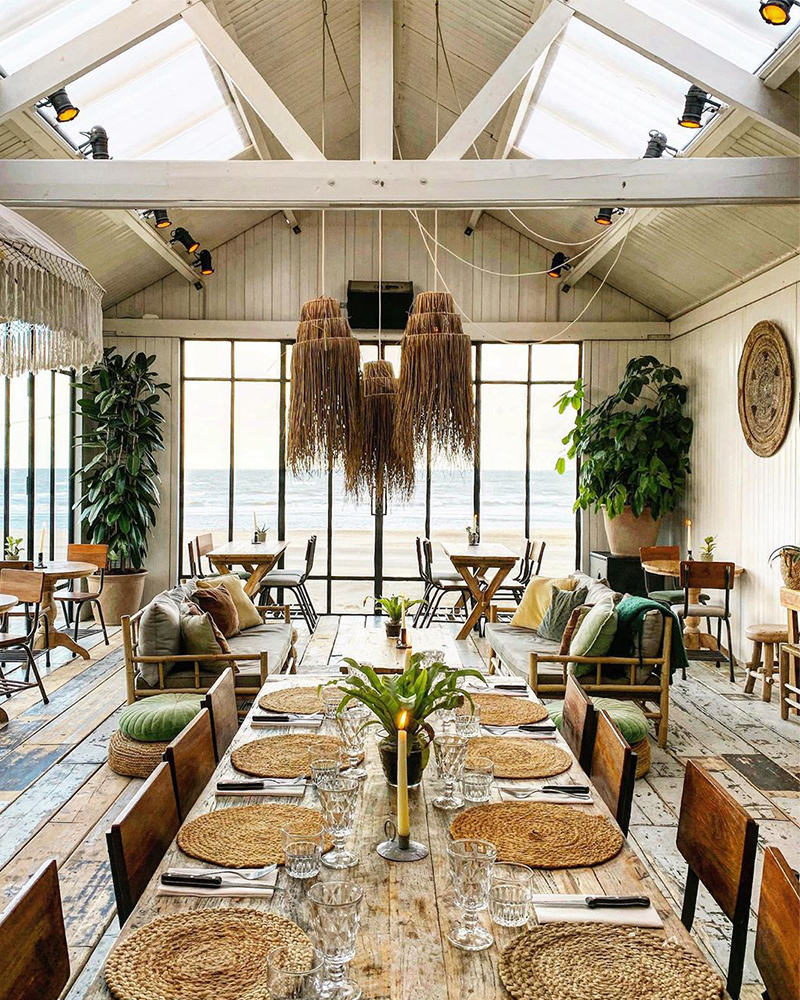 Next up is the Branding Beach (or Winter Lodge, in you guessed it, the winter). No matter the weather, you'll be feeling rustic vibes a plenty with a classic pizza from the oven and a damn good bloody mary, you know if the night before was a little bit hectic and in the summer.
Zandvoort
Less than an hour from Amsterdam
Zandvoort is Bloemendaal's bigger and more relaxed cousin, as well as the location of the Dutch Grand Prix. One of the most frequented beach towns in The Netherlands, it'll come as no surprise that there are beach bars a plenty, serving a range of tipples and snacks throughout the summer months.
Starting with the rustic wood finishings and white washed ceilings that make Hippie Fish the perfect beachside escape, and their fire pits mean that even if the weather is letting you down you won't have to miss out on a beach day. A little further along the sand you'll find Ubuntu, by the same owners, with a chilled vibe and street food menu that'll have you here for the long haul.

Next up is Bernie's Beach Club, and guys, there is a pool here. In a case of complete beachside luxe, this locale boasts a restaurant with an a la carte menu as well as beach bar eats, so you can set the scene you want for your day in the sun, personally we can't go past the oysters and a cheeky Aperol spritz. Rounding out the list of Zandvoort hot spots is Tijn's, giving us slight Ku De Ta vibes thanks to their open patio and sunset views. With a range of roasted meats and other tasty morsels, including a completely vegan menu, Tijn's also boasts outdoor and indoor heating for when the mercury drops, but come summer it's all about that open-air patio life.
Once you've checked out all these epic beach towns, make tracks to Amsterdam and discover these under the radar neighbourhoods.
Image Credit: Ubuntu Beach, Tulum Beach Club, Woodstock '69, Whoosah, NAPA74/Getty