That sweet summer feeling is on the way and we're here for it all. Everything from long weekends to balmy evening walks and, of course, delicious summer drinking.
When it comes to summery concoctions, people tend to opt for clear spirits and there is a general misconception around darker spirits, like whisky, not being regarded as a go-to summer cocktail base—but that couldn't be further from the truth. So to help you up your summer cocktail ante and expand your drink trolley arsenal, we sat down with whisky ambassador, Rory Donnelly, to discover easy tips for nailing your cocktail game this summer, thanks to Maker's Mark.
Keep It Long And Fruity
When it comes to the building blocks of a good summer cocktail, Rory's criteria for a banging beverage is long, fruity and fresh. "On a hot summers day, a drink should be revitalizing. Think refreshing ingredients from your garden, like blackberries, apricot, strawberries, lemon and lime," says Rory.
"I love a refreshing Kentucky Buck. I like to use 60ml of Maker's Mark, 15ml of Fresh Lemon Juice, 2-3 Strawberries, a dash of Bitters, all topped off with a good spicy Ginger Beer. Banging."
So, when you're shaking up your summer beverage, make sure to incorporate lots of fruit, keep it long and easy-drinking, and make sure there's a good acidic hit. Along with whisky sours, Rory recommends spritzes, summer cups, blended coladas and mojitos. Yes please.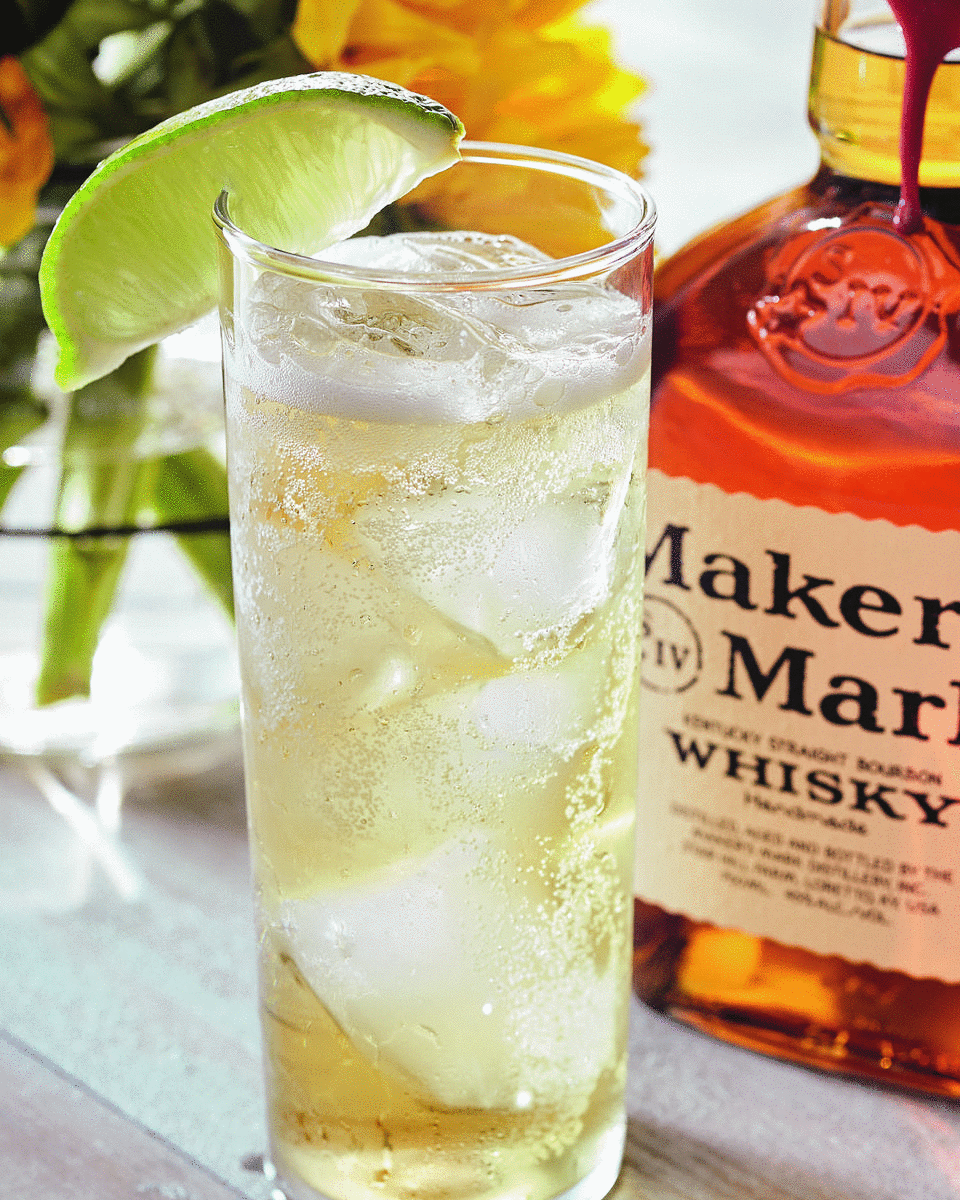 Ice, Ice Baby
While it seems obvious, people all too often forget the number one ingredient, ice. We all know that no matter how good you shake up a cocktail, if it's lukewarm, it's bound to taste pretty average. "More ice is better. It keeps your drink colder and slows the rate of dilution" Rory says. "Less ice means faster melting, so your drink gets watery faster, distorting the balance of flavours."
Whether it's a punch bowl, a jug or a glass, make sure to fill her up to the brim and enjoy summer served ice cold.
All In The Garnish
A great summer drink is all about the garnish and Rory's go-to garnishes include fresh citrus—like lime or grapefruit—plus strawberry, mint and blood orange. And a pro tip from Rory when it comes to mint "just remember to clap the leaves to get the flavour out of it." He recommends trialling it with a classic Mint Julep—a tasty combination of bourbon, mint and sugar —it screams refreshing.
If you'd like to amp things up a bit, surprise your guests with a floral sprig. "Lavender is also great for entertaining as it makes it look like you've gone to a lot of effort when you really haven't," Rory assures.
Experiment With Flavours
While we're a stickler for following recipes and methods, laid-back entertaining with friends is the best time to experiment with flavour combinations. "Batching drinks means all the hard work is done before the guests arrive. Make a large portion, and simply serve when ready," advises Rory. "Alcoholic tea infusions are great to play with as well as vermouth and sherry, which are emerging in the drink scene."
"Whisky is incredibly versatile. It has a great foundation of flavours built-in from barrel maturation, which makes it a great start to building more flavours on top. If balanced well, it can work with an array of flavours across the spectrum. Some of my favourites are peaches, pears, watermelon and ginger."
So, when you're feeling a little tired of the old vodka, lime and soda, don't be afraid to get experimental in the kitchen and shake up some of your very own summer delights.
Get The Right Glassware
If like us, your glassware collection is a wonderous mismatch of sizes, heights and shapes and you can barely muster three of the same variation, it's probably time to upgrade. "Every cocktail has it's own personality. A good glass should help it shine," Rory says. "A crystal cut rocks glass can say more than a plastic mug."
"For example, a whisky can be served neat, so the shape of a Glencairn glass enhances its nuanced flavours and aromas. A mojito is long, refreshing and fruity, so it's served in a tall glass."
So, forget about serving up your legendary punch in a champagne flute or your salty margarita in a mug and invest in the right vessel for your beverage.
Put Your Skills To Use With A Classic Mint Julep
If you really want to turn it up a notch, a Classic Mint Julep is the way to go, with bulk crushed ice, refreshing mint and sweet, smooth whisky.
INGREDIENTS
- 2 parts Maker's Mark
- 2 sprigs of mint
- ½ part simple syrup
METHOD
Add mint and simple syrup into a julep cup and muddle. Add a mountain of crushed ice and pour Maker's Mark over the crushed ice, stir and garnish with a sprig of mint and you've got yourself summer in a glass.
Editor's note: This article is sponsored by Maker's Mark and proudly endorsed by Urban List. Thank you for supporting the sponsors who make Urban List possible. Click here for more information on our editorial policy.