Have you ever looked at the skincare in your bathroom cabinet and just wished for a fairy wand to make everything natural, ethical, and sustainable—as it should be? Maybe you've even given yourself a retinol burn, or seen a depressing Vice article on what really happens to the plastic you think you've dutifully recycled. You're not alone there, and now Emma Lewisham is here to help. Having founded her own skincare line here in New Zealand, we had a chat to Emma and went for a deep dive into what goes into her line, and how she's here to save the beauty industry from itself.
What was your vision for Emma Lewisham when you set out to make your own skincare?
Emma Lewisham was founded with a single purpose: to make a meaningful difference in the beauty industry. For me, achieving a meaningful difference means setting a new standard in skincare: proving that luxurious, high performing skincare doesn't have to come at a trade-off to people or the planet. From the outset, we've challenged skincare conventions. Emma Lewisham products are truly one hundred percent clean and natural, but what really sets us apart is our outstanding results. Despite eliminating fourteen hundred ingredients—we eliminate all those deemed questionable by the leading authority, the Environmental Working Group (EWG)—we haven't compromised results, and in fact, outperform or rival traditional luxury and cosmeceutical brands.
A doctor actually advised you to stop using a product. That's quite eye opening. Do you think women are aware of the extent of the issue of harmful chemicals in their skincare?
It absolutely was eye-opening and based on my own experience, I think many women aren't aware of the enormity of the harmful chemicals found in their skincare. Many of us are mindful of the higher profile ingredients, such as parabens and phthalates, but there are often many others that are often hidden in formulations. An example is phenoxyethanol, which is a synthetic preservative that's often used by 'natural' brands in order to make a paraben-free claim. But it's just swapping one dubious ingredient for another, as phenoxyethanol is also linked to skin allergies and health issues. The primary responsibility of cosmetic regulation in New Zealand and Australia falls on importers and manufacturers. This is important for consumers to know, so they realise they need to take ownership for the products they buy and use as there's no governing body looking at what's in their moisturiser or foundation.
How did you begin to learn about ingredients in skincare and what advice would you offer to anyone wanting to do the same?
When my doctor told me to stop using a product that was treating my hyperpigmentation because one of the ingredients in it included a known carcinogen, I did some further research on the ingredients in skincare generally. I'd encourage anyone who's concerned about the ingredients in their skincare to look them up on the EWG Skin Deep Database. They are an independent organisation which monitors ingredients in personal care products and rates individual ingredients according to their toxicity. We make sure all Emma Lewisham ingredients are rated as a 'low hazard' on their scale.
It's taken a lot of research and time to land on your strictly clean and natural ingredient formulation. What was your main driver throughout that process?
We work with NZ ingredient importers as well as directly with international farms and source ingredients from 22 countries. When selecting our ingredients for our formulas, we don't just select it for their wealth of skin benefits, but based on a strict criteria that we use to review every ingredient that is in our product.
These are:
animal welfare: we don't test on animals ensure that none of the ingredients have been
environmental management: preservation and promotion of biodiversity
organically certified (no chemical use)
responsible water use
working conditions: certifications that give us certainty our supply chain is ethical
waste management.
Do you think there's a misconception that naturally derived ingredients mean the product is less effective?
I think there has been in the past, but this is changing. Green technology is making huge advances in the natural skincare space, proving that natural ingredients can outperform synthetic ones, with the bonus of being better for your health. For instance, our Supernatural Vitamin A+ Face Oil uses Bakuchiol, which provides next-generation Vitamin A. Bakuchiol has been scientifically proven to be as efficacious as synthetic forms of retinol, in building cell walls and plumping the skin's tone and texture but remarkably doesn't come with the compromise and known side-effects of retinol such as redness, dryness and irritation.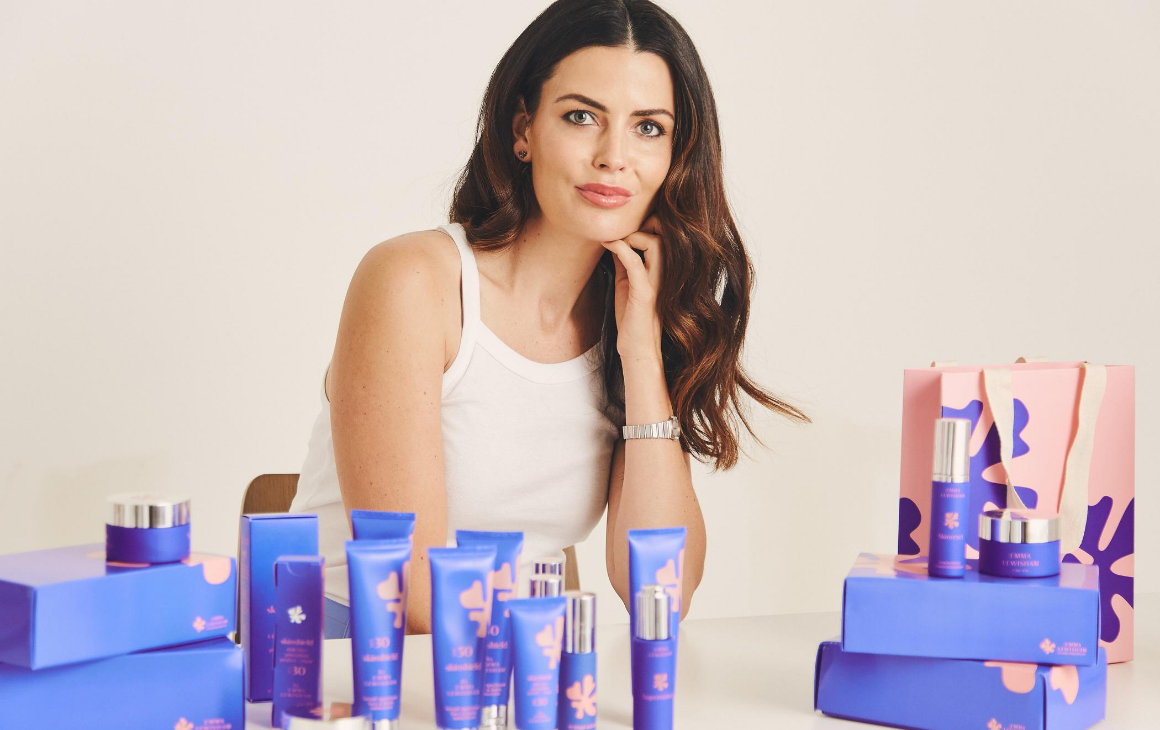 Emma Lewisham Has Recently Launched A recycling Program Which Includes recycling Other Brands' Packaging. Did you have a sense that there'd be a demand for a beauty brand with such a thorough recycling process?
Yes, it's something that is being demanded (quite rightly) more and more by consumers. We all want to do our bit, but with our busy lives it's got to be easy to participate in waste minimisation. Currently, the global cosmetic industry produces 120 billion units of packaging every year, and few are accepted by kerbside recycling programmes. Many of the design elements that enable beauty products to be so useable and marketable, such as push pumps and coloured plastics, make them difficult to recycle. Subsequently, only 9% of plastics produced are recycled and 12% are burned into our atmosphere. All remaining plastic waste ends up in landfill or scattered through the environment. We want to keep our products in circularity and have a goal to be a 100% circular brand by the end of next year. Every Emma Lewisham product is either recyclable or refillable, and all packaging is recyclable and compostable due to the vegetable-based inks we use that ensures nothing nasty will leech into the earth's soil.
That you accept all beauty brands' facial products in your Emma Lewisham Beauty Circle recycling programme is pretty neat. What made you want to do this?
The Emma Lewisham Beauty Circle is about rethinking the entire process of a beauty product's lifespan. We need to work together to minimise waste and the issue is bigger than us, and this is why we accept other brands' packaging waste for recycling. We've partnered with TerraCycle to offer the Emma Lewisham Beauty Circle, which is a free, incentive-based recycling programme to ensure all New Zealand facial beauty products are given a second life. You simply send four products at a time for recycling. All beauty brands' facial products will be accepted and you receive a $15 Emma Lewisham voucher in return for your efforts. It's free to participate, as setting up the programme this way is part of us taking ownership for our products throughout their entire lifecycle.
How has the reception been to your recycling programme?
It has been great—so many customers have been telling us this is a service they've been wanting and it's been gratifying to see the uptake. We're also seeing quantifiable results from our other sustainability initiatives. To date, Emma Lewisham has stopped the creation of 20,000 new plastic tubes by producing our world-first sunscreen tubes from 100% PCR plastic. Our refill programme has been so popular with our customers. Refills are so powerful because they stop the creation of new packaging and infinitely re-use what already exists.
Broad question, but what's your best skincare advice?
My number one tip is wearing a sun protection daily—a minimum of SPF 30. It is hands down the best product we can use for our health and to slow down the signs of aging. I am very proactive in promoting this as a core part of our customers' skincare routines.
What does the future hold for your range?
We have recently launched our new Supernatural range, which is a Hydration Crème with proven 72-hour moisture locking technology and a Face Oil with three powerhouse sources of next generation stable, natural Vitamin A. Stay tuned for another product launching towards the end of the year. We're also really focussed on our sustainability improvements. At the moment we are working through measuring our carbon footprint as a business. Once we have this, we aim to reduce our emissions in every way possible before off-setting the remainder to become carbon neutral. We are additionally working on understanding our water usage across our full supply chain, to get better visibility on this and to put a plan in place to minimise our water usage.
Fast Five
One beauty staple you can't live without?
My Skin Reset even skin tone Serum, which has drastically improved the dark patches on my skin caused by too much time in the sun when I was younger and not enough sunscreen.
Your favourite way to unwind?
Twenty minutes of meditation.
Other women that inspire you?
My grandmother, Patricia, who was one of the very few CEOs in her time. Michelle Obama for her grace and intelligence, on a local level Tiana Epati, the NZ Law Society's youngest and first Pasifica National President. I heard Tiana speak at a UN International Women's Day breakfast this year and was blown away by her and the work she is doing.
Best way to work through a slump?
A slump in the day I find is from eating too much sugar or white carbohydrates. Eliminate them (as much as possible) from your diet (also great for your skin) and meditate just after lunch to give you a creativity boost in the afternoon.
One tip for starting a business?
Just start. Put pen to paper and put one foot in front of the other.
Now you've sorted your sustainable beauty options, it's time to suss some new sustainable activewear.
Image credit : Emma Lewisham