Keen to get out of town but don't wanna venture to the other side of the globe? Well, Dunedin is the place to be!
The unsung NZ hero is a hub of breathtaking nature, mouth-watering food and refreshing bevvies. Everything you need for a perf summer, right?
With the warmer months just around the corner, put Dunedin on your summer hit-list and explore the vibrant city. Getting there is made super simple with Air New Zealand as they fly non-stop from Auckland to Dunedin three times every day of the week. Hellooooo spontaneous vacay!
Do
St Clair Hot Salt Water Pool
Don't be fooled into thinking you've been magically transported to Bondi Beach. Nestled within rocks just metres from the ocean, St Clair Hot Salt Water Pool has total Sydney vibes. The salt water pool is perfectly heated, so take a dip in the morning sun before making your way to The Perc St Clair for all your brunch faves; egg, bacon, halloumi, smoked salmon. We'll take it all.
Wildlife
Venture off the beaten track with Natures Wonders tours of the Otago Peninsula. Their wildlife tour will have you travelling cross country on an eight-wheel-drive as you spot penguins, seals and spotted shags in their natural habitats. New Zealand, you look gooood from here.
If you can't get enough of the local wildlife, head to the Royal Albatross Centre for an up close and personal tour observing these majestic creatures alongside expert guides. From an intimate look into how they raise their adorable babies, to gaping at them fly on a breeze, stretching out their massive three-metre wingspan, these birds are a sight to see.
Image Credit: James Lewis
Taieri Gorge Railway
Feast your eyes on some of the region's most spectacular scenery from the Taieri Gorge Railway. The much-loved scenic route travels from Dunedin and through the Taieri Plains before climbing into the Taieri River Gorge. There are countless bridges and viaducts for the perfect snap to up your Insta game.
Gardens
Dunedin's impressive botanic garden has certainly stood the test of time. It was the first of its kind in New Zealand with 155 years under its belt. Wander through the tranquil gardens as you hear the song of wild native birds. If you're lucky, the jaw-dropping 'corpse plant' might be in flower.
Fun fact: Dunedin's 'sister city' is Shanghai, and the region celebrates its international heritage with the ever-changing seasonal Chinese Garden. Stroll through the space and stumble on hidden corners, drink tea or even bring a picnic as you melt into the space and discover the rich history it represents.
Eat
The Good Oil Cafe
Think lunch with an extra treat. The Good Oil Cafe on George St offers healthy options with salads galore as well as gluten-free and vegan sandwiches and wraps. But who are we kidding, the giant gooey cheese rolls are what's calling our names! It would also be rude not to peruse their decadent cabinet treats; you can't go wrong with the oozey caramel slice or mouth-watering choc brownie. We can't be good all the time, right!?
Heritage Coffee
Dunedin has got it going on when it comes to all things caffeine. Heritage Coffee brews local roasts alongside delish café fare from brekky through lunch. You'll find it in the trendy Vogel Street precinct.
Image Credit: Heritage Coffee
Rob Roy Dairy
Fact: it wouldn't be summer without ice cream. Second fact: it wouldn't be summer in Dunedin without the huge ice cream offerings available at Rob Roy. Scooping gigantic creamy goodness for more than 30 years, the much-loved dairy serves thickshakes, sundaes, frozen yoghurt and—of course—classic Tip Top cones.
Bacchus
As the longest established restaurant in Dunedin (21 years in the biz!), Bacchus is known for its fine dining and pairing its dishes with stunning local wines as well as imports from France and Italy. We can't stop thinking about the sherry, red wine, garlic and thyme braised beef cheeks served on a bed of parsnip puree. But if you're vegetarian, the field mushroom risotto is our pick, topped with parmesan and drizzled with truffle oil, you won't want to share.
Drink
Vault 21
Sharing's caring, right? Vault 21 sources only the best produce for it's Asian fusion menu based around share plates and cocktails (quite possible, our two fave things). We're talking Korean spiced shrimp puffs, sticky beef wontons and peking duck tacos. But save room for the red kaffir lime curry with grilled Yellow Fin tuna and of course, their crispy pork belly.
Ombrellos Kitchen And Bar
Craft beer is the name of the game at Ombrellos Kitchen And Bar. Here, you'll find a sun-drenched courtyard, delicious restaurant and up to 15 brews on tap. The ever-changing selection includes Kiwi faves like Sprig & Fern, Tuatara, Good George and Emerson's.
Breweries
Speaking of Emerson's! It boasts it's own 5000L brewery (take the tour, trust us), cellar door and taproom so get ready to fill up your flagon with their selection of frothy home brews. Still thirsty? Another craft beer gem, New New New (or simply NNN) is known for innovative brews includng chilli pilsner, coffee pale ale and even a lime and lemongrass sour. The quirky brewery is the perfect pozzy to rehydrate on a hot summer's day - but remember, it's only open on Fridays.
Shop
Plume
Plume is a Dunedin shopping institution, showcasing high profile designers, both local and international, since 1978. If you love looking well put together and effortlessly stylish, you've found the perfect boutique shop front on George St boasting labels like Rick Owens, NOM'd, Comme des Garçons and Vetements.
Slick Willys
With a focus on ready-to-wear favourites from denim that fits-just-right and supple leather jackets, we're split between how much we love Slick Willys clothes and how much we adore their accessories; jewellery, sunglasses, wallets and watches for dayssss. Their new arrivals are seemingly endless so check-in for all their upcoming stock and plan your bank loan accordingly.
Stay
Larnach Castle
Sitting pretty on the Otago Peninsula and just over a 5-minute drive to Sandfly Bay, Larnach Castle is the country's only castle. The breathtaking grounds also showcase three styles of accommodation including a camp estate, lodge rooms and a stable stay. Stay at this magical place and live out your fairy tale dreams. Guests of the castle accomodation are also invited to share in a three-course table d'hôte menu with their fellow travellers. You'll feel like royalty dining on dishes like succulent lamb shank, duck breast and crayfish bisque - just make sure you make your choice before 5pm and lock in your seat at the table.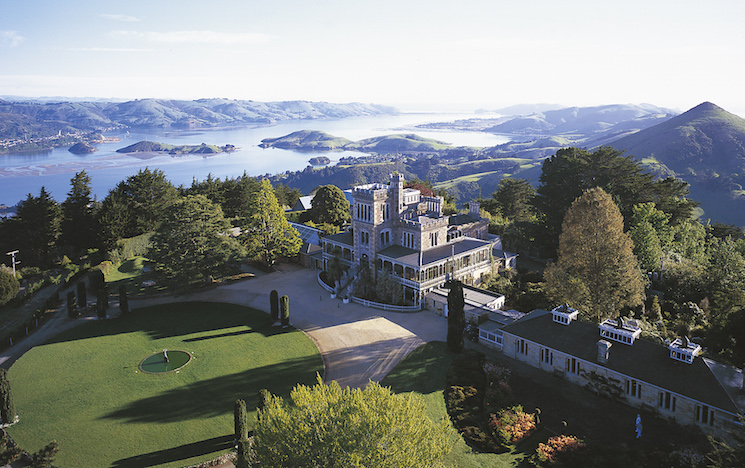 Distinction Dunedin Hotel
Closer to the hustle and bustle is Distinction Dunedin Hotel. The former post office has been transformed into a luxury hotel right in the heart of the city's rejuvenated warehouse precinct. Dine at the on-site Parcels Restaurant open for breakfast, lunch and dinner - dessert is also divine and the Lemon Brûlée not to be missed. Start or end (or both) your night at Post Bar for stylish cocktails and a glimpse at their extensive list of wines aka the perfect way to cheers your Dunedin adventure.
If you're in the midst of planning (read: day dreaming about) your next summer getaway, there is so much to see and do in Dunedin. Visit the vibrant city with Air New Zealand—they fly non-stop from Auckland to Dunedin three times every day of the week. Bonus! From October, you'll also find an additional five services added per week, giving you even more choice when planning your trip.
Editor's note: This article is proudly sponsored by Air New Zealand and endorsed by The Urban List. Thank you for supporting the sponsors who make The Urban List possible. Click here for more information on our editorial policy.