Bigger isn't always better but when it comes to burgers, it most definitely is. And we've found some of the biggest yet at Browns Bay's hot new burger joint, The Flaming Onion.
If you're familiar with the gourmet burger brand (which also has branches in Northcote and the CBD), you'll know exactly what we're talking about. And if you're not, well let's just say you're in for a treat. These guys regularly make our Best Burger list, not least because of their burgers' sheer size. Here, regular is more like large and large is more like—well—freakin' ginormous. However if you're anything like us, you'll be of the mindset that when it comes to food, you either go big or go home, so a problem this is not.
That said, getting your hands around one of these bad boys will be a challenge, and some may even resort to using cutlery (sacrilege or necessity, you be the judge). Just know that either way way you'll be richly rewarded in the form of juicy handmade patties, flavour-packed sauces created entirely from scratch, burger buns brushed with herb-infused olive oil before toasting and a host of other incredibly delicious elements.
We can't think of a better place to begin our face-stuffing journey than with The Biggest Marco. Think four premium Angus beef patties, a truckload of maple-smoked bacon, stacks of smoked cheddar cheese, a fried egg and a hashbrown, all smothered in bourbon BBQ sauce and mascarpone aioli. To some it might sound like a heart attack on a plate, to us it sounds like true love. We're also huge fans of The Bogan (see what we did there?). This one pulls out all the stops with its legendary combo of beef patties (again, the Angus variety), Texan-style pulled pork and free-range chicken tenderloins, thrown together with a decent whack of brie, lashings of chipotle aioli and even more meat in the form of smoked streaky bacon.
Or perhaps you'd rather sample some of The Flying Onion's famous specials. There's a different one running each week as well as the odd seasonal offering, and honestly we can't urge you enough to try 'em out.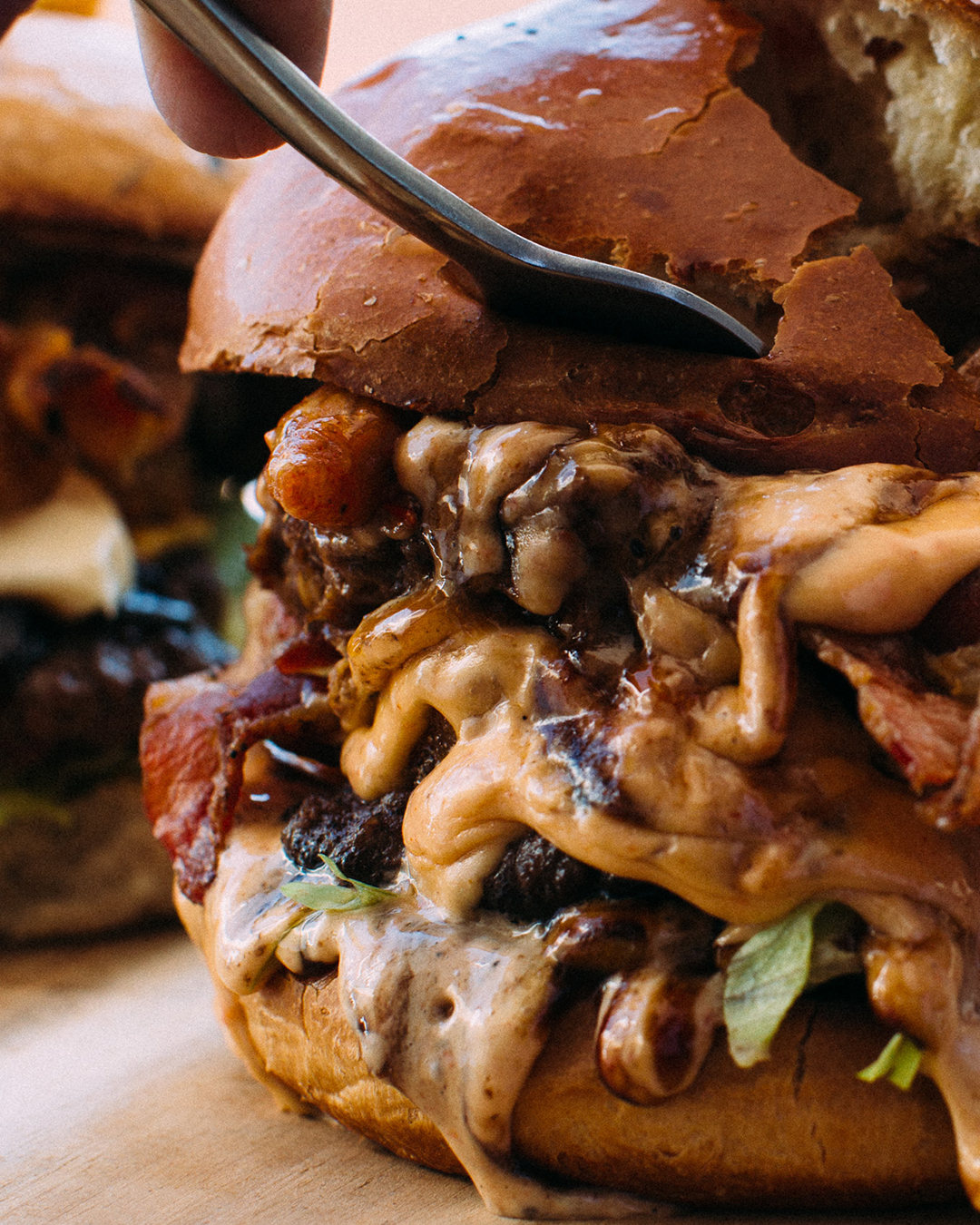 Case in point: The Godfather. This gravity-defying feast of North Island truffles, pecorino cheese, Wagyu beef patties, bacon, caramelised onion and the ultimate finishing touch—a brioche bun decked out in edible 24K gold leaf—is the epitome of OTT and for that, we absolutely love it.
ATM they're also slinging a rather epic macaroni and cheese offering, which tastes even better than it sounds and comes with deep-fried mac 'n' cheese bites stacked on top (naturally).
If we're honest, you probaby won't need much in the way of sides but throw caution to the wind and order a couple anyway. The onion rings are highly recommended and once again, come on the larger side—while their kumara fries are up there with some of the best we've had.
As for the location, it's kinda perfect. Because after all that feasting, you're just a hop, skip and a jump away from the picturesque—and very walkable—Browns Bay Beach. Sounds like a recipe for success, wouldn't you agree?
For more images and information, including opening hours, click here.
Image credit: Wono Kim