Korean food is more popular now than ever before, with OCKHEE the latest eatery to put its stamp on this flavoursome cuisine. Nestled in a prime spot on Ponsonby Road, it's set to become your new go-to for good times, good vibes and seriously good Asian grub.
You'll know you're in the right place when you see the cheeky red logo, inspired by the iconic Korean diva for which the restaurant is named. Paul Lee—who worked at Mr.T's cafe and co-owns OCKHEE with Honeybones alumni Lisa Lee—is a huge music fan and admits that when it comes to the 70's singer, he's a bit obsessed.
The space itself is relaxed, cosy and really rather cool. Paulee has taken great care with the fit-out, sourcing the majority of furniture—including swish wooden chairs and tables—directly from Korea. He's also commissioned friends to create some custom artworks for the space, such as the liquor sign and the whimsical picture above the water station which are both decked out with 24K gold leaf. Opulent!
The food channels traditional Korean flavours in a remarkably relatable way. Paulee explains that while their plating is intentionally 'Kiwi' in style—and all ingredients are sourced locally—they have worked hard to create dishes that are unique, authentic, and for lack of a better word, different (did someone say persimmon kimchi?).
Leading the charge here is the dubbap—a selection of one-bowl dishes ideal for eating on-the-go thanks to the fact they're super satisfying yet quick to to prepare, and which make up the bulk of OCKHEE's lunch menu. The name dubbap literally means stir-fry on rice and there are seven different types to choose from, including the popular marinated beef version, bulgogi. We're rather partial to the spicy dak gogi—a mouthwatering mix of gochujang chicken, pickled radish, sesame leaves, seaweed and sesame oil that, we should warn you, has a pretty decent kick to it.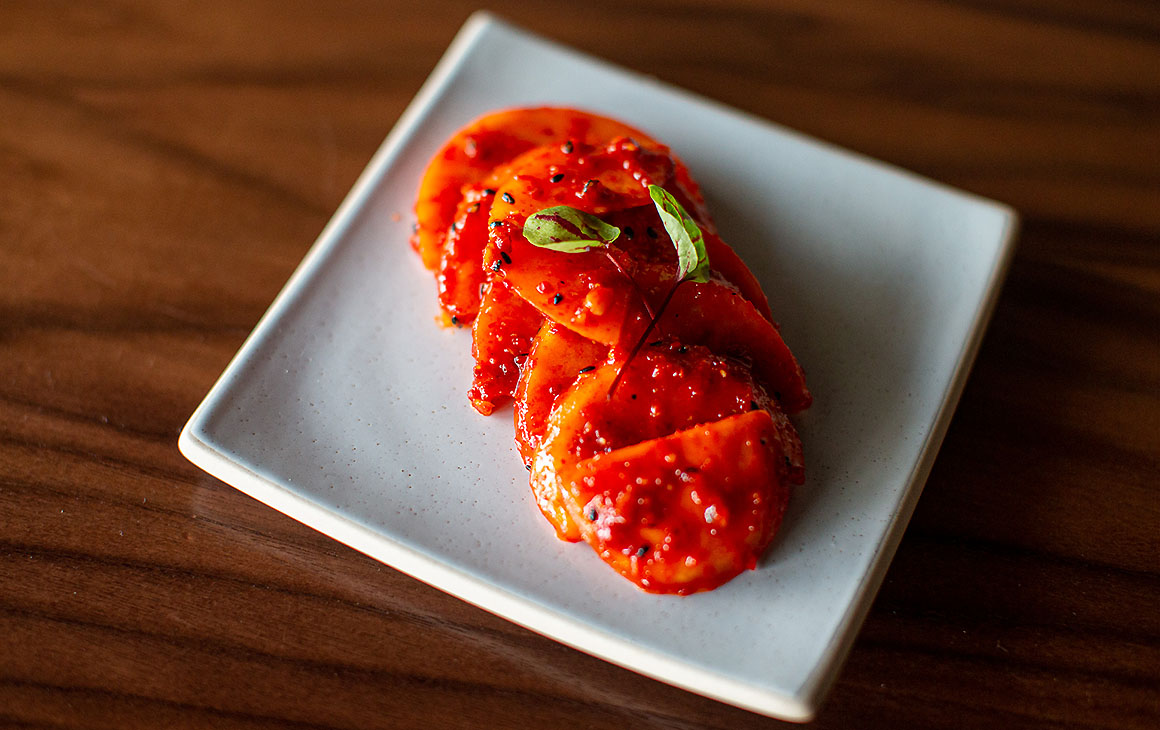 The menu gets even more exciting come dinner time, with soup, noodles (there's even some made from seaweed!) and hot-pots—or jeon gol, as they're known in Korea—for you to sip, slurp, and chopstick-stab your way through. Paulee says that the latter are by far the most popular item on the menu at the moment, and we can totally see why—these bubbling stews loaded with beef, tofu and other goodies are exactly the type of dish we feel like tucking into as the long, cool nights draw in.
We're also huge fans of the bo ssam, which has a bit of a DIY vibe to it. Imagine building your own wrap, only the wrap is a pickled sesame leaf which you fill with juicy, slow-cooked South Island pork (bought to the table in a mini cooker, FYI), salted shrimp and other ingredients. This is exactly the kind of eating experience we enjoy most and Paulee admits it gives him real satisfaction to see customers getting stuck into their food, and making a mess in the process.
Throw in some funky music and a drink or two (OCKHEE is fully licensed with assorted wines, Garage beer and even a monthly cocktail up for grabs), and you have yourself the full 'eat, drink and be merry' experience—only Korean.
We'll certainly be paying this Ponsonby newbie another visit, because on a strip saturated with eateries, OCKHEE is a true stand-out—for its food, its atmosphere, and its super likeable crew.
For more images and information, including opening hours, click here.
Image credit: Wono Kim