North Shore residents, listen up—there's a new kid on the café block, and we'd like to introduce you. She's charming, isn't afraid to have fun and most importantly, knows her way around food. Her name is Patch.
So-called because of the strawberry fields that once flourished across Sunnybrae—the suburb where Patch is located—this eatery is a breath of fresh air in an area that's mostly industrial (read: lacking decent food offerings).
Taking up residence inside a former antique shop, the space has been almost entirely refitted and with makeover-type results. An unusually high roof and floor-to-ceiling windows give it an airy, open feel—almost like a gigantic glasshouse—whilst the concrete floor and wood and steel accents tie the building to its industrial surroundings. There's also little flourishes of green dotted throughout thanks to potted plants and climbers, a detail we rather like.
What we love most however, are the touches of strawberry red and light blue that are splashed about the place—most noticeably in the mural by Hayley Brown, which features whimsical, retro-style illustrations of hot air balloons including those made from strawberries. This theme carries through to the customised coffee machine, also coloured red and blue; while the takeaway cups are adorned with drawings, again by Brown.
But make no mistake, Patch is more than just a pretty face. This eatery has some of the best café fare we've tasted in a while, and certainly on the Shore. Run by Allen Zhang and Jenny Che, who also own the successful William Souter Espresso in Forrest Hill, this should come as little surprise.
Here they have created a solid, all-day menu that focuses on cafe favourites done well, but with plenty of fun and unexpected twists. This quickly becomes clear when looking through the dishes' names ('Ooey Gooey Benny' for eggs benedict; 'Omelettin' It Slide' for—you guessed it—the omelette).
As Zhang explains, it was important to tick all the traditional breakfast/lunch boxes, whilst leaving room for some creativity and the chance to "keep playing with ingredients". Case in point: the chef recently created a strawberry lamington hotcake, and is toying with the idea of making French toast with strawberry-infused brioche.
The dish that is perhaps closest to Zhang and Che's hearts—and which they both agree is the hero of the menu at Patch—is the Koreana. This is just one of many items that is an absolute feast for the senses. A trifecta of juicy chicken thighs, fried until golden brown and served atop little pastry galettes with slaw, kimchi salsa and sweet and spicy sauce, it's certifiably delicious. The rice cake skewers and deep-fried okra are nice touches, and afford this dish restaurant-quality presentation.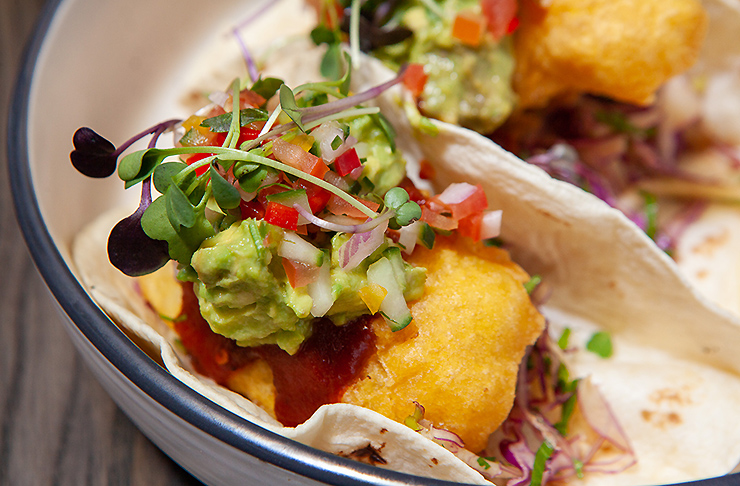 The fish tacos offer a similar experience—mouthfuls of crunchy battered snapper or tarakihi complemented by beetroot and apple slaw, tomato salsa, sour cream, chipotle sauce and an extremely generous serve of smashed avocado (a rarity on the café scene and something we very much appreciate). This one is the stuff streetfood dreams are made of and as such, will require the help of a few napkins!
For something just as colourful but more on the sweet side, consider the Happy Muesli. We guarantee you'll be smiling when this vibrant bowl of goodness arrives at the table, with its housemade blend of pumpkin seeds, almonds and sunflower seeds served alongside tangy coconut yoghurt, vivid berry coulis and a scattering of fresh, seasonal fruit. Picture-perfect breakfast, right there.
If you're looking for less of a commitment, there's also an impressive selection of cabinet food on offer. The chorizo brioche and larger-than-life strawberry doughnuts are particularly good.
Coffee comes in the form of Kokako, with cold brew and other on-ice options also available. However if caffeine isn't your thing, we know something that might be—Patch's mouthwatering range of smoothies and milkshakes, which are big on taste and even bigger on presentation.
Our pick? As much as we like some of the more wholesome options, the little kid in us just can't say no to the over-the-top toffee chocolate milkshake, decorated with lashings of whipped cream, chocolate sauce and a sprinkling of caramel popcorn. Rest assured we'll be back to try the cherry vanilla, lime sherbet and strawberry tart offerings.
So with a top-notch food and drink lineup and an amazing indoor/outdoor feel that will no doubt prove popular over the summer, we reckon you'll be hard-pressed to find another café in the area that has a patch on this one. Pun, most definitely intended.
For more images and information on Patch, including opening hours, click here.
Image credit: Wono Kim