Summer couldn't come sooner. We're counting down until the balmy days, long nights and—of course—countless trips to New Zealand's best beaches. Our country brings its A-game with epic strips of sand on both the East and West Coast—the hardest part is deciding which beach to hit.
To give us some beachspiration, we chatted to Kiwi pro surfer Ricardo Christie about his fave spots. The Gisborne local travels the country and the world with his surfboard, competing in comps like the US Open, World Cup and Hawaiian Pro.
He's been sharing his adventures on Instagram, including hitting New Zealand's best beaches in the new Mercedes-Benz X-Class. The premium ute has plenty of room for Ricardo's surfboards, wetsuits and his adorable family—getting them from surf break to surf break in style and comfort.
Read on for the humble athlete's fave beaches, greatest achievements and his life mantra...
Hi Ricardo! Can you tell us a bit about yourself?
I'm a family man, passionate surfer, terrible golfer and lover of science and nature.
What does a typical weekend look like for you?
My family and I will check the swell report and drive up and down the coast in search of the best, most uncrowded waves for us to surf. We like going to new places and we are so lucky in New Zealand to have so much empty coastline.
What's been your greatest achievement to date—both personal and professional?
Being a father is at the top of the list. As a surfer, it was always a dream of mine to qualify to compete on the World Championship Tour, which I did in 2015.
When did you learn to surf?
My brother taught me how to surf when I was eight years old and from that day I was obsessed.
What would your number one piece of advice be to someone wanting to learn to surf?
Get surf lessons to ensure you start on the right board and in the right conditions. The ocean can be dangerous so it's important to start with someone who knows what they are doing.
What are your favourite beaches in New Zealand and why?
I love the beaches around where I live in Gisborne, but I have favourites dotted around the whole country. Ahipara right up north. Raglan, Piha and Muriwai on the West Coast. Whangamata, Matakana Island on the East Coast. In the South Island, places like Mangamaunu, Purakaunui Bay and St Clair Beach.
Can you let us in on any secret gems?
My advice would be to look at a map, pick a spot and give it a go if you think it could be worth it. There are so many gems around our coastline and the beauty of a secret is that they are kept that way for the keen adventurers to find them!
You've been hitting the beach in Mercedes-Benz X-Class. What are your fave features?
Nothing beats throwing the boards in the back of the tray, the extra length is the perfect fit for all my gear. The X-Class also makes the drive just as fun because you can access spots that you would normally have to go by foot, in absolute comfort.
What do you do for relaxation?
I surf!
What's your life mantra?
Live your dreams.
Fave 5 | What's your favourite New Zealand…
Lake? Lake Waikaremoana.
Mountain? Mount Hutt.
City? Dunedin.
Summer holiday? Camping with the family in Ahipara (Ninety Mile Beach).
Winter holiday? Queenstown for the Winter Festival.
Best life ever, right?! Hit the beach this summer and give surfing a go. Get there with the new Mercedes-Benz X-Class. The workhorse ute is perf for loading up your board, tackling the road and getting you there in comfort and style!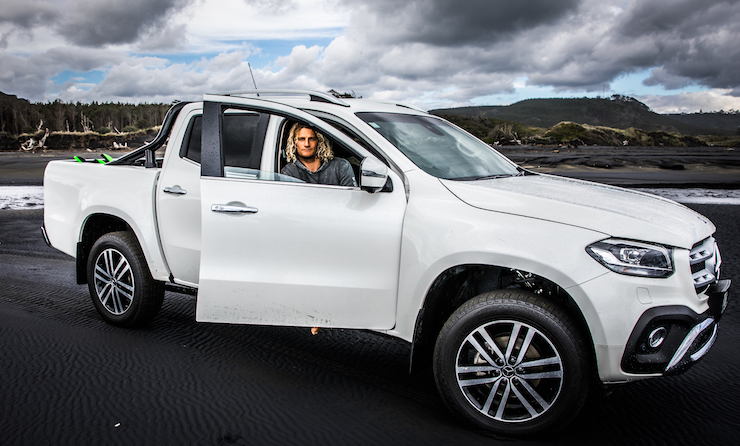 Editor's note: This article is proudly sponsored by Mercedes-Benz and endorsed by The Urban List. Thank you for supporting the sponsors who make The Urban List possible. Click here for more information on our editorial policy.