Reduce waste, save money and create one-of-a-kind pieces for your home—seriously, what's not to love about upcycling?
Upcycling is the process of transforming your unwanted or old things into something special that serves a new purpose. Think of it as trash to treasure. From repurposing your drawers into hanging shelves to making a vintage suitcase coffee table or painting old pots, there are countless ways to upcycle, plus they look great and it's environmentally friendly, too.
All you'll need is a bit of creativity and help from the team over at Mitre 10—the go-to for all things home, garden and hardware. Skip the furniture shopping and roll up your sleeves, here are six upcycling projects you need to tackle this season.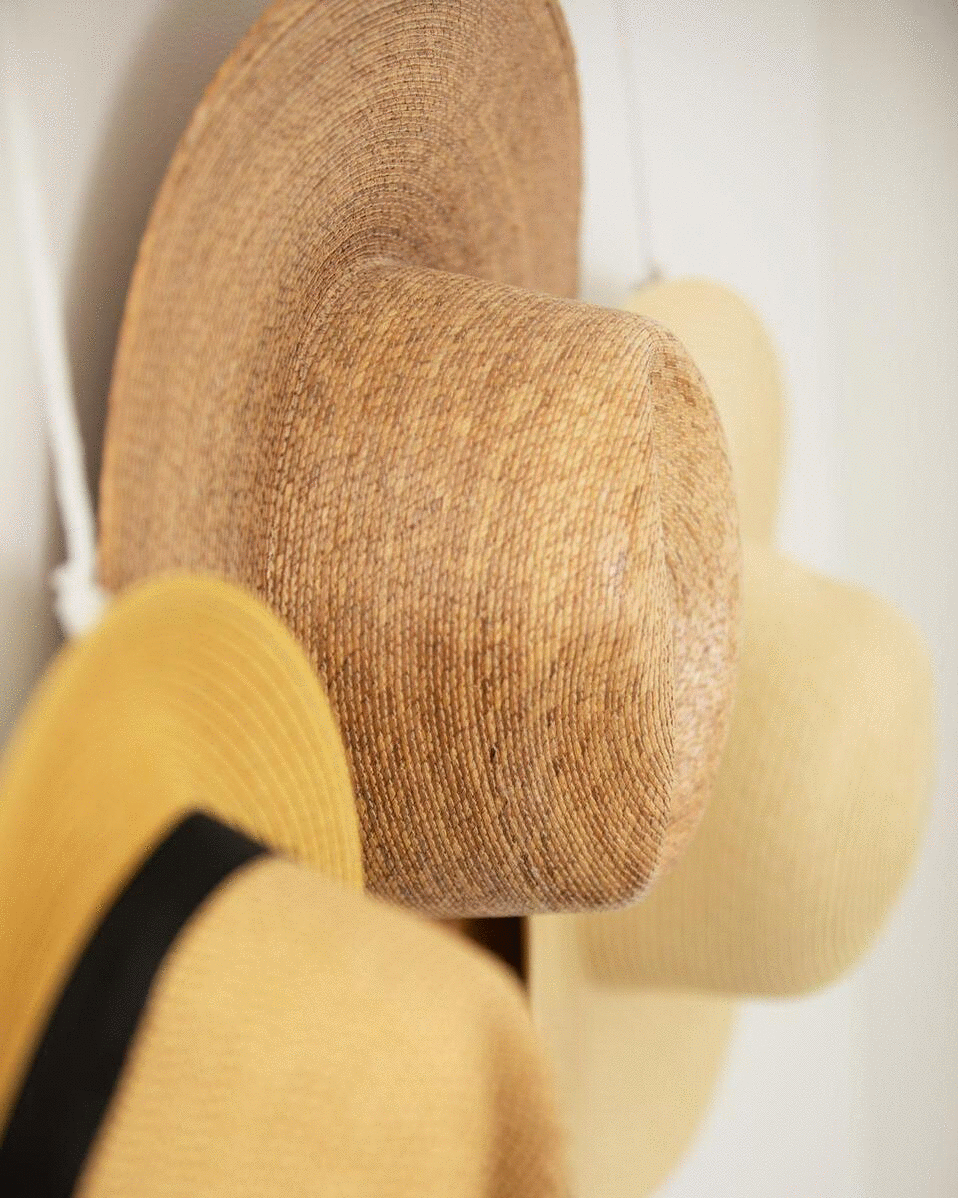 Create A DIY Hat Rack
Get your hats off the wardrobe floor with this simple yet impressive hanging rack. Not only is this a practical wardrobe essential, but it also can be used as a piece of decor or art to showcase a stylish hat collection. All you'll need is a wooden dowel (essentially a wooden cylinder), rope, S hooks, leather straps and Command Hooks to get started. Firstly, measure the rope and tie a knot in both ends and slide onto the dowel. Repeat with as many hats as you have. You can also measure the rope to be different lengths so that the hats hang in a harmonious way. Attach the leather straps to each end and hang the dowel on the wall using Command Hooks. Place the S hooks at the bottom of each rope, hang your hats on them, and call it a day.
Paint Worn Out Pots
Head outside on a sunny day and refresh your tired, dull or chipped pots with a lick of paint. From painting your terracotta pots white to glowing them up with trendy patterns, painting your old pots is a quick and affordable way to add character to your home and show off your plants. If you're looking for paint inspiration, try adding sand to a neutral tone for subtle textures. Alternatively, take a cue from the trendy one-line illustration style that's been popping off on the 'Gram. Aside from pots, start decorating your old tin cans, ceramic jars, teapots and mugs too. So, what are you waiting for? Stock up on the paint and brushes and get crafty.
Transform Your Garden Ladder
While your dishevelled wooden step ladder may not be as safe as it once was to use in the garden, it can be repurposed as a shelf and used in your home. Before you begin, give your ladder a quick sandpaper and wipe down. For a rustic or coastal look, lean your ladder against the wall in the bathroom where it can be used to hang your towels, bathmat and robe. Your ladder can also go in the living room and become a shelf to hold photo frames, indoor plants and your favourite artwork—here's your go-to guide on how to master building a ladder shelf. And if you do need a reliable ladder for jobs around the home, Mitre 10 can sort you out.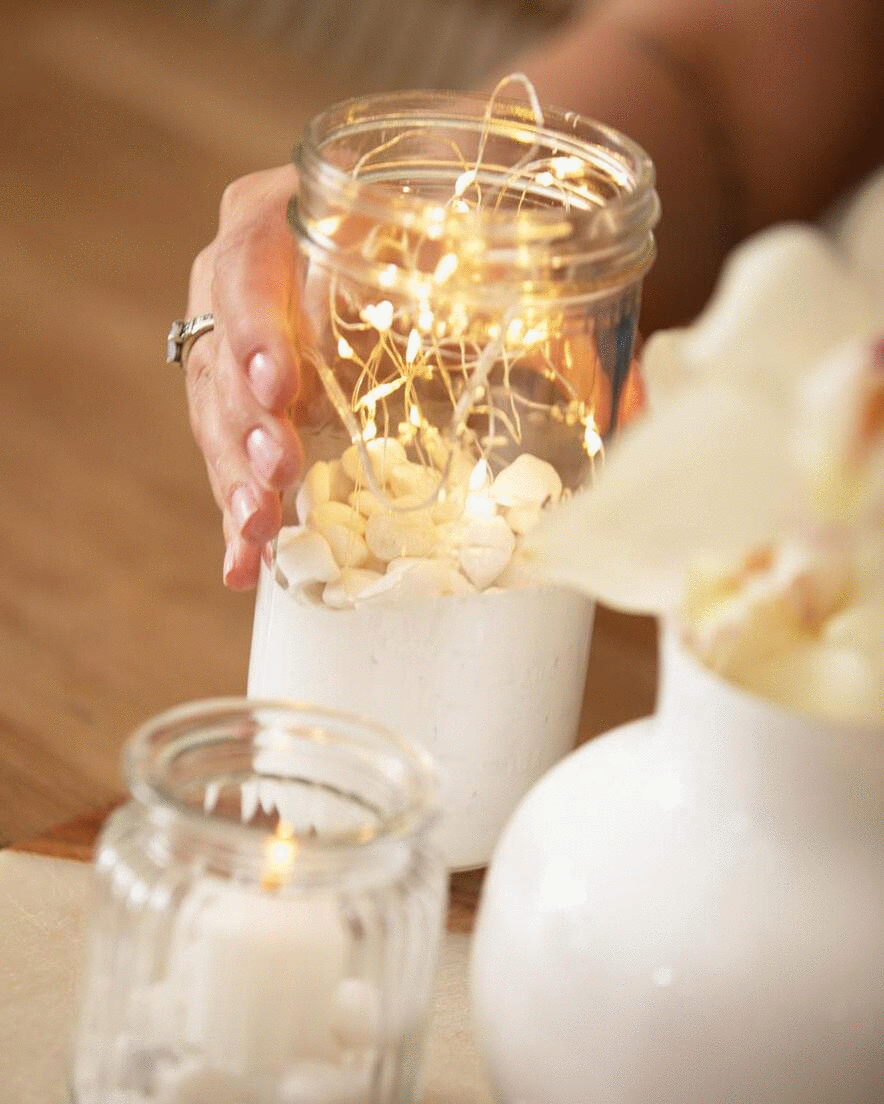 Glow Up Retro Glass

Jars

Don't get rid of your old glass jars. Instead, you can make stylish lanterns out of old mason jars, yarn and some paint. Place your jars on a covered surface outside, pour in paint and manoeuvre the jar around to create an organic drip pattern. You can keep it monochrome with white, or layer it up with different colours to suit your vibe. We love this technique because it maintains the glossy sheen of the glass on the outside. Use your jars with tea lights, fairy lights, candles and decorative pebbles. Light them up and impress your guests at your next dinner party—winning.
Style Vintage Suitcases
Create your own vintage coffee table out of an old suitcase, ideal for holding magazines, the remote and a glass of wine. You'll save money on furniture costs, and the coffee table will look charming in your home. You'll need an old suitcase that's sturdy and well-built, some plywood, hairpin legs, or any other upcycled or antique items that you think could work for the coffee table legs. Measure the inside dimensions of the bottom half of the suitcase. Using a jigsaw, cut the plywood and place it in the suitcase. Attach the legs to the bottom corners of the suitcase and you're good to go. If you can't get your hands on table legs, you can also opt to DIY some trestle table legs. As well as a coffee table, you could make a suitcase bedside table and one for the hallway to hold a vase of flowers.
Dial-Up Drab Drawers
Reuse the draws out of an old desk and upcycle them to be quirky hanging shelves on the wall. Hanging shelves can be positioned on the wall in the kitchen to hold your spices, in your bedroom for photo frames or in the living room for your special trinkets. Begin with sandpapering your draws to remove any scratches. Next, get out a paintbrush and give them a coat of paint. Choose some fun contrasting wallpaper and glue it to the bottom of the drawer. To hang your shelves, ensure you've got the right support and use sturdy picture hangers. You can opt to hang several draws on the wall together, or for a focal point hang just the one.
If you're hoping to flex those creative skills on an upcycle this season, look no further. From paint to tools and fixtures, Mitre 10 has everything you need to make it happen.
Editor's note: This article is proudly sponsored by Mitre 10 and endorsed by The Urban List. Thank you for supporting the sponsors who make The Urban List possible. Click here for more information on our editorial policy.