Never heard of Ljubljana? It's okay we're not here to judge, just to make you look cool for your friends. Thanks to its rich history and culinary prowess, Slovenia's capital city, Ljubljana (pronounced loob-ly-ana) is the perfect under the radar European city to lose yourself in.
Think medieval architecture, warm, sun-drenched days, jaw-dropping scenery, a former military prison turned nightclub and a distinct lack of tourist crowds and you're halfway there. For the rest of the story, keep reading for five reasons to add this under rated spot to your bucket list, like now.
#1 It's Home To The Undiscovered Lake Como
Well, kinda. You know how we mentioned the scenery being a massive draw card? We were really talking about Lake Bled. It's just like Italy's Lake Como, but without the crowds and mega-hyped up prices. Rent a boat and spend your day being paddled around the mirror-clear lake, surrounded by snow-capped mountains in the distance. If you're feeling up to it, you can even hire a SUP in the summer months. If you want to live your best Euro life, make sure you stop off at Bled Island—home to a castle and a seriously 'gram worthy terrace for a vino in the Euro sun. You can stay in a lake-side villa, but it's also an easy two hour trip from Ljubljana.
#2 The Food Is Really, Really Good Here
Slovenia is bordered by Italy, Austria, Hungary and Croatia, and its food is a delicious amalgamation of the region's best nosh. Fun fact: Slovenia forms one of the largest food bowls in Europe, feeding most of the continent with its fresh produce; so you know the food here is going to be next-level.
For authentic Slovenian dishes you can't past Juljia. Honestly, you could order pretty much anything on the menu and leave swearing you've never eaten anything better, but, trust us when we say to order the Štruklji (a savoury dumpling filled with potato, cheese and herbs). And you can't leave town without stopping by the Central Market for fresh produce or a burek (more flakey pastry filled with cheese, spinach or meat) to snack on while you explore the city on foot.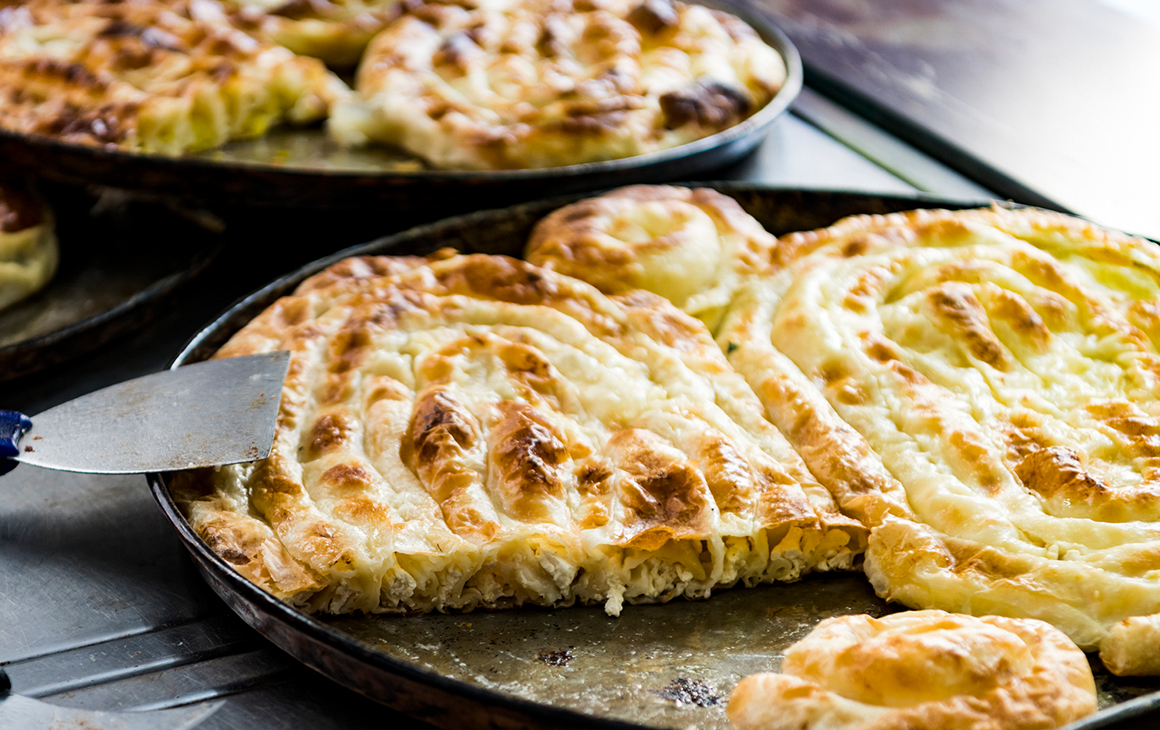 #3 There's A Nightclub In A Former Yugoslavian-Era Army Base
Yep, only in Slovenia right?! Just a short walk outside of Ljubljana's old town lies one of Europe's best hidden gems. Visit during the day and you'd be forgiven for thinking it's just an abandoned squat with some pretty cool street art, but visit at night (the locals don't head out until after midnight) and you'll see what all the fuss is about.
Meet Metelkova Mesto, one of Europe's biggest autonomous squats. A living, breathing art gallery, the buildings here are adorned with mosaics, sculptures are strewn across it's dirt streets and there's a strict no photos policy in the entire place. Especially at night. Come midnight, you'll find noise and punk shows, LGBTQ+ events and even jazz music. How did it come to be? When Slovenia gained their independence shortly after the fall of former Yugoslavia, the site was abandoned, and despite the government trying their best to shut it down, local creatives occupied the site and made it was it is today.
Pro tip: you can even stay here in the former prison turned hostel. In an actual cell. Hotel Celica was a military prison for over 100 years before it was transformed into a hotel designed by a collection of artists who gave new life to the prison cell rooms.
#4 The Architecture Is Straight Out Of A Fairy Tale
If you want to really get to know Ljubljana, the easiest place to start is by getting to know it's architecture. Through that you'll be able to understand it's incredibly rich history. Thanks to its past as a hub of the Roman empire and a jewel in the Austro-Hungarian empire's crown, Ljubljana's streets will be taking up plenty of storage in your camera roll. The narrow, cobble-stoned streets and alleyways of the Old Town are a stunning homage to the city's medieval past while more modern additions like the Nebotičnik was once the tallest building in Yugoslavia. When you're in town, you simply can't miss the city's famous bridges, either. The Triple Bridge is the heart of the city and the aptly named Dragon Bridge bears the city's logo. If you ask any local what sight you have to see you can bet they'll direct to these two bridges.
#5 The Bars Are All Time
The best part about a city that you can pretty much circumnavigate on foot? Being able to walk home from the bars. Remember that skyscraper we mentioned just before? It's home to the city's only rooftop cafe! Start your night with a sunset drink here.
Did you know Slovenia is actually pretty damn good at making wines? For the best place to try the local tipple we love Dvorni Bar. Be warned though, this spot is so good you'll definitely need to book a table. Lepa Žoga borders the city's biggest park, Tivoli Park, and makes for the perfect spot to sip a cold beer in the sunshine in the bar's iconic mural-plastered beer garden. If you want to really live like a local, plan your visit when a soccer game is on and experience this spot when it's at its best.
In Slovenia, if you like beer you're either a Union or a Lasko drinker. And you back your beer to the hilt, so choose wisely. The Pivnica Union is housed in a former cafeteria at the Union Brewery and is hands down the best spot to drink this much-loved beer in the whole city.
Getting There
Our tip is to head to Ljubljana via train from Vienna through some of the most beautiful countryside in the world, it takes about seven hours and should cost you less than $60. Slovenia's railways are included in the European Interrail network, so the train if you've got a rail pass, is the way to go. It's also about a two-hour bus ride from Zagreb in Croatia and easily accessed from Hungary and Italy as well. You can of course also fly into Ljubljana.
Next up, you need to hit vibing Budapest. Here's our first-timers guide.
Image Credit: Tomas Sereda, Daniil Vnoutchkov, Hein Stirred, Hotel Celica