If you're currently living in a state of denial post Euro Summer and itching to add a few more stamps to your passport, but your wallet is giving you nothing, it's probably time we introduced you to Mostar. Never heard of it? We don't blame you. Mostar sits in the Euro summer's path less travelled in Bosnia. Even better, it's an easy bus ride from the crowded beaches of Croatia.
If you're ready for a few days filled with the best food you'll ever eat in your life, scenery worthy of an Apple desktop background and a significant lack of tourists, it's time you made your way to Mostar. In case you needed any more convincing, here are four reasons to visit, stat.
#1 The Food Is Good. Like, Really Good
Bosnian food is so underrated it's criminal. Flakey, buttery scrolls of pastry stuffed with cheese and spinach for breakfast, fresh-made flat bread filled with the traditional sausage, cevapi, and icy cold beer may be simple fare, but guys—it's so good. While there's load of great eateries to try you must stop by Tima Irma. The family-run restaurant has been slinging drool-worthy eats for 30 years. Tucked away in the Old Town it only seats a few hungry customers at a time. Order a grilled meat platter and thank us later. Think succulent, garlicky flame grilled meats served with fresh-made Bosnian flat bread and local-grown vegetables. For views of the town's emblem, Stari Most, check out Black Dog Pub and Restaurant Legero.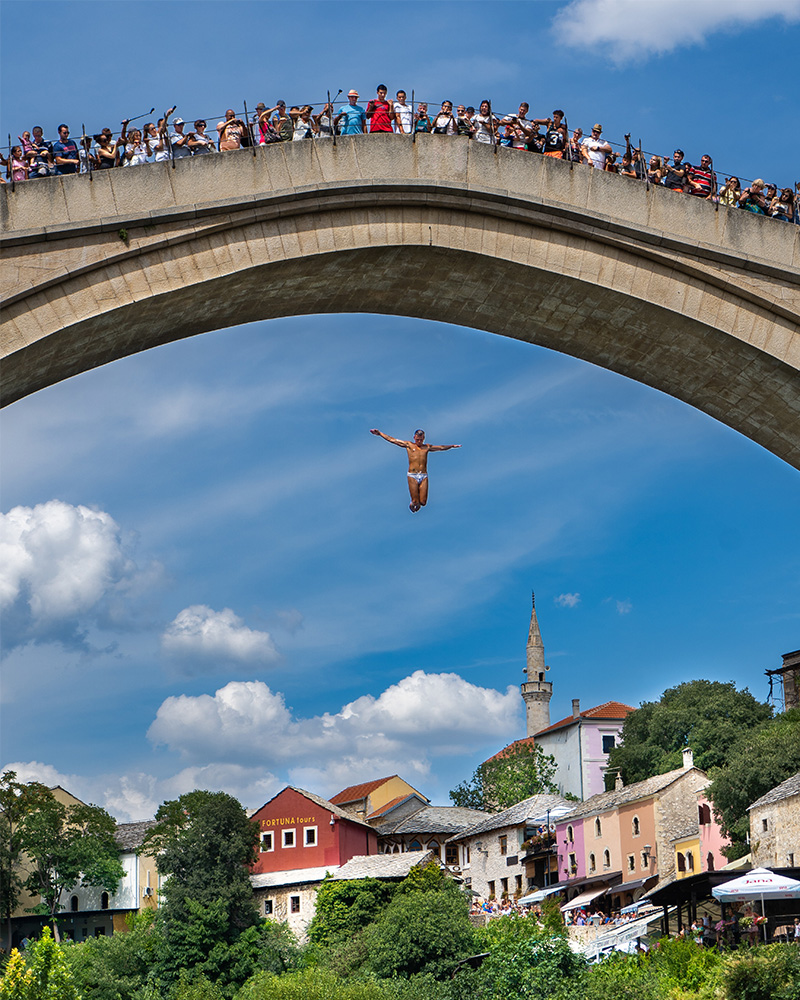 #2 You Can Literally Jump Off A Bridge
Does anyone else remember that episode of Hamish and Andy's Gap Year where they jumped off a really tall bridge in a really pretty spot? That was this bridge: Stari Most. The local dive club train for years to be able to casually dive off this (did we mention it's tall?!) bridge in nothing but a tiny pair of budgie smugglers. Take a seat on the banks of the river to watch them dive (pro tip: they'll only dive if they get enough tips, so be sure to bring some coin if you want to see the action), or, if you're game, you can even do the jump yourself. The local divers will spend the day training you up for your big jump and it will be the best story you bring home from your trip.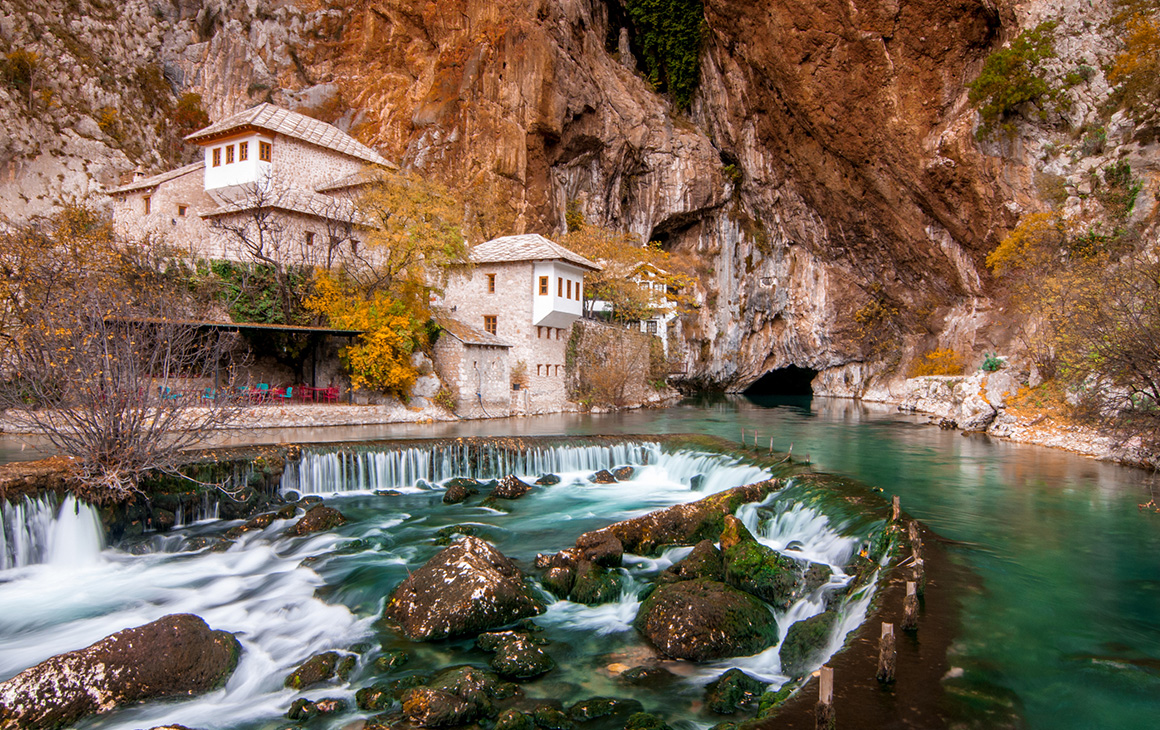 #3 The Views Are Insane
If the Stari Most, bordering mountain peaks and vibrant, aqua river flowing through Mostar didn't convince you that it's the prettiest place on earth, hire a car or book a tour to explore more. About 20 minutes from the centre of Mostar you'll find Blagaj and the spring of the Buna River. While the name probably isn't enough to convince you this place is stunning, once you pull up and see the towering cliffs and azure water you'll be know you've found a true gem. Take a tour of the Dervish Monastery to learn about the area's Muslim history, rent a boat and head into the blue waters of the cave or enjoy a spit roast lamb by the water in the shade.
#4 The History Will Give You Chills
Mostar was under siege from 1993-94, which is kind of crazy to think about considering it was in our life time that this idyllic city was shrouded with gun fire and bombs. It wouldn't be right to visit Mostar without getting to know the history. Rather than pay a disservice to history by trying to explain it here, we recommend the Museum of War and Genocide Victims and the War Photo Museum. Once you learn about the past you'll never view the city the same way again.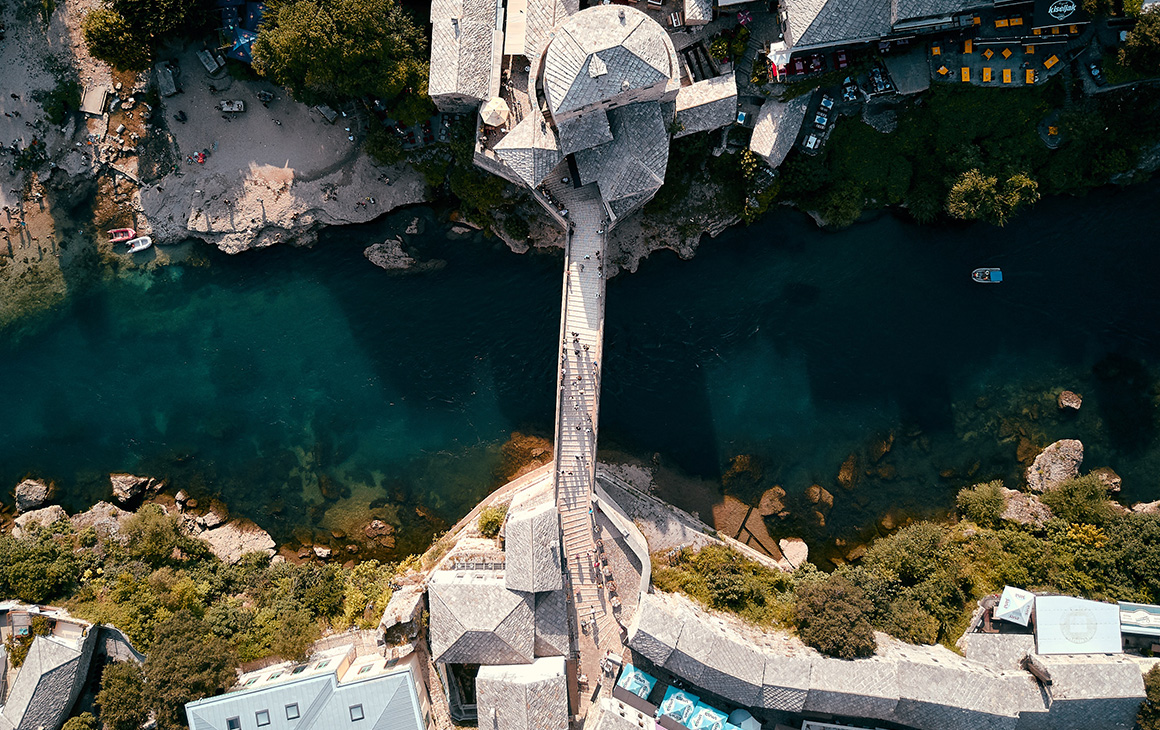 Getting There
While the city does have an international airport, your best bet is to take a bus to Mostar or do a one-way tour from Sarajevo or Dubrovnik. If you're driving yourself, keep in mind you will need your passport to cross the border from Croatia into Bosnia.
Looking for more off the beaten path holiday ideas. Head here.
Image Credit: Lassi Kurkijarvi, Anton Sharov, Tamas Karpati, Darcey Beau