With the taste of Summer hot on our lips, we're itching to book in annual leave and explore this beautiful country we call home. And let's be real, with borders closed we're always on the hunt for travel inspiration, advice and hacks.
That's why together with AMEX NZ, we caught up with Cassidy Morris to chat about all things travel. From her favourite memories to Summer destinations and packing advice, the international model and frequent flyer dishes on why she's keen to see more of her own back yard this season.
Where was your favourite place to travel in New Zealand growing up?
I spent a lot of time in Mangawhai which is not even that far from Auckland, actually. My nana and poppa had a place up there so we would always spend time at the beaches there. Now, funnily enough, my parents bought some land in Mangawhai, so now I have a base up there, which is nice.
WHAT'S ONE OF YOUR GO-TO HACKS WHEN IT COMES TO TRAVEL?
My American Express Airpoints Platinum Card—it's perfect for travel because I earn Airpoints Dollars™ on all my eligible purchases!
With borders closed, are you excited to explore more of our beautiful country and support local?
Definitely. I have just done a big trip down south, which was incredible. When I think of going away, I spend a lot of time overseas, learning a new culture… but to be honest there are so many places in New Zealand I haven't been! I feel like this year I'm slowly ticking them off, which is really good. I can't recommend New Zealand enough—you get to experience the true New Zealand when you head to the South Island. I was just down in Fiordland and while we were there it was snowing for like an hour and next minute it was hail, then sunshine. The contrast you get down there is pretty incredible.
What's one of your favourite travel memories?
I absolutely love going down to Queenstown. My partner's mum actually lives down there—it's a pretty special place. That's a hard question! I feel like for me, I'm such a beach person but if I had to pick one, I'd have to say just going up north with my family and spending family time and relaxing up in Mangawhai. As much as I love skiing and the snow, if I can have beach time that's the best.
What is your go-to destination every New Zealand Summer?
I absolutely love Langs Beach, which is about 15 minutes from Mangawhai. It's absolutely beautiful. It kind of reminds me when I was in LA and when I would go to Malibu—incredible sand and beautiful water.
What are your must-have items when you're travelling?
Going from Queenstown to Auckland is about two hours but I still need things to do, so a book is essential for me, ear pods, making sure you have a good playlist and your phone is fully charged. I also—which my partner finds really funny—love crossword puzzles, so I always have one of those in my bag. Given the current situation I like to travel with a facemask too. That's pretty much my go-to must-haves.
Walk us through your airport routine—what's your go-to when you get there?
I always get to the airport extremely early. I have anxiety and I hate being late. So, I go straight to the Air New Zealand Lounge. Even if I've just eaten, I need to eat snacks before a flight and depending on what time it is, I'll get a coffee. I don't like to be stressed; as long as I have time on my side, then I'm relaxed at the airport. I'm actually so early it's ridiculous.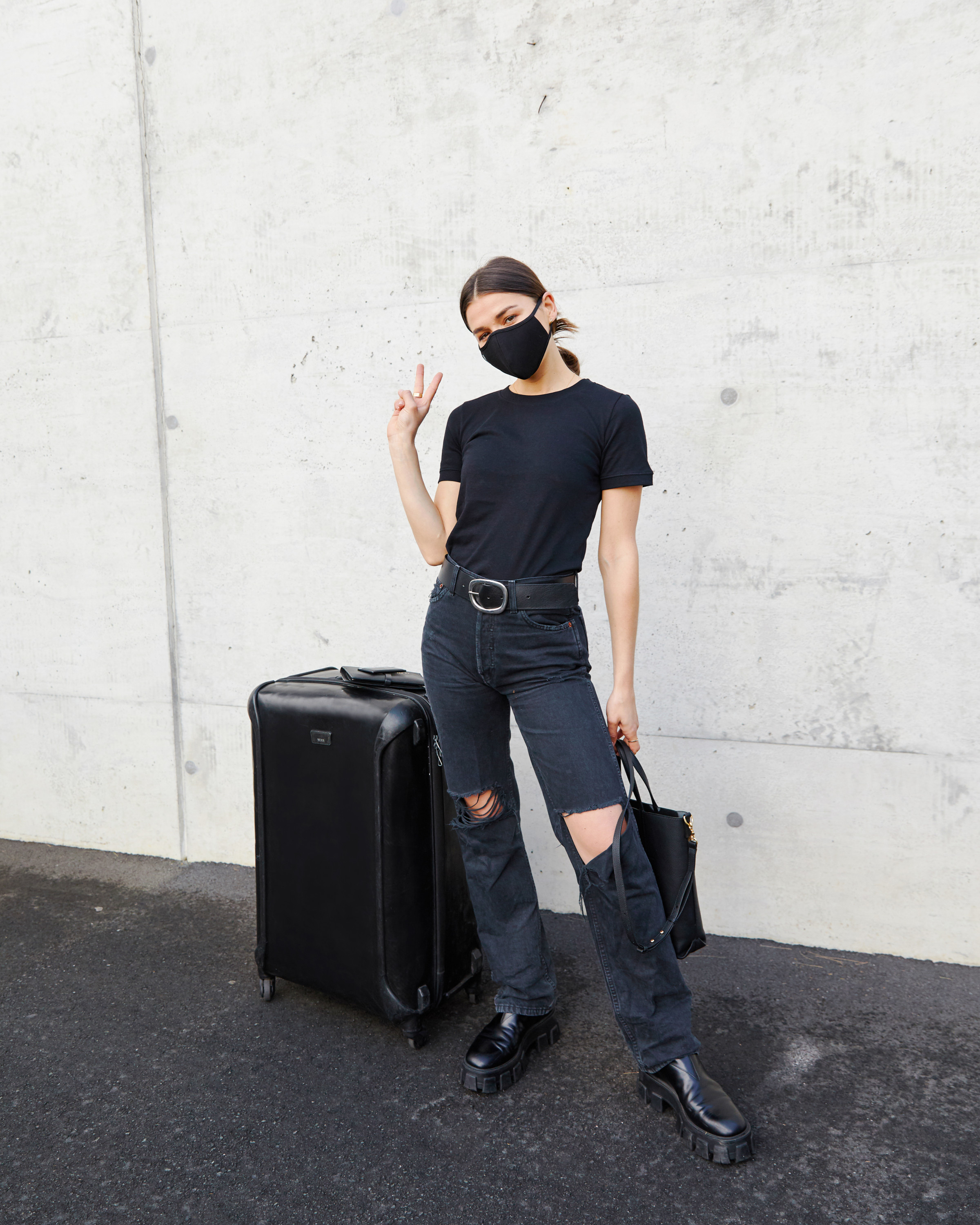 We all love a matching tracksuit, who do you look to for fashion inspo on the go?
I wish I could wear full track pants and a matching hoodie—I mean, I have before—but if it's a work thing I'll wear some Georgia Alice pants, she just does the comfiest pants that you can kind of getaway pairing with a sneaker or a boot. But when it comes to a holiday for myself, I usually just do a good pair of Nike tights—workout tights, an oversized tee and a blazer. My style in general is super comfy. I also have a shopping addiction and I buy amazing pieces, but I always go back to a great tee and some comfy pants. I need to start dressing up a bit more.
Thinking ahead to when borders open with the trans-Tasman travel bubble, what is at the top of your wanderlust list?
I would say—which might sound cliche—Byron Bay. I'm dying to go there. I've never been and I just really want to go. Even Sydney. I love Sydney; I've travelled there a lot of times and I have a lot of friends over there, so I cannot wait until it's finally open. Fingers crossed!
And lastly, what destinations are at the top of your bucket list for future travels?
I'm dying to go to South Africa. I don't know why exactly but Cape Town is at the top of my list. I also have this crazy fascination with Antarctica. My partner was meant to be going to Antarctica with his Dad at the beginning of next year but, obviously, that's been cancelled and pushed out. I just feel like that would be such an incredible trip. It's definitely more of an adventure than a holiday. It's one of those places you need to go once and just experience it.
Have you been bitten hard by the travel bug? Same here. But, thanks to AMEX NZ with the Airpoints Platinum Card you can earn Airpoints Dollars™ on everyday purchases, so you can ultimately travel further. When you apply for the American Express Airpoints Platinum Card by 30 March 2021, are approved and spend $1,500 within the first 3 months, you'll score 400 bonus Airpoints Dollars™. New Card Members only. Plus, earn 1 Airpoints Dollar™ for every $59 spent on eligible purchases. BRB, we're off to go pack our bags. Terms and Conditions apply.
Editor's note: This article is sponsored by AMEX and proudly endorsed by The Urban List. Thank you for supporting the sponsors who make The Urban List possible. Click here for more information on our editorial policy.
Cards are offered, issued and administered by American Express International (NZ), Inc. American Express credit approval criteria applies. Subject to Terms and Conditions. Interest rates, fees and charges apply.
Image credit: Cassidy Morris