There's a tonne of streaming services with more content you can shake a remote at, but not all TV is made equal. So we're doing the hard yards and trawling through streaming services, finding the latest and greatest so you can sit back, relax and enjoy the show. Aren't we nice.
TVNZ
The Dead Lands
Did someone say a Māori action zombie thriller spin-off?! Adapted from the 2014 *internationally acclaimed* film directed by Toa Fraser, have your patu, mere or taiaha at the ready to follow Waka Nuku Rau as he journeys back to the world of the living. He's here, well, not for a good time, or a long time for that matter. Sent back to redeem his sins, he finds the world is devastated by spirits of the recently departed, hunting and haunting the living. Turns out it's just as hard to catch a break in life as it is in death. As well as TVNZ, this show was co-produced by AMC, the network who brought us The Walking Dead. But the best part? The cast is 100% Māori or Pasifika. If you're stoked to see Māori being represented on mainstream TV, catch the first episode here (it's already debuted to millions around the world), with new episodes dropping every Thursday.
Kura
Let's face it, we've all at one point had the dream to up and leave Aotearoa for more lucrative opportunities across the ditch. Some of us actually did it. Heck, some of us got the idea from watching a few seasons of the G.C.! So, Billy-John, a Papakura local decides to ditch his dead-end job for the sun and surf life of Queensland's Gold Coast. A crack-up coming of age story filled with heartfelt lols as Billy-John spends his last week in NZ, sharing it with his best mate Hotene. Catch the full mini-series here.
All caught up? There's more where that came from. Check out our recent top picks of TVNZ content here.
NEON
The Outsider
2020 is turning out to be a horror show just one month in (a new world record!), so the latest Stephen King dark crime thriller should make you feel right at home. Starring Jason Bateman, HBO continue to push the envelope with a horrifying murder mystery which is out of this world. After the shocking discovery of a mutilated body, all roads lead to one man: Terry Maitland. Whilst trying to prove his innocence, a hooded figure waits in the dark. We beg you, please don't watch this show on your own. Catch the first few episodes here.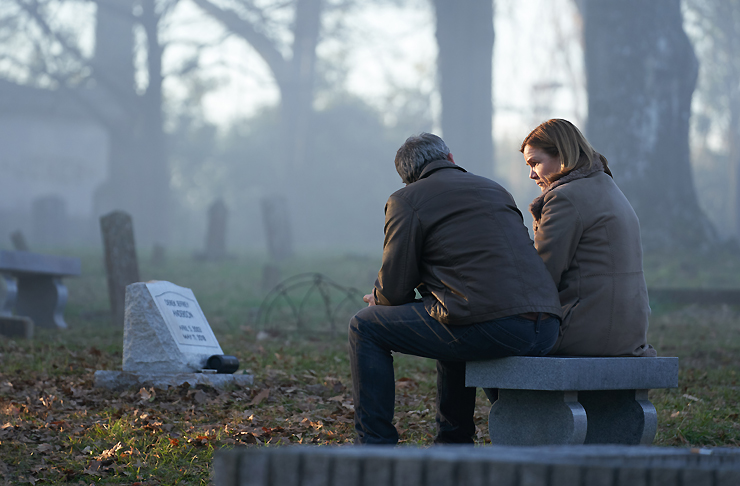 The New Pope
Whatever happened to the old Pope? Well, he died and went to heaven. Then came The Young Pope. But now, there's a New Pope? What in God's good name is going on? It seems the papacy is having a moment, so please, for the love of Christ, hold the line. Jude Law reprises his role as his holiness, Pope Pius XIII in the successor to HBO's pious mini-series about the earthly head of the Catholic Church. Many wanted him to quit whilst he's ahead, and it seems their prayers have been answered when #PopePiusXIII falls gravely ill. And so, the world-wide search for a New Pope begins. We've workshopped a few names: Vatican Idol, Catholicism's Got Talent or Pope-Factor. For a refresher on The Young Pope, click here. To religiously watch the first few episodes of The New Pope, click here. Amen.
Love Island UK
Plenty of folk like you and me have sworn they would never watch this kind of crap TV format, but after five award-winning seasons, one thing is for sure: there is no escaping Love Island. So if you can't beat em', join em'. Season six has dropped with weekly episodes flaunting romance (obviously), heartbreak and everything in between as a group of UK singles shack up in a villa in Cape Town, vying for the attention of their house mates whilst trying to capture the hearts of their worldwide audience. With a new episode streaming each night from Monday to Saturday, your brain is going to turn to mush, and you won't mind one little bit. Begin your affair by clicking here.
Need more Neon goodness? Check out all the other shows to watch here.
Amazon Prime Video
Ilana Glazer: The Planet is Burning
Fans of Broad City, can we get a YAAAAAAS KWEEEN. Ilana Glazer, NOT to be confused with Ilana Wexler returns to the small screen (or the big screen, depending on what you watch it on) to shake some sense into us during a time where it feels like the world is falling apart. The official synopsis from Amazon Prime Video sums up this comedy special far better than we ever could, but if you're a fan of intro-walk-ins to Rihanna (spoiler alert, she twerks to Sex With Me) and taking down the patriarchy, this is one hour of power you will be happy to give up. The Planet is Burning and we need a good laugh. Here it is!
Brittany Runs a Marathon
Keeping a New Year's resolution reminds us of the notable Project Runway saying—one day you are in (with the resolution), and the next, you are out (of the resolution). So if you feel yourself slipping back into habits you swore you were dropping this decade, this just might be the motivation you need to get back on track. Does that make sense? Brittany parties hard, not that there is anything wrong with that, so when she finds her health is in dire straits, she decides to kick the cosmos to the curb and take back her life. Losing weight and being healthy isn't enough, and she decides to to prepare herself to take on her greatest challenge yet—running the New York City Marathon. Everything begins with the first step, and this show happens to be it. Watch it here.
For more epic Amazon Prime Video picks, check em' out here.
Movies more your thing? Check out 15 of the best movies on Netflix here.
Image credit: TVNZ, Neon