If you're anything like us, you love both a) waffles and b) burgers. Breakfast, lunch or dinner, we don't mind when…we just want that deliciousness in our belly! Well, what if we were to tell you that a waffle and a burger got together and had a baby?!
Yep, waffle burgers have touched down in Auckland and you'll discover them at Orleans in the heart of Britomart. The bar-slash-eatery is all about music, liquor, New Orleans-inspired fare, and now, waffle burgers. Sign. Us. Up.
There's Not One, Not Two But THREE Burgers
So, what IS a waffle burger exactly? Think: two perfectly cooked waffles (crispy on the outside, pillowy on the inside) doubling as a burger 'bun'. As for the fillings? You're spoilt for choice with three waffle burger creations to choose from.
Love all things deep-fried? Wrap your mouth around the fried chicken burger-slash-waffle with slaw and maple-infused bacon. Love all things spicy? Go for the jalapeño chicken burger with lashings of spicy relish. Love all things pasta? The third creation stars a deep-fried mac'n'cheese patty (omg) and onion rings. We'll have one of each, thanks!
And The Rest Of The New Menu Is Totally Insane
Waffles-burger hybrids are just the beginning at Orleans. Their new menu is jam-packed with insanely delish eats. You'll find their signature waffles (less burger-esque) and po' boys alongside some epic new dishes.
There's a sloppy Joe burger oozing with saucy goodness (get the napkins at the ready), an oh-so-creamy mac'n'cheese, moreish fried pickles and cheesy jalapeño poppers. Visit on the regular to get amongst the ever-changing loaded fries special. Just when we thought curly fries couldn't get any better…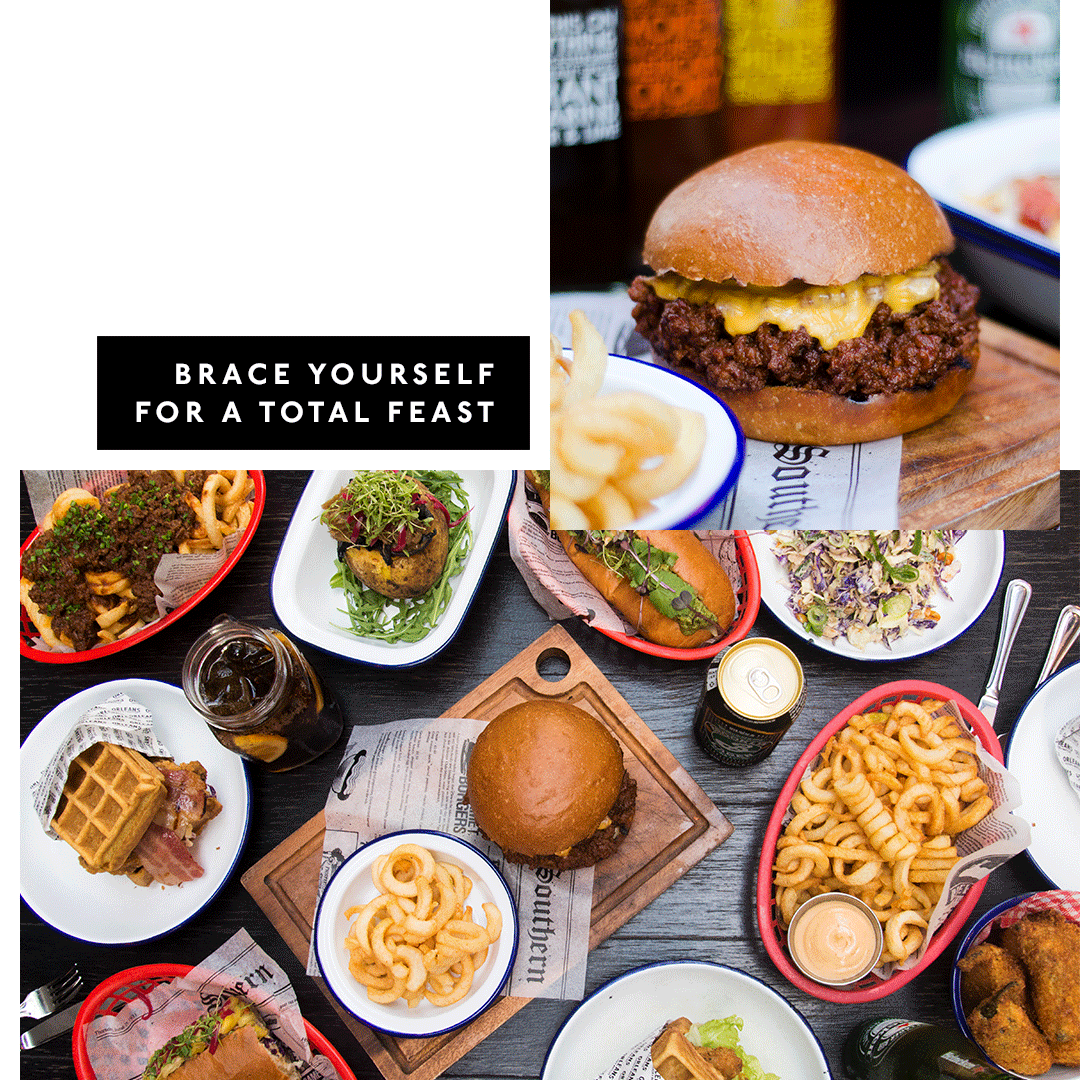 You Can Get The Deliciousness To Take Away
If you're on the go, you can now get Orleans' lunch menu to take away. Yep, you can savour deliciousness at home, work and everywhere in between.
Replace your boring sandwiches with a po' boy (think: jerk-pulled pork with slaw and pineapple), comforting stuffed potato or just some damn good fried chicken. Or dig into your waffle burger back at the office and watch your colleagues drool with envy.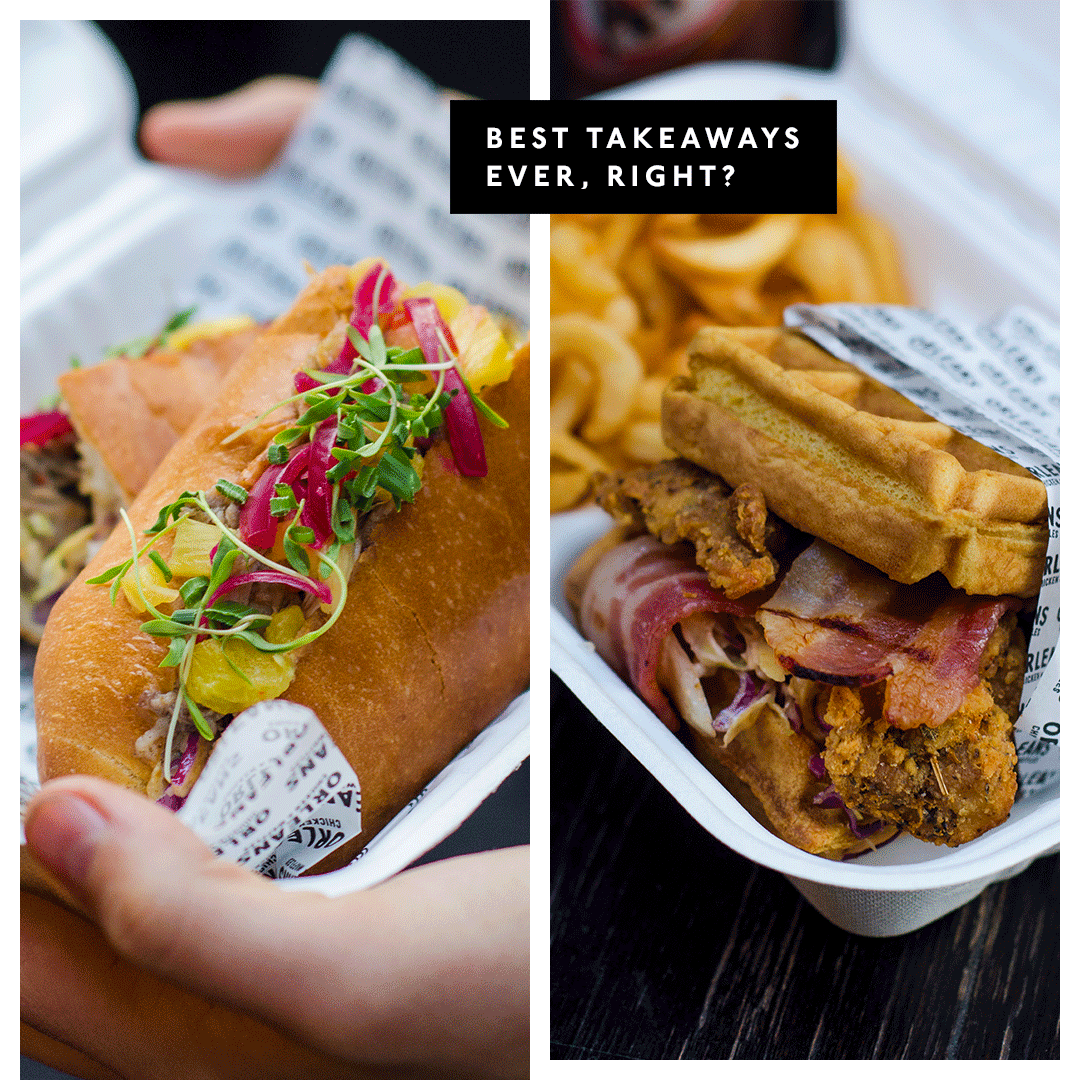 Oh, And Save Room For Dessert!
Let's be honest, the dessert menu is where the magic happens. Orleans' new menu welcomes some mouth-watering additions including beignets and a brownie stack. Yes, a stack of decadent, chocolate brownie served with cookies and ice-cream—drool!
The beignets (aka morsels of deep-fried pastry goodness) are stuffed with your choice of jam or custard. There's also an epic pecan pie that's basically heaven on a plate. But don't take our word for it—spoon into the deliciousness yourself (go on, you deserve it).
The Deets
What: Waffle Burgers at Orleans
Where: 48 Customs Street East, Britomart, Auckland
When: Lunch and/or dinner!
Click here to check out the rest of Orleans' epic new menu.
Editor's note: This article is proudly sponsored by Orleans and endorsed by The Urban List. Thank you for supporting the sponsors who make The Urban List possible. Click here for more information on our editorial policy.
Image credit: supplied