We know how much you love Middle Eastern food and the Lebanese have got some of the best. Thanks to Ottoman influences back in the day, French influence more recently and it's proximity to Europe, The Middle East and Africa, they've been able to get their hands on the best spices and recipes for centuries and they've worked some magic. From veg-friendly dishes like hummus and falafel to meaty shawarma, there's no foodie who wouldn't have a field day in Beirut, or anywhere in Lebanon for that matter.
Here are 10 dishes you have to try in Beirut.
Hummus
If you think the one-litre tubs of hummus are the best thing since sliced bread, just wait until you try hummus in Lebanon. We're still not completely sure exactly what the magic trick is (our bet is on the tahini) but it's basically impossible to get a bowl of hummus that isn't smooth, creamy perfection. It's pretty hard to go wrong anywhere in Lebanon so feel free to order or a bowl of hummus at every single restaurant you try, but the hummus at Cafe em Nazih and at Al Sultan Brahim are particularly delicious.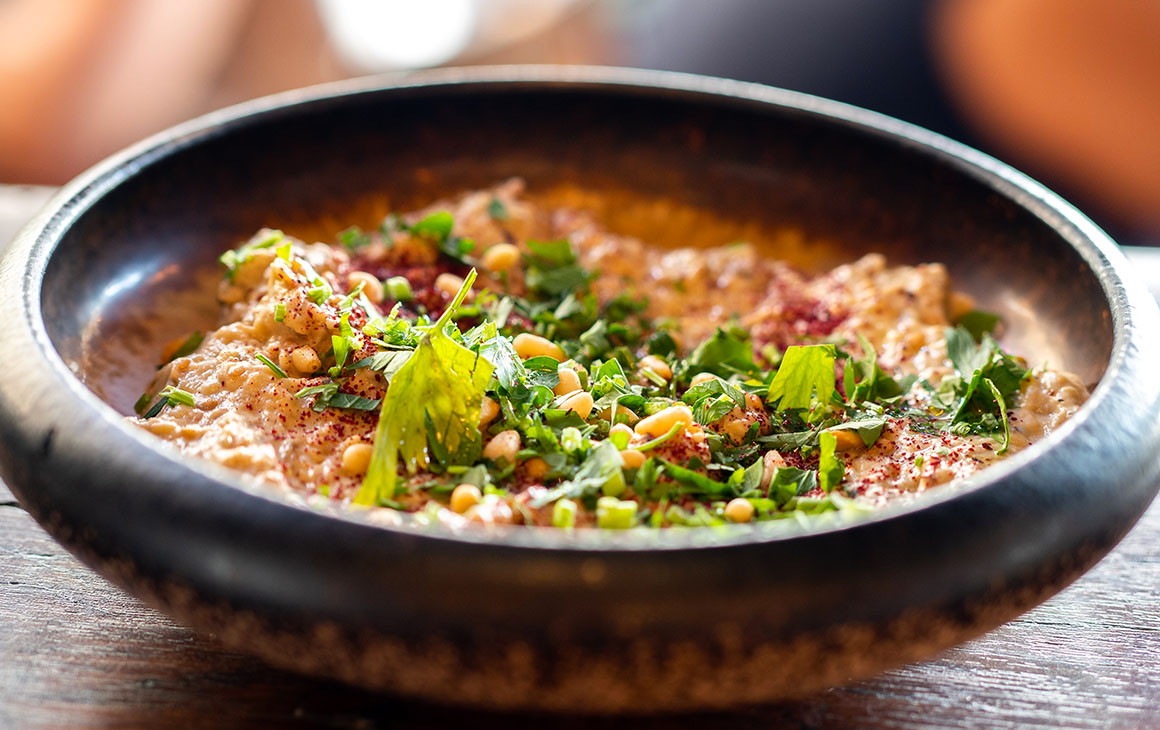 Kibbeh
Lesser known in the western world than a lot of Lebanon's dishes, we really wish kibbeh would make it to the big time because it's one of our favourites. The most simple kibbeh is made of bulgar wheat, ground beef and/or lamb and pine nuts (as well as plenty of spices, garlic and onions), but you can also get your hands on a chicken and vegetarian version at most restaurants. While it's a little bit like a meatball, the meat mixture is wrapped inside the bulgar wheat 'dough' layer and fried, making it an absolute taste sensation. Try them at El Denye Hek and thank us later.
Falafel
Falafel is such a big deal in Lebanon it has literally divided families. Falafel Sahyoun (with red neon signs) and Falafel Sahyoun (with blue neon signs) are owned by two brothers and they stand directly next to one another on Damascus Street in Beirut but there's a huge rivalry between the siblings. Back in the day, there was just one Falafel Sahyoun—which was widely regarded as the best falafel in Beirut—owned by their father, but for some reason, they split it in two back in 2006. They have the exact same menus and the food is barely distinguishable (at a push, we'd say the sandwiches at Falafel Sahyoun with the blue signage are a bit bigger and have more zing thanks to the lemony tarator and the spicy sauce on offer) and they are both still often touted as frying up Beirut's best falafels. We'd also suggest you give the falafels at Falafel Aboulziz a shot; they are lighter and fluffier than anything you've ever tasted and absolutely bursting with flavour.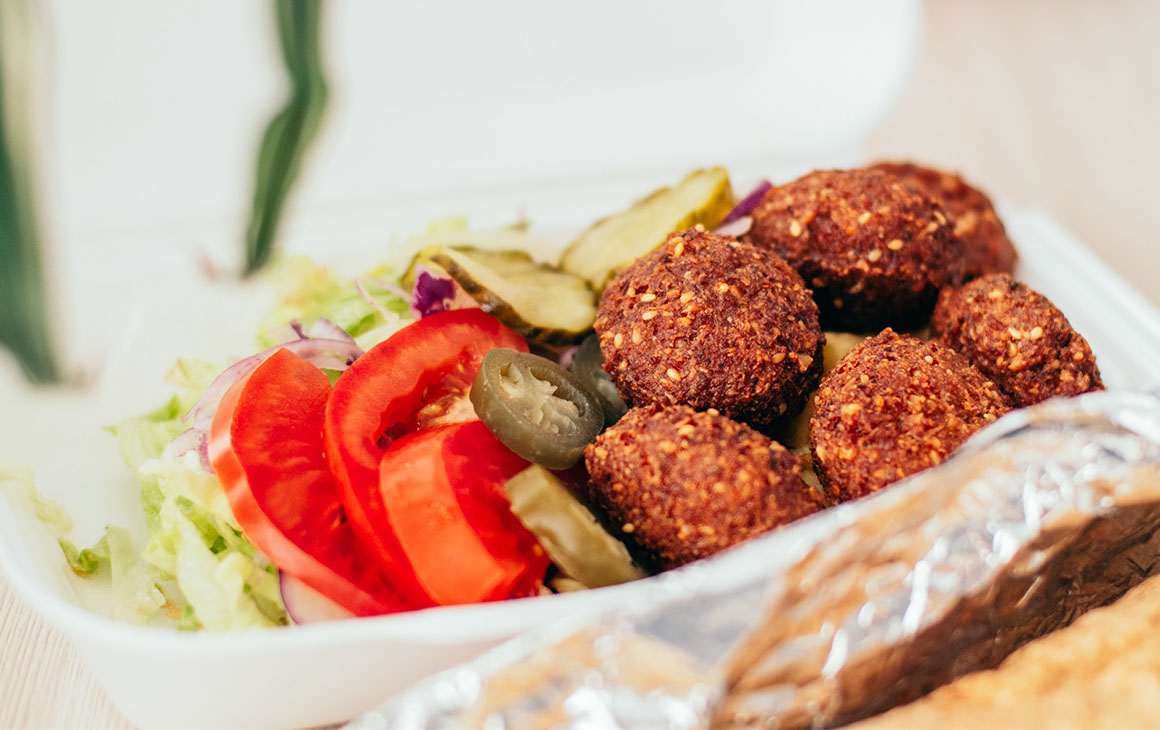 Shawarma
Tender, juicy meat, crunchy vegetables and flavoursome sauces all wrapped in warm pita. If that sounds good to you, you'll want to head to Shawarma 1 for one of Beirut's best shawarmas. The beef shawarma with pomegranate molasses is an absolute winner, though people also seem to rave about the chicken shawarma so really, order whatever tickles your fancy and we're confident you'll be impressed. The chips here are also crispy perfection and it's conveniently located just off Armenia Street in Mar Mikhael so it's the perfect place to fill your tummy before an evening booze session or to soak some of it up and the end of the night.
Man'oushe
Man'oushe (referred to as manakish in the plural form) is absolutely everywhere in Beirut and while an average one is fine and perfectly edible, once you discover the really good stuff it's hard to go back. The best ones are made on soft, pillowy dough and toppings are kept simple with only the best fresh ingredients like zaatar and a sprinkling of fresh vegetables like tomato and rocket. There are manakish shops everywhere but track down Fern Ghattas in Gemmayze or for a fancier affair, order the man'oushe at Loris (one of our all-time favourite Beirut restaurants).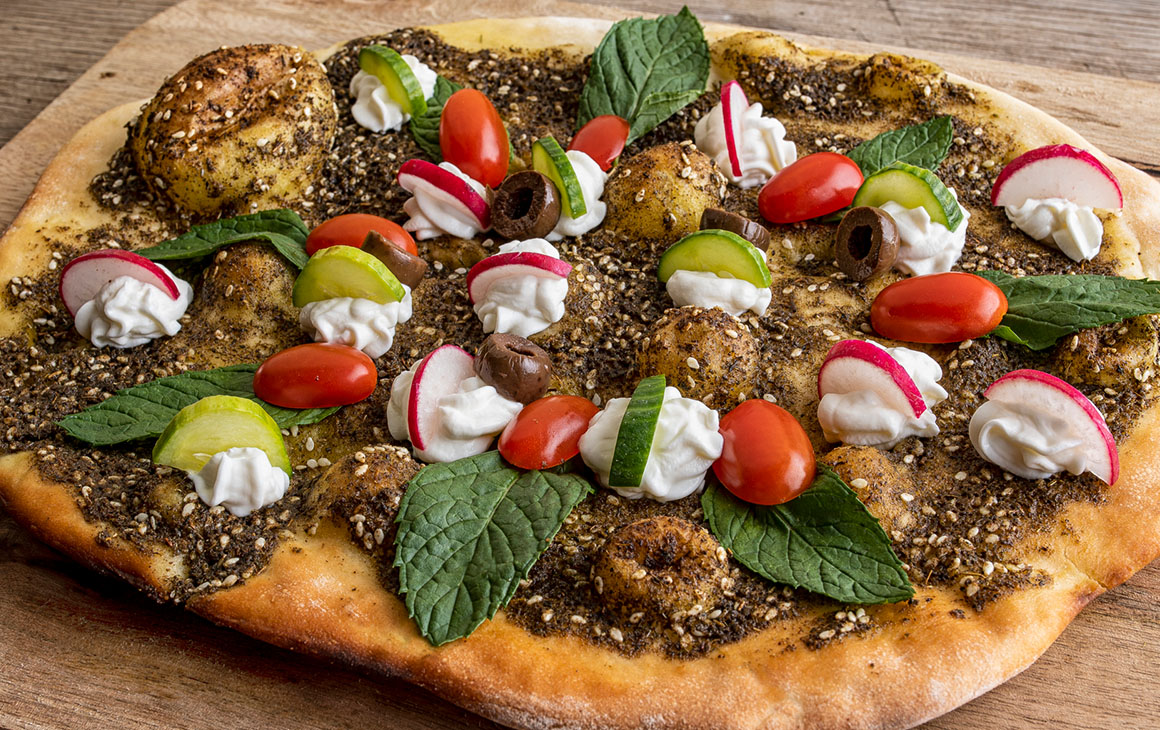 Ful
Ful or foul is an Egyptian dish that made its way across the Middle East and Africa and became particularly popular in Lebanon. There are seemingly endless ways to make it and eat it, but in Lebanon, it's usually eaten as a dip for breakfast alongside hummus, so it's already a winner in our eyes. It's made from fava beans and flavoured with cumin, olive oil and lemon juice—because simplicity is key—and you should do yourself a favour and try it at Abou Abdallah. For somewhere a bit closer to the touristy areas, check out Malek al Foul.
Fattoush
When a salad tastes as good as fattoush it's hard to believe it's even good for you. While the ingredients are fairly simple, the taste is out of this world and it's the perfect accompaniment to any meal. Think fresh, crisp lettuce, juicy tomatoes, crunchy cucumbers and mountains of parsley and mint, topped with freshly toasted pita bread and a delicious dressing starring sumac and either lemon or lime as the key ingredients. We think it would be fair to say that every single chef in Beirut has this dish down pat, so don't be shy about ordering it anywhere you go, but we can vouch for the fattoush at Loris, Enab and Em Sherif Restaurant.
Tabbouleh
While you're probably used to your tabbouleh with a lot of bulgar wheat mixed with parsley and mint, in Lebanon it's all about the parsley and mint. There is some bulgar thrown in, but the stars of the show are definitely the herbs and the lemony vinaigrette. Just like fattoush, you can safely order this anywhere and be served something delicious, but if you need some guidance, check out Em Sherif, El Denye Hek or Liza.
Maamoul
While a cookie might not sound that amazing, and it might not look particularly impressive either, trust us when we say you'll want to get your hands on as many of these as you can. Maamoul is a shortbread cookie which is stuffed with either a sweet nut filling (usually pistachios, almonds or walnuts) or dates. The pistachio version is our favourite and while they are traditionally made for religious holidays, you shouldn't have too much trouble finding them in most bakeries in the more touristy parts of town. If you're lucky enough to see them on offer at the ever-changing menu at Tawlet, count your lucky stars, otherwise find them at Hanna Mitri (and grab an ice cream while you're there).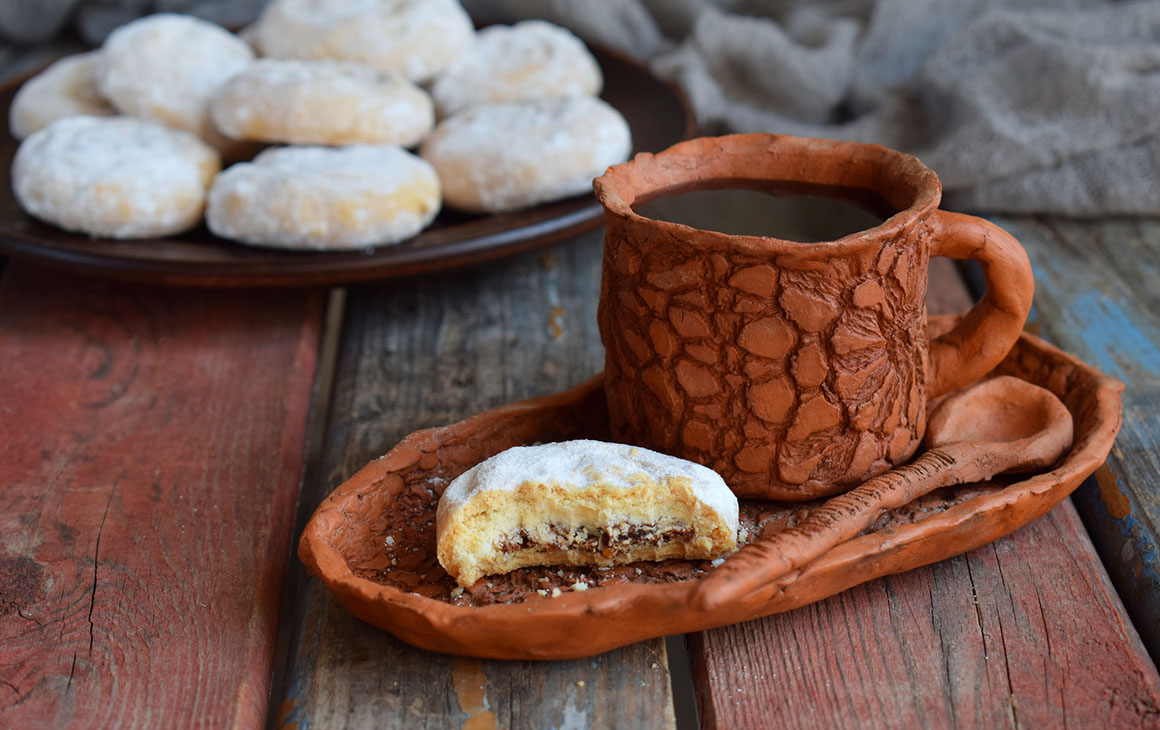 Mutabal
Mutabal is what many of us know and love as baba ghanoush and boy oh boy do the Lebanese do a darn good job of whipping this stuff up. The smokey chargrilled eggplants and creamy tahini, along with a touch of garlic, combine to create one of the best dips of all time. Get it at Cafe em Nazih or Loris.
Bonus Tip: Tawlet
If you want to treat yourself to a seriously legendary buffet lunch where you'll get to try all of the Lebanese classics plus some more, we can't recommend lunch at Tawlet highly enough. Tawlet is the brainchild of the guys behind Souk el Tayab—the farmer's market held at Beirut Souks each Saturday which is also worth a look in—and they feature a different chef from a different area of Lebanon each day. The food is out of this world and the whole experience is not to be missed when in Beirut.
Still hungry? You'll want to duck over to Baku and check out their drool-worthy eats.
Image Credit: Sean Bernstein, Pille-Riin Priske, Lucas Green, Ramzi Hachicho, Oksana