With summer just around the corner, we thought it was about time we topped up our arsenal of cocktail recipes. Whether it's an impromptu pool party, a summer soirée or you're simply after a refreshing cold beverage on a hot day, you're sure to be prepared with these mouth-watering recipes, thanks to Maker's Mark.
Maker's & Ginger
Everyone loves a ginger ale on a hot day, but have you tantalised your tastebuds with a Maker's & Ginger? If not, we think it's about time you did.
Ingredients
- 1 - 1 ½ parts Maker's Mark
- Ginger ale
- Lime wedge
Method
Simply fill a rocks glass with ice (to the brim) add Maker's Mark and top with ginger ale and lime. And just like that, you've got yourself a refreshing, patio-ready beverage.
Whisky Mojito
Summer just isn't summer without the sinking of a few icy-cold mojitos, so we're shaking up a delicious variation made with Maker's Mark bourbon.
Ingredients
- 1 ½ oz Maker's Mark Bourbon
- Splash of triple sec
- 1 oz simple syrup
- Fresh mint
- 2 lime wedges
- Sugar
- Soda
Method
First things first, you'll need to coat the rim of a tall glass with sugar. In a separate glass, muddle together simple syrup with fresh mint. Squeeze in lime juice and then add Maker's Mark Bourbon and a splash of Triple Sec. Load the glass up with ice and then stir until the liquid is chilled. Dump the contents into your sugary sweet rimmed glass and top with soda. Voila!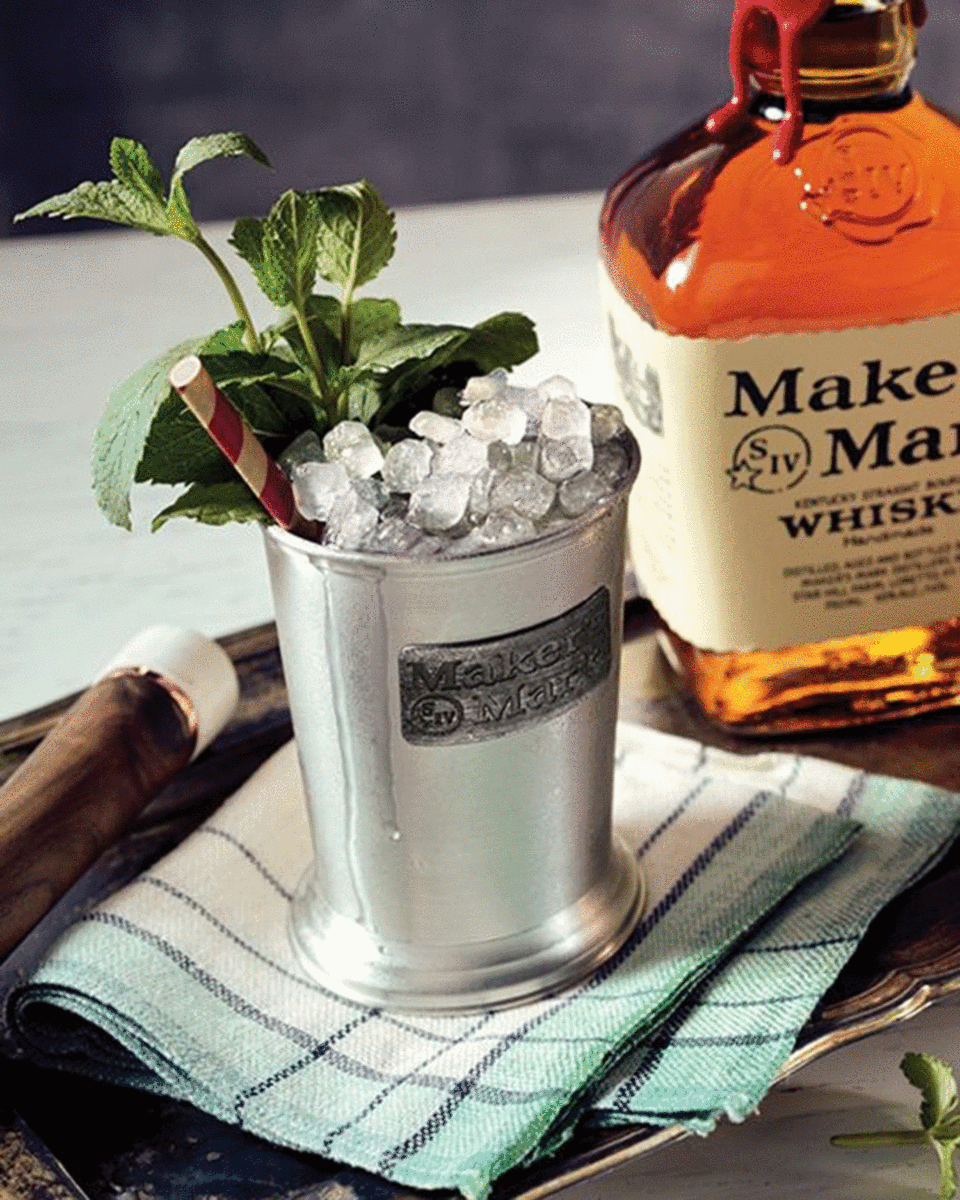 Whisky Collins
A twist on the original Tom Collins made with gin, a Whisky Collins is refreshingly fruity and perfect for a hot, summer day.
Ingredients
- 2 shots of Marker's Mark Whisky
- ¾ shot of fresh lemon juice
- ½ shot of sugar syrup
- 3 dashes of bitters
- Soda or club soda
Method
Shake Maker's Mark Whisky, freshly squeezed lemon juice, sugar syrup and bitters in a shaker with ice and then strain into a highball glass, filled with ice. Top with soda or club soda (depending on your preference) and you're set. If you've got guests, add a wheel of orange or a maraschino cherry to really impress.
Classic Mint Julep
If you really want to turn it up a notch, a Classic Mint Julep is the way to go, with bulk crushed ice, refreshing mint and sweet, smooth whisky.
Ingredients
- 2 parts Maker's Mark
- 2 sprigs of mint
- ½ part simple syrup
Method
Add mint and simple syrup into a julep cup and muddle. Add a mountain of crushed ice and pour Maker's Mark over the crushed ice, stir and garnish with a sprig of mint and you've got yourself summer in a glass.
Summer Old Fashioned
If evening poolside hangs are more your thing, you can't go past the OG whisky cocktail. Sweet, strong and sippable, the Old Fashioned is sure to impress your crew come sundown.
INGREDIENTS
– 1 sugar cube
– 3 dashes Angostura bitters
– Ice
– 70ml of Maker's Mark
METHOD
Add the sugar to your glass, sprinkle with bitters and a few drops of water before adding the whisky and stirring to dissolve. Add ice cubes, stir, and garnish with a slice of orange. It's literally that simple.
No matter the occasion, company or destination, you can consider all your summer drinking well and truly taken care of, thanks to Maker's Mark.
Editor's note: This article is sponsored by Maker's Mark and proudly endorsed by Urban List. Thank you for supporting the sponsors who make Urban List possible. Click here for more information on our editorial policy.