The importance of a good dessert in rounding out a meal cannot be overstated. From traditional desserts to modern twists on old favourites to outright culinary adventures in sugar, Perth restaurants are delivering some pretty good sweet offerings.
It's a tough list to narrow down, but here are 15 of Perth's best desserts.
Santini Spacca At Santini Bar And Grill
PERTH
It's first class Italian culinary experiences here at Santini Bar And Grill, and the all-new smashable Santini Spacca dessert certainly is a delight. Tucked beneath a delicious 65% dark chocolate shell is a gorgeous pickled cherry and sweet raspberry sorbet with a bed of chocolate crumbs and gold leaf garnish. It's designed to be shared between two—so it's perfect if you need something a little sweet but aren't looking for a massive sugar rush. It's exactly as it sounds—grab a spoon and get to smashing. Just be quick about it, it's only available this month.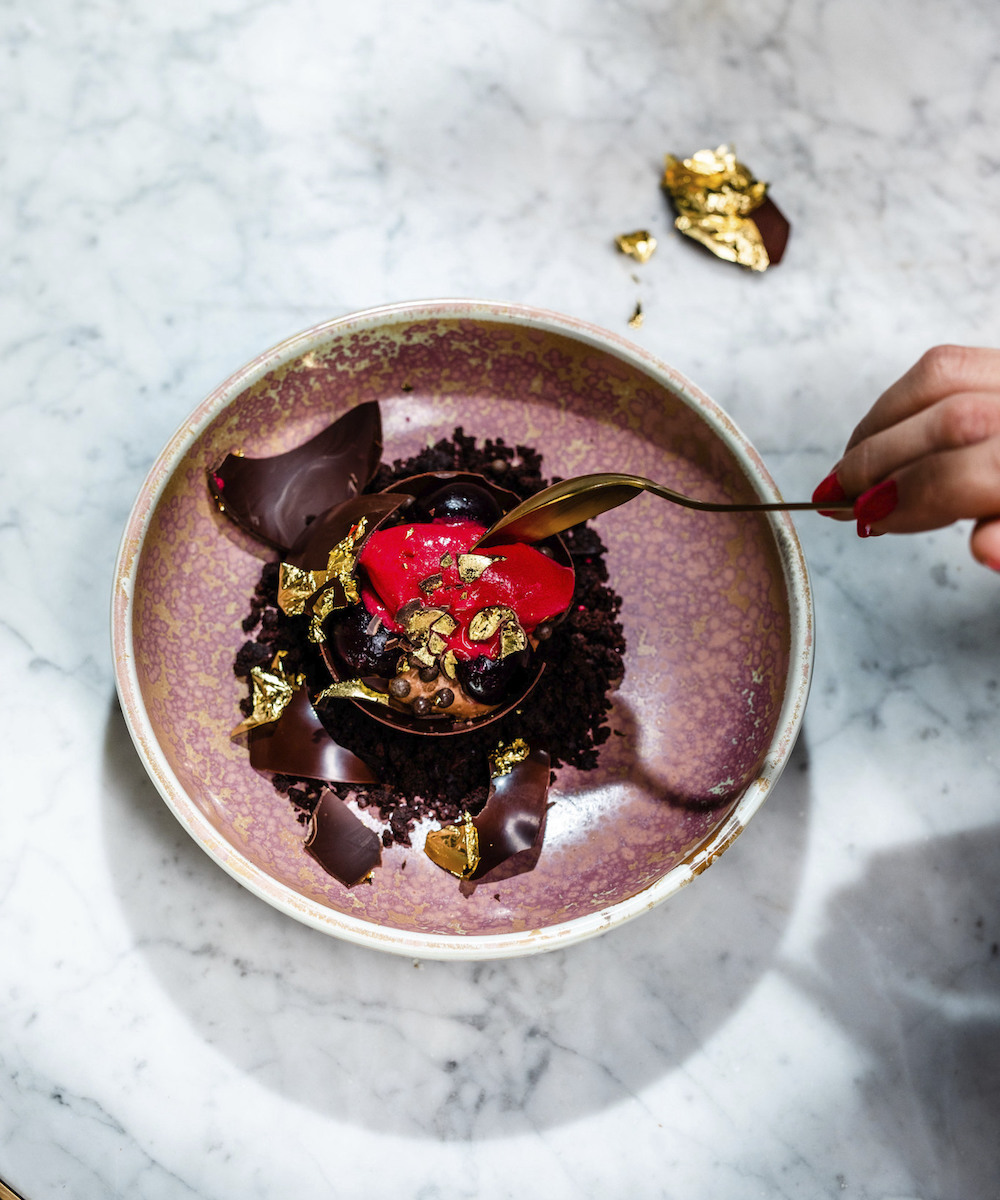 Boba Brûlée Bomb Souffle Pancakes At Kumo
NORTHBRIDGE
If you're a Perth food fiend, you've likely heard of Kumo. Light, fluffy and sky-high stacked pancakes are the go at this joint, bringing a little Japanese culture into our lives. The Boba Brûlée Bomb pancakes are no exception—topped with caramelised custard, boba pearls and black sugar syrup, they'll have you drooling. Did we mention it comes with a side of crème Chantilly, crème anglaise and vanilla ice cream? Run, don't walk for this one.
Ice Cream Sambos At Piggy Food Co
NORTH FREMANTLE
Piggy Food Co in North Freo is where it's at for beer, pork, and seriously delicious ice cream sandwiches. Smooth and tasty ice cream is crammed between two double choc chip cookies… we didn't think we'd need to say much else. With a rotating array of seriously scrumptious flavours, we promise these won't disappoint.
Cinnamon Bun Cake At North Street Store
COTTESLOE
The regular-sized cinnamon buns from North Street Store are great and all, but their whopping cinnamon bun cake is next level. It's the size of around ten cinnamon buns combined and is great to share, but when it looks that delicious, you know you want to have a crack at it all to yourself.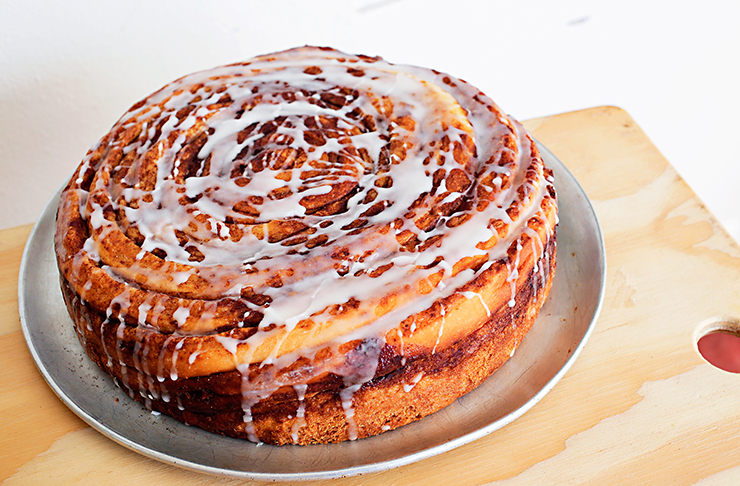 Macaron Sandwich At Maison Saint Honore
CAVERSHAM AND FLOREAT
The French certainly know how to work their way around sugar and this creation by Maison Saint Honore is no exception. Two giant macaron shells sandwich house-made chocolate, cookies or salted caramel ice cream together with whipped cream and a huge drizzle of coulis. And it'll only cost you $8; madness.
Twice-Baked Raspberry Croissant At Chu Bakery
HIGHGATE
The reasons we love Chu Bakery are endless, but their classic twice-baked raspberry croissants are pretty impossible to go past. Perfectly light on the inside and crispy on the outside, these things are as Insta-worthy as they are delicious. Chomp on one of these bad boys dripping with fresh raspberry and a dusting of sweet, sweet icing sugar.
Souffra At Boucla
SUBIACO
It's a hard choice between this and the Chocolate Ricotta cake, but a meal at Boucla (and life itself) isn't complete without a big ol' serve of their Souffra, which is a filo-encased egg custard cake baked and dusted with cinnamon and pistachio. It's the kind of dessert you regret ordering just one of.
Salted Caramel Doughnut At Mary Street Bakery
HIGHGATE, WEST LEEDERVILLE, PERTH, CITY BEACH AND CLAREMONT
Within the glass cabinets at all Mary Street Bakery outposts you'll find a treasure trove of sweet goodies, but the salted caramel doughnuts are pretty hard to beat. Either that, or the black sesame, custard and coconut cruffin is an absolute thing of beauty, too.
Cookie Dough At Get Chunky
EAST VICTORIA PARK
Get Chunky in Vic Park is home to Australia's first cookie dough bar. Making your dessert dreams come true, you get to be the artistic director of the experience. If you're happy to take our advice, go the two scoops so you can try the vanilla and chocolate dough and then get happy with your mix-ins (like nuts, chocolate and M&Ms), finishing it all of with a swirl of Nutella, peanut butter or toffee caramel. A shot of milk helps wash it all down nicely.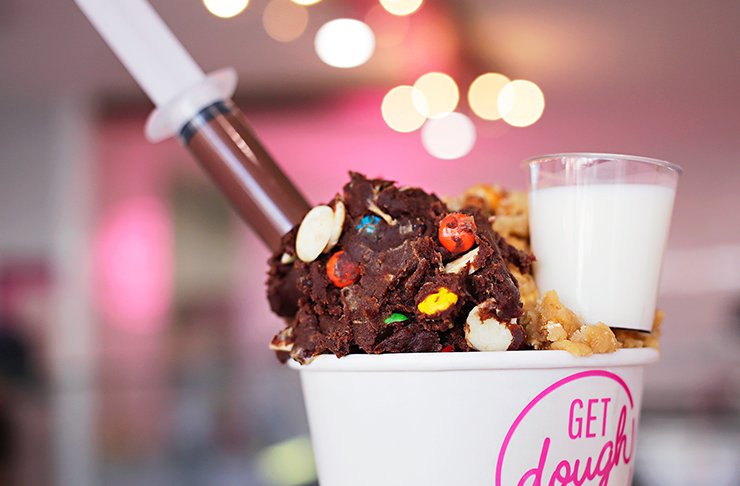 Catherine's Strawberry Pavlova At Rockpool
BURSWOOD
As much as we all love Mum's pavlova that gets wheeled out every Christmas, the one at Rockpool Bar and Grill is pretty damn hard to beat—not least because it's available every day. The perfect way to finish your meal at this modern steakhouse, the strawberry Pavlova is crunchy on the outside, marshmallow light on the inside, and stacked high with fresh winter strawberries plus dried strawbs for an extra crunch.
Tiramisu At Canteen Pizza
COTTESLOE
Canteen Pizza's tiramisu is the dessert to end all desserts. Not only is it gigantic (one will feed a table of four, unless you didn't over order on the pizza and pasta for mains), it's also seriously delicious—made with cold-drip coffee, it's creamy, rich and absolutely melt-in-your-mouth.
Vegan Ice Cream Cookie Sandwiches At Roho Bure
LEEDERVILLE AND SOUTH FREMANTLE
Who ever said that vegans can't enjoy a seriously sweet treat? Roho Bure whips up what is probably Perth's healthiest (yet somehow still so darn delicious) ice cream. Sugar-free, dairy-free, gluten-free and vegan ice cream cookie sandwiches are the winners for us—coming in four different flavours ranging from cashew cream honeycomb to charcoal chocolate orange, you've finally found the solution to all your sweet cravings without any of the guilt.
The Honeycake At The Honeycake
PERTH
The Honeycake was long a Fremantle Markets favourite, but now has permanent stores in the State Buildings and Yagan Square—all geared around the handmade production of these traditional Czech layered cakes. The Honeycake's Honeycake is simple: alternating honey and caramel layers with fresh walnut and honeycomb on top. It's seriously good.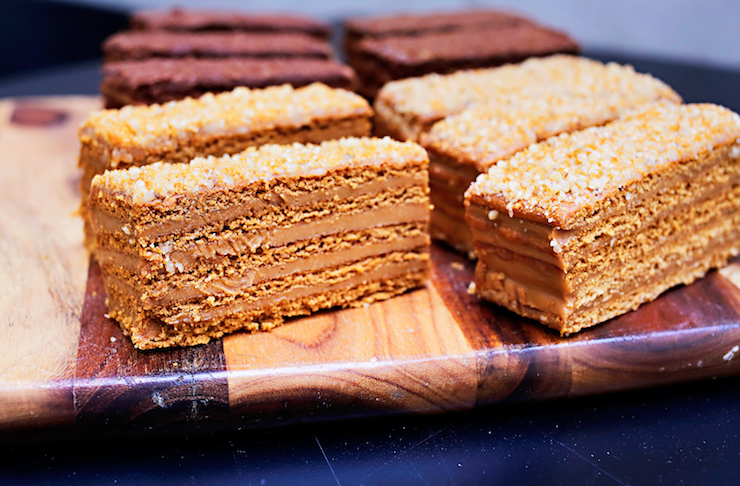 Banoffe Bombe Alaska At Bib & Tucker
NORTH FREMANTLE
Bombe Alaska is kind of the bomb. Bib & Tucker's iteration of this classic dessert is pretty true to tradition: it features a perfectly crumbly biscuit base, stacked with banana and toffee ice cream, dulce de leche and toasted meringue. Come dinner time, they'll flambé it for you for a few extra bucks, too.
Fried Banana Roti At Long Chim
PERTH
If your deliciously spicy meal at Long Chim wasn't already off the hook, it will be once you down their Fried Banana Roti. A Bangkok street classic, this crispy, golden gem of a dessert is chopped banana wrapped in roti and fried in ghee, then drenched in condensed milk and white sugar.
Want to satisfy your sweet tooth from the comfort of your couch? Here are the best desserts in Perth for takeaway and delivery.
Image credit: Danica Zuks, Emma Bryant, Elle Borgward