The importance of a good dessert in rounding out a meal cannot be overstated. From traditional desserts to modern twists on old favourites to outright culinary adventures in sugar, Perth restaurants are delivering some pretty good sweet offerings.
It's a tough list to narrow down, but here are 14 of Perth's best desserts.
Bombe Alaska At Market Grounds
Perth
Big enough to satisfy the dessert cravings of your whole table, the Bombe Alaska at Market Grounds is our new favourite dessert. This thing is layered frozen yoghurt, meringue and mascarpone, studded with macadamia, coconut and blueberry and it is the stuff dessert dreams are made of.
Baklawa Ice Cream Sandwich At Hummus Club
Northbridge
Not only is this one of Perth's best desserts, it's also one of the messiest—which in our eyes gets bonus points. End your meal at the Hummus Club with their insane Baklawa Ice Cream Sandwich—that's two sticky, flaky, delicious pieces of baklava with a dollop of the ice cream flavour of the day in between, bathed in caramel and topped with pistachio and rose. It's a certifiable table-thumper.
Cinnamon Bun Cake At North Street Store
Cottesloe
The regular-sized cinnamon buns from North Street Store are great and all, but their whopping cinnamon bun cake is next level. It's the size of around ten cinnamon buns combined and is great to share, but when it looks that delicious, you know you want to have a crack at it all to yourself.
Macaron Sandwich At Maison Saint Honore
Caversham and Floreat
The French certainly know how to work their way around sugar and this creation by Maison Saint Honore is no exception. Two giant macaron shells sandwich house-made chocolate, cookies or salted caramel ice cream together with whipped cream and a huge drizzle of coulis. And it'll only cost you $8; madness.
Chu Puffs At Chu Bakery
Highgate
The reasons we love Chu Bakery are endless, but their signature Chu Puffs are pretty impossible to go past. Perfectly light on the inside and crispy on the outside, these things are as Insta-worthy as they are delicious. Choose from a few flavours—we love the raspberry and lychee, but the matcha and yuzu are fab too.
Salted Caramel Doughnut At Mary Street Bakery
Highgate, West Leederville, Perth and City Beach
Within the glass cabinets at all Mary Street Bakery outposts you'll find a treasure trove of sweet goodies, but the salted caramel doughnuts are pretty hard to beat. Either that, or the black sesame, custard and coconut cruffin is an absolute thing of beauty, too.
Souffra At Boucla
Subiaco
It's a hard choice between this and the Chocolate Ricotta cake, but a meal at Boucla (and life itself) isn't complete without a big ol' serve of their Souffra, which is a filo-encased egg custard cake baked and dusted with cinnamon and pistachio. It's the kind of dessert you regret ordering just one of.
Catherine's Passionfruit Pavlova At Rockpool
Burswood
As much as we all love Mum's pavlova that gets wheeled out every Christmas, the one at Rockpool Bar and Grill is pretty damn hard to beat—not least because it's available every day. The perfect way to finish your meal at this modern steakhouse, the Passionfruit Pavlova is crunchy on the outside, marshmallow light on the inside, and stacked high with passionfruit drizzling down.
Tiramisu At Canteen Pizza
Cottesloe
Canteen Pizza's tiramisu is the dessert to end all desserts. Not only is it gigantic (one will feed a table of four, unless you didn't over order on the pizza and pasta for mains), it's also seriously delicious—creamy, rich and absolutely melt-in-your-mouth.
Cookie Dough At Get Chunky
East Victoria Park
Get Chunky in Vic Park is home to Australia's first cookie dough bar. Making your dessert dreams come true, you get to be the artistic director of the experience. If you're happy to take our advice, go the two scoops so you can try the vanilla and chocolate dough and then get happy with your mix-ins (like nuts, chocolate and M&Ms), finishing it all of with a swirl of Nutella, peanut butter or toffee caramel. A shot of milk helps wash it all down nicely.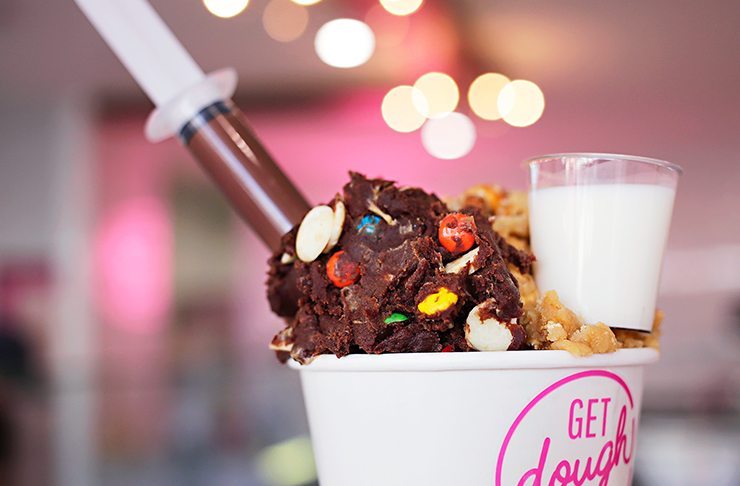 Tasting Flight At Chicho Gelato
Northbridge
Serving up the best gelato south of Italy, Chicho is the dessert mecca of Northbridge. Diners make the pilgrimage up and down William Street, no matter where they've eaten, to enjoy their creamy, melt-in-your-mouth gelato. Since all the flavours are delicious, the easiest (and best) way to go is to grab the tasting flight—why have just one flavour when you could have five? That, or the collaboration of the moment for something adventurous.
The Honeycake At The Honeycake
Perth
The Honeycake was long a Fremantle Markets favourite, but now has permanent stores in the State Buildings and Yagan Square—all geared around the handmade production of these traditional Czech layered cakes. The Honeycake's Honeycake is simple: alternating honey and caramel layers with fresh walnut and honeycomb on top. It's seriously good.
Bombe Alaska At Bib & Tucker
North Fremantle
Yeah, that's two Bombe Alaska sweets on one list but when a dessert is this good it can't be ignored. Bib & Tucker's iteration of this classic dessert is pretty true to tradition: it features a perfectly crumbly biscuit base, stacked with banana and toffee ice cream and toasted meringue. They'll flambé it for you for a few extra bucks, too.
Fried Banana Roti At Long Chim
Perth
If your deliciously spicy meal at Long Chim wasn't already off the hook, it will be once you down their Fried Banana Roti. A Bangkok street classic, this crispy, golden gem of a dessert is chopped banana wrapped in roti and fried in ghee, then drenched in condensed milk and white sugar.
Image credit: Emma Bryant and Elle Borgward