Nowhere in the world does breakfast quite like we do here in Oz. In fact, breakfast fare might be as close as we come to having a national cuisine, and Perth certainly hasn't missed the memo. Our city is dotted with worthy spots to break your morning fast, so much so that narrowing down a list of just 22 such places is a demanding task.
This list is a patchwork of places. From your much-loved neighbourhood joint, to somewhere slightly more upscale; your soul-hugging brekkies that anyone will eat, to your more inventive, contemporary options that keep Perth pushing culinary boundaries—we've tried to choose the best of the best. Here are 22 of Perth's best breakfast spots!

Petition Kitchen
Perth
Renowned Head Chef Jesse Blake cooks up a seasonal storm at Petition Kitchen, hands down the best spot to break your fast in the CBD. Good coffee, a daring-but-not-too-daring-for-breakfast menu and the gorgeous interior of their State Buildings should have this spot front-of-mind for hungry city-goers.
Flora & Fauna
Northbridge
While Flora & Fauna dish up what are probably Perth's most 'grammable brekkies, we're not just in this for the looks. Their seriously tiny hole-in-the-wall kitchen in a laneway off Aberdeen Street is packing a punch, delivering by far the most elaborate and delicious breakfasts you'll find in Northbridge: edible flower-topped French toast, vegan salted caramel chocolate waffles, and beetroot bruschetta, just to name a few.

Hobart Deli
North Perth
One of those spots you wish was your local, Hobart Deli is a breakfast/brunch powerhouse with the soul of an old-school corner shop. Soak in the neighbourhood vibes as you chow down on one of their hearty brekkies—anything from plain old eggs your way to vegan chocolate pancakes, and everything in between.
Cantina 663
Mount Lawley
Home of what we've unofficially dubbed Perth's best scrambled eggs, Cantina is your go-to Beaufort Street stalwart that's been dishing up breakfast for loyal punters since before breakfast was worth Instagramming. Set inside the old-school grandeur of Astor Arcade, you can either cosy up in a booth out front, sit street-side or park up in the dining room—you'll be soaking in that Mount Lawley buzz no matter what.
Mary Street Bakery
Highgate
Purveyor of fine salted caramel doughnuts, fried chicken buttermilk pancakes and some of the best soft eggs going around, Mary Street Bakery needs very little introduction to the Perth brekky mob. Now boasting four outposts, we think it's the O.G. that still takes the proverbial doughnut—its charming little corner location and split-level interior makes for a breakfast with true ambience.
Voyage Kitchen
Sorrento
Serving up nourishing, paddock-to-plate style food since before it was trendy way back in 2004, Voyage Kitchen is where the veggie garden meets the sea. Roll in from the beach and you'll be greeted with winners like the Voyage Farmyard Breakfast, roasted field mushrooms, house-baked beans or ricotta fritters. There's so much heart in this place it's palpable!

West End Deli
West Perth
Few places nail the perfect balance between refined dining and homely quite like West End Deli, Grandmother of the Perth breakfast scene. The breakfast offering is—and has always been—refreshingly creative, especially for the common neighbourhood joint. Deeply revered and cherished by locals and travelled to by breakfast-lovers far and wide, this is one spot we don't think will be going anywhere anytime soon.
Gordon Street Garage
West Perth
Enthusiastic about both coffee and breakfast fare, Gordon Street Garage is just one of many winning ventures from industry stalwart Nic Trimboli. If the ever-pleasing menu, expertly house-roasted coffee and excellent service isn't enough, there's always the incredibly hip fit-out; an industrial-chic meets rustic-Italian refurbishment of an old car garage featuring remnants of the building's factory-past and photographs of Trimboli's long-time suppliers. It's a pleasant place to eat, to say the least.
Hylin
West Leederville
It's as if the corner location of Hylin almost predetermined its ambience: the bustle of Railway Parade matches the hustle it takes to get a table here on weekends, but quickly gives way to the quiet of Abbotsford Street once you're sat among the draping greenery, awaiting your smashed avo. Micrology coffee and a bang-on, satisfying breakfast offering bring this place home for the win.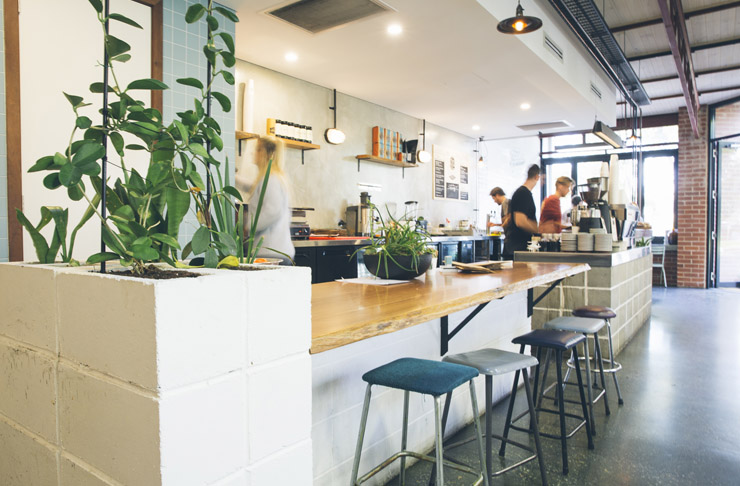 Il Lido
Cottesloe
Firmly entrenched as The Spot to dine in Cottesloe, Il Lido is so much more than your average beachfront cafe. Set within an old Art Deco building that once housed a cabaret hall, Il Lido pumps out the 'cucina povera' (peasant food) and coffee from the early hours to those coming in for a surf barefoot and those gearing up for business meetings alike. Pastries, sweet treats and sandwiches are on offer to go, too, so you can sort all of your needs in the one stop.
Good Things
Mosman Park
Raising Mosman Park's bar on good service and quality, honest food is Good Things, whose dining philosophy is basically summed up in the name. A very satisfying breakfast and brunch menu with a contemporary twist is served up until 2.30pm daily, against a backdrop of minimalism, neutrals and indoor plants.
Someday Coffee Co
Floreat
Sitting very pretty on a corner along Cambridge Street is Floreat's foremost breakfast spot, Someday Coffee Co. The pastel pink accents, bright whites, light pine and abundance of natural light are only the first thing to love about this place—it's the food that'll have you coming back repeatedly. As much a meeting place as it is an eatery, you'll spot this place on Cambridge thanks to the hoard of people that tends to spill out onto the street in front of it.
Odyssea
City Beach
Boasting some of our city's best views and a luxurious fit-out that makes for a very #Perth breakfast experience, Odyssea is as much a place for post-swim coffee as it is for celebratory champagne brunch. The menu here is seasonal, meaning you're getting the best quality ingredients crafted into delightful dishes by a caring kitchen. Ocean vibes to boot make this one a real go-er.

Mason & Bird
Kalamunda
Putting the hills on the culinary map in a big way is Mason & Bird, brainchild of former Print Hall Head Chef Brad Johnston, his partner Jacklyn Noel and one-time Rockpool venue manager, Matt Nguyen. They've both traded in their finer-dining repertoire for a more casual affair, but the resulting breakfast and brunch offering is all about quality and flavour, as well as championing local producers.
Hampton & Maley
Victoria Park
The follow-up to Hadleigh and Carolynne Troy's now defunct, but well-loved fine-diner Restaurant Amuse, Hampton & Maley is their version of a casual neighbourhood breakfast joint and it's nailing it. The food is decidedly contemporary and technique-driven, without failing to be delicious and incredibly satisfying of morning hunger. Their soft eggs, which are a twist on Hadleigh's hit egg-in-a-jar dish back at Amuse, are the best in town.
Harvest Espresso
Victoria Park
Another lowkey brekky joint with an innovative brekky offering in the Vic Park locale, Harvest Espresso's food remains on point after many years of braving the ever-growing herd of local cafes. A changing, seasonal menu ensures food is fresh, current and of the highest quality—and meals are plated up so beautifully you almost won't want to eat them. Almost.

The Attic
Fremantle
Majorly benefiting from Fremantle's innate historical charm, The Attic is your go-to Freo hot spot for great coffee and nourishing breakfast fare. Perch up in the actual attic—the extremely cosy upper level, nestled in the ceiling—or grab a table out front on quiet Bannister Street. Menu winners range from bircher with spiced plums and coconut to green chilli eggs—to be followed up with a fresh sweet treat from the cabinet, of course.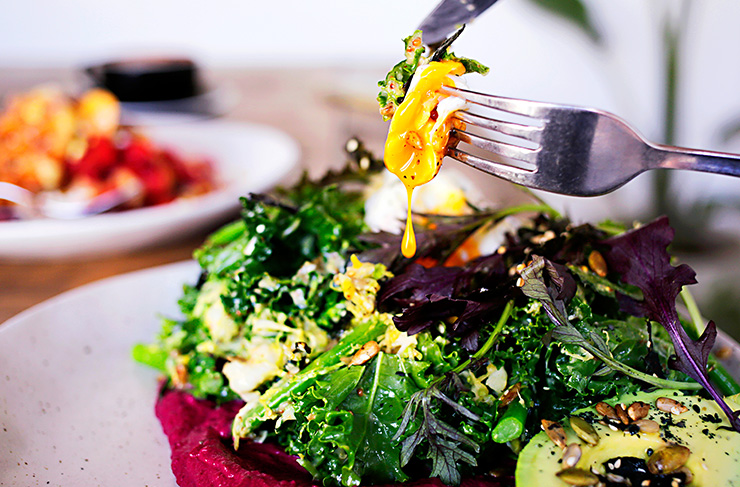 Port City Roasters
South Fremantle
While the name might suggest that this place is all about coffee, Port City Roasters is dishing up some extremely good breakfast alongside their smooth brews. For a start, the breakfast is all day, and if that's not enough to make you happy, we're willing to bet that their Tres Leches French Toast will be. Don't forget to grab a house-made doughnut for the road!
Moore & Moore
Fremantle
The debate over Freo's best café is a heated one, but Moore & Moore's name comes up regularly in the discussion. Housed in the heritage Moores building on Henry Street, this breakfast haunt is about as quintessentially-Freo as they come. The menu is feel good, the vibe laid-back, and the space (which doubles as an art gallery) eclectic and interesting—a winner in our books.
Duck Duck Bruce
Fremantle
If the question of Perth's best breakfast could be decided solely based on menu item names, Duck Duck Bruce would come out on top. Someone has had a very good time putting this menu together —from the 'Orange Is The New Stack' to the 'We're All Going On A Summer Hollandaise', the deliciousness is self-explanatory. As they put it—this place really is good at 'filling your faces with awesome'.
Bib & Tucker
North Fremantle
On top of offering what is probably Perth's best Indian Ocean view, Bib & Tucker also serves up a breakfast for foodie-champions. The menu is as solid as they come—winners like eggs your way, green egg white omelette, huevos rancheros, avo on toast and woodfired baked eggs keep the beach-side breakfast crowd very happy indeed.
Propeller
North Fremantle
Once an old bus garage, the addition of a nicely-renovated shipping container and outdoor courtyard have transformed Propeller into one of the most vibrant breakfast spots this side of the train line. The menu (and service) is intelligent—weekday early-birds can enjoy quick and easy eats while the weekend brunch crowd can venture slightly further afield with Head Chef Kurt Sampson's brave, produce-driven menu.
Want more? Check out the best pancakes in Perth.
Image credit: Elle Borgward, Louise Coghill, Emma Bryant