Even if you're not a fan of the cooler weather, you have to admit that hanging out with your mates around a fireplace is one of life's greatest pleasures. If you're not lucky enough to have one, Perth is dishing out the goods with fireplaces in cafes, restaurants and bars all around town.
Here are a few of the best fireplaces in Perth to make those cold days a little more bearable.
Henry Summer
Northbridge
The outdoor fireplace at Henry Summer is just what we need all year round. This spot is absolutely firing over the weekends with live DJ sets and cocktails on tap; and during the week it's the perfect spot to vibe in the resort-themed outdoor area and have a bite to eat. Even in the summer, the fireplace makes an awesome design statement and overall, it's just pretty darn chic. Don't leave without a taste of their infamous Coco Martini.
SKØL
Scarborough
Setting up shop in the back courtyard of Drift Cafe, SKØL means "cheers" in Norse, so it should come as no surprise that it is Scandi inspired all the way, from the menu to the clean-cut minimalist decor and welcoming laid back vibes. The quaint little fireplace sits pretty by the entrance surrounded by very, very cool minimalist decor, and it's safe to say we're a little obsessed.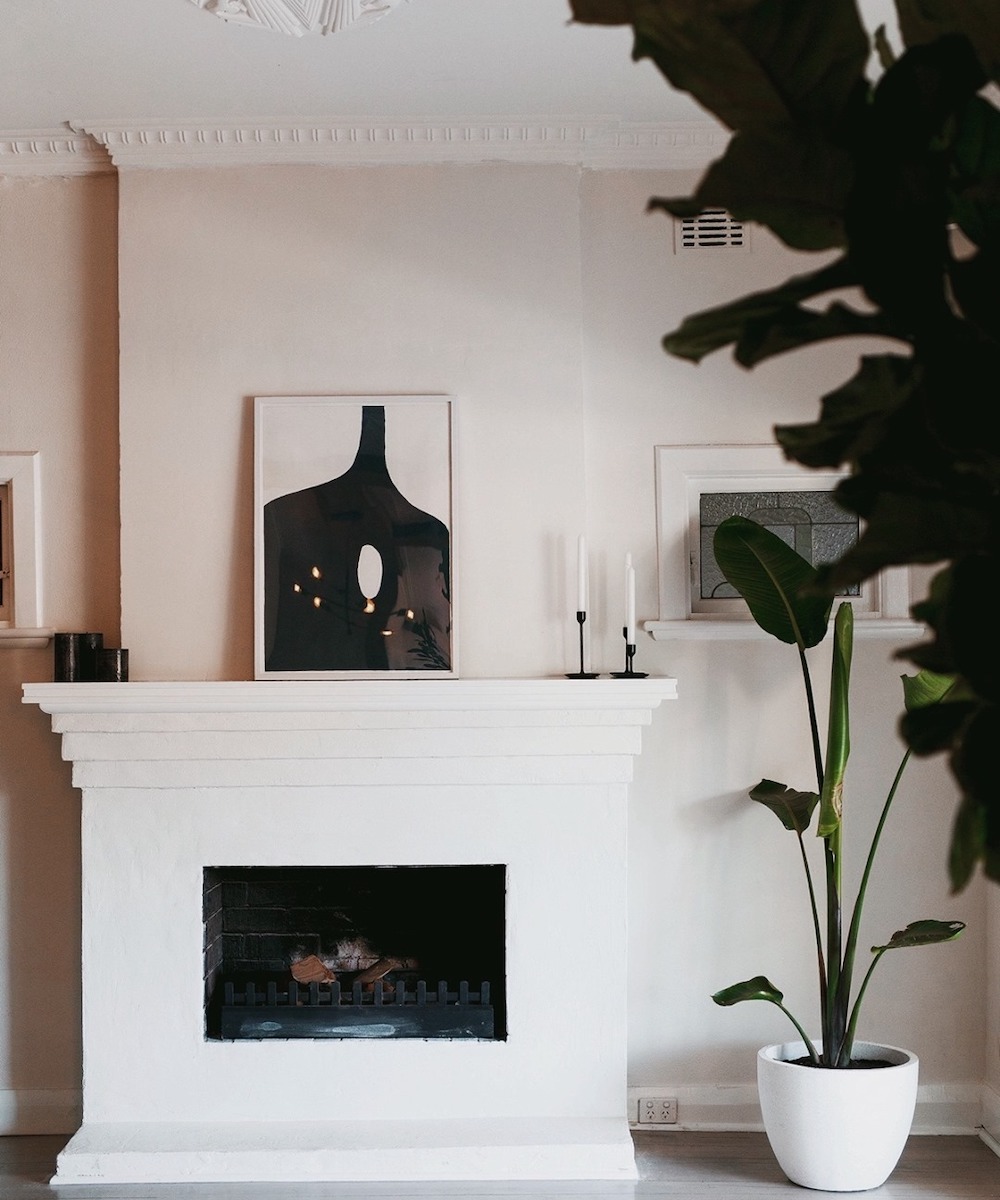 Palace Arcade
Fremantle
Third time's a charm—that's what they say anyway—and we reckon this is the case for Palace Arcade's third venue in Fremantle. Sit by the apres-ski lodge fireplace, munching on delicious New York style pizzas bigger than your head and sipping your way through the fine-tuned drinks list overflowing with a rotating selection of crafty brews and boss-level cocktails. Then, play all the retro arcade games you could ever ask for.
Island Market
Trigg
Island Market Trigg sits right on the beach, and it's got a gorgeous ceiling-high stone fireplace splitting the room into two airy sections. After you've finished admiring the bright white and pastel pink interiors, take a look at the menu and just try to narrow it down to a reasonable amount of food—this is the hard part. Grab one of their fresh, delish cocktails or munch on the filled pitas.
St Brigid Bar
Doubleview
Behold, the new local for all you folks north of the river. Boasting great wines and immaculate vibes, St Brigid Bar in Doubleview is the new kid on the block. What's more is their gorgeous little woodfired fireplace, surrounded by a brick and mortar design. So what are you waiting for? Grab your friends, family, whoever—and take a seat by the fire with drink in hand.
Habitué
North Fremantle
Relaxed, romantic and oozing Freo cool, North Freo's Habitué also boasts a fireplace. Using only the freshest local produce, the unique Mediterranean-style eats are delicious and the accompanying wine list is spot on. Habitué features live music from local and international acts on a regular basis. Gorgeous food, wine and music in a beautiful, cosy setting. What could be better?
Scarborough Sunset Market
Scraborough
Scarborough Sunset Markets still run in winter, and we're extremely grateful to say the least. The vibes are immensely cosy this year, with custom-made fire pits blazing all afternoon, and there'll even be marshmallows for roasting. Plus, local DJs will be providing the hottest soundtrack for your ultimate wintery Saturday session.
Samson's Paddock
Mosman Park
Everyone knows that Samson's Paddock is a sure thing for a delicious feed and killer drinks, but if you can nab a spot on the couch around the fireplace, it's also the perfect place to warm up on a cold wintery night. Settle in with one of their steak and whiskey pairings and you'll be warm from the inside out.
Harbourside
Fremantle
Harbourside Freo has stunning views over the harbour (as the name suggests) backed up by killer cocktails and incredible mezze. And while you might think this is more of a summer spot, it's actually one of our faves for winter thanks to its large central fireplace and cosy lounges.
Blasta Brewing
Burswood
Blasta Brewing serves up some of the best beers in WA, and their venue in Burswood certainly doesn't disappoint. Head in for a beer and a bite to eat, and warm up by their massive fire pit in the middle of the room.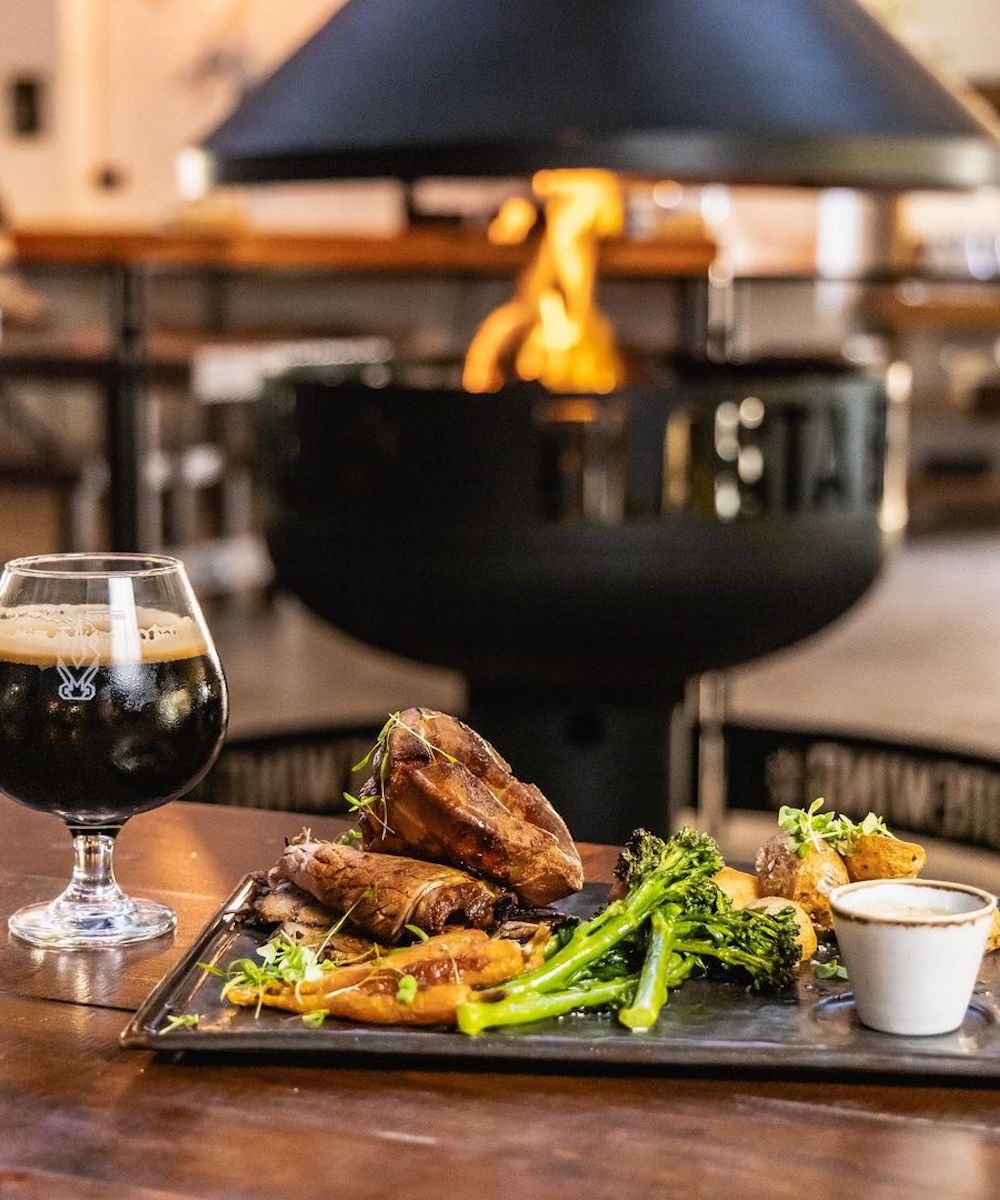 The Brisbane Hotel
Highgate
A year-round fave, The Brisbane Hotel has a palm-filled beer garden to hang out in during summer and a toasty fire to huddle over in winter. With a menu full of modern pub-grub, delicious beers on tap and comedy upstairs, it makes for a perfect mid-week winter evening.
Albert's Respite And Refreshments
Wembley
Formerly The Stanley, we bring you Albert's Respite and Refreshments. Sitting pretty on Cambridge Street, this cute little neighbourhood nook is perfect for cosying up by the fire for after-work drinks or intimate catch-ups. Pair your drink with some of the mouth-watering European bar snacks, and you've got yourself a darn good time.
The Royal
Perth
If you're on the hunt for a pub with shed loads of charm and class, head on over to The Royal in Perth. The 140-year-old building has been beautifully restored and there are tonnes of cosy spots to settle into. We're keen to head over on a Sunday for their mulled wine special by the fireplace.
Moore & Moore
Fremantle
The laid back feels at Moore & Moore make for an excellent winter hangout. With its vintage couches and a long list of warm beverages to enjoy by the fire, it's the perfect place to lay back with your work, a good book or a friend on a cold day.
The Windsor
South Perth
Another perfect spot to cosy up by the fire in Perth, The Windsor has multiple fireplaces to check out. Combine that with their Sunday roast special for $29 and you have yourself the perfect cool weather activity.
Stables Bar
Perth
While a warm fire is a definite incentive to hang out at Stables Bar during the cooler months, it's certainly not the only one. With a menu featuring some of the most mouth-watering food money can buy and an epic cocktail list, you'd be eating here even if it wasn't freezing outside.
The Guildford Hotel
Guildford
Nearing its 140th birthday, The Guildford Hotel is one of Perth's great heritage beauties and always delivers big cosy vibes come winter. Grab one of their custom winter cocktails and curl up on their vintage armchairs by the fireplace. We guarantee you will never want to leave.
Hello Rooftop Bar
Northbridge
Just when you thought The Rechabite couldn't get any cooler, think again. Their top-floor venue, Hello Rooftop Bar, is offering up some roasted, toasted times with their winter firepits. They'll even be giving you tasty cocktails to sip on while you get nice and warm. Perfection.
The Queens
Highgate
Live music, delicious food, great beer—The Queens in Highgate has got it all. Whether you're craving a hearty dinner or you're more in the mood to graze the afternoon away, you'll be able to find something that tickles your fancy on this delish menu. With exposed brick interiors and the stunning, wood-fired, fully functioning fireplace, you'll feel right at home.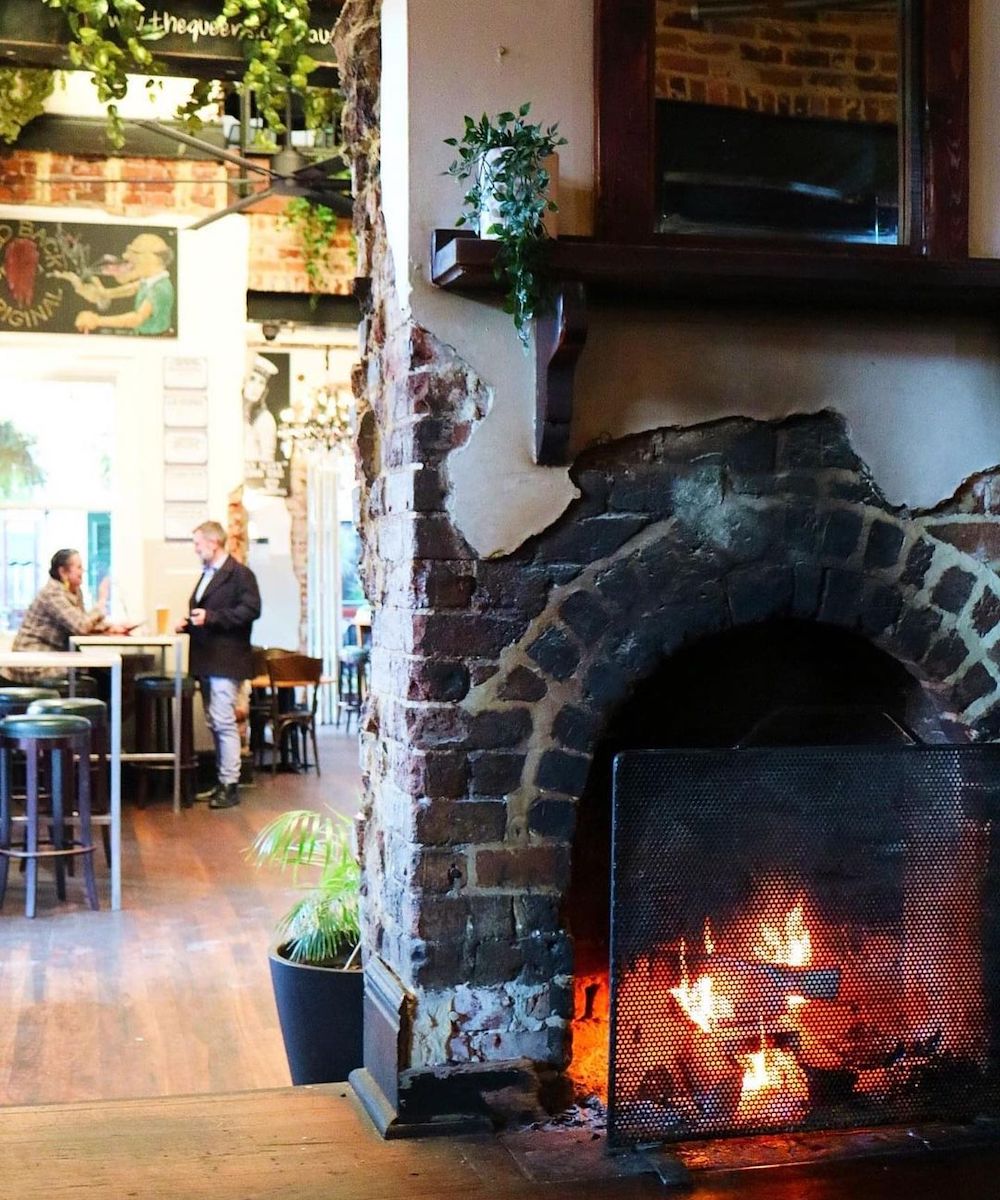 The Cabin
Mount Hawthorn
With brown leather chesterfield couches, dimmed lighting and deer heads on an exposed brick wall, The Cabin is the ultimate setting to meet your mates for a nightcap on a chilly evening—if you get in early, you may just get lucky enough to score a seat near the fireplace.
Picabar
Northbridge
A long-time favourite, Picabar serves up tasty drinks, the best hot chips you'll ever find, and chilled out vibes, smack bang in the heart of Perth's cultural centre. During their latest renovations, they found a fireplace covered up by brick right by the bar, which they obviously decided to get back in working order to keep you toasty warm. Thanks guys.
Mrs Browns Bar
North Fremantle
This cosy neighbourhood bar in North Freo has strategically put a fireplace in their courtyard, so locals can hang outside even in the winter. Sit down to a cheese platter, a glass of wine or a Flipside burger delivered from next door and you have the perfect winter evening ahead of you.
Alfred's Kitchen
Guildford
Alfred's Kitchen is one of the best places to enjoy a burger by the fire out front. Night after night, the crowds congregate out the front of this roadside local to get their hands on Alfred's famous homemade burgers. Enjoy yours with a cup of their even more famous pea and ham soup.
Mr Chapple
Fremantle
Located inside Freo fave The Old Synagogue, Mr Chapple offers up a French wood fireplace that'll keep you nice and toasty in the cooler months, with the bar stocking loads of WA craft brews and plenty of spirits.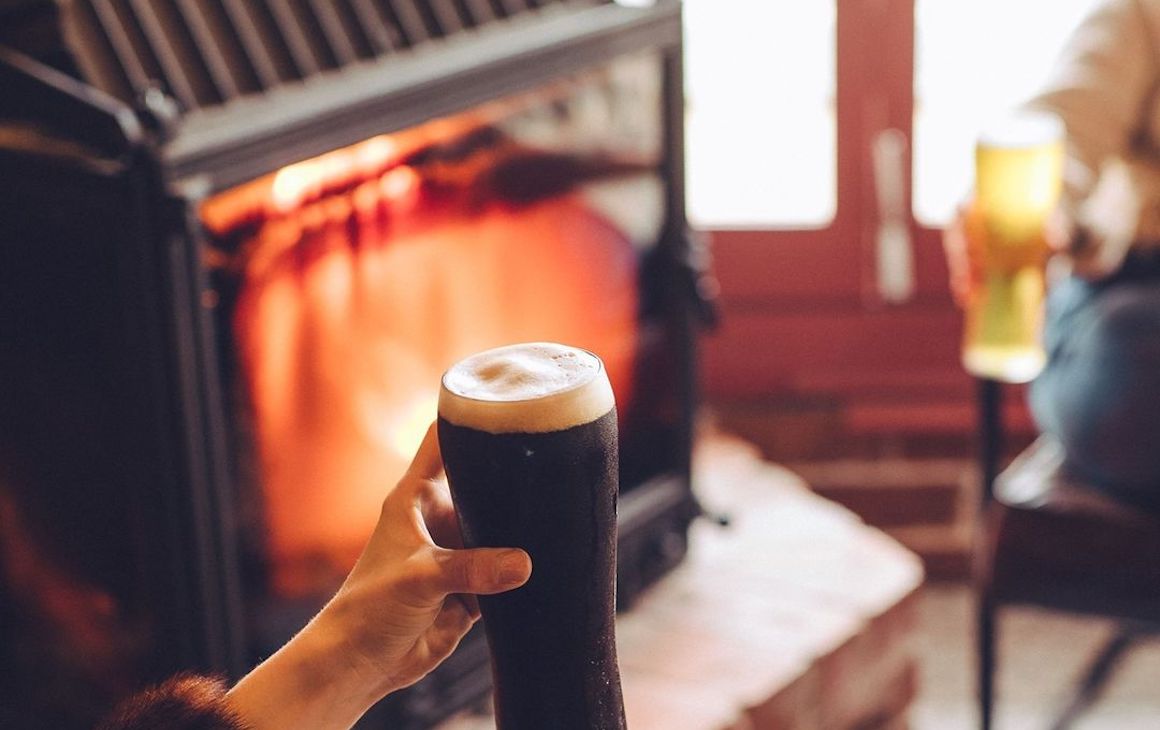 Rodney's Bait And Tackle
Mosman Park
Rodney's has become a favourite spot for the people of Perth to grab a drink from their boat-shaped bar and watch live jazz surrounded by a wall covered in collector's items. A treat for the eyes, ears and the taste buds, Rodney's also has a fireplace conveniently situated next to some super comfy couches so you can hunker down for the night.
The Rose & Crown
Guildford
Who doesn't love a little trip to the greener pastures of Guildford in winter? Next time you're stumped for what to do on a wintery day, head to The Rose & Crown (aka the oldest hotel in the state) for a pub lunch by the fire and you're sorted.
Percy Flint
South Fremantle
We can't get enough of Percy Flint's courtyard in summer, but come winter, we're all about their cosy fireplace. Couple that with a glass of mulled wine and you've got yourself the perfect winter afternoon.
Julio's
West Perth
This stunning heritage building, which was originally transformed from a house into a restaurant in the 80s, is a feast for the senses. With its exposed brick walls, arched doorways and polished wooden floorboards, the restored fireplaces are just one of the reasons you'll love Julio's. Order the gnocchi, a glass or two of red wine and get cosy.
The Oxford Hotel
Leederville
The Oxford Hotel's charming colonial building has endearing English pub vibes complete with a delightfully cosy fireplace. Serving pub grub but a little fancier, you'll find comfort food like prawn and blue swimmer crab linguini or risotto with field, shimeji and portobello mushrooms on the menu to keep you warm this winter.
Want more cosy spots in Perth? Here are Perth's best cafes for rainy days.
Image credit: The Guildford Hotel, SKØL, Blasta Brewing, The Queens, Mr Chapple