PSA: If you haven't sat down to a pita and a glass of French rosé at Island Market in Trigg yet, you really need to reassess what you're doing with your life.
Ok ok, so it's only been open for a month so you're forgiven if you haven't made your way to this newbie yet but with summer on its way, we predict this place ain't gonna slow down in popularity any time soon so best get your skates on.
Formerly Kailis Trigg Beach and before that Trigg Island Café, Island Market Trigg really is everything beachside dining in Perth should be and hits the mark where others before have ahem…struggled. It has also been packed to the brim for lunch and dinner since throwing open its doors last month, proving that it was a much needed—and perfect—addition to this northern beach burb'.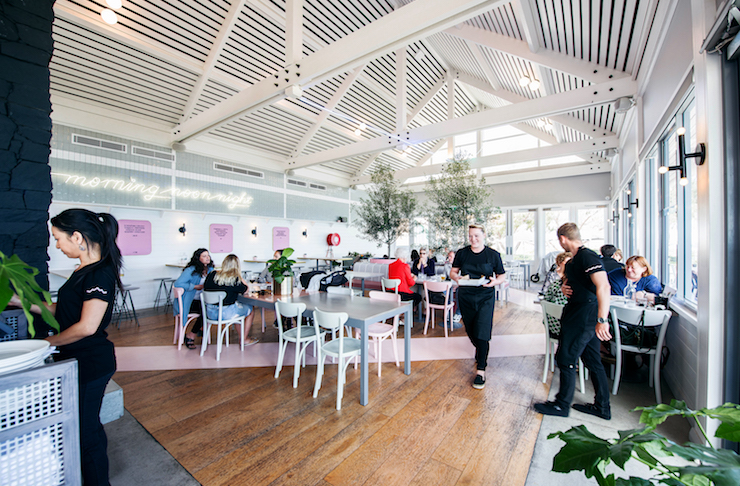 Let's talk about the interiors for a sec, cos I know you've seen them splashed all over your Insta feed. The place is drop dead gorgeous and we have award winning boutique firm Mata Design Studio to thank for that (These guys are also behind Urban List faves Nic & Kolo, Chu Bakery and Chilli Panda). The bright white and pastel pink interiors, neon signs and lofty white ceilings may sound kitsch but in person, they work a treat. The restaurant is modern and stylish, while still feeling fun, relaxed and beachy. Most importantly, it makes the most of its primo position overlooking the gorgeous Trigg beach.
Speccy interiors aside, it's also clear to see that a lot of thought and love has gone into the menu, too. Your run-of-the-mill seafood restaurant this is not! Dubbing themselves 'a neighbourhood joint', the food on offer here is Spanish/ Mediterranean-inspired and it's a really interesting and mouth-watering menu that has you covered no matter your mood.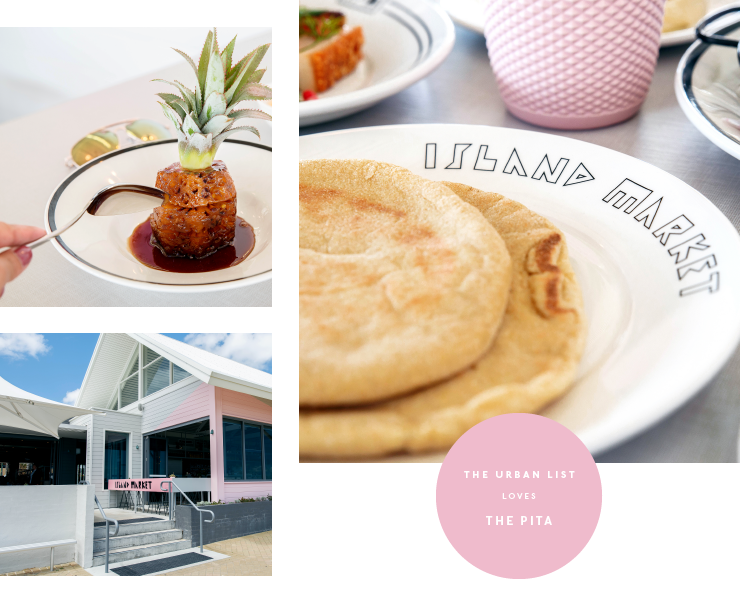 Let me just wax lyrical about the pita for a minute, because oh-my-gaaaawd, it is good. Like really, really, really good. Like just-give-me-a-plate-full-of-pita-and-roll-me-on-outta-there good. Luckily my first visit to Island Market Trigg was with a big group so I could indulge in a whole lotta pita goodness. Served with your choice of hummus, taramasalata, baba ghanoush, Israeli smashed avocado and feta labneh to name just a few of the dips, they are simply scrumptious.
On to mains and it's hard for me to ever go past the fried market fish, especially when it's a perfectly cooked piece of goldband snapper. Served with Manjimup chips, this dish is summer on a plate.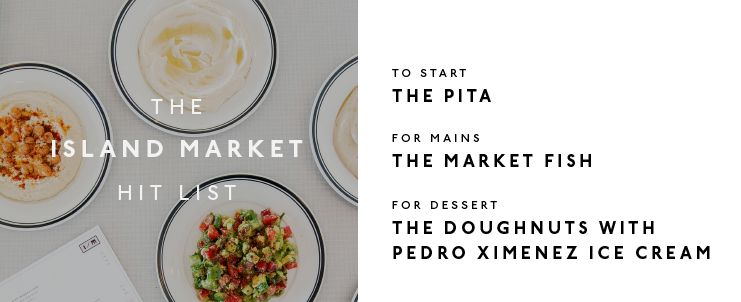 The calamari, octopus and tiger prawns don't let team seafood down either while the meaty dishes also pack a punch. Carnivores will love the tender skirt steak served with beetroot, walnut, turnip and horseradish while the pork belly and wood roasted chicken wings are also punchy and full of flavour.
If you're after something a little more low-key, the filled pita with chopped salad (you can take your pick between lamb shoulder, chicken shawarma, pork belly, or felafel) is guaranteed to have you drooling.
Make sure you save room for dessert, cos the doughnuts here are already gaining cult status. Served with pedro ximinez ice-cream, they are sweet, rich and all kinds of delicious.
Booze-wise, the cocktail list is impressive (and really reasonably priced!) and the wine list is small but thoughtful and perfect for the bites on offer.
Welcome to the neighbourhood Island Market Cafe, you guys are gonna fit in real good!

Image credit: Nancy Hanna