While in 2022 South Yarra might have a polished reputation, you might be surprised with the multitude of cuisines, dining styles and settings—from intimate to hawker-style eateries—in and around the divisive strip that is Chapel Street. Just a stone's throw from the CBD, South Yarra provides a starting point for many to kick off an evening (that might finish at K-Fry or Maccas hours later) while you duck in and out of the suburb's many watering holes.
So take a stroll in, out and around South Yarra's best restaurants.
Lona Misa
Shannon Martinez, the owner of northside institution, Smith & Daughters, has brought her beloved plant-based dining to South Yarra. Teaming up with Ian Curley, owner of Kirk's Wine Bar, Lona Misa was inspired by Martinez's Spanish heritage and serves Latin food with seasonal cocktails.
It's the kind of place that you'd bring people visiting Melbourne to show them what our city has to offer — high-quality innovative food and creatively crafted cocktails, in a masterfully designed venue. For the best plant-based restaurant South Yarra has, look no further.
A25
If you're looking for some of the best Italian food in Melbourne, you can't go wrong with A25. Verona-born chef Bryan Spijkers uses old-school techniques to create a dough that's rested for 48 hours before being stretched out, topped with fresh ingredients and fired — making a pizza that's light and fluffy with a crispy crust. They also serve delicious pasta, including handmade gnocchi in a pesto sauce and pappardelle with a slow-cooked beef wagyu ragu. If you can't make it to Italy in 2022, this is the next best thing.
For a cheap meal, head there on Mondays and Tuesdays for $16 pizza and pasta. Make sure you make a booking though, this local favourite is packed every night.
Misschu
South Yarra staple Misschu in true hawker form is always bursting at the seams of patrons patiently waiting to enjoy the delicious Vietnamese.
With its relaxed style of food, funky interiors and approachable attitude towards dining, Misschu is without a doubt one of the best restaurants South Yarra has to offer.
Leonard's House of Love
Leonard's celebrates all things simple and tasty—bourbon, charcoal chicken and open fires—all set within a 70s lounge-style log cabin venue. It's seriously a vibe.
It's one of the best dive bars in Melbourne in 2022, so whether you're in for a laid-back beer with friends or ready to chow down on some delicious no-frills food (burgers, fried chicken and loaded fries, as well as salad and mash combos) it's the spot for you. It also serves hands-down the best cheeseburger in Melbourne.
Thirty-Eight Chairs
No "Best Restaurants South Yarra" list would be complete without Thirty-Eight Chairs, Building on recipes passed down from his nonna, owner Gino Forlano has beautifully curated a menu that is elegantly classic Italian.
A beautifully intimate setting boasts a sophisticated interior with tables spaced just as they are in Italy, who knows who might go home with a full belly and some new friends?
Gilson
Domain Road may be home to The Tan track but it's also home to Gilson, an all-day dining hotspot that transforms into a beautiful dinner haven.
With Jason McBride at the helm (Mammoth, Touchwood and Barry) you know this place is good. A sophisticated and delicious cocktail menu adds to the wonderfully somewhat Italian food on offer.
Speakeasy
Wonderfully wooden, Speakeasy Kitchen Bar is the perfect place for amazing food while you delve into some delicious drinks.
Everything about this place is legit, especially their menu, from beautifully seared salmon to busty burgers. Done with dinner, just pop over to the bar and continue your night with some unreal cocktails.
Atlas Dining
Now talking about a culinary cruise, this place is unreal. Atlas' cuisine changes with the seasons and the menu is changing weekly in 2022.
We'd make recommendations but they'd be irrelevant the next week; however, to say the least, the food is amazing. Whether it's a date night or a catch-up with old friends, Atlas is perfect for any dining occasion, and without a doubt one of the best restaurants in South Yarra.
Yagiz
Melbourne's Middle Eastern dining game is gaining some serious tread in 2022 and we're big fans of it. The menu is broken down into yummy snacks, mezze-style entree plates and beautifully hearty mains that will leave you full but still wanting so much more. From falafel to fried eggplant, Yagiz has it all.
Abacus Bar & Kitchen
If you're looking for breakfast, lunch, or dinner, look no further than Abacus Bar & Kitchen in 2022.
It's pretty hard to go past the speck croquettes, featuring speck, gruyere, chorizo, and spiced plum on the small shares section of the menu, or for something bigger try the slipper lobster, with home-made crumpets, finger-lime caviar, and dill creme fraiche.
France-Soir
A true Melbourne institution, France Soir has been packing Melburnians in every night for more than 30 years. It's no wonder it's one of the best restaurants South Yarra has.
You'll find traditional French fare on the menu, including the likes of escargot (snails), andouilette (house-made pork sausage), moules mariniére (mussels in white wine), and much more. As you'd expect in a French restaurant there is also a great selection of steak, chicken, and lamb dishes.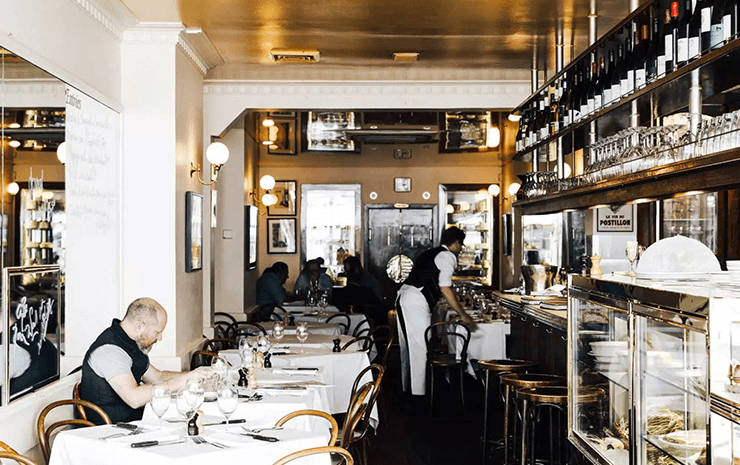 Matilda
Matilda is a restaurant that is Australian at heart but the big draw is the cooking method. There's no gas here: the team are using big hunks of Ironbark, Cherry, Applewood and even Pinot grapevines to smoke the hell out of pretty much everything.
The menu is built around meaty mains like whole John Dory topped with finger limes, saltbush and native grenobloise, 'Salt & pepper' Blackmore Wagyu bavette, and fired-up Macedon duck, with leatherwood honey and figs. Kangaroo tartare with fermented red peppers is so smooth you'd like it was A-Grade Tasmanian beef. There are also some delicate pickle plates (the beetroot is a work of art).
Omnia
If you're looking for a European-style bistro bar, you won't be disappointed with Omnia. Their menu changes seasonally, led by award-winning chef, Stephen Nairn, and they're all about supporting Aussie farmers and producers.
There's live music every Wednesday as part of their Omnia Vista Social Club for 2022, as well as regular events throughout the month.
Shadowboxer
Shadowboxer is a bar and bistro from foodie triumvirate Michael Thom, Luke Thompson and Nick Aitken, a team that honed their skills at Naked For Satan, Borsch Vodka & Tears and Lucky Coq, before opening their place.
This place is set up for long lunches, but it'd make one hell of a date night venue. The cuisine is modern Australian, and some of the highlights include the Lakes Entrance Dory, as well as the Wattle Grove organic flat iron steak.
Cucinetta
Cucinetta translates to "little kitchen", and that's exactly what this local favourite is. This is Italian the way Nonna used to make it: fresh, simple and cooked with love. Everything is made fresh daily – there's no freezer on site so every dish is considered carefully to ensure nothing is wasted.
The menu is seasonal and the restaurant also has an award-winning wine list—you can also BYO wine all day Sundays in 2022 for the real family gathering vibe.
Bar Carolina
Tucked away alongside the French bistros of Toorak Road is Venetian bistro, Bar Carolina. It serves contemporary Italian dishes in a chic atmosphere - perfect for that area of South Yarra. While you're there you can check out their swanky rooftop terrace bar, Tetto di Carolina, for a hand-crafted cocktail.
Rock Sugar
Tucked onto a quieter corner of South Yarra and Hawksburn Village, Rock Sugar dishes out some of the best modern Thai and Instagrammable cocktails in Melbourne. The interior is lit up pink, featuring open brick and a neon pink "rock" emoji.
One of the highlights of their contemporary Thai menu is the 18-hour slow-cooked angus beef cheek, served with chilli, coconut cream, pomelo and kohlrabi. Once you try Rock Sugar you can't go back.
The Botanical
With an impressive list of weeknight specials, The Botanical has a steady stream of regulars in 2022.
The main bar is one of the big draw cards for The Botanical: With an exceptional bar selection, ample seating, a fire in winter, and courtyard space, it's not hard to see why this South Yarra stunner is one of the best restaurants South Yarra has.
Spoonbill
Located inside South Yarra's Art Series Hotel, The Olsen, Spoonbill is all about celebrating Australia's finest produce. It offers paddock to plate dining, so you can expect fresh, high-quality ingredients cooked with meticulous attention. If anyone ever asks you what "Australian food" is, this is the place to take them.
Hello Sam
At Hello Sam, the motto is "burgers fix everything", which in 2022 is a definite vibe. They use 100% Victorian grass-fed Angus beef, and all of their ingredients are made in-house. They cater for most dietary requirements and their burgers are served oozing with sauce, whether it's vegan, gluten-free or regular. Trust us, if it's burgers you're after this is one of the best restaurants South Yarra has.
Now head north and check out Lygon Street's best restaurants here.
Image credit: Lona Misa