As far as countries go, New Zealand has got it going on. Every year, thousands of foreigners battle long-haul flights and inevitable jetlag to get up close and personal with what this glorious nation has to offer. They're left speechless by its natural beauty, delish brunch fare and perfect flat whites, but there are a couple of things that might leave a more lasting impression than a slice of avo toast. We're talking New Zealand's weird and wonderful tourist attractions.
It should come as no surprise that New Zealand specialises in wacky tourist attractions. From giant gumboots and doughnuts to Insta-worthy toilets and bra-lined fences, here are 15 of the most weird and wonderful tourist attractions in New Zealand.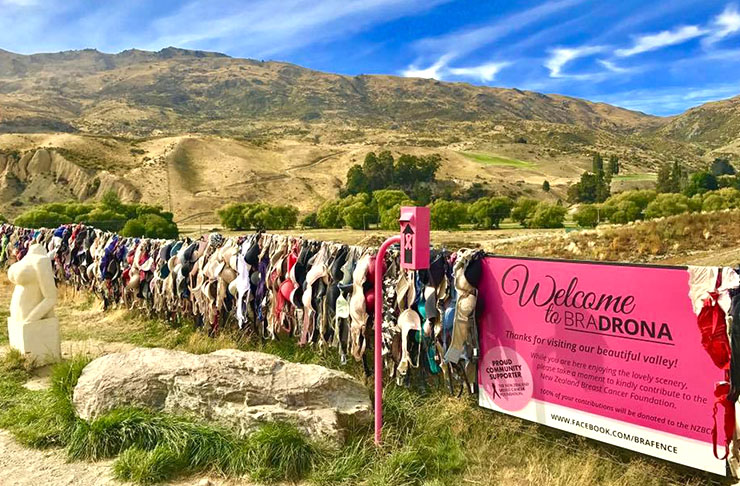 Cardrona Bra Fence
Cardrona Valley
One look at this epic fence will have you thinking 'only in New Zealand.' Set amongst the stunning Cardrona Valley is 'Bradrona', a colourful fence lined with thousands of bras. The origins of this quirky and controversial tourist attraction remains unknown but locals noticed the brasieres pop up between 1988 and 1989 (rumour has it the a couple of tipsy lasses celebrating New Year's at Cardrona Hotel hooked their bras up to the fence for safe-keeping). Since then, there's been several attempts to take it down (booo!) but it's now an iconic landmark and helps raise much-needed moolah for the New Zealand Breast Cancer Foundation, with a whopping $30,786 donated this year so far!
Giant Gumboot
Taihape
'If it weren't for your gumboots, where would ya be?' Really, though, this iconic song lyric was taken so literally by the small Kiwi town of Taihape that they erected a giant gumboot statue in its honour. Why? '70s comedian and satirist John Clarke, who played gumboot-wearing Fred Dagg, chose Taihape as Fred's hometown. Taihape quickly became known as the 'Gumboot Capital of the World' and the colourful, corrugated iron gummie was created. These days, Taihape still wears it's title with pride, hosting an annual Gumboot Day, including a gumboot throwing competition.
Cuba Street Bucket Fountain
Wellington
The infectious energy of Wellington's bustling Cuba Street is unbeatable and the iconic Bucket Fountain is the icing on the cake. This brightly coloured kinetic structure has been splashing unsuspecting pedestrians since 1969 and is a must-visit if you're ever visiting the capital. Buckets fill up with water and spill into the pool below, except most of it ends up on the footpath and people walking by. Fun fact #1: While filming Lord of the Rings, Frodo aka. Elijah Wood took a leak in the fountains. Fun fact #2: Rowdy students often pour dishwashing liquid so bubbles appear all over the street. Fun times.
The Kumara Box
Dargaville
Ah kumara, our native sweet potato. There's one bloke in New Zealand whose love for kumara runs deep. Meet Warren Suckling aka. 'Ernie the Kumara King', the man behind Dargaville's Kumara Box. A trip to this spot will take you on a tour through the kumara shed, where Ernie will show you all his kumara memorabilia and explain the vegetable's farming history. You'll then hop on the kumara-inspired train and go for a hoon around the kumara farm, also home to New Zealand's smallest church!
Giant Dog, Sheep and Ram
Tirau
Cruise down the highway through Tirau and you'll see three corrugated farm animals—a sheep, a ram and a dog—guarding the town. The sheep came first, with the information centre-cum-dog arriving shortly after, and the ram didn't join the party until 2016. Tirau's use of corrugated iron sculptures (there's also a shepard outside the church) makes it the perfect photo and coffee pit-stop while roadtripping through the North Island.
Big Carrot
Ohakune
New Zealand's got a thing for 'big things', and Ohakune's 'Big Carrot' is one of the faves. This seven-and-a-half metre roadside sculpture appeared in 1984 as a tribute to the Ohakune Growers Association and their stellar job at growing carrots and other market vegetables. While some residents were less than impressed and thought the carrot was too 'phallic', it's become an iconic Kiwi structure.
Tree Church
Ohaupo
Ohaupo's Tree Church is all sorts of magical. It's creator, Barry Cox, began working on the project in 2011 by planting trees across an iron frame and letting Mother Nature do what she does best. The result is a living, breathing church that continues to grow and evolve as the years go by. The grounds are also home to a labyrinth and beautiful gardens, making it a stunning spot to say 'I do'.
Hundertwasser Toilets
Kawakawa
It's not often that we say a loo is gram-worthy, but Kawakawa's Hundertwasser Toilets are literally a work of art. Austrian artist Friedensreich Hundertwasser called Kawakawa home from 1975 'til his death in 2000 and left his mark via a spectacular public bathroom. The facility was fashioned with recycled local materials including bottles, funky mismatched tiles and a living tree. Who knew toilets could be so beautiful?
Giant Doughnut
Springfield
No one loves doughnuts more than Homer Simpson and the Canterbury town of Springfield is a reminder of that. The giant pink and sprinkle-covered doughnut (drooling yet?) was gifted to Springfield by 20th Century Fox in 2007 in line with the launch of The Simpsons movie. Unfortunately, an arsonist decided to ruin said doughnut with fire in 2009. Luckily, Springfield got their doughnut back in 2012 so doughnut-lovers from all over the world donut have to miss out.
Herd of Cows
Morrinsville
Cruise down any highway in New Zealand and you're bound to come across a paddock of cows or two. Morrinsville have combined their dairy heritage with their growing art scene to produce Herd of Cows, a permanent art installation across the whole town. There are 42 locally-painted, life-size cows all with their unique stories. Our faves are Picowsso, Spirit and Herd a Kiwi?—a cow painted with classic Kiwi sayings, many of which you'll find here.
Big L&P Bottle
Paeroa
New Zealand's obsession with the sweet, fizzy goodness that is L&P is real. While most think that the seven-metre high L&P bottle was erected in the drinks' honour, it was originally a rocket ship used for a Christmas promotion in 1967. The next year, locals thought it was best to showcase something that was 'world famous in New Zealand' and so the L&P bottle took its rightful place.
Statue of Shearer
Te Kuiti
Shearing a wooly sheep is no easy feat. Seriously, that shit ain't no walk in the park. As the 'Sheep Shearing Capital of the World' it only seems right that Te Kuiti would have six-metre-tall shearer statue. Heck, Te Kuiti is even home to New Zealand's (and possibly the world's) best sheep shearer, Sir David Alexander Fagan who has set a whopping 10 world records, and won five world, six world team and 16 national titles. Impressive stuff!
Giant Paua
Riverton
New Zealand's deep south is famous for its paua and you can snap a pic with the world's biggest paua shell in Riverton. This four-metre high shell is lined with pieces of glistening blue paua and is a beautiful work of art.
Giant Kiwifruit
Te Puke
Yet another gigantic statue, Te Puke's giant kiwifruit is smack bang in the middle of kiwifruit country and is one of the country's oldest big icons. The bright green kiwi is pretty much impossible to miss and makes for a stellar photo. The structure also houses a staircase that takes you to the top for epic views of the area.
Whakamana Cannabis Museum
Dunedin
This spot is the epitome of weird and wonderful. Situated in none other than Dunedin is the slightly controversial but slightly awesome Whakamana Cannabis Museum. It's the place to go if you want to learn about the history of the wacky backy, its uses and legal status in New Zealand. The museum is run by drug reform advocate Abe Gray (you may have heard his quality chats on the radio) and you can even spend a night at the museum—check out their AirBnB listing here. And yes, its legit.
Want more?
Image Credit: Tree Church, Cardrona Valley Bra Fence