It's down to the wire on The Bachelor NZ as the girls drop off like flies. This week we bid farewell to Karina, Bel and Vanessa leaving us with five (five!) bachelorettes. Our money is on Viarni and Sarah for the top two (you heard in here first). In the meantime, here are some of the lingering thoughts we had after tuning in this week.
1. It looks like one of the girls will leave on her own accord tonight! We totally called it.
2. Crack a smile, Karina.
3. A new date card? Karina hasn't even come back from her date!
4. Hmmm Zac's not digging Karina's questions about the other girls (…and totally fair enough).
5. This lack of banter is terrible for all involved: Zac, Karina annnd us.
6. "It could have gone better in terms of spark and connection." Couldn't have said it better ourselves, Zac.
7. "Karina, I really enjoyed my time with you tonight." Did you? Did you really?
8. Bel has the best hair. That volume.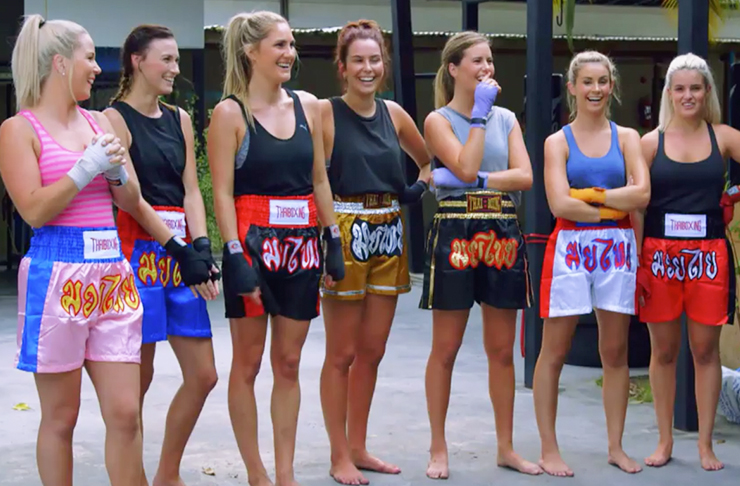 9. Lovin' the Muay Thai get-up.
10. An ice bath? What is this? Survivor?
11. Making the girls go through torture to get time with Zac. That's a new low.
12. "Nothing like getting super sweaty with someone." You said it, Hannah!
13. "Hey Lily I was wondering if I could take you away." "No, Zac. I was wondering if I could take YOU away." Lily: forever proving that two can play at this game.
14. What on earth was Lily reading that had a masturbating 101?
15. Bel: "He doesn't want me here at all." Maybe Bel chooses to leave?!
16. Uh no. Vanessa's got Thai-rrhea.
17. Bel: "I want the amount of effort I've put in back." That's fair enough, girl.
18. Karina looks like a possum caught in headlights.
19. Actual lol at the girls sitting around.
20. Zac: "There are other girls I feel like I get on better with but I was still curious about you. There are still things I want to find out." Translation: I like you but you're not the one.
21. "If you're not 100% sold on something, then probably inside you already know the answer." Well said, Zac.
22. Bel still accepted the rose?! She's clearly not Zac's happily ever after. Should've kept your dignity and packed your bags!
23. Another one bites the dust. Goodbye, ice queen.
24. Viarni gets a second one-on-one date. Top two, here she comes!
25. These racoons are making Auckland's cat cafes look average.
26. Ain't nothing like a good debriefing with your girls, right Bel?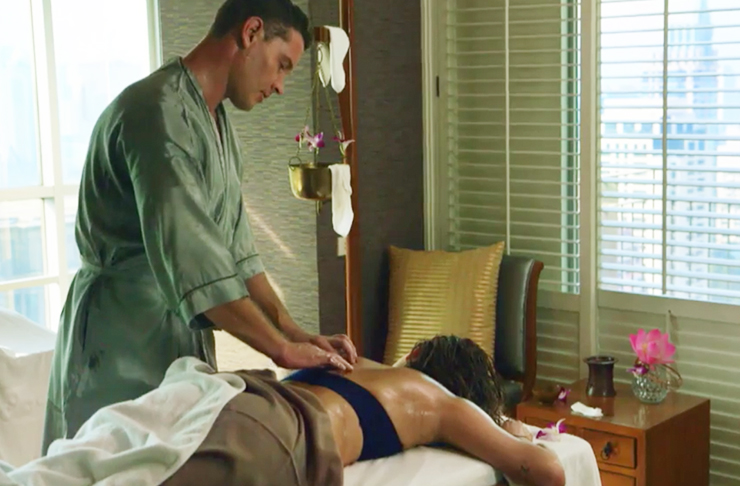 27. Surf lifesaver by day, masseuse by night. A silk robe? I can't even…
28. Dom: "This date is different from all the rest". Dun dun dunnn. One of them is totally going hooome!
29. Denim shorts and black tops. Claudia and Bel are totally twinning.
30. Shut the front gate—one of them IS going home! That's a nasty surprise for our dear ol' The Bach.
31. "I hope you're one step closer to find what you're looking for and I think I'm one step closer to find what I'm looking for." Prouda ya, Bel.
32. What a shitty, shitty goodbye.
33. Lily, Hannah and Viarni are totally getting waaasted.
34. The look on Hannah and Lily's faces sums up the shocking plot twist.
35. Bel didn't get to say goodbye to the other girls?!
36. This cocktail party is Vanessa's moment to shine otherwise she's walking the plank.
37. Vanessa and Zac are totally having a moment…but is it too little, too late?!
38. Lily: "Vanessa is a very cute, bubbly, funny thing. 10 out of 10. Would bang." We've said it before and we'll say it again…Lily, we love you!
39. How are we down to six (soon to be five) girls?!
40. Yep, too little, too late for Vanessa The Intruder. See you later!
Want more?
Image credit: MediaWorks