Don't shake your head at me, Julia. Sure, lying on your ass with a pile of magazines and a barrel of frozen Margaritas plugged to your veins on one of Mexico's many pristine islands is awesome, but getting some culture, street food, and history is just as important.
Mexico City has been high on the 'must visit' lists of many travel authorities in recent years. Why? Because it's fabulous. There is just so much to do, see, eat, and experience in this glorious city. And when you remember it was founded almost 500 years ago, you've got to give it an extra nod of respect.
Here's how to make the most of your 48 hours in this vibrant city.

5pm
Check in, dump your bags, change your undies if you have to (no judgement here), and get going! If you haven't sorted accommodation yet, Mexico City has some of the best boutique accommodation around. Try La Valise for the perfect mix of trendy and luxe, without the big hotel chain feel.
6pm
Hungry? Hell yes. Lucerna Comedor is calling. It has an awesome communal market feel, because that's pretty much what it is. Take a seat and choose from the many vendors around you. Largeritas are mandatory because two drinks in one always are. Be sure to have a good go at the seafood shack.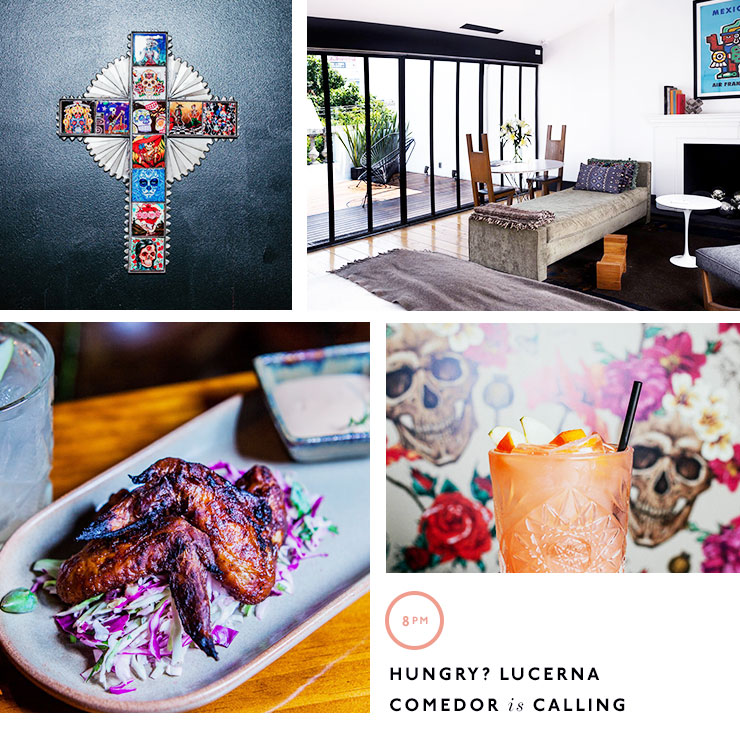 8:30pm
You want to know what time it is? Mexican wrestling time! Yup, go spend a paltry amount on a ticket (walk straight past the scalpers outside and go to the official ticket window), choose your favourite mask, and get into the Lucha Libre life at Arena Mexico. Look, I'm going to level with you here. Mexican Wrestling makes WWE look like an Oscar-winning performance. But once you get a few beers and a little nachos in you, it's a whole lot of fun. It's a huuuuge tradition, and incredibly close to the hearts of the locals, so take it all in and enjoy yourself.
11pm
Built up a thirst, have you? Hightail it over to Hanky Panky, one of the city's best cocktail bars, for a thumping good time. Try out your slurred Spanish with the bartender and get ready to be amazed! This place is open until 2am, so feel free to get comfortable.
1:30am
Hit up the street vendors for a proper taco. I'm not going to tell you which one, because they're all bomb-ass amazing. Plus, you probably will be too drunk to care. Onwards!

9am
Lucky for you, the Mexicans know their way around a coffee machine, so hightail it to Cafe Avellandea for an excellent coffee and maybe a sweet treat. Then thank the coffee gods that you don't have to settle for that American crap here. Especially if you overdid it at Hanky Panky last night.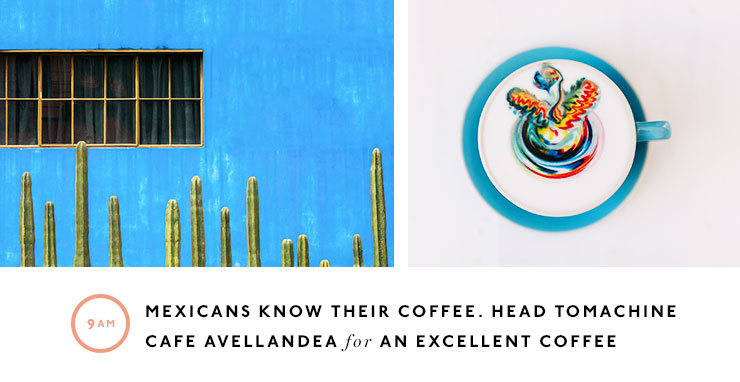 11am
The most important thing to do in Mexico City (and anywhere really) is to eat like the locals. And as I touched on earlier, street food is of the utmost importance. But it has to be said that navigating the vast array on offer can be difficult. Enter the food tour. Seriously, these things are the best money you'll spend while travelling. You get to weed out all the crap places and have an actual local foodie show you what to eat, where to eat it, and tell you all about it. It's like a backstage pass to the best street food in the city. Try out Club Tengo Hambre.
2pm
Time for a bit more culture, yeah? Head to Museo Frida Kahlo and get ready to be amazed by the colourful, passionate collection of artwork.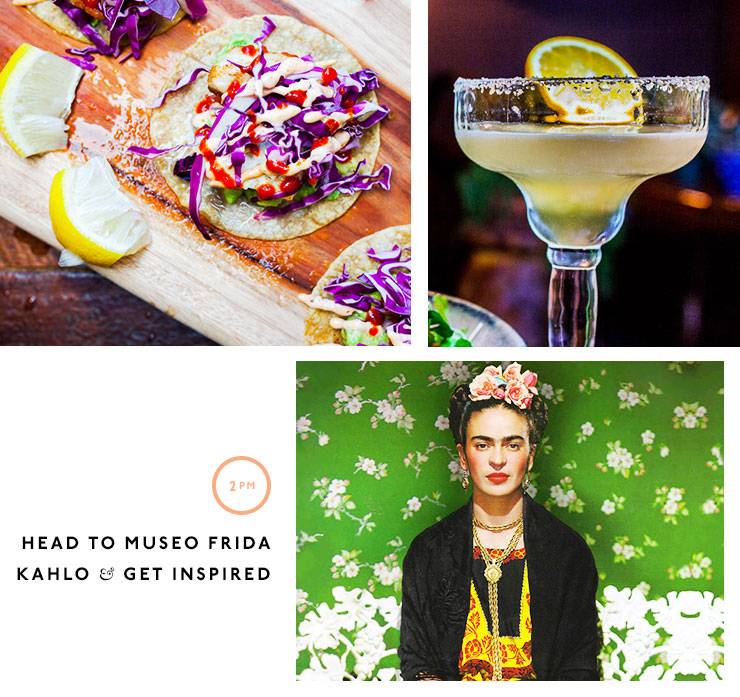 4pm
I imagine you're still a little full from your food tour, so take a stroll through the Coyoacan neighbourhood for a look at Mexico City's culture in all its glory. You'll be hard pressed to find a more vibrant place in the city. It's a town full of art, culture, and colour, so take your time here, there's plenty to see!
6:30pm
I can hear you pulling out your hair and asking me where your damn Margarita is. It's waiting for you at Licorera Limantour, okay? Jeez. Not only are these guys on the list of the 50 best bars in the world, they are renowned for serving up one of the best-tasting Margs that will ever have the privilege of entering your mouth.
9pm
Yes, the street food in Mexico City is epic and you should eat as much of it as possible, but no doubt you watched Chef's Table on Netflix, so obviously you'll want to get yourself a table at Pujol. It's very reasonably priced at $82 USD per person, and you'll get nothing short of a cacophony of flavours over seven unbelievable courses. Then stumble home with tacos in your eyes because stars are inferior at this point.

9am
No doubt you're still a little full from last night, so take yourself on a stroll to Palaxia de Bella Artes, a stunning building that houses some of the largest art exhibits in Mexico. Take your time walking around, having a peek at the street performers and browsing the locals' stalls. Just keep a hand on your bag!
11am
If your stomach is starting to rumble, head to El Mayor for a brunch with a view to die for. Even if you simply enjoy a coffee, it's worth parking yourself here and taking in the city in all of its divine glory.
12pm
Time is of the essence, and there is culture to be taken in, so get yourself to Chapultepec Castle, a former residence of the Mexican president that spans over 1,600 acres. It's Mexico's answer to Versailles, and you simply have to see it. Take a few hours and study the monuments, visit the Natural History Museum inside, or simply take in the incredible views of the city. It's worth it.
2pm
You're going to have to squeeze in a visit to Xochimilco, an UNESCO World Heritage Site that demands you attention. Here' you'll get your fix of Mariachi bands (I know you were waiting for that), as well as take a trip down the canal on a colourful trajineras. Because who needs Venice when you've got Mexico?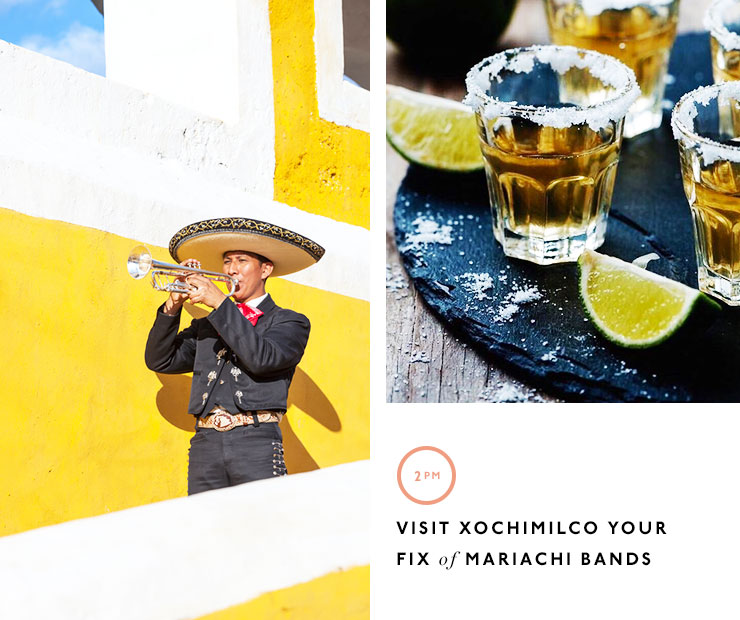 4pm
Speaking of squeezing things in, don't miss Templo Mayor Museum, an actual Aztec temple that still stands in the middle of the city. It wasn't even fully uncovered until 1978, so there is so much to take in. If you're into history, or even if you're not, it's an absolute must.
5:30pm
What's the best way to cap off a trip to Mexico? With Tequila, of course! Say cheers to your magical 48 hours and head to La Casa de las Sirenas, one of the finest tequila bars in the city, and choose from the unbelievably large selection. No lime or salt, though... Come on.
Got the travel bug? How about New Zealand?
---
Design credit: Gabrielle Stjenqvist